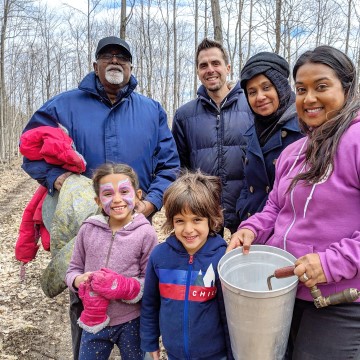 Canada is known for maple syrup and I've drenched many a pancake with this golden goodness but as an immigrant, I was curious about the production and what really happens during maple syrup season in Ontario. I had heard of many families growing up in Canada and tapping their own trees so I wanted to learn how maple syrup is made in Canada. Which is why when we were invited by Grey County to experience the sap run, I brought my parents along for this multi-generational road trip from Toronto. We met local farmers, sampled a lot of maple syrup and the kids had a chance to tap their own tree. Making maple syrup should definitely be on your list of things to do in Canada if you're planning a visit! As you may recall, we visited Owen Sound last summer and have spent a spring weekend in Blue Mountain with kids and grandparents. The Grey County area is one of our go-to road trips from Toronto because it's very easy to get to and there are many different activities to do in the area. This weekend getaway from Toronto was about learning and embracing all things maple!
Disclosure : This trip and post is in partnership with Visit Grey but, as always, opinions are TOTALLY ours! 
Learning About Maple Syrup in Canada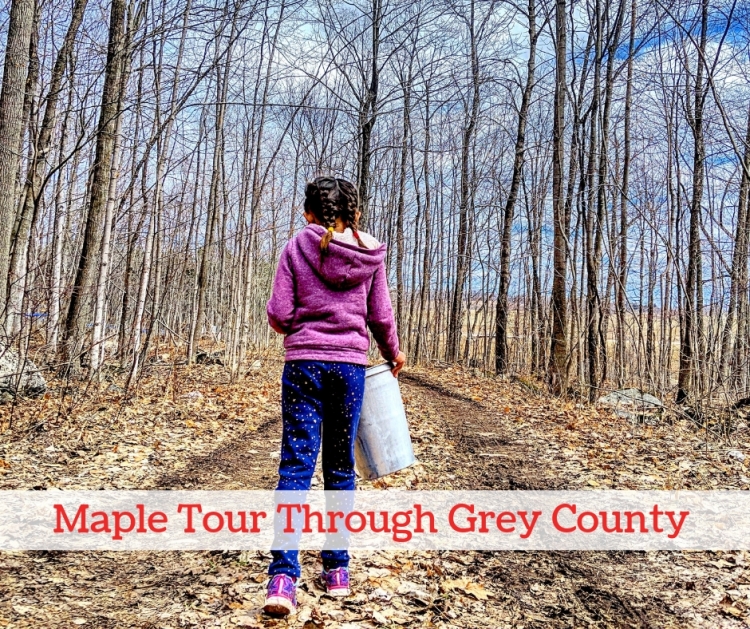 We loaded up our rental at 7 a.m and the trip to Owen Sound took two hours (our return journey the following evening took us 3 hours in traffic). Luckily the kids were quiet thanks to their iPads and my mom read her book while my dad kept Chris company in the front, leaving me to my own antics (yes I took a nap). If you're looking for a quick getaway, our one night trip might inspire you to take one of your own!
Best Time to Visit a Maple Sugarbush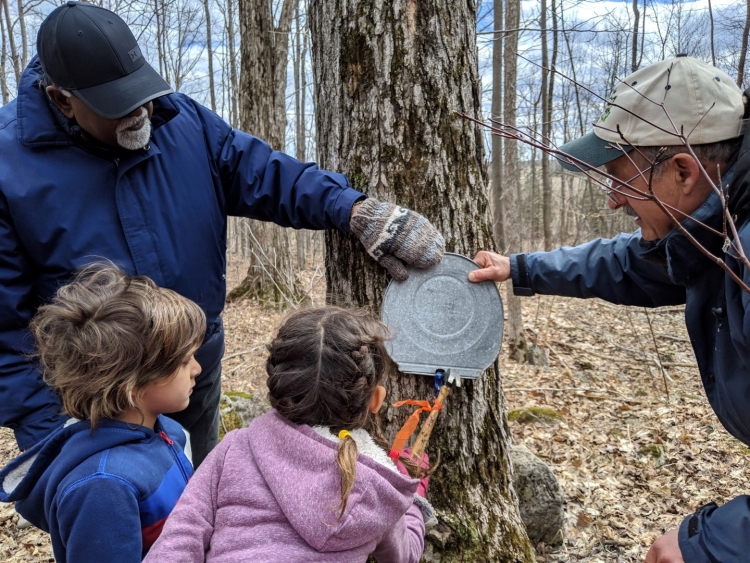 We timed this visit to coincide with the Kemble Maple Tour, a 1-day event which takes place every April, and allows you to go behind the scenes at some of Canada's finest maple syrup producers in Grey
County. If you can't make the Kemble Maple Tour, there are other festivals that also take place in Grey County during maple syrup season. In all honesty, I think you can take this trip at any point during the maple season and still do most of the activities as long as you call the farms ahead of your visit. The benefit of visiting during the Kemble Maple Tour weekend was that the farms featured were ready for the public to walk in and experience the sap run and the Kemble Arena had a bouncy castle and face painting station which the kids loved. On other weekends the farmers would be hard at work and might not be able to dedicate the time required for a tour. However, if you call ahead I'm sure they'd welcome you with big smiles. Canada's Maple syrup season usually runs from March into April and is very weather dependent. The farmers we met all mentioned how it kicked off earlier this year as temperatures were reaching -5C overnight and then warming up to +5C in the mornings, enabling their sap to run freely. This will be a good year for Maple Syrup, I bet!
Maple Syrup Weekend Itinerary
The European Bakery Breakfast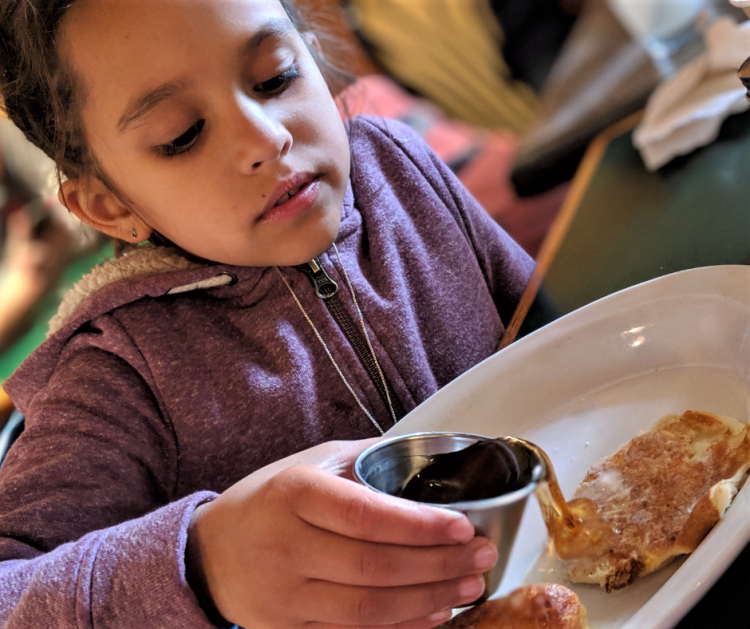 Start your day with a breakfast at this cute bakery cafe in Owen Sound and pick up some treats for your day as well. The kids enjoyed the Rowan pancakes with their maple syrup while I licked my plate clean because the Garlicky Grilled Cheese (with spinach and bacon) was absolutely DIVINE! They do of course have plenty of eggs and other breakfast options as well. A loaf of bread and some cakes should definitely go home with you
Mill Creek Chocolates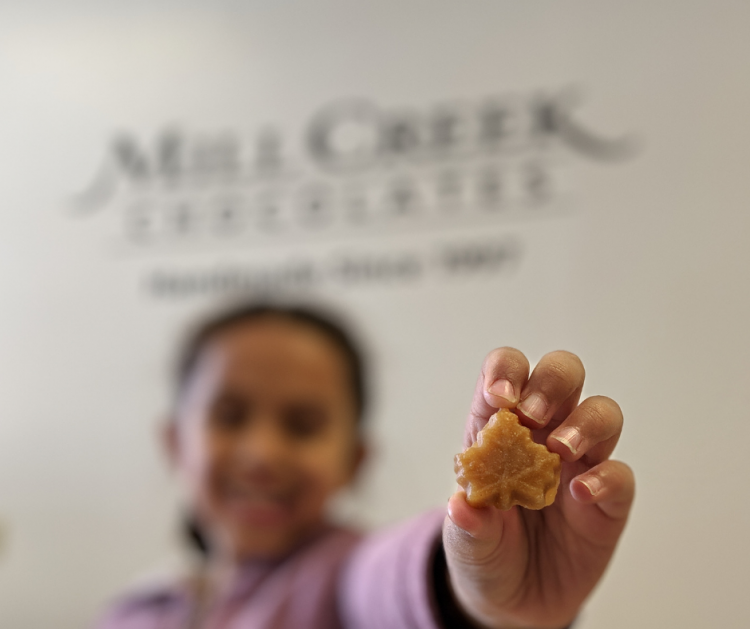 Down the street from the bakery is a chocolate shop featuring hand-made chocolates. For decadent gifts made with pure chocolate (and no wax), this is the spot. Be sure to sample their maple candies and try their maple flavoured chocolates. During our pre-Easter visit I was surprised to learn that all their chocolate bunnies have names! Mill Creek has been producing chocolate for over 20 years and they have samples on offer.
Grey County Farms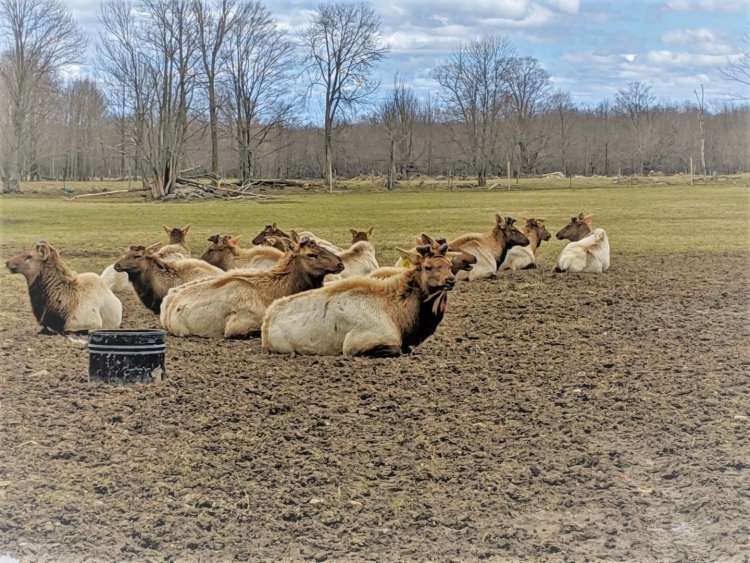 There were many farms featured on the Kemble Maple Tour and it wasn't easy narrowing down which Sugar bushes to visit but below are three we enjoyed for various reasons.
Kemble Mountain Maple Products Farm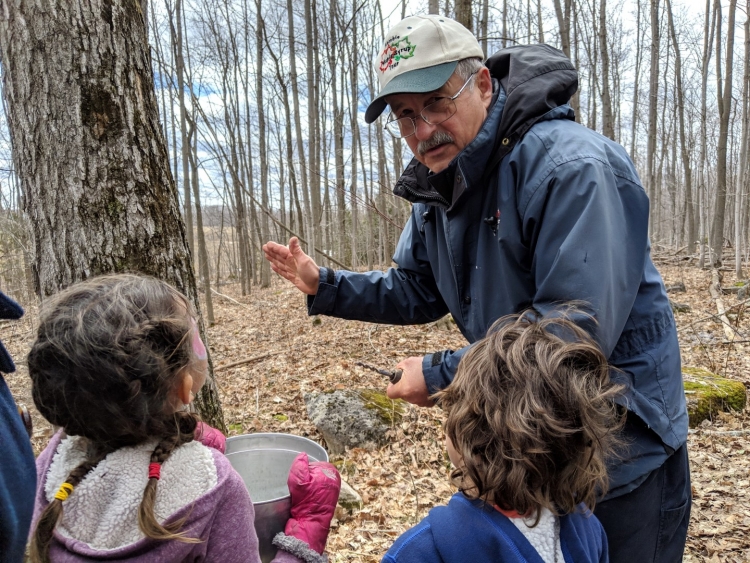 For an educational and hands-on experience, this was our favourite. Owner Bob and his son gave us an in-depth tour where we all learned a lot about maple production. It was fascinating to hear his story and the kids even got to tap their own tree, one which had NEVER been tapped before. My dad and Chris were asking a lot of questions during our hour long visit, so needless to say, it was an educational visit for all. We tasted the sap and then watched it heat up and turn into maple syrup and now we appreciate our maple syrup a whole lot more because it takes 40 litres of sap to make a litre of maple syrup – did you know that? Unfortunately they do not have a website but they are located at 310132 Kemble Rock Road, if you'd like to visit.
Regal Point Elk Farm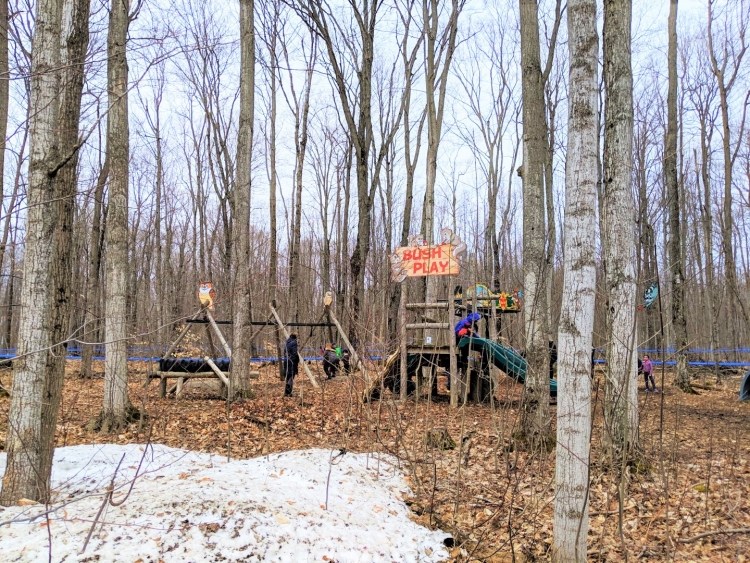 This one wins the "most kid friendly" award because of the on-site playground! This 200 acre farm not only boasts state of the art maple syrup processing equipment (in 2015 they installed Ontario's first electric steam evaporator), but is also home to 125 Elk. Every March, Regal Point Elk Farm hosts its very own Maple Syrup Festival called Maple Magic and I hear that the local kids absolutely love the wagon rides, specialty maple treats and meeting the Elk.
Dejong Acres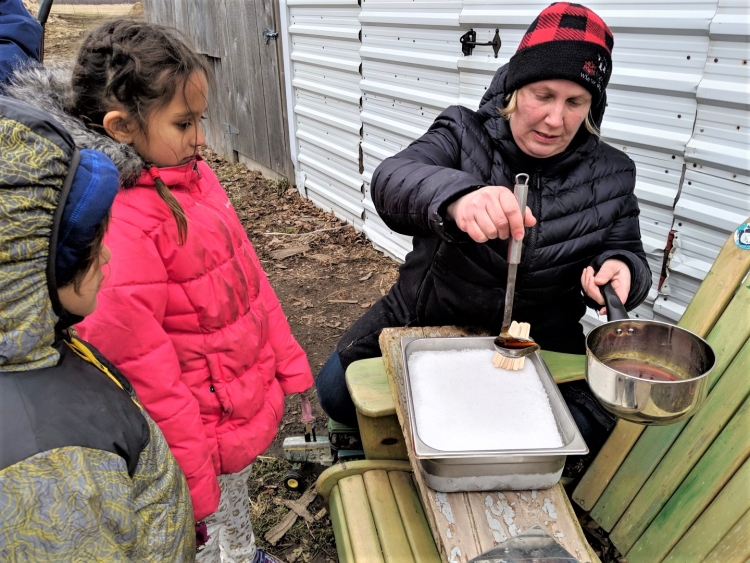 If it's farm animals you're looking for, Dejong Acres is your best bet. In addition to sampling Maple Taffy  and learning about the scenic sugar maples surrounding their area, kids will love meeting the farm animals. Owners Anita and Brian spent an hour showing us their pigs and piglets, sheep, ducks, hens and livestock guardian dogs who protect the sheep from predators. The family can be found at local farmers markets selling their meats and eggs and for those who visit Blue Mountain, you might find them at at the maple taffy shack! Their shop has delicious baked goods that Anita makes and you can buy some great cuts of meats and some homemade pies.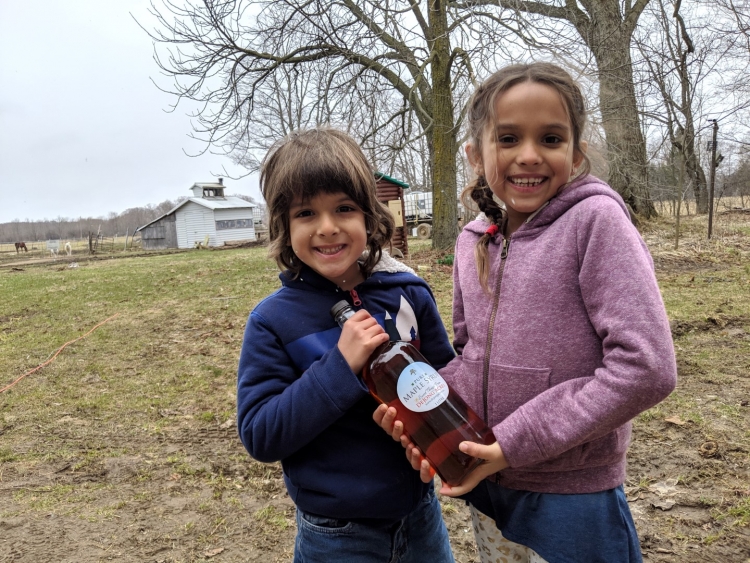 Of course we couldn't leave the farm without purchasing some maple syrup to keep these memories alive.
Ice Cream and Free Play
After visiting those farms I bet you're hungry! You could have picked up some eats along the way but if you didn't, Sweetwater restaurant at Cobble Beach is only a 20 minute drive away. In our case, we opted for ice cream and coffee instead! Having visited the Big Bay General Store (which has been in existence for longer than Canada has) during the summer, we knew we'd find some maple flavoured ice cream there so that's exactly where we headed. With ice cream cones in hand the kids popped by the skipping stone capital of Canada and attempted to skip stones while they enjoyed their ice cream. It was a bit chilly but they didn't mind one bit!
Where to Sleep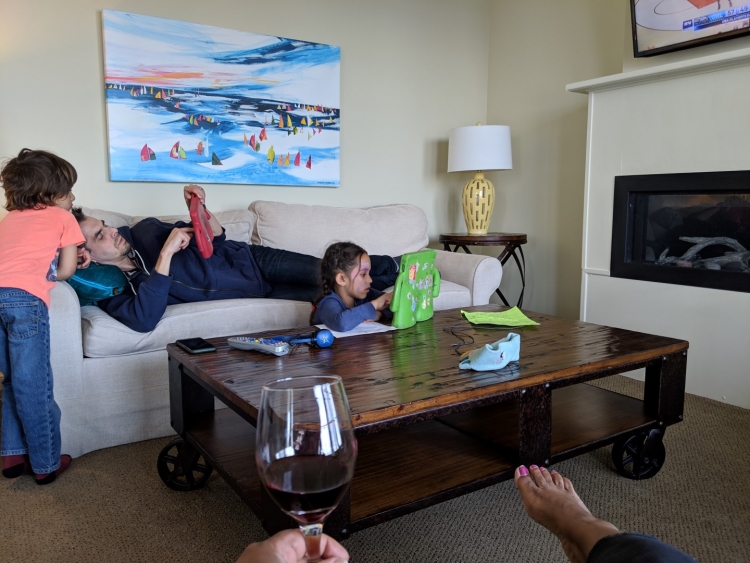 We have been visiting Grey County over the years and have discovered some family friendly hotels in Ontario during these road trips from Toronto. This time, we discovered another one! If you're doing the maple tour, you can of course stay at Blue Mountain Village which is an hour and a half drive away or you can stay at Coffin Ridge Winery which is an hour away. This time, we experienced a night at Cobble Beach Resort which was about a 20 minute drive away from the farms.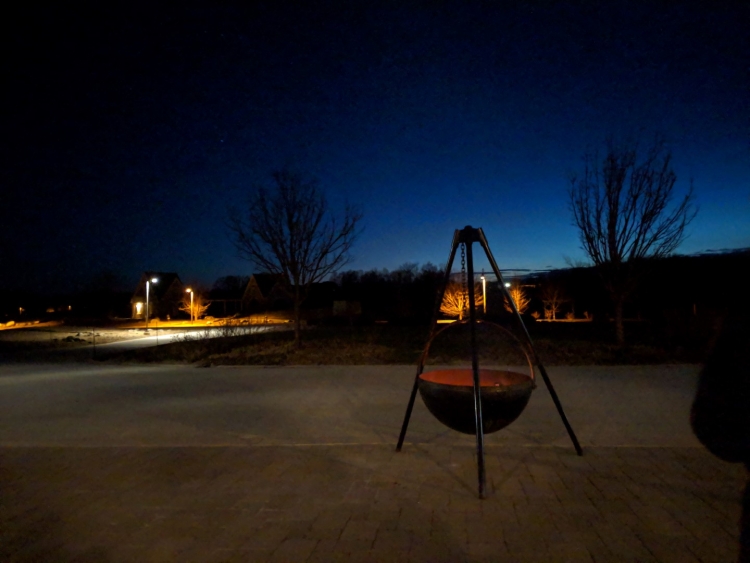 We stayed in a 2 bedroom BRUCE cottage and loved everything about it. Chris and I had our own room while my parents and kids shared the second bedroom with two queen beds. In addition we had a kitchenette, 2 full bathrooms, a living area with a pull out couch (so fab for large families looking for the best places to stay in Ontario) and a porch from which to see the stars at night. The beds were so comfortable that I now want that mattress for our home!!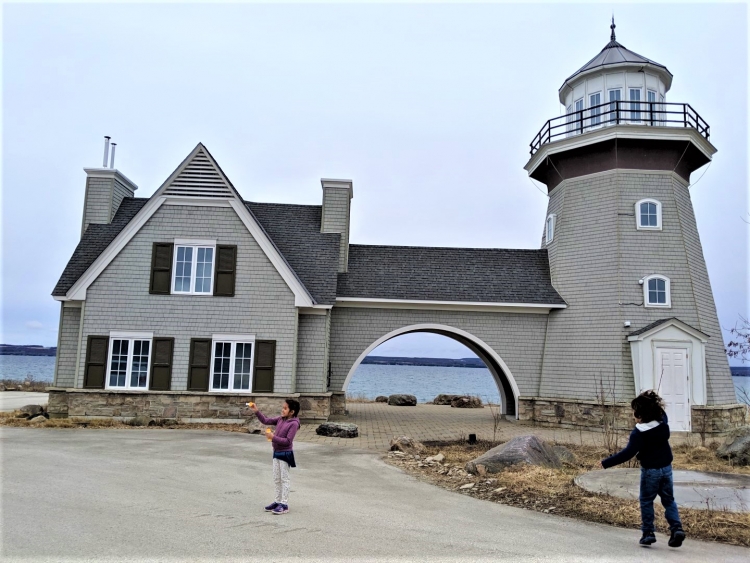 We drove the kids down the street to the lighthouse where they blew bubbles and then further down there was a small playground as well. It was not golf weather so my dad was disappointed but they do have an indoor golf range/simulator. Something we plan to check out next time, along with the spa! I'd love to return to Cobble Beach Resort for a longer visit next time and really soak in the peaceful vibes.
Maple Themed Dinner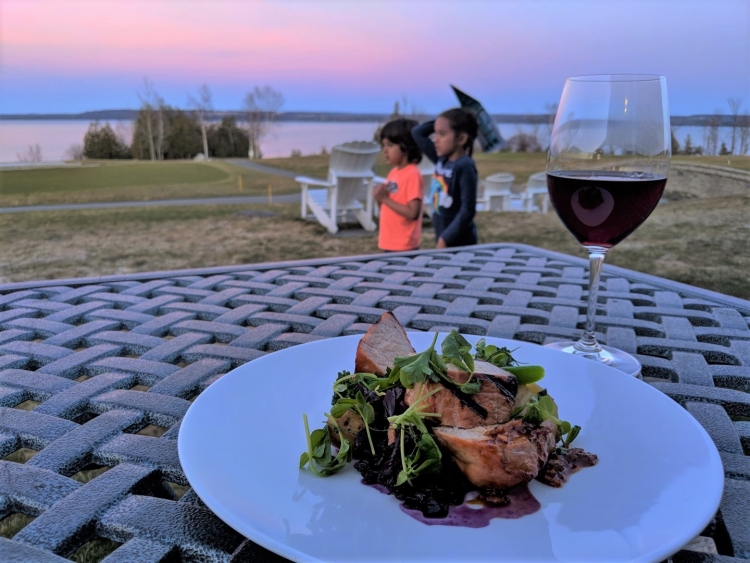 To end our perfect maple tour in Ontario, we enjoyed a maple themed dinner at Cobble Beach Resort's Sweetwater restaurant. After a busy day, the kids were a bit antsy and since they had a late lunch, they weren't fully into the idea of sitting down and ordering off the kids' menu. Luckily for us, the award-winning Nantucket-style Clubhouse where the restaurant is housed, also has a patio where the kids could play outdoors while we dined indoors. They took the kids menu and folded it into an airplane and off they went!
My parents, Chris and I enjoyed a leisurely dinner. I will have to admit that our summer dinner experience was only so-so and knew that we may have visited on an off-day last year. This newer dining experience truly showed us how amazing the meals at Sweetwater can be.
While I opted to enjoy the maple themed meal, the rest of my family went for the a la carte options and even my mom, who is a vegetarian, found dishes they liked. At Sweetwater you have the option to include a meal pairing option and it's very reasonably priced. Dining here is a great way to watch the sunset and reflect on your day.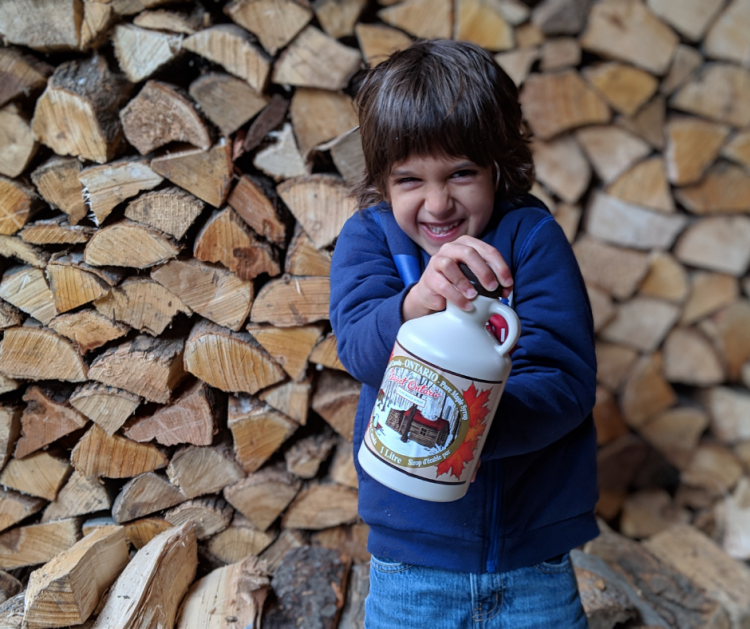 Maple season in Ontario is coming to an end but I hope our explorations inspire you to plan a visit next year. This was a fun weekend getaway for the kids and the grandparents, so don't shy away from taking them all along for a memorable road trip! Grey County is home to fabulous restaurants, farms and outdoor activities no matter which season you visit in, so reach out with any questions you might have!