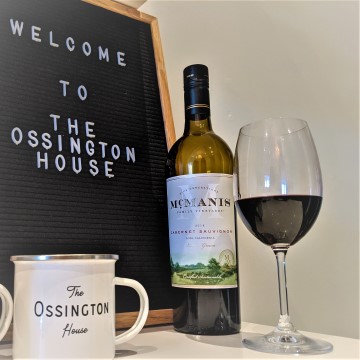 Believe it or not, I FINALLY enjoyed a true Momcation! I've travelled for work conferences and escaped with Chris on romantic getaways but never a true girls trip since the kids were born 8 years ago. Some of you may recall that I did got to Rhode Island last spring but that was to help with a newborn baby and definitely not a girls' weekend away. The midnight wake ups and 2 a.m bottle feeds ensured that it wasn't even remotely a girls getaway! Given that a few of my Dubai friends live at least an hour outside of Toronto, we decided to enjoy a girls weekend in downtown Toronto and the gritty but eclectically cool Ossington neighbourhood was our playground for the early November weekend. If you've been saying you need to getaway to reconnect with your friends, I hope this post inspires you to MAKE IT HAPPEN. While I was quite confident that Chris can handle the kids for the weekend (though ironically my parents swooped in and took the kids away so he too enjoyed a kid free weekend), some of my girlfriends were hesitant about being away. They definitely spent a fair bit of time prepping for their two nights away but it was worth every effort. Downtown Toronto has something unique for everyone so that it's easy to find spots that will cater to everyone's desires. This is why it was such an easy choice after mulling about trying to fly somewhere else. Staying a bit local definitely alleviated the pressure and also gave some the confidence of being able to rush back home to put out any fires if needed. So, if you're looking for a relaxing weekend filled with good eats, chill hangouts and fun activities, read on girlfriend!
Comfy Digs at The Ossington House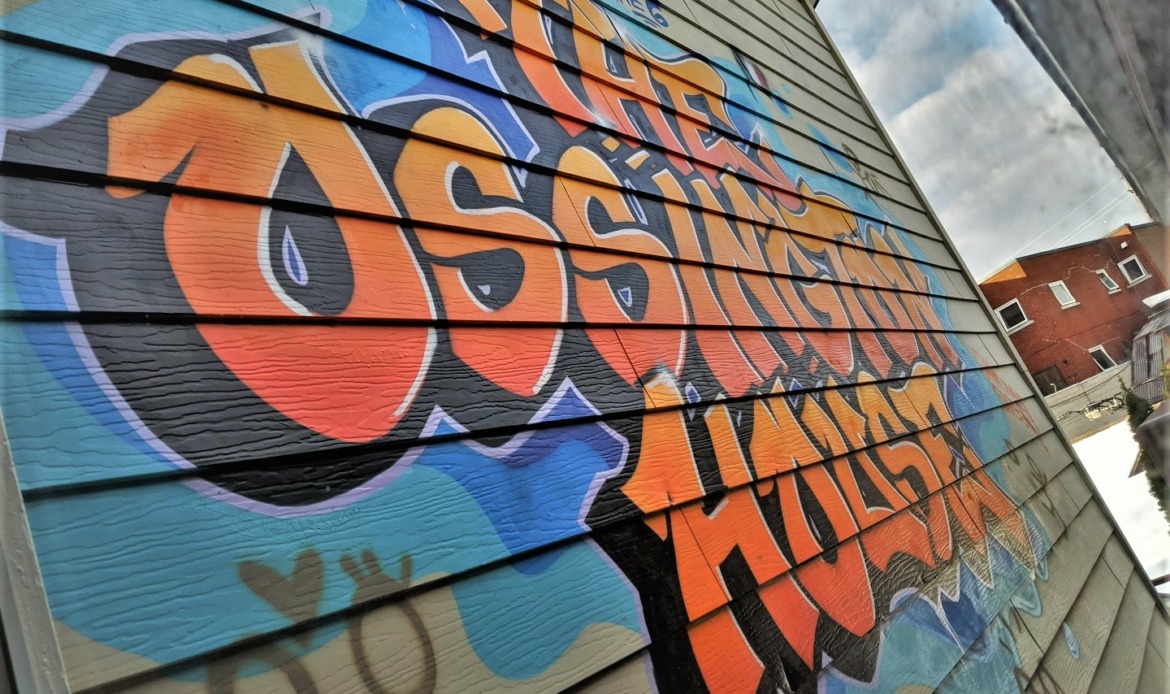 Our original plan was to book ourselves into a hotel but when I heard that I won a stay at The Ossington House I figured it was the perfect spot for me to stay in downtown Toronto with my girls. The location is within walking distance to some of the citys best bars and restaurants, which meant that we wouldn't have to cook or wander too far in search of deliciousness. The owner of The Ossignton House used to be an art dealer so the space is beautifully decorated and has anything and everything you might desire. She also has a blended family with 5 kids and they travel frequently, which means that although none of us had kids with us, we did appreciate the kid friendly amenities on site (something to note if you are looking for Toronto airbnbs for your family). The house had three bedrooms and the 4 of us had plenty of room. I was glad when one of my oldest friends agreed to share a room with me because, as you may recall, I can't sleep alone! One of things you should know about staying at The Ossington House is that you have the option to purchase Stay and Wander Turkish towels and Flax Sleep robes and linen at a discounted rate.
The house had a bit of old world charm upstairs and since the four of us are originally from South Asia, we couldn't help but notice the similarities of the armoires and decor items, to ones we'd see at our grandparents' homes growing up. That said, the entire house is very open and there's a welcoming air to the entire space and chic modern touches throughout the house.
We spent most of our time in the chef's kitchen, where even though we weren't really cooking our meals, we had brought enough nibbles, treats and cheese to keep us snacking to our hearts content. As you know I'm trying to be dairy and gluten free (as was another friend of mine) so I brought some Spread'em  Kitchen dips (I had received at an event) for us to enjoy. I will have to admit that the cashew based dips and "Cheese" are quite delicious and I have licked a whole tub clean in one sitting – just don't look at the calories okay?  Lathering the Porcino & Dill on a gluten free pizza crust and layering it with pepperoni made for a delicious mid afternoon snack! All of Spread'em Kitchen items are vegan, paleo, dairy free and gluten free so it's a crowd pleaser no matter which party you bring them to!
The kitchen was also where we listen to some tunes as we sipped our wines and shook our Viritus cocktails. I had received a couple bottles of this organic and certified gluten free vodka so I brought them with me to the Ossington House and mixed it with some pink lemonade and a few drops of bitters to make easy drinking cocktail before we ventured out for dinner. While most distilled spirits are gluten free based on the distillation process, most brands aren't certified to be gluten free. Matthew, the Toronto based owner and master distiller of Viritus, was diagnosed with celiac disease in his teens which is why he made this certified gluten-free vodka! It was also great in Espresso Martinis when we needed a caffeine boost.
On Saturday we slept in and lounged the afternoon away in the basement where we all cuddled under blankets and watched some TV while devouring a box of Purdys chocolates without a drop of guilt. We did step out in the evening but came back at night to continue the laughs, sip on Espresso Martinis and play a couple card games near the warmth of the fireplace. Its's remarkable how relaxed one can be when you're not obligated to wipe bums, prepare snacks or attempt to deal with household chores, isn't it? It also helped that, since it was just us gals, we were able fling off our bras and live in our PJs all day long! The Ossington house has everything you might need (think humidifiers, all sorts of serving trays, etc etc) and even the bedrooms have their own coffeemakers so we couldn't help but laze around and continue the catch up sessions on Sunday morning as we prepared to head back to our families. There were no pillow fights but we did attempt a mini photoshoot and kept laughing which really didn't help me get that "Instagram worthy shot". I did however have an amazing time and have vowed to make this an annual experience.
Things to do in Ossington, Toronto on a Girls' Getaway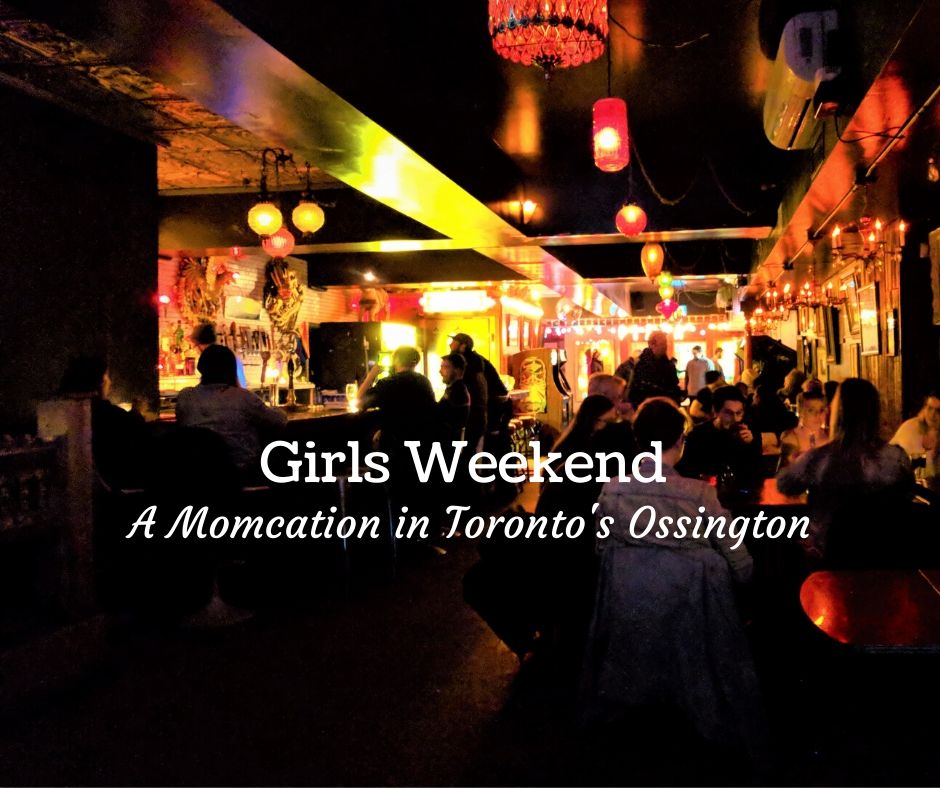 The Ossington House was comfy but we did leave it a couple times to explore the neighbourhood. Ironically two other girlfriends took me to Ossington for my birthday celebrations a few months before this Toronto staycation so I've been spending a fair bit of time in this area and have quite a few reasons for thinking it a fabulous Toronto neighbourhood when visiting Toronto and looking for off-beat experiences.
Jewellery Making : What I loved about Anice Jewellery is that they offer private sessions where you and your gals can go in for a couple hours, sip on wine and munch on snacks while choosing what you want to design. I used to design my own jewellery back in the day and had actually forgotten about that until my friends surprised me with a visit here for my birthday. We browsed through various drawers choosing things we wanted and then chatted with the jeweller who helped us narrow down our options and made things for us. I was amazed that I discovered a coin from Dubai (where I grew up) and made it into an anklet. Prices have a wide range but they advice you on costs as you start building and we narrowed down on options between $60 to $100, In addition, the private sessions range from $35 to 50/person depending on what you want. You can also taken in any items (beads/coins/broken earrings etc) you have at home and they can re-use them to custom make some pieces.
+focus mindspace : Guests of The Ossington House receive a complimentary class at +focus mindspace so we were able to add that to our list of things to do in Toronto on a girls' getaway. We tried out a Yin+Sound class and all we had to do was turn up! There were cushions and blocks for us to use upon arrival and I'm quite certain that all 4 of us took a deep snooze at some point during the 60 minute class. The studio welcomes the community, students, and teachers into the inspired space featuring work from a new Toronto artist each month, so be sure to check their schedule before you plan a visit.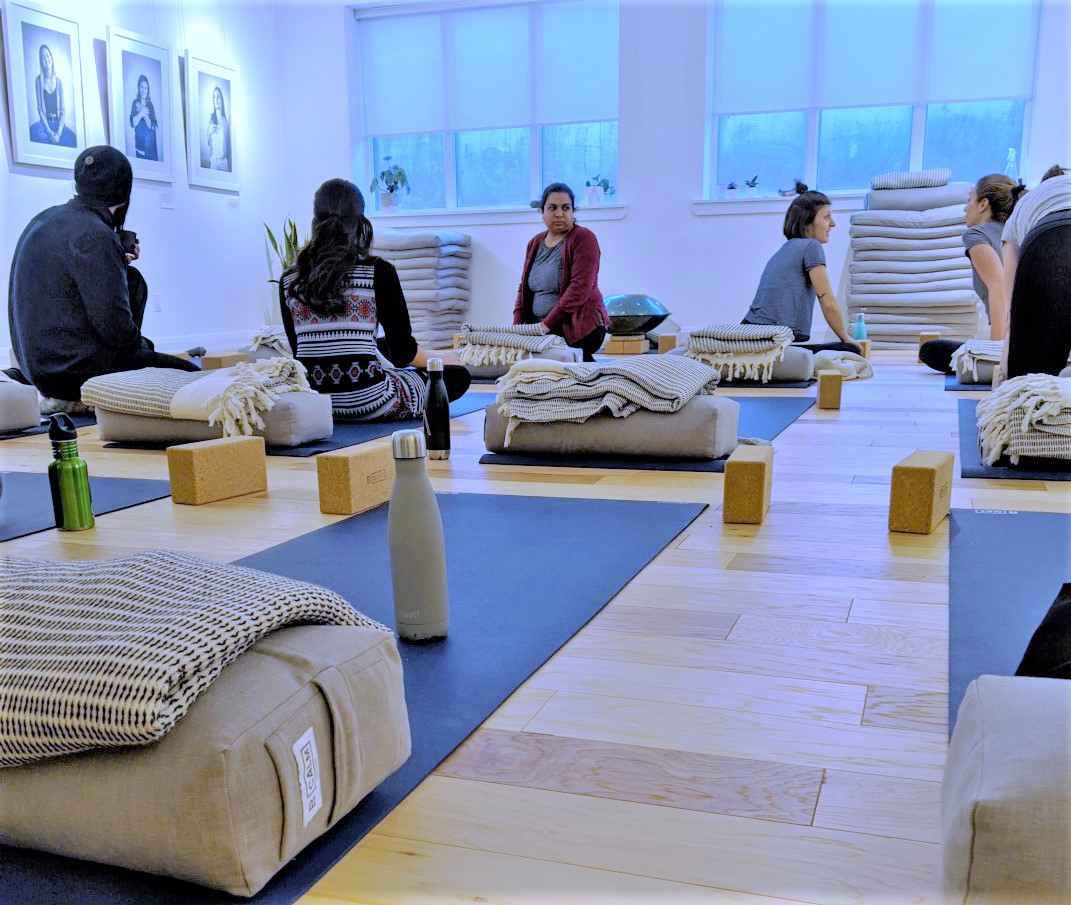 Shopping : Ossington is cool hub for all sorts of wacky and wonderful things. From vintage shops to bespoke household items, there's something for everyone. I mean, my friends and I may or may not have kicked off Friday evening with a couple drinks and a Dollarama run. That Dollarstore there is by far the most well stocked one I've seen in the city. Laugh all you want, but that was quite the laugh inducing shopping spree for us. Sometimes you just gotta act like kids when you don't have kids with you- right?
Dessert crawl : Ossington is filled with amazing bars and restaurants but doing a dessert crawl is highly recommended if you have a sweet tooth. There are many Toronto tour companies who offer food crawls in this neighbourhood but I say just walk into these spots and do it on your own : Venezia Bakery, Peace Treats, Bang Bang Ice Cream & Bakery and Novo Era.
Eating and Drinking in Ossington on a Girls' Trip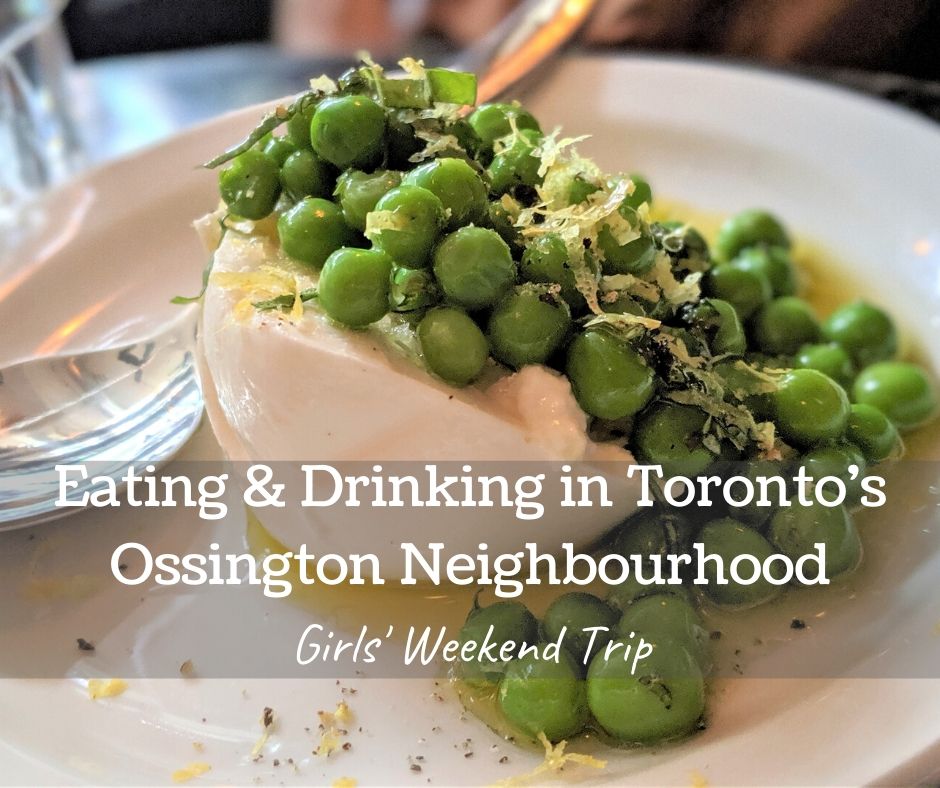 One thing I can definitely tell you is that there's no shortage of amazing bars and restaurants when you're in Toronto's Ossington strip. There's a great mix of spots that range from super fancy to hole in the wall, making it easy to find something for every budget. Over the years I've been  to quite a few Ossington restaurants and bars so here are my top picks for dining out in Ossington on your girls trip to Toronto (while some may be slightly off Ossington, I promise you it's worth a visit).
Soso Food Club : With a fun vibe, this place has amazing happy hour deals for food and drinks. My girls and I nibbled on Lamb Baos, Rice Cakes and Sea Bream while  sipping Mamahuhus and Three Storms under a pink glow of lights and wish we could have hung around until the black-lit room at the bad turned into a dance area. Even as early as 5 p.m. on a Friday night, the throwback tunes had us bopping around. Food wise, expect Chinese fusion dishes with a mix of small and large plates. Definitely a spot where you can sample a variety of dishes over the course of a couple hours.
Bobbie Sue's Mac n Cheese : Sometimes you just want some good ole mac n cheese between the hours of noon and 11 p.m.! This cozy shack just off of Ossington is where you'll find things like Camp Mac, Curry in a Hurry and Green Trees (yup, they're all mac & cheese options!).
Paris Paris : Admittedly, I'm here during the week days for their half priced bottles of wine, but it is arguably one of my favourite places in the city because of their tartare, great selection of wines (including orange wines which aren't all that popular yet) and knowledgeable staff. The dimly lit rooms makes this the perfect place for a sophisticated yet relaxed night out with your girls in Toronto.
Reposado : This tequilla bar also offers Mexcian tapas and has become a fancier watering hole for many of our friends because of the solid cocktails and live music. While it has been a while since my last visit, I do know that it's a good spot for a lively night. They also have a patio at the back for those summer nights when you want some fresh air.
Te : For tea lovers, this laid back tea themed Ossington restaurant will hit the spot. The snack bar is intimate and if you can snag a seat by the bar, do it! The Taiwanese Fried Chicken was definitely my favourite and the Bulgogi sliders with a quail egg was also very good. The tea theme was very obvious when looking at the drink menu and the Mango Black Te and Chai Milk Te not only had alcohol, but also tapioca balls.
Get Well : If your girlfriends are gamers, then this Ossington bar is a great spot to play some old school arcade games (think tetris, space invaders etc) while enjoying a few craft brews. It's a cozy spot and has a decent pizza stand at the back of the bar.
Painted Lady : For a truly unique evening, end your night at this self proclaimed "A Sexxed-Up Rock'n'Roll'n'Soul & Bartop Burlesque DANCEHALL-SALOON". That sums up this Osssington bar perfectly and while I'm often crammed to the max when I do visit here, it's always a lively atmosphere with a New Orleans vibe (which was really the inspiration for the bar back in the day).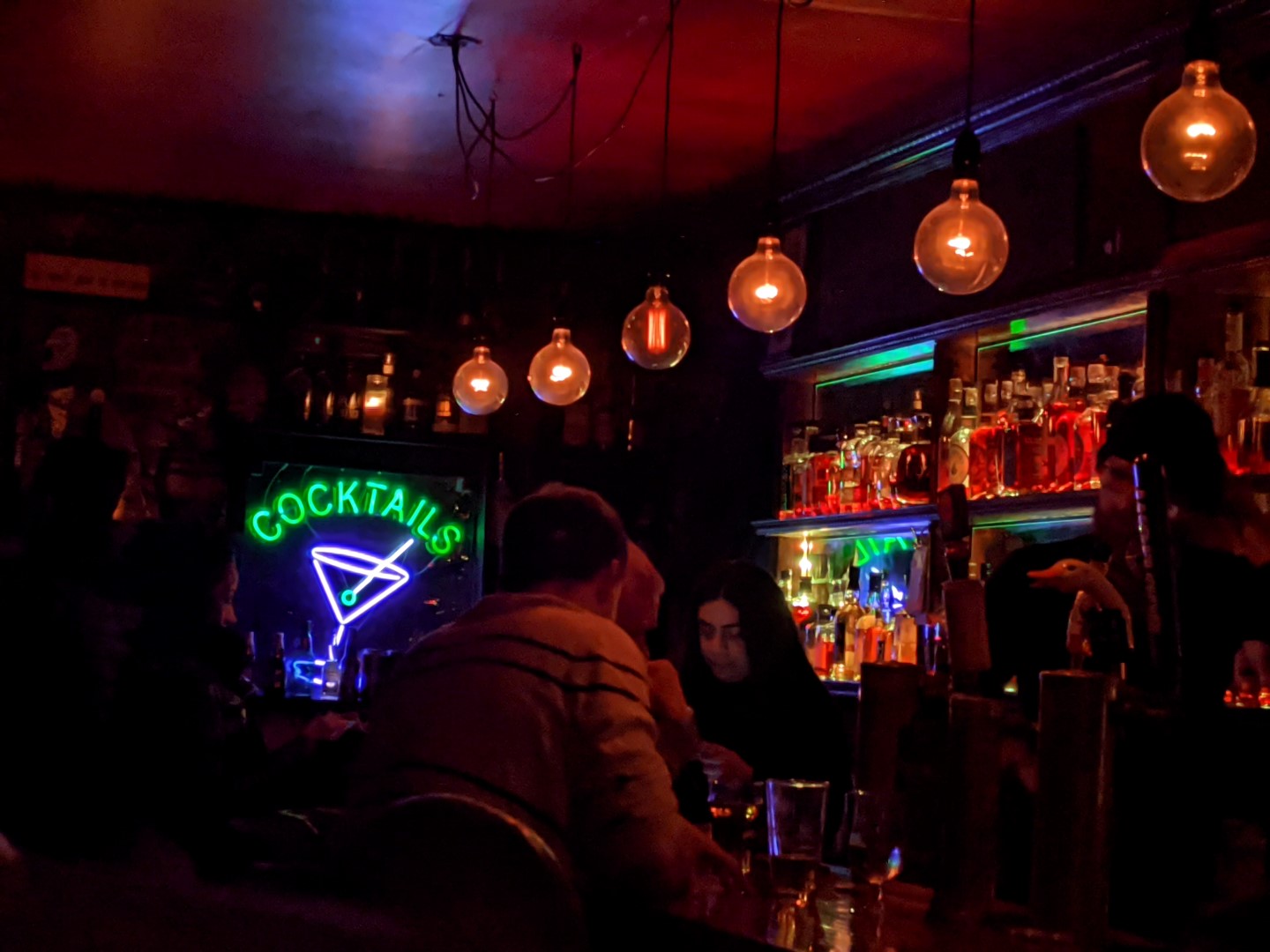 Red Light : It's easy to miss this obscure bar but see if you can find it on Dundas near Ossington. With nothing but a red light (and no signage) , curiousity got the best of a friend and I when we decided to poke our head in one night when we were in the area with a group of friends. This cozy bar has a couple seating options but it may be standing room only late at night when the back room also features Djs spinning tunes and the crowd creating a make-shift dance floor. Your cool factor will definitely increase if you bring your gals here.
Sweaty Bettys : For a true chic dive bar, you have to visit Sweaty Bettys. Grab a pint and cozy up on a couch that will have you thinking you're Betty Draper let loose on the town. This is one of the first bars to open in Ossington and continues to be a local favourite.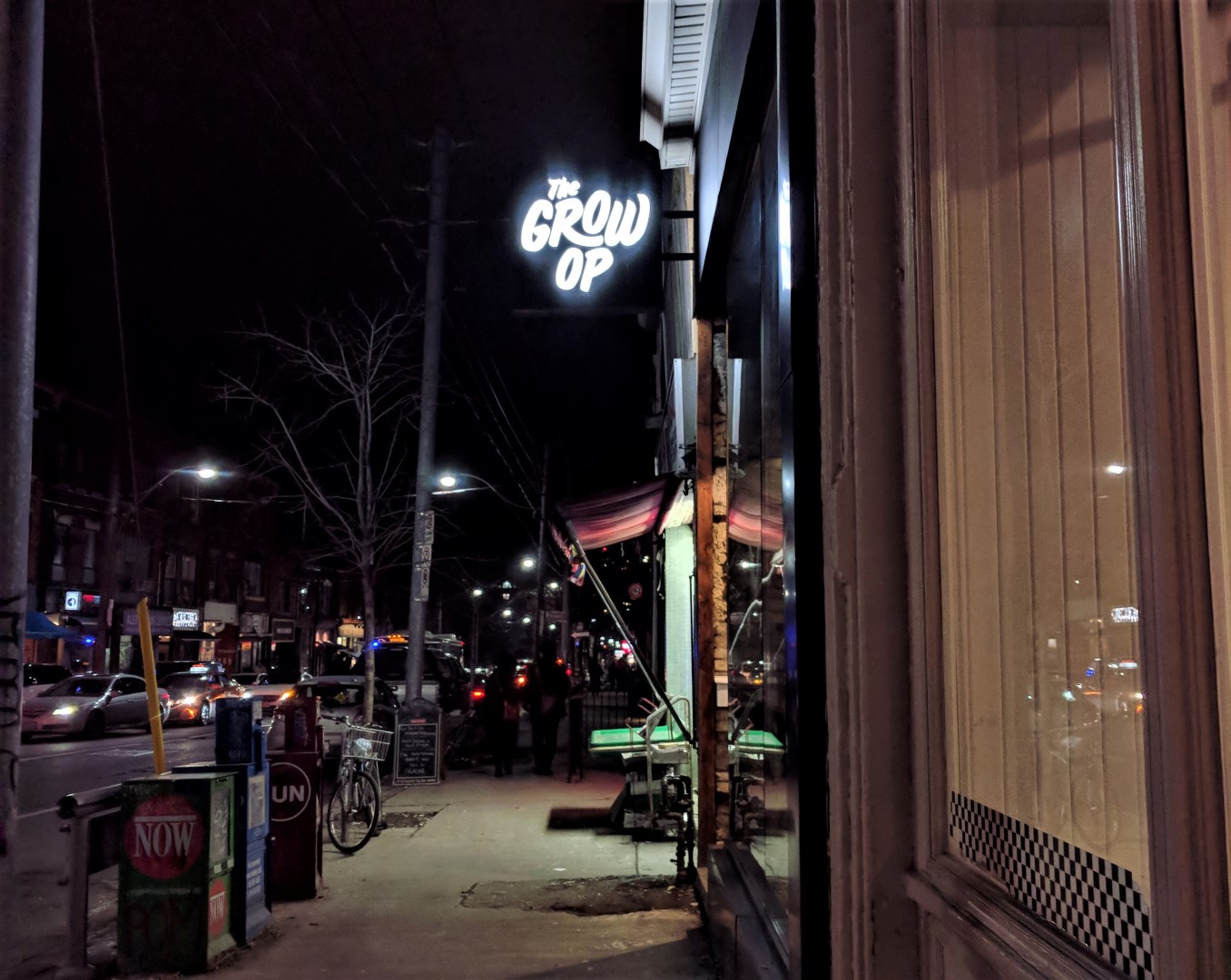 The Grow Up : It's not what you think it is! I'm putting this one for Sunday morning when you want something healthy to kick your regular life back into gear before you head back to the family. This Ossington juice bar is one I pop into when I'm in the area and in want of fresh juice or a smoothie.
I could go on but I think you have a solid list to play with at the moment. On my list of places to  eat in Ossington are some restaurants I'm yet to visit but hear great things about. These include La Banane, Mamakas, Roywoods, Alex Rei Dos Leitoes and Pho Tien Thanh. I know there are loads more places for me to explore and share in Ossington so I'll do my best to keep this list up to date for when you decided to enjoy a girls night out in Toronto's Ossington. Whatever you do, just gather your girlfriends and clear out your schedule for some much needed rest and tom foolery because it's definitely good for your mom soul! Where should I momcation next?