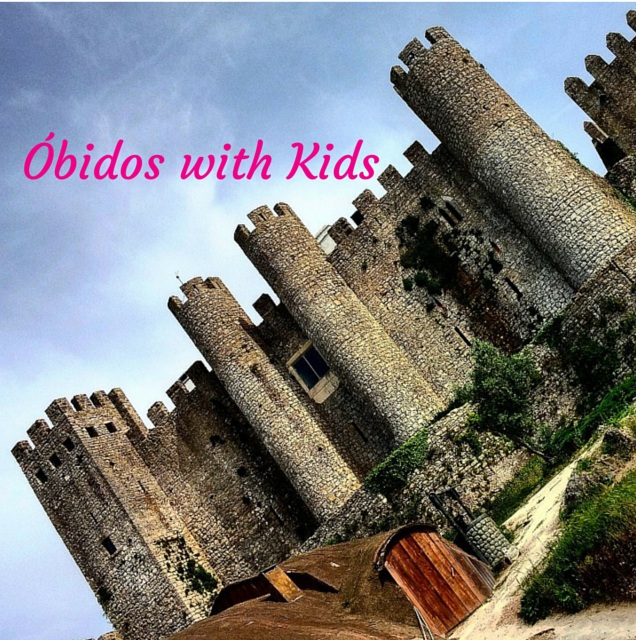 One of our pit stops between Porto and Lisbon was Óbidos, the well-preserved medieval town bounded by a fortified wall. We were told by many that a quick stop here would be a good break as it was two hours from Porto and an hour from Lisbon, so a two hour stop we made! I definitely was not prepared for the gorgeous historic centre paved with cobblestone streets, every white housed window graced with bright flowers and the many street vendors. Can you believe that this walled city came to be as a gift for a Queen? Foodies, especially those with a sweet tooth will enjoy Óbidos immensely and I can tell you that Óbidos with kids is definitely a charming experience.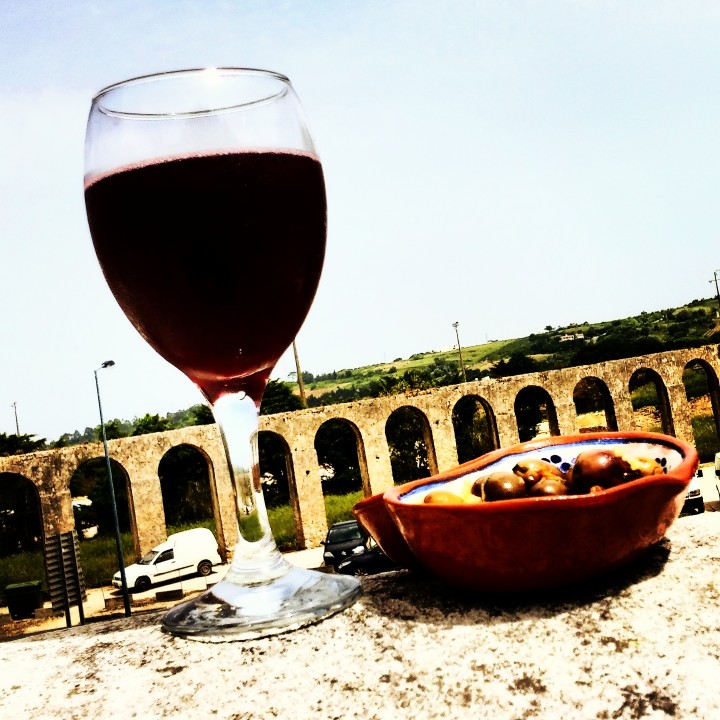 On arrival we parked our vehicle and dashed to the very first restaurant we saw at the entrance. Rookie mistake! Don't get me wrong, we enjoyed a simple but leisurely meal there but I was under the impression that there wasn't much inside the main portion. How wrong I was! As we walked through the main gates and into the main street that ran from the front gates to the main Castle at the end, we kept bumping into stores of all sorts. Many food and bakery vendors enticed us to enter and I was drawn to the cute little cafes but sadly my belly was full! So be warned… go in and enjoy a few bites at the smaller spots.
We didn't bring our stroller in here, instead Little Monkey ran through and I carried Baby Boy in the Bjorn. We did see parents with strollers but it would have been challenging to get into the small stores. Little Monkey insisted on walking up to all the toy shops (of course) but we promised her a treat if she didn't whine for a toy and also told her that the toys wouldn't fit in our suitcase (great parenting eh?). This also meant that I restrained myself from purchasing the many tiles and ceramics on offer (don't worry I grabbed one from the lady at the entrance as I was heading out!).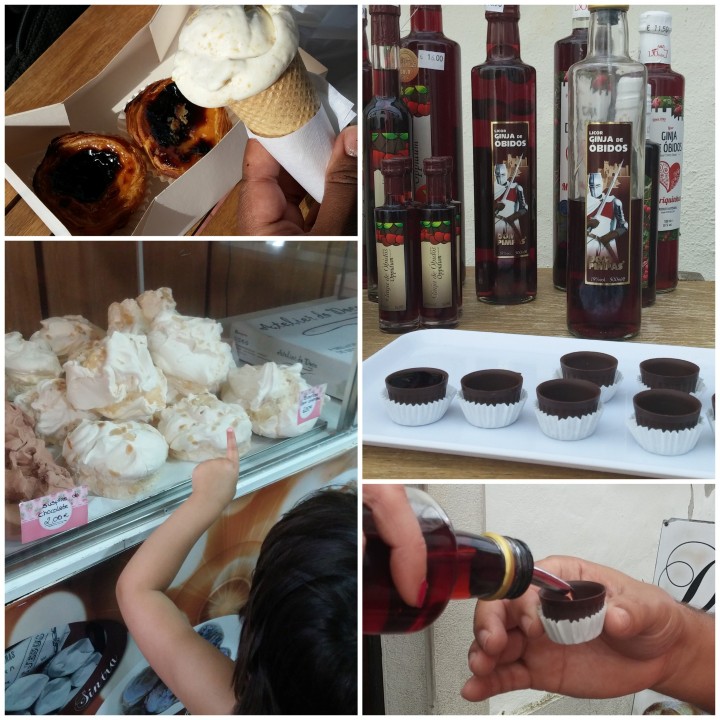 We walked into a bakery that delighted all our senses and the giant Meringues were simply gorgeous! Little Monkey opted for some homemade chocolates instead and I enjoyed one of the traditional Ginjinhas (Portuguese liqueur made with ginja berries and served in chocolate cups). After I had that first one, it was hard not buying one from each of the vendors lining up the pathway up to the Castle!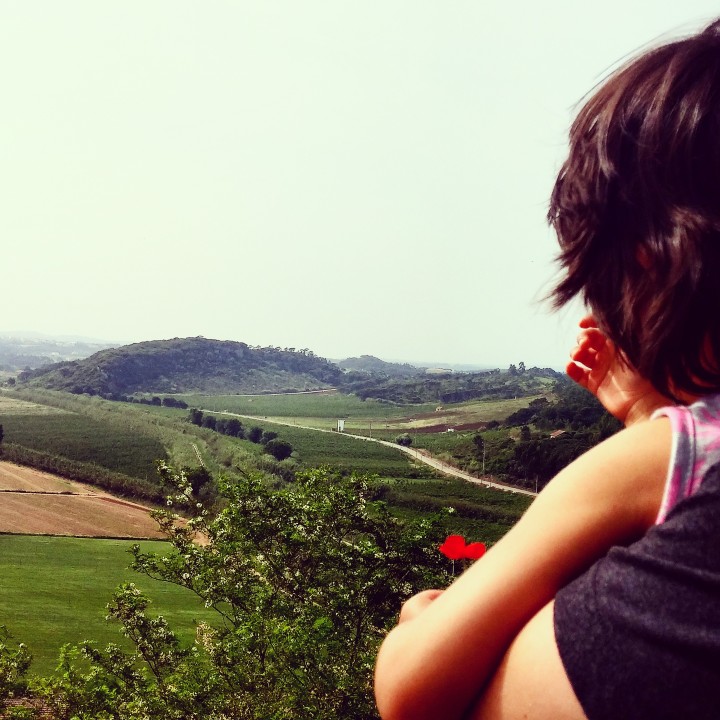 Miradouro is the Portuguese word for belvedere or viewpoint and strolling through the main street you will notice this sign several times, so be sure to swing by and take in the sights! While we weren't adventurous enough to walk along the Castle's walls, we did roam around the base and Little Monkey and I checked around to see if Rapunzel was in her tower (of course! Just like we did in Bruges). The hustle and bustle in the Castle surprised me greatly. The tiniest of roads were filled with pedestrians, motor bikes and even trucks and lorries. A bit of chaos and such a contrast to the charming medieval ways that once filled the space. However as we turned around the corner we were greeted by the famous 18th Century tile-work, Azulejo, and an accordion player, which brought us back to serenity.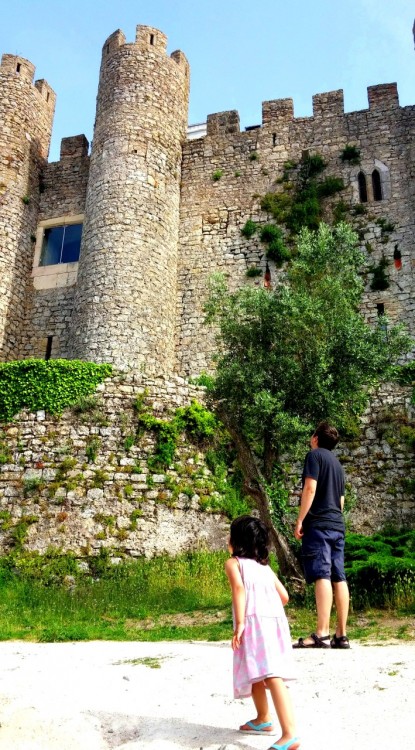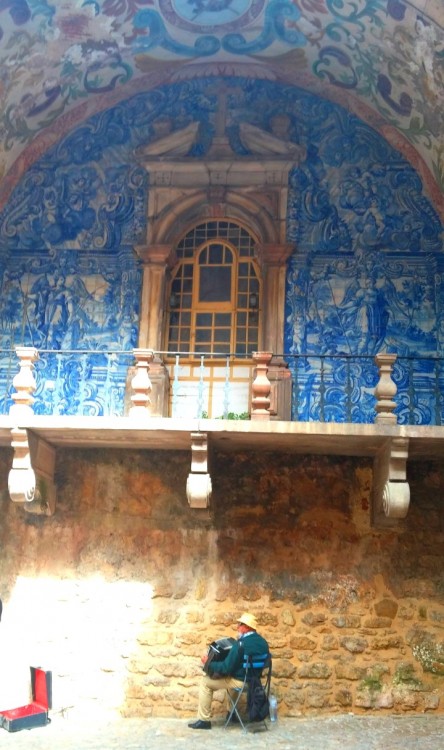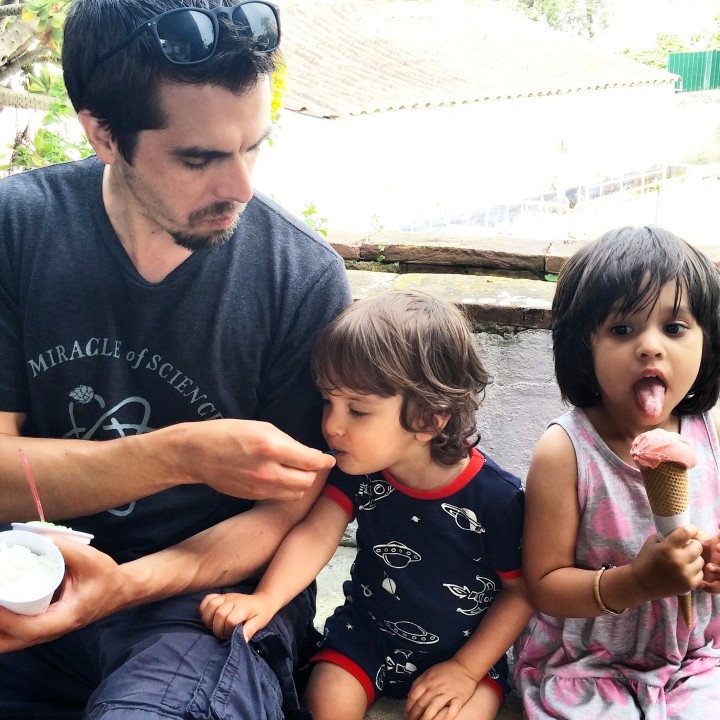 For me Óbidos is such a foodie spot with so many delights to savour and so we rounded off our afternoon by chilling at an small ice cream shop right outside the Castle. Baby Boy got his very first Gelato scoop (yes he ate the whole thing!) and each of us peacefully reflected on the day's journeys and surroundings. Óbidos is a family friendly spot and while the glaring white walls (to deflect light and pests!) may scream "Don't bring your grubby kids near me", the inhabitants are always up for quick chat with the little ones and there was even one gent in a medieval crow costume wandering around scaring engaging with kids!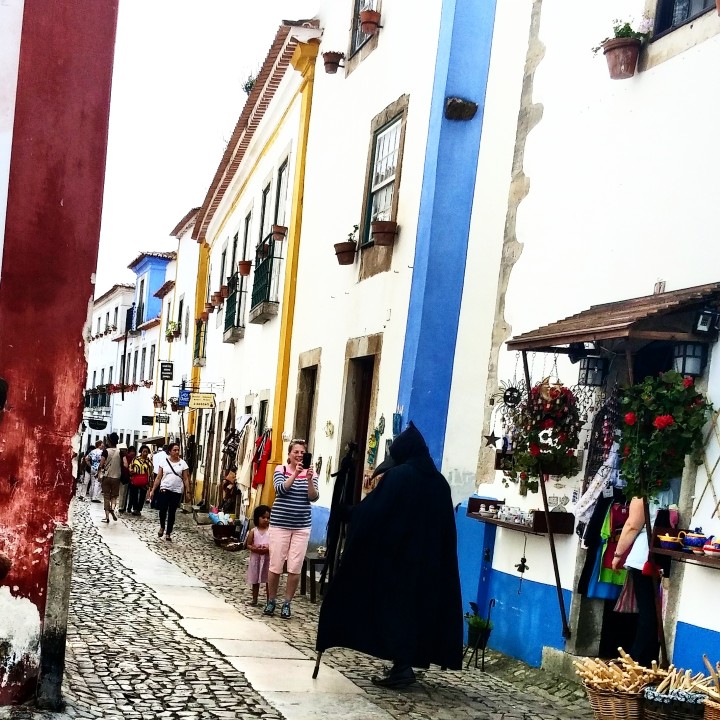 On our way out we picked up a loaf of bread (pão com chouriço) and plenty of fruit for our ride home from one of the ladies selling breads, sweets and fruits at the front entrance. They were charming and will always remind me of Óbidos and its medeival charm. There's many hotels and even a resort nearby to stay at, but I think two or three hours here, is plenty of time if you're in a rush like we were.