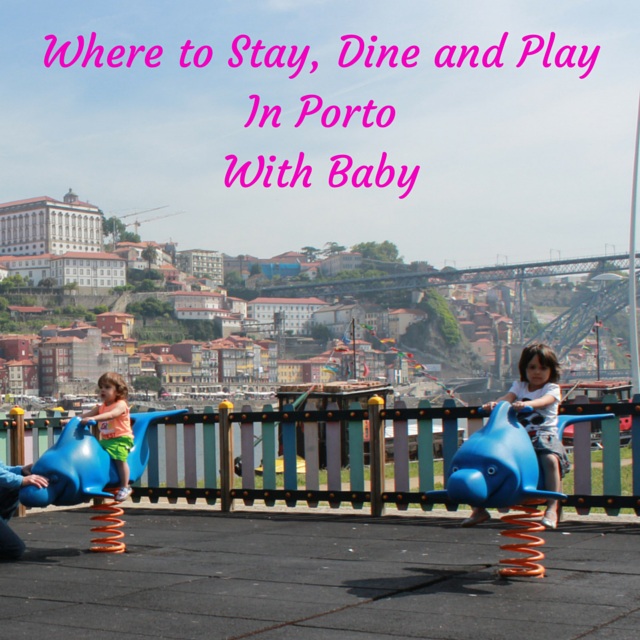 Located in Northern Portugal, Porto, is one of the oldest European cities and families with kids of all ages will be smitten by this leisurely town. Porto's historic centre is a UNESCO World Heritage site and as you explore the area by foot, subway or taxi (they're cheap here!) you're bound to find charming spots that will leave you thinking of Porto long after you leave.
Porto was our main travel port and so we got to explore the core city area a fair bit over the course of four nights with the toddlers and grandparents. There's more to explore outside of the city but our desire to aimlessly wander around the main city, kept us close to the centre. When we first landed we found Porto to be a lazy little city but in the end, it charmed us with its monuments, cobble stoned streets and most of all, the way of life by the Douro River, the city's central pulse. If you've got two or three days to spend in this city, here's our recommendations!
Where to Sleep

We stayed at two hotels in Porto and can definitely recommend that families stay at the HF Ipanema Porto mainly because of the kids rooms. I loved having separate rooms for parents and kids in the apartment like setting. Best of all, they provided toys and a stellar breakfast (complete with utensils and daily welcome gift!) for the young ones. The hotel was a bit of a walk away from the river but it allowed us to explore the area to and from (and cabs were cheap!).
Where (and what) to Eat
The Yeatman : You can't go wrong dining at this Relais Chateau property perched on the top of the hill and by the many Port houses. We decided to swing by for lunch and was blown over by the beauty, ornate decor and old world charm. Let's not forget the amazing tasting menu we had during lunch! This is definitely a meal we'll remember for years to come.
Capa Negra : The locals say that this spot has the best Francesinha and I wasn't going to argue! It is here that I enjoyed my one and only one. A Francesinha is a Portuguese sandwich originally from Porto, made with bread, cured ham, linguiça, fresh sausage like chipolata, steak or roast meat and covered with melted cheese and a hot thick tomato and beer sauce. They allowed us to park our stroller in the back foyer and had high chairs for kids.
Cafes : There's quite a few that overlook both sides of the Douro and there's no better way to enjoy the sunset than on one of their patios, sipping a sangria (it's wine and soda for the most part!) or a Port Tonic. The main squares are alive with kids running through and snacks to be had whilst watching old ladies hanging their laundry nearby!
Where to Play
We spent most of our days in Porto walking around and taking in the sites but there's definitely plenty of museums and beaches to amuse the little ones as  well. Our two were happy enough to follow us along and run around at every grassy patch we saw.

Port Wineries : There's quite a few to choose from and some of them even have great gardens where kids can run around at while you sip your Port. We enjoyed a tasting at Sandemans while Baby Boy napped and Little Monkey and her grand mother enjoyed playing with stickers. The space was stroller friendly and a great spot to escape from the sun. Taylor Fladgate was Baby Boy's favourite as there was a Peacock and plenty of gardens to run around in.
Douro Azul Cruise : The Blue Boat cruises are an hour long and it takes you (and the kids!) along the Douro. It gives you the opportunity to admire the old city of Porto, with its colourful houses and the hustle and bustle of the Ribeira people, while admiring the architecture of the bridges that connect the two river banks. Grab an extra headset so the young ones can play with them while you listen to the music and the audio narration.
Playground : Would you believe it… right in front of the boarding area for the Douro Azul Curises and across from the Porto wineries, there's a fun playground for the toddlers. Slides and bouncy dolphin things are great for burning some energy!
Lello Bookshop : This is what inspired the many Harry Potter tales and I was eager to step inside this much acclaimed bookstore and luckily came by when there wasn't a line up. It's extremely tiny and to be honest, it wasn't as dazzling as the bookstore we saw in Buenos Aires. BUT it's worth popping by if you're in the area and there isn't a line up. They do carry some awesome kids' books for sale too!
Church of São Francisco : If you love the architecture and grandoise interiors of these holy places….get in here and have a peek.
We only spent about three nights in total in Porto and yet managed to walk around and explore as much of the main city as we could. a Few more days and we would have explored a bit further and probably would have taken even more pictures of the awesome tile work that can be spotted throughout the city!