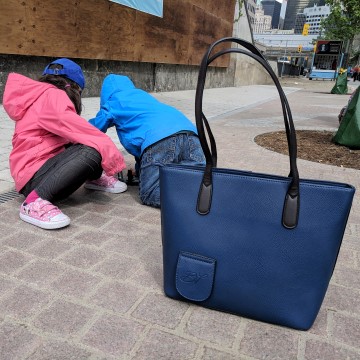 If you're like me you've seen some quirky things you want but then never really get it for yourself because, we have to be practical, right? One of those things for me was a wine scarf. Yes, a scarf that has a built in bladder so you could discretely drink in places you weren't supposed to. Now I may have worked in the beverage alcohol industry when I saw that but I originally thought about how convenient it would be to have one of those instead of carrying milk and juice around for Little Monkey who was still a toddler back then. Fast forward a few years and I recently received a wine purse to test and my mind went back to that scarf! While it absolutely was not something I'd purchase for myself, it would be one I'd gift to a friend. Which is why we have a contest for you to try and win one and this one is open to our Canadian AND Americanreaders!
Disclosure : This post is in partnership with PortoVino but, as always, opinions are TOTALLY ours!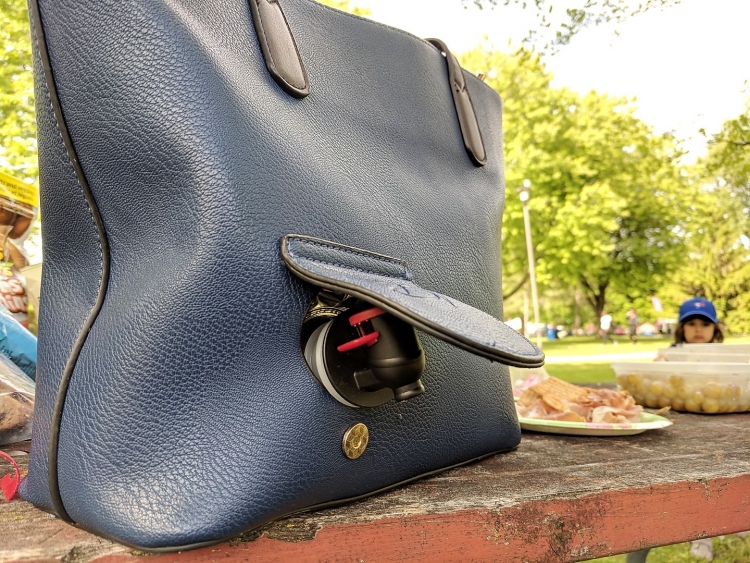 PortoVino wants to make it easier to bring the party with you where ever you go! Which is why they have a range of bags, purses and even backpacks with built in compartments for a drink pouch. I decided to try out the blue leather-like bag which has proven to be durable and of excellent quality. I received this bag back in December and it's now July. I've ended up carrying it as a regular purse without any drinks in the pouch and no one is the wiser!  I like that it has various pockets and has enough space for my every day items.
Now, this purse is TECHNICALLY for you to carry drinks discretely but long gone are my days of trying to sneak in drinks to festivals and movie theatres. I guess I would still do it if the place I was going to didn't offer a good selection of drinks but I'm totally fine paying for drinks at festivals, movies and such. However, I found this purse super helpful during our picnics! While we're not supposed to drink alcoholic beverages in public spaces that aren't licensed, it definitely does happen. My friends got to enjoy the benefits of my purse on the islands this past weekend and they loved it!
Mostly, I see this purse being very useful when we're travelling through places where we have to source bottled water. This purse filled with bottle water will be easier to transport as we go about our adventures and will save me from nagging kids! I may even gift some to my family in Sri Lanka this year for Christmas! With summer road trips galore, this purse may be one of my secret agent as it will save me from packing the 2 large bottles of juice and water I pack our rental car with.
Basically there is a compartment that fits an insulated "party pouch" (think wine box bag style) and that bag not only stores and pours up to 2 full bottles of wine (or 1.5L of your favorite beverage) but it also keeps your drink insulated. This will work well for milk and juice for long road trips too and save you from having to carry extra bottles. Mind you, you can't sneak this through airport security but you could take it to events as the zippered compartment is very discrete. Each PortoVino includes a party pouch and is BPA-free so as to keep you and the environment healthy. While you can reuse the party pouch it is recommended that you use a new one each time and this is where the cost can add up. This purse retails for 75 USD but there are other options such as tote bags for 45 USD and backpacks for 65 USD. Extra party pouches can also be purchased on the site (3 for 17 USD). It's not just for women mind you, they also have messenger bags for men! Now all you have to worry about is how to pack the cups you need!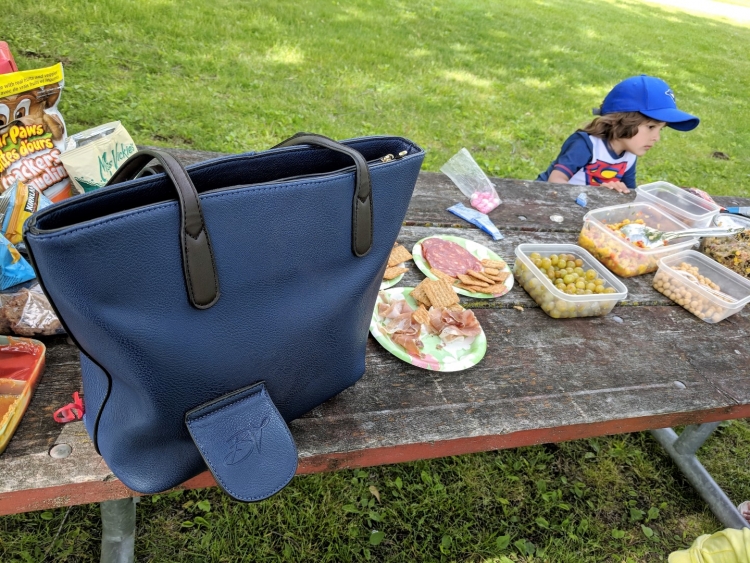 There is another angle that I really liked. This product seems like a bit of a frivolous (but fun and practical) purchase and I was glad to see that there is an element of giving back. When you purchase a PortoVino product, not only are you getting a cool-designed and quality product, you are helping feed starving children around the world. Feed My Starving Children (FMSC) uses donations and volunteers to hand-pack meals specifically formulated for malnourished children. In recent years, FMSC has sent food directly to about 50 countries per year and amazingly more than 90% of total donations received are spent directly on meal production. A severely malnourished child can become a well-nourished child in a matter of months by one of these scientifically developed and easy-to-prepare food blends. PortoVino is committed to providing a minimum of 25,000 meals annually to help this cause.
I see myself using this "wine purse" frequently over the summer and we have one for you as well!! Enter for a chance to win a PortoVino purse!!! I won't even ask if you plan to carry milk, juice, cocktails or wine!!! If you don't win this one you can always take 10% off your entire purchase with wine purse discount code: SUMMER10.