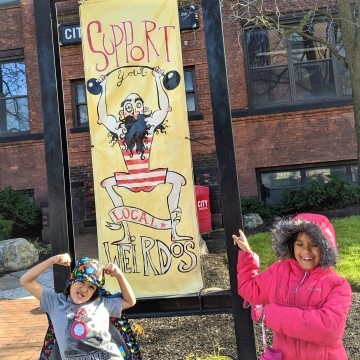 We recently spent a weekend in Rochester, New York with our kids and brought the grandparents along as well! Having explored Rochester in the Fall a couple year ago, we were eager to see the things we had missed out on our last visit back in 2015 and of course, re-visit some of our favourites. For those in the Toronto area with young kids, Rochester is an easy 3 hour drive away and a great winter road trip, even if you're not into winter sports! On this multi-generational trip we discovered indoor things to do in Rochester with kids that didn't involve strapping on any skis or being outdoors for too long! Culture vultures will definitely want to hear about our winter weekend in Rochester with our family!
Disclosure : This post is in partnership with Visit Rochester but, as always, opinions are TOTALLY ours!
Where to Stay in Rochester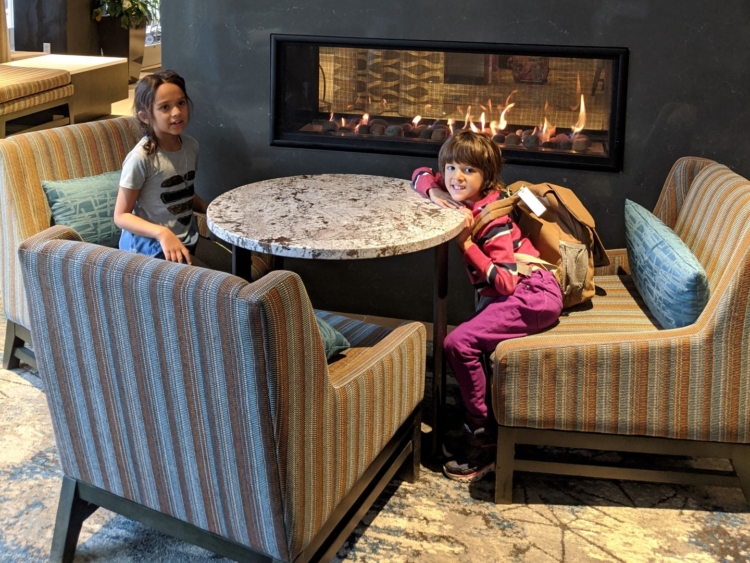 Having visited Upstate New York a couple times, we've stayed at various hotels. On this trip we had my parents along with us and we stayed at the Hilton Garden Inn Rochester which was conveniently located nearby many of the attractions we visited. We had two interconnecting rooms and the kids opted to share the two queen bed-room with my parents while Chris and I enjoyed the luxury of a king bed. I'll use the excuse of the kids bonding with the grandparents to roll around a king bed any day! The hotel offered a self-serve coffee/tea/hot chocolate bar each morning and there was a full-service restaurant on-site as well.  The rooms were fairly standard with comfortable beds, fridges in each room and bottles of water for Hilton Honours members (definitely sign up for this free program if you haven't before). The staff were extremely friendly and when Baby Boy discovered that our room looked out towards a cemetery, the staff equipped us with a map and told us about the famous folks awaiting his visit there! I will mention that there is an indoor pool but it was closed for maintenance during our visit so I hope one of you send me some pictures from your visit there soon!
During our previous visit to Rochester with kids we stayed at the Strathallan in a suite and I believe they've gone through an upgrade as well. If you're looking for other ideas on where to stay in Rochester, check out this link.
Multi-Generational Fun in Rochester with Kids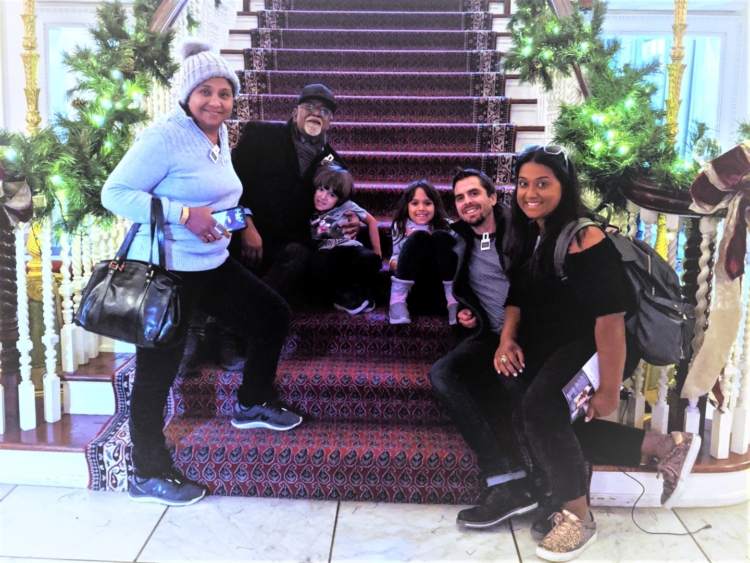 Travelling with grandparents and kids can be tough but if you find the right balance, you're in for a treat. On this visit we mixed in a good amount of play and learning which kept us all  happy. Over the course of a weekend we visited museums, art galleries and enjoyed plenty of good food. We got in late on Friday evening and departed on Sunday afternoon so the following are quite easy to explore over the course of a leisurely weekend if you're looking for a winter road trip from Toronto.
Fascinating Discoveries at Rochester Public Market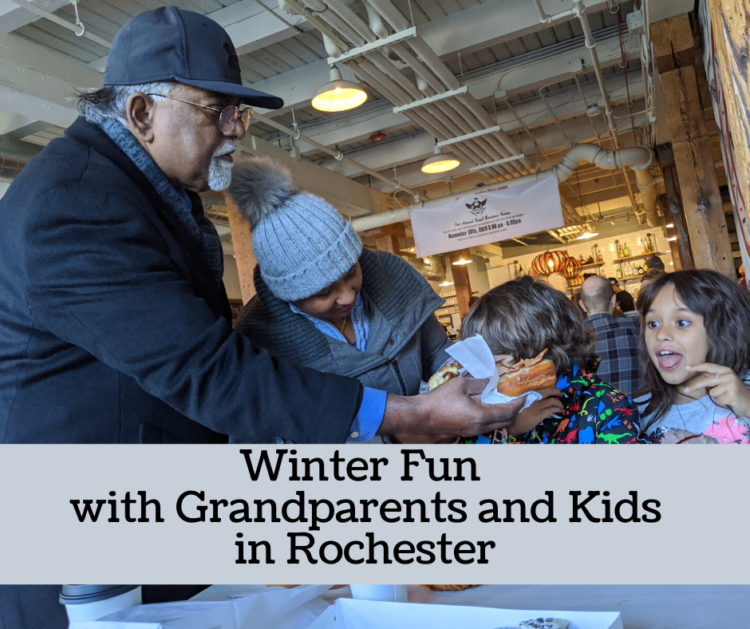 What a fantastic place to start your weekend at! My mom was thrilled with the visit  as we explore local producers of vegetables, bread, fruits and honey. She even spotted a kitchen on-site that teaches you how make special dishes via the Public Market Nutrition Education Center. My dad, Chris and I were more about the delicious eats like breakfast Empanadas from Juan and Maria's (the beef one was my favourite) and the craft beer at Rorhbach Beer Hall, while the kids enjoyed the many treats we picked up along the way. I enjoyed the market for various reasons and truly wanted to return because I want to explore more. I loved the murals decorating the various buildings and the stalls beyond the indoor food market reminded me of my days rummaging through Sunday Bazaar in Karachi. Piles and piles of random things like fashion jewellery, toys and home decor items await those who want to enjoy walking through the aisles.
The Rochester Public Market is open and is open Tuesday, Thursday and Saturday, year-round and has served the community since 1905.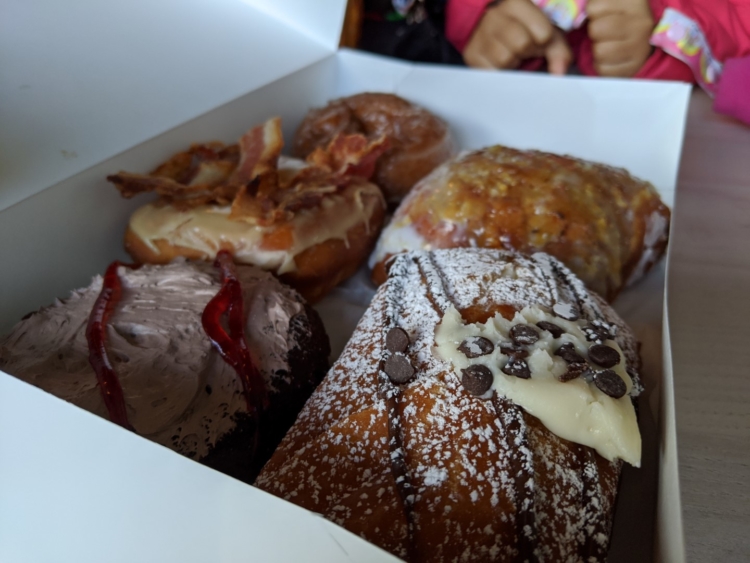 We explored the main food stalls before picking up a treat at BXCR Donuts (the cannoli one was my fave) and relaxing for an hour at Rochester's original craft brewery, Rohrbach Beer Hall. There are games on offer and I was too full from the market to eat here but their menu looked fab!
Playtime at The Strong Museum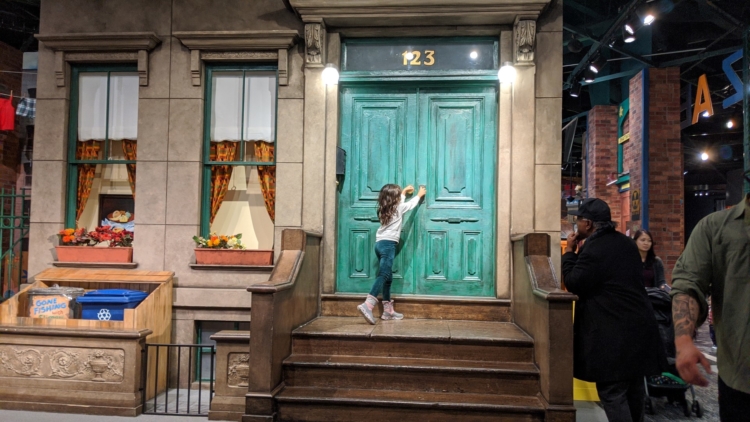 This Children's Museum in New York is what we have been raving about since our first visit over 4 years ago. On this visit, we noticed quite a few upgrades and the kids STILL love it. It was actually quite cute having them re-enact some of the pictures from our first visit. My parents enjoyed playing with the kids here and while we could have EASILY spent 3 to 4 hours at the Strong Museum, we decided to cap it off at 2 hours to ensure that the adults also had a chance to visit another museum. This is upstate New York's largest year-round cultural attraction and your kids can experience two floors—more than a city block long—of hands-on, dynamic and interactive exhibit spaces. The Museum of Play truly is one of the best kid's museums we've been to and this alone is worth a road trip from Toronto. Click here to read our full post from our previous visit. Also, if your kid has an accident and needs a change of clothes, the museum has a few spares to give you! Isn't that a nice touch? You can also borrow books!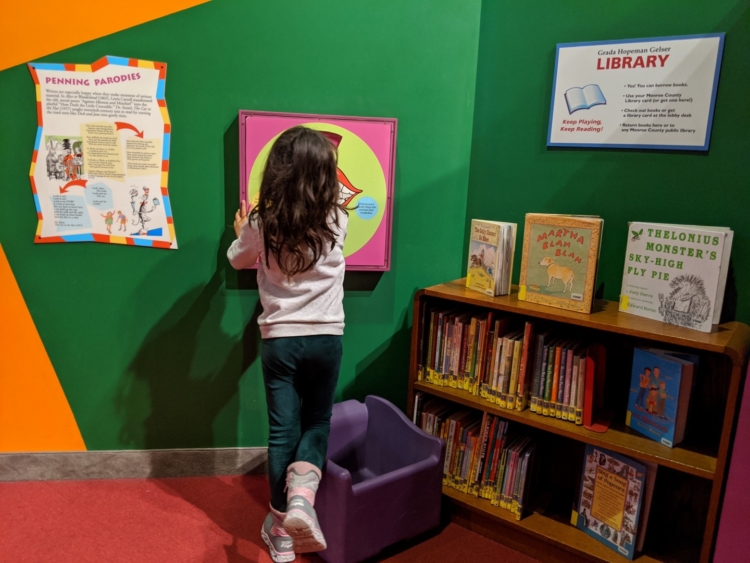 Photography Heaven at the George Eastman Museum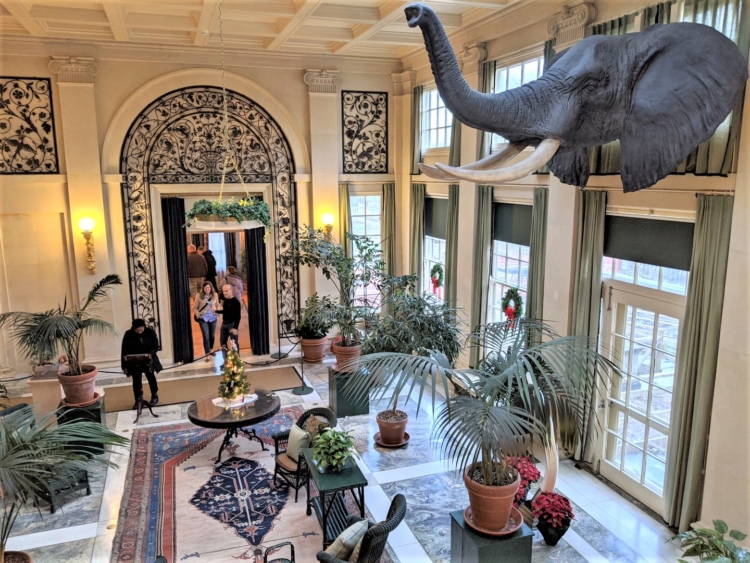 We always mix in some adult focused attractions and because I knew my parents would enjoy learning about the Kodak brand (one even I grew up with in the Middle East), we visited the George Eastman Museum (yup, he's the Kodak inventor!). I anticipated the kids being bored at the world's oldest photography museum but was so surprised when I found an interactive children's room filled with experiments and arts and crafts. This was a nice break in-between exploring the gorgeously decorate Eastman estate, 16,000+ items of camera technology, 26,000+ motion picture titles and 3.5 million publicity stills and posters.  The museum boasts one of the world's most comprehensive libraries of photographic books, manuscripts, and journals so if you have a photography lover, this is where you'll want to spend some time at when visiting Rochester. Since we were visiting during the holiday season, they also had numerous gingerbread houses on display and each was more intricate and extravagant than the other. Needless to say, it wasn't just the adults who were entertained here over the course of our two hour visit!
Death and Respect at Mount Hope Cemetery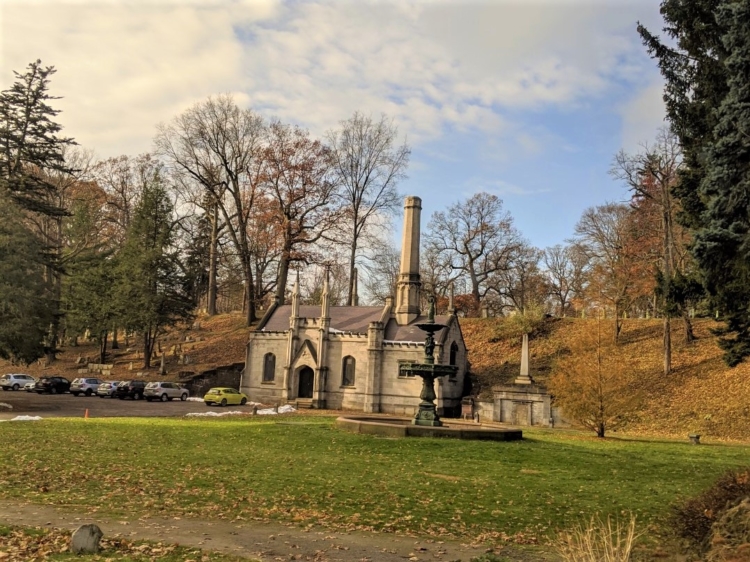 Alright, I know this isn't a usual attraction but having visited the Cemetery thanks to Baby Boy's request, I think it's worth a drive through. You can drive your car around the burial grounds and stop if you want to step out and explore the first municipal cemetery in the United States. We visited the graves of Susan B. Anthony and Frederick Douglass who are just two of the famous political figures laid to rest here. We used this opportunity to remind our kids about the topic of death and how to be respectful when visiting cemeteries.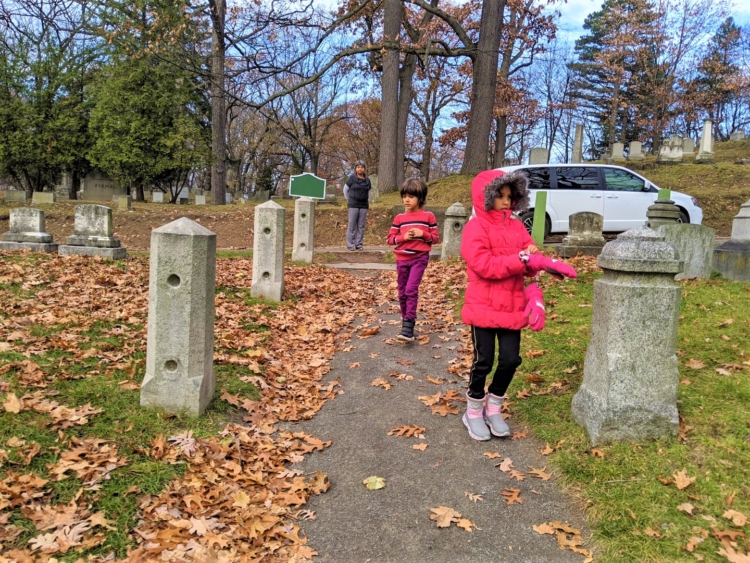 Bowling at Radio Social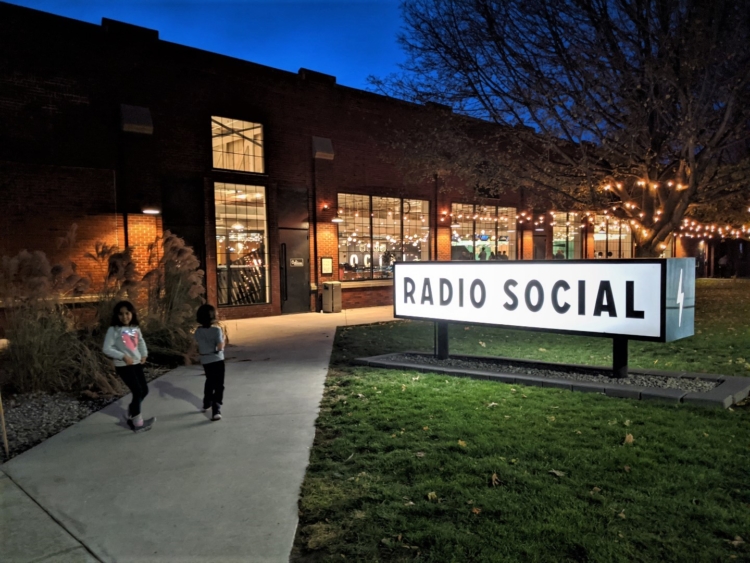 If you need a break from the museums, flex those bowling skills! Radio Social is an upscale bowling experience where you can enjoy some craft cocktails and amazing snacks like hummus platters while relaxing as a family. It has been YEARS since my parents had bowled but they were SO into it. I had forgotten that they used to bowl a lot during my own childhood and creating bowling memories with their grand kids is one they won't soon forget I'm sure. Radio Social is a bowling alley, restaurant, bar, music venue and social club located in Rochester's historical Stromberg-Carlson warehouse. The 42,000-square-foot facility features 34 bowling lanes, lounge areas, a variety of indoor and outdoor games and a full-service restaurant and bar. I loved the decor and the ambiance in the main lounge area where there are 8 social lanes. The 'backyard' lanes were your more traditional bowling alley vibes but the front area is a more upscale experience. If we had a place like Radio Social in Toronto, we'd totally be hanging out there on a regular basis. You can make your bowling reservations online and of course shoe rentals and bowling balls are included in the lane price.
Art and Music at the Memorial Art Gallery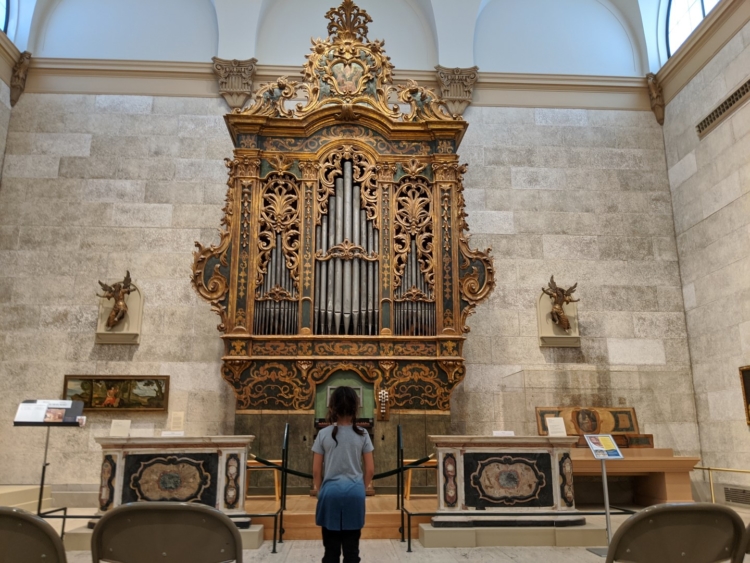 On Sunday we enjoyed a sleep-in and our plan was to explore the Memorial Art Gallery which was a journey through more than 5,000 years of art history. We decided to first enjoy a quick brunch at the Brown Hound restaurant on-site and I will tell you that you MUST order the French Toast or any of their baked goods here.
Upon entering the gallery (and before you head to the restaurant) grab one of the free activity bags on offer for families. The free MAGBags (aimed at those 3 to 10 years of age) kept the kids busy while we waited on our food!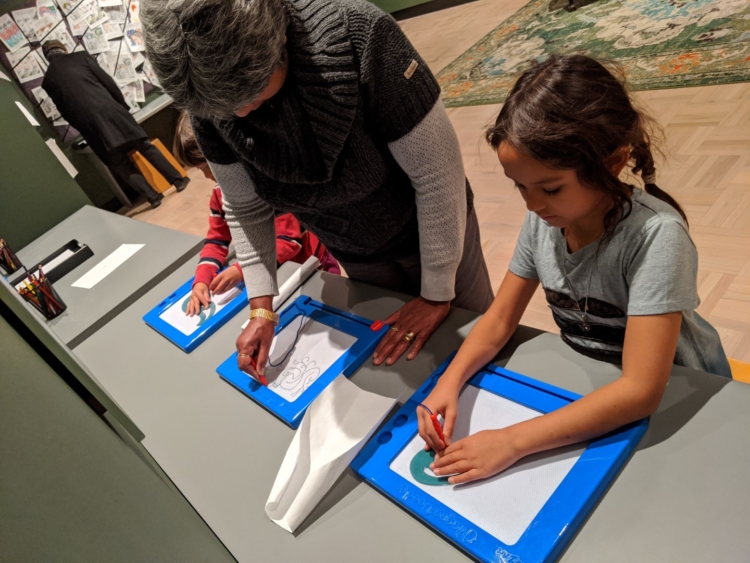 We spent about an hour roaming through the gallery, exploring more than 12,000 objects (including street art!) and various rooms. They do have a kids section where Baby Boy and Little Monkey (along with my mom) had a chance to draw and colour but you can also download a scavenger hunt to keep them busy. If you time your visit properly you can catch a 20-minute organ concert at 1:00 p.m.  and 3 p.m. on the second floor of the MAG every Sunday. This the only working Italian Baroque organ in the U.S. and it was a calming experience for the adults (not so much the kids).
Rochester Museum & Science Center & Strasenburgh Planetarium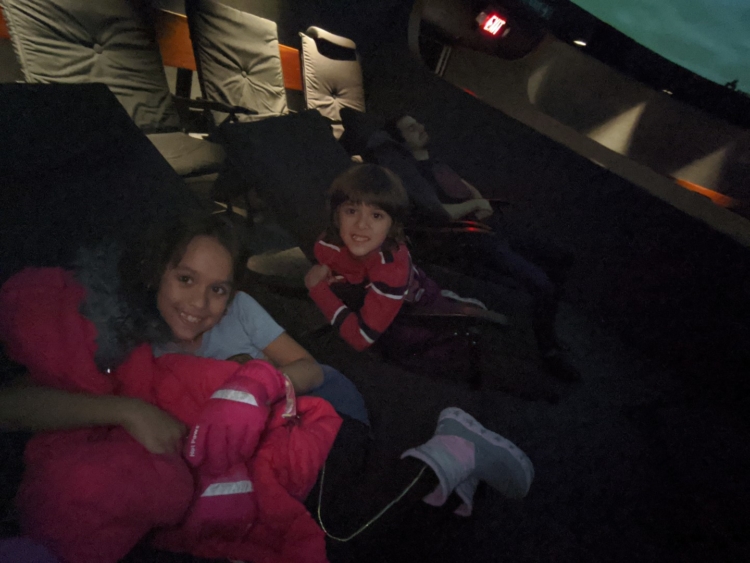 On our previous visit to Rochester we explored the Rochester Science Centre but it was closed for the museum's 49th Annual Holiday Bazaarr during our recent visit.  So, we caught a show at the Strasenburgh Planetarium this time. If you want to learn more about the kid friendly nature of the Science Centre, click here to read our full post from our previous visit. The six of us cozied into comfy reclining chairs (there were bean bags too) and were taken on the ultimate off-trail adventure into America's awe inspiring great outdoors during the IMAX 3D screening of National Park Adventures. This 40-minute screening, narrated by Robert Redford, celebrates the majesty of Yellowstone, Yosemite, the Everglades, the Redwoods, and Arches. The kids were quiet for the entire movie, which was shocking. Of course them being quiet also meant that I MAY have snoozed for a bit! On a cold day, this was a great way to keep warm.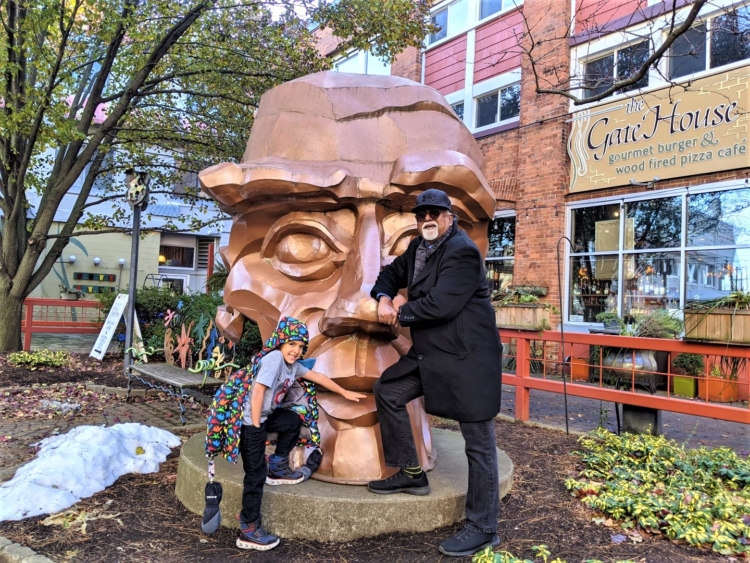 If you're looking for a few winter strolls and more ideas on outdoor activities in Rochester, you'll find them on the Visit Rochester site!
Dining in Rochester With Kids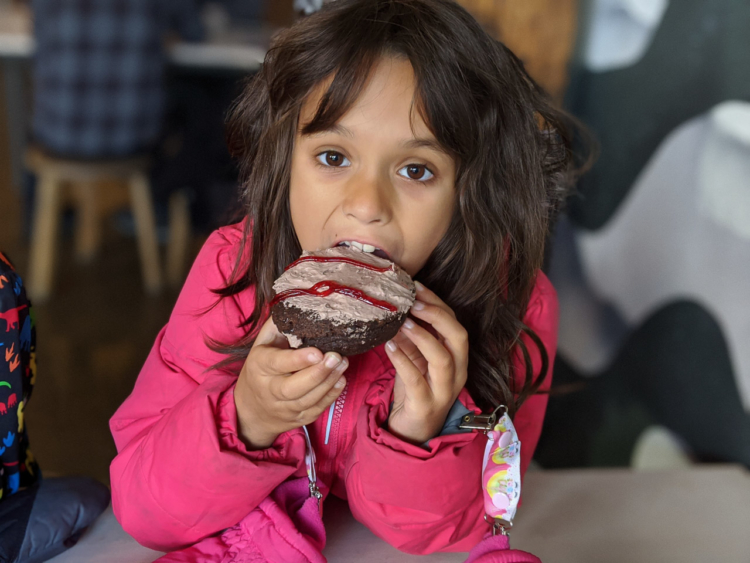 If you follow us on Instagram, you know that my parents like to eat as much as I do! No visit to Rochester would be complete without us introducing them to some of our favourites.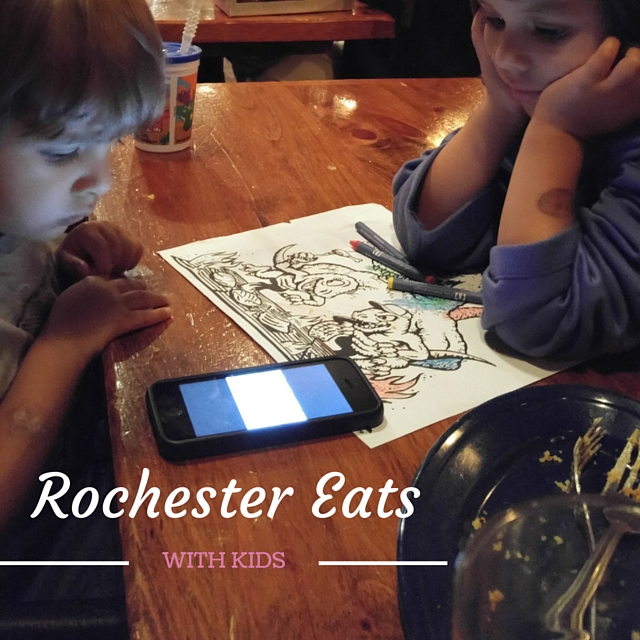 Dinosaur BBQ : A must visit spot when in the Rochester area, this BBQ joint is super kid friendly (change table and all) and they also have a great beer line up. You can expect a bit of a wait during the rush hour, so just a heads up!
The Gatehouse : I was glad we stumbled upon this spot for lunch one day because it was the only time we were able to introduce my parents to the famous trash plates of Rochester. If you haven't heard of the original Garbage Plate, it's a combination of two selections of cheeseburger, hamburger, hot dogs, Italian sausage, chicken tender, fish, fried ham, grilled cheese, or eggs; and two sides of either home fries, French fries, baked beans, or macaroni salad. On top of that are the options of mustard and onions, and hot sauce with simmered ground beef. My mom ordered a vegetarian version and said it was satisfying!
Genesee Brew House : If you're looking for a snack and pint of beer, the Genesee Brew House is a family friendly spot. If you have a stroller, they have an elevator to bring you upstairs and they have high chairs and kids menu. I had spotted Buffalo Chicken Pierogies at the Market and was thrilled when I saw them on the menu here, they were my favourite! These guys usually have a great trash plate but it wasn't offered on Saturdays so we'll have to return.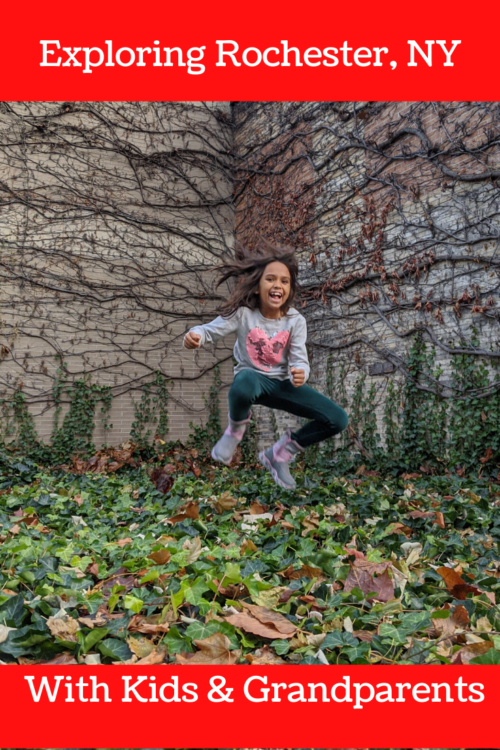 For families looking for a quick winter getaway from Toronto, Rochester is definitely one of our go-to recommendations and with good reason as you can see. Especially for those who aren't looking for winter sports, the cultural attractions and activities will keep you entertained all weekend long!