Please note that we paused this contest back on March 15th but as things slowly open up again the ROM and Fairmont Royal York Hotel are re-starting the offer. All previous entries are in good standing. Also note that these images were taken pre-pandemic which is why you don't see us wearing any masks or following new safety protocols.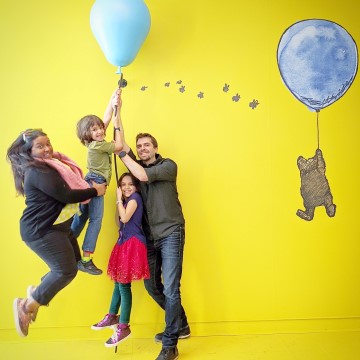 If you're excited about the Winnie the Pooh exhibition in Toronto, I have some news for you!!! The Fairmont Royal York Hotel is offering a special Winnie package that's perfect for Pooh lovers looking to spend a memorable time in the city of Toronto. Read on because we're giving away a one night stay so you too can experience the #ROMWinnie package and not only enjoy the luxurious hotel in downtown Toronto but also visit the Royal Ontario Museum (ROM) and learn fascinating things about the lovable Pooh bear! Please note that both places are following strict COVID-19 protocols for the health and safety of all guests and visitors.
Disclosure : We were guests of the Fairmont Royal York Hotel but, as always, opinions are TOTALLY ours!
Winnie the Pooh at Fairmont Royal York Hotel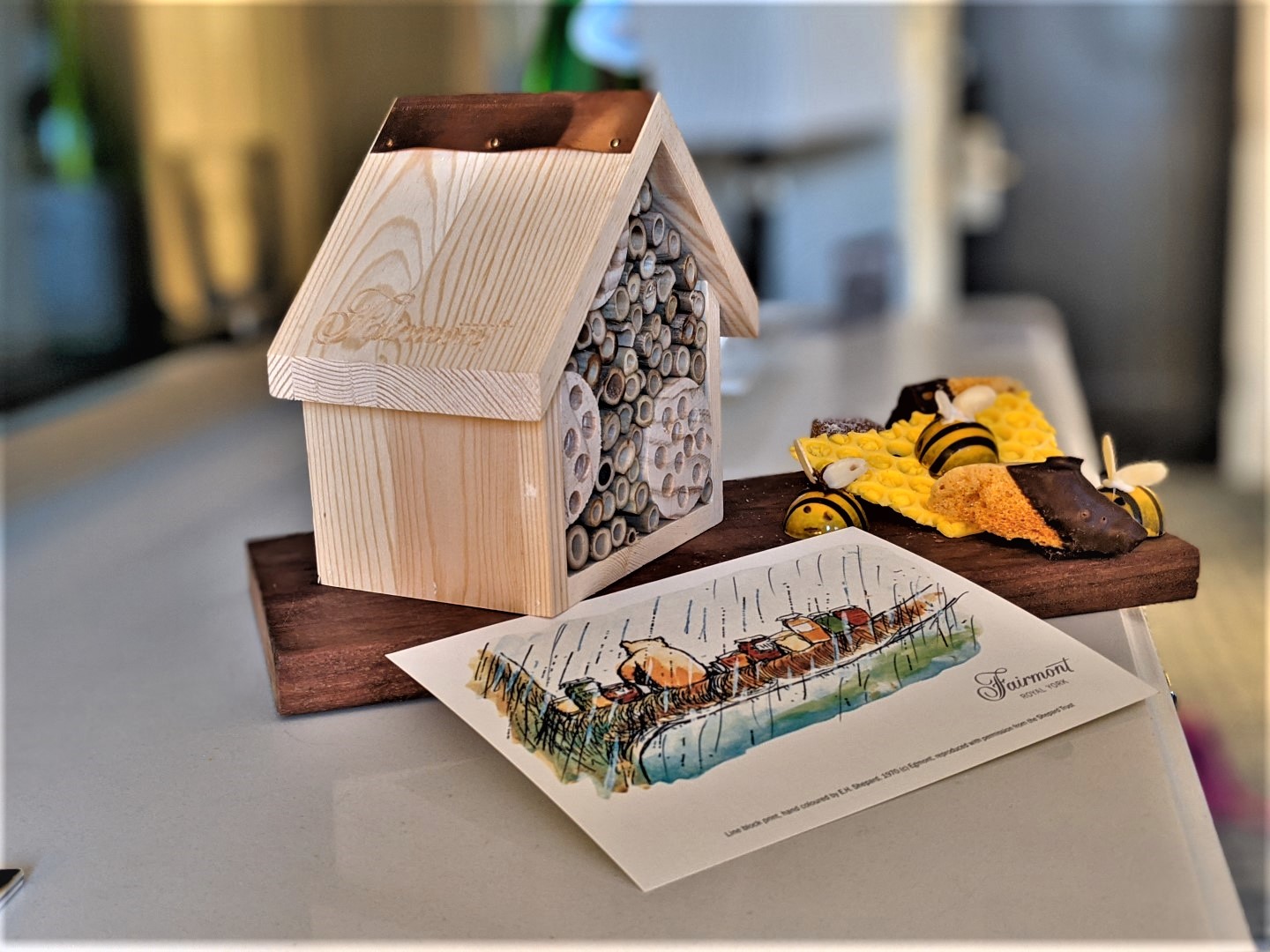 From September 1st to January 14th, the ROMWinnie package at the Fairmont Royal York ensures that you'll have a Pooh-rific time. Back in March we decided to plan a fun luxurious staycation in Toronto with our kids and checked into the Royal York Hotel. Located right next to Union Station, this Toronto hotel is conveniently located nearby the CN Tower and Hockey Hall of Fame. It's also only a couple subway stops from various museums, including the ROM. The ROMWinnie packages start at $399 + tax (depending on your room category).
On this trip we stayed in a Fairmont Luxury room with double beds and views of the CN Tower. Having stayed in various room categories at Fairmont hotels in North America, I can tell you that I mostly prefer staying in deluxe rooms because it has extra space for families to spread out, however if you're only in the city for a night, the luxury rooms are great. Chris and I each had a kid in bed with us and it gave us a chance to do something we don't do at home, snuggle up with the kids overnight.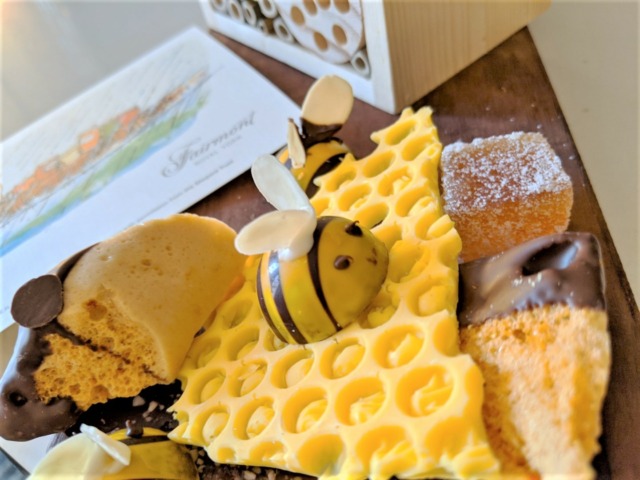 The hotel's rooftop apiary is also home to seven hives and 350,000 bees who make over 450 pounds of delicious honey each year. When you book the ROMWinnie package you not only receive tickets to the exhibition but you also get a taste of this honey in the treat that will waiting for you in your room!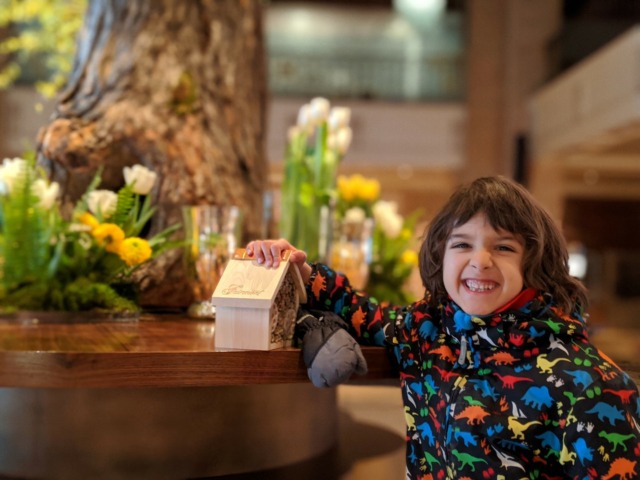 $10 from your stay will also be donated to the Pollinator Partnership so you're also giving back! You can help the bee population even further by taking home one of the limited edition Mini Bee Hotels that are also included in your package (while quantities last). Mini Bee Hotels provide a nesting habitat for solitary bees to make their nests and help mitigate the extinction of native bees.  Apollo has been guarding his safely because he wants to either place it at my parents' bed and breakfast in Niagara on the Lake or at Chris' parents home in Cape Breton!!
Winnie the Pooh Exhibition at ROM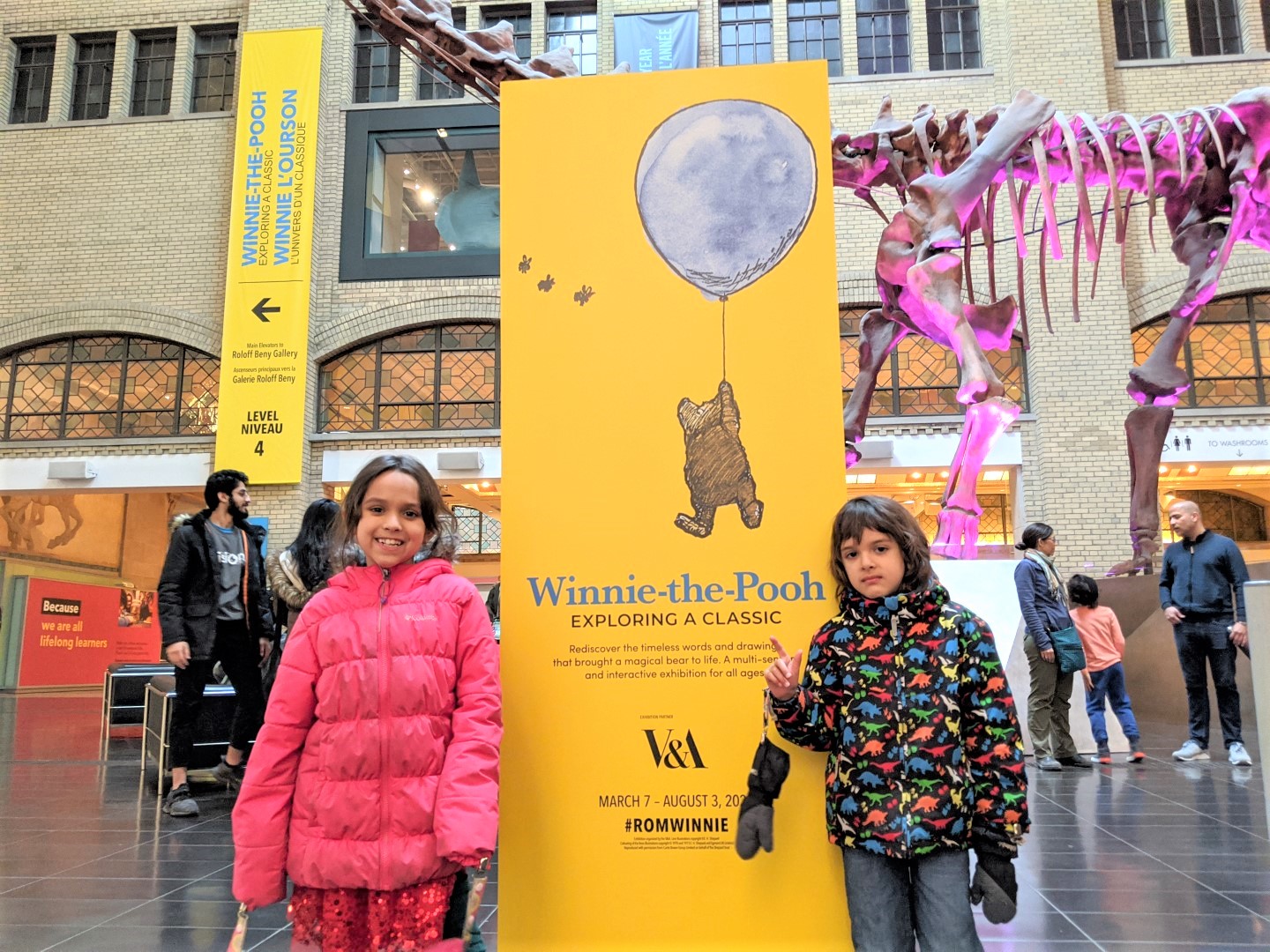 As part of the Fairmont Royal York Hotel package hotel guests receive 4 tickets to the Winnie The Pooh exhibition at the ROM. Additional tickets can be purchased through concierge for 20% off regular admission. Once you book your package, give the hotel a call and the concierge will ensure that they book you a time-slot that works for you. We visited the Winnie the Pooh Exhibition in Toronto on opening day and it was a busy time. Entry is timed and I highly recommend that you buy your tickets online if you plan to visit during the early days (if you're not staying at the Royal York Hotel). Luckily, the Winnie the Pooh exhibition is here until January 17th 2021 so you have plenty of time to visit.
We spent 45 minutes exploring the interactive exhibition and I loved how it had something for all ages. While Chris and I grew up on the Pooh cartoons, my kids haven't. Sure, they know the characters but sadly they can't find the Pooh Bear cartoons on Netflix. Which is why I truly believe that this exhibition will be loved by adults like us. The kids have play areas woven into the exhibition so they can be occupied while we parents enjoy the historical details and fascinating facts about the many elements of the story and the cartoons. There's so much to learn about how the lovable Pooh Bear came to be!!!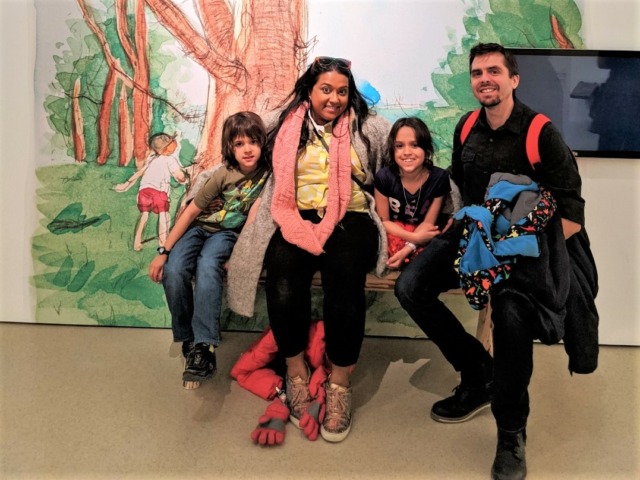 We spent 45 minutes here and the kids didn't whine too much so that's a win! With your tickets you do have general access to the ROM so make a day of it and learn about dinosaurs, gems and so much more.The ROM is one of the best Toronto museums for families because there are dedicated play areas for kids and you can spend an entire day here if you want! It's always hard to get my kids out of the ROM, that's for sure.
Originally opened in March and closed shortly after due to the pandemic, the exhibition has been retrofitted to accommodate new ROM health and safety measures. Signage and floor decals encourage a one-way route throughout the gallery, and capacity is limited to support social distancing. Enhanced cleaning and disinfecting measures are in place, hand sanitizer stations have been installed, and graphics or decals have replaced upholstered objects. The exhibition design also now offers visitors choices for interactivity.  For example, the same content is shared on both iPads and wall graphics, and other activities are available as look-only as well as hands-on, for a safe and fun experience. Visitors are required to wear face masks and respect physical distancing, as per municipal regulations. ROM staff are also wearing face masks.  
Fun Times at the Royal York Hotel in Toronto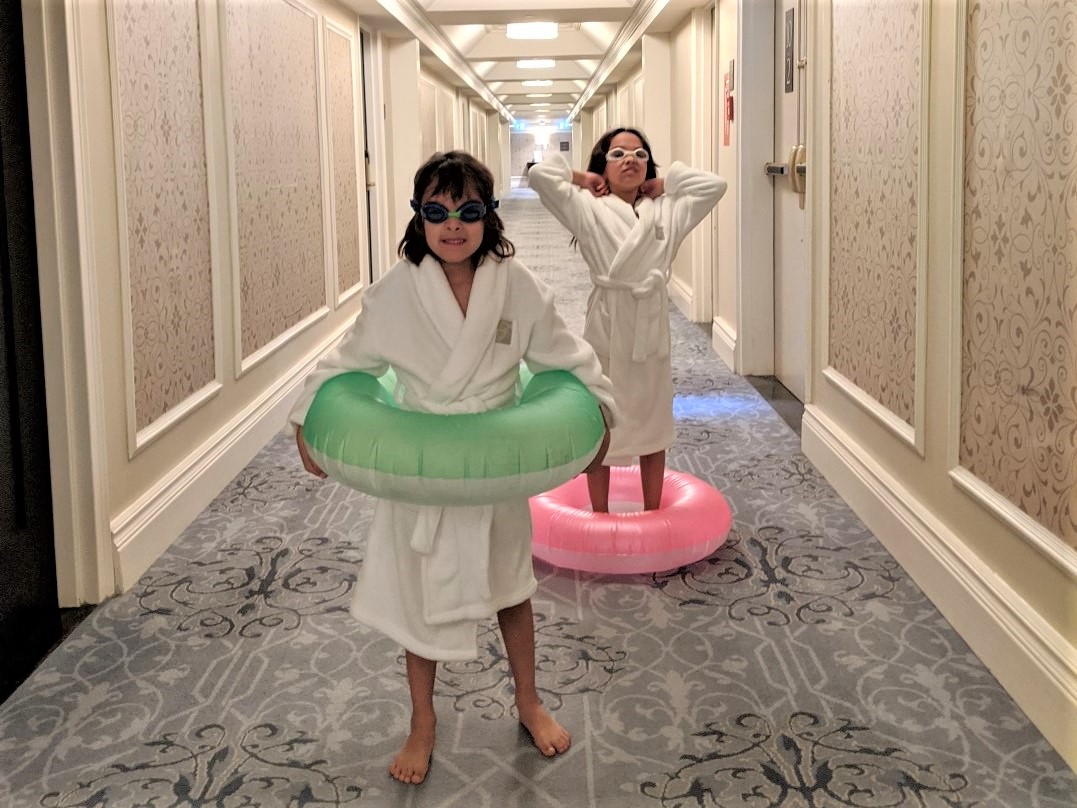 Now, while Pooh Bear did say, "when life throws you a rainy day, jump in the puddles"  I say "jump in the pool"!!! If you're looking to tire the kids out like we did after our afternoon at the ROM (and the way we enticed them to leave the ROM) this Fairmont Hotel has a pool area that's fun for families. There's a pool and and a hot tub of course, but there's also a small wading pool for infants. As with most indoor Fairmont pools, this was on the colder side but the hot tub was perfection! Please note that during the pandemic the hot tub is closed and the pool has distancing measures in place.
Delicious Times at the Royal York Hotel in Toronto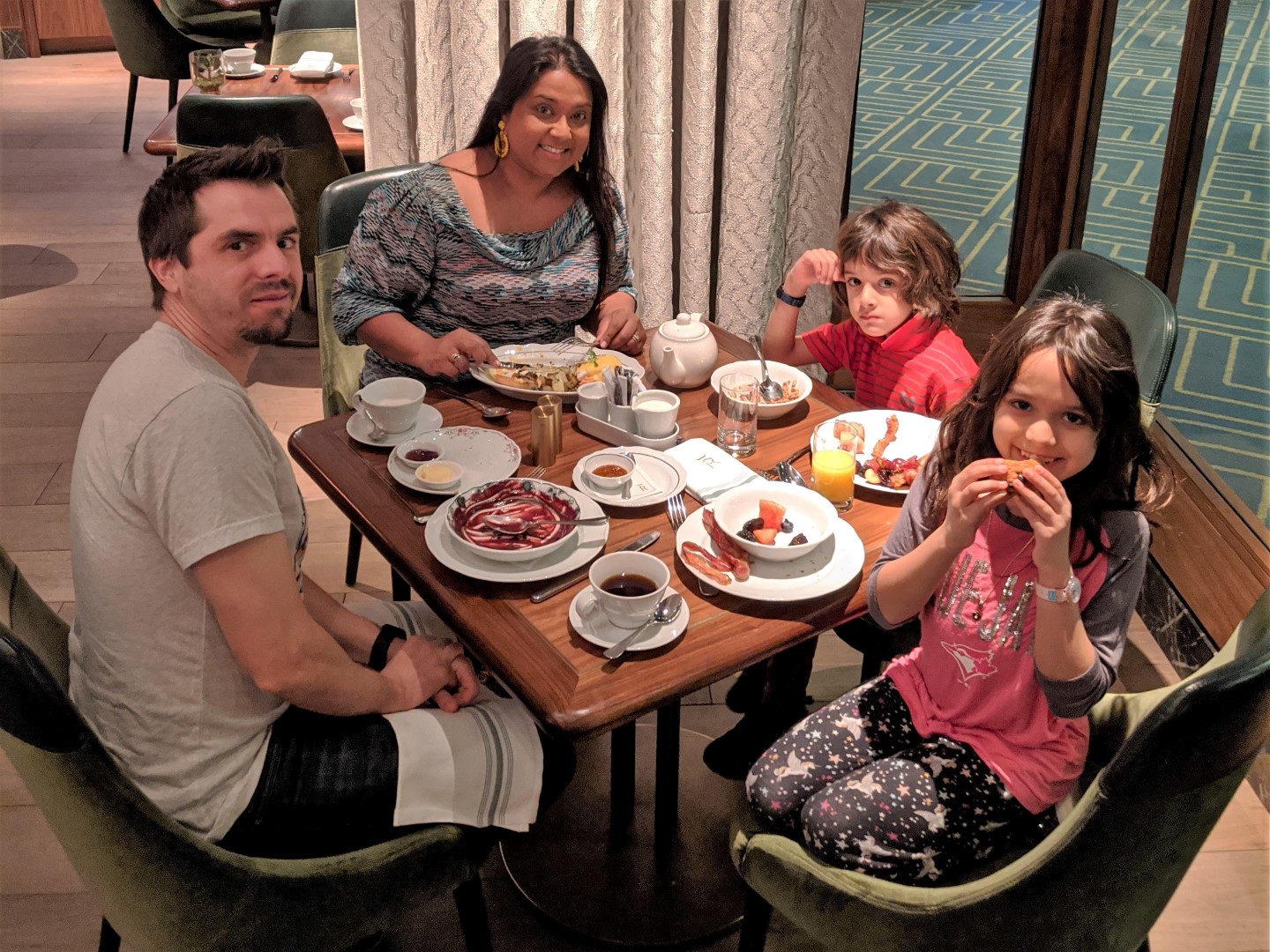 If you're hungry there's definitely more than honey to be had at the Fairmont Royal York Hotel in Toronto. The hotel is home to three bars and two restaurants. On this visit we decided to enjoy dinner at Benihana and breakfast at REIGN.
Benihana Japanese Steakhouse & Sushi Lounge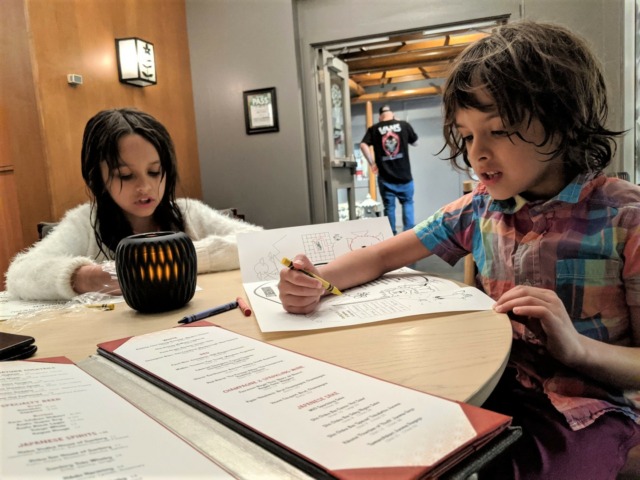 The only Benihana in Canada can be found at the Fairmont Royal York in Toronto and it's a wonderful experience for families, especially if your kids are like ours. Ours absolutely loves watching teppan chefs chopping and juggling at the private hibachi tables. Not only was our server and chef amazing with the kids but they were entertaining as well.
We started out with a couple appetizers from the a la carte menu and cocktails for the adults (juice and milk for the kids). In true Murphy style, the kids opted for the calamari and edamame while Chris and I shared a sushi boat (kids totally stole the California rolls from us) and ceviche.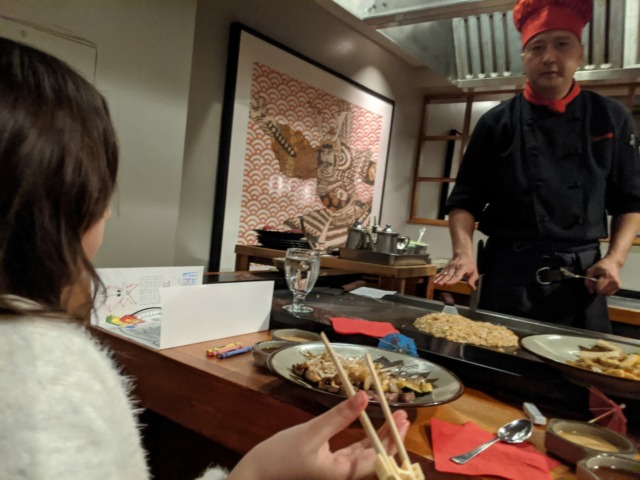 We then moved on to the main show and since the kids had appetizers, I opted to have them share one of the kids meal (great decision since the portions were quite large). What I loved about the Benihana experience at the Fairmont Royal York was that the chef was eager to cook the kids meals first and ensured that he made it dairy free so Apollo could dine with no issues. The kids menu offers options for steak, chicken or shrimp (med-rare steak was what mine went with) and it comes with a choice of soft drinks, Japanese Onion Soup, Benihana Salad, Vegetable Combination, Steamed Rice and choice of Ice Cream (they offered berries for Apollo). You can also add on some California rolls or shrimp.
We then moved on to our meal (which also came with a shrimp appetizer, soup and salad) where I opted for the Hubachi Ahi Tuna with a scallop side and Chris went in for the whole Shogun Feast with a fillet mignon and lobster tail! Needless to say, we were stuffed! If you do have leftovers, they will gladly bag it up for you.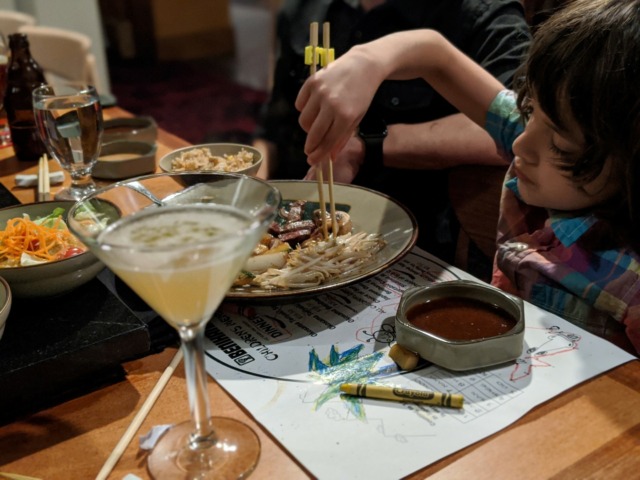 When it comes to teppanyaki meals, I come for the theatrics and entertainment. My kids always eat way more than usual and I love that I don't need to nag them. The bonus at Benihana was that the cuts of meat were good and the seafood was quite fresh. It's a spot I know my dad would love so I plan to take him there one day soon. Give yourself two to three hours to enjoy a leisurely meal here because the kids are going to love it!
Breakfast at REIGN Toronto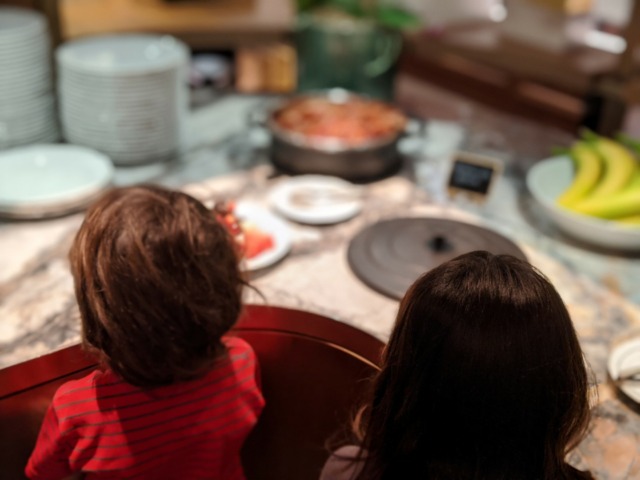 For breakfast we decided to try out REIGN because I had heard great things about this Toronto restaurant. They have freshly baked pastries and the service was attentive here as well. That Fairmont touch we have come to expect is alive and well at the Fairmont Royal York!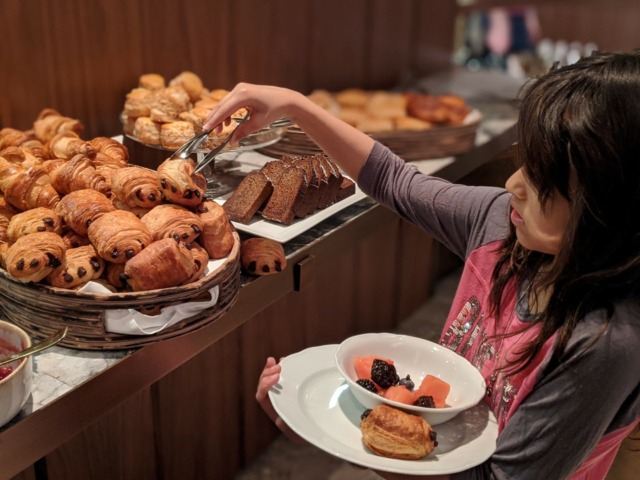 Guests can opt for the breakfast buffet or the a la carter menu and so we did both! The kids chose the buffet because they both wanted cereal and bacon (Akira did stock up on chocolate croissants as well) and when I saw that they were also eyeing the scrambled eggs (they will make a dairy free option if you ask) and fruits, we knew it was the right decision.
Chris and I wanted to keep it relatively healthy and so we chose a smoothie bowl (holy delicious!!!) and smoked trout Eggs Benny which was very satisfying. I definitely want to come here for lunch and dinner because the vibe is relaxing and upscale on top of having great service and a solid menu.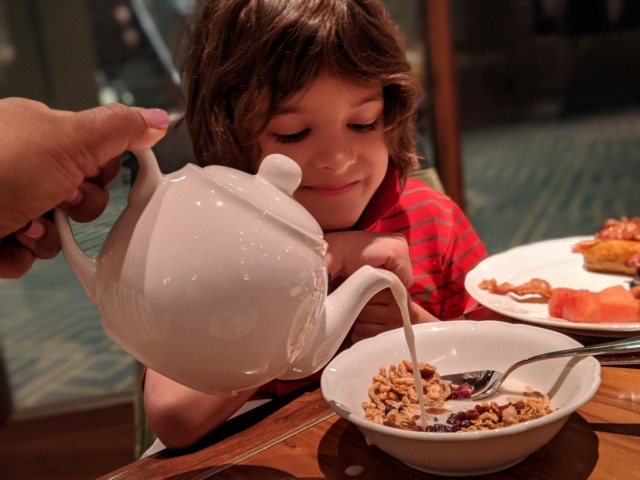 A leisurely breakfast was how we ended our stay at the Fairmont Royal York and as Pooh would say,  "We didn't realize we were making memories, we just knew we were having fun!". We want you to also have fun so read on to learn how you too could win a #ROMWinnie Fairmont Royal York package!

Enter for a Chance to Win a Winnie The Pooh Fairmont Royal York Package!!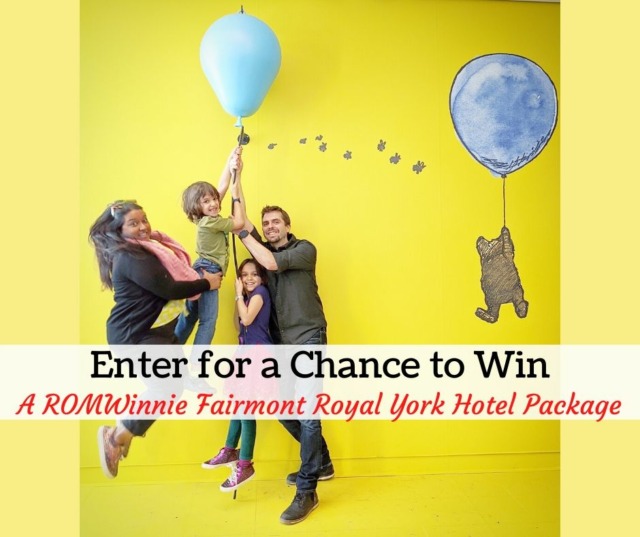 Please note that the package includes : 
– One night accommodation (Fairmont Room or better)
– Two (2) adult and two (2) youth (13 and under) express admission tickets for the ROMWinnie exhibition
– Royal York Hotel rooftop honey amenity including mini-bee hotel (while quantities last)
– $10 donation to Pollinator Partnership to help support honey bee health
– Breakfast for Two (2) adult and two (2) youth (13 and under) at REIGN Toronto
WHEN: September 1 2020 through January 17 2021 (blackout dates apply-need to request reservations at least two weeks in advance)