After a hot day and a pretty boring brunch I was determined to dine at a fabulous spot during our last night in Alexandria, Virginia. The hubs and I had scoped out a few spots but when a blast from the past recommended a spot, I was intrigued. A resident adviser from my college years in Maine (yes, from many moons ago!) reached out through the powers of Facebook, to tell me that he lives in the area and that Rustico is one of his favourite spots for dining out with baby for good beer and food. While they weren't able to join us, we knew we found our spot. With Baby Boy still being cranky at restaurants, I was definitely looking for a spot that welcomed kids, even the rotten kind! One thing I must mention is that Alexandria is one of the most kid (and pet) friendly cities we've ever been to. Every restaurant had high chairs, drawing sheets, plastic cups and many had change tables as well.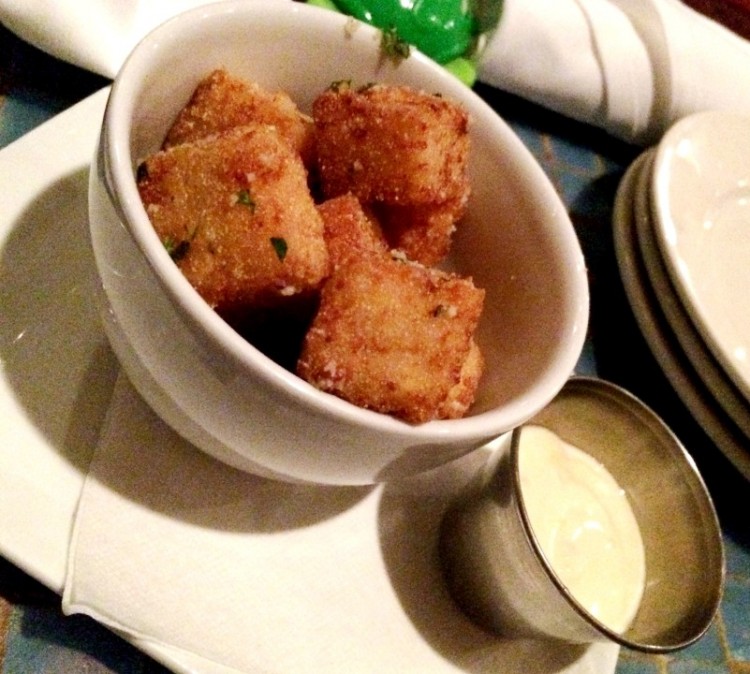 Rustico was about a thirty minute walk from our Hotel Monaco and my main hope was that Baby Boy and Little Monkey would nap during our walk over (and then some). We took in the sights (including a mini hostage situation with the local cop cars out in full force) and arrived an hour earlier than our reservation. The hostess greeted us and told us that it would be a bit of a wait as there weren't any tables available, but that we could cozy up in the lounge area (where our double stroller fit!), order some drinks and nibbles and relax. That sounded alright to us! Little Monkey was asleep but Baby Boy wasn't! Just my luck eh?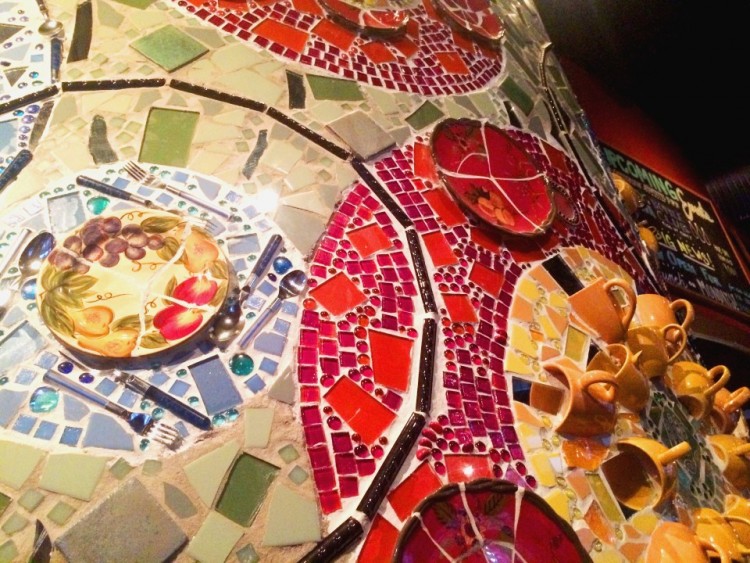 I was fascinated by the decor and couldn't help but take a few photos of the china and cutlery that made up the pillars. Sadly our waitress here would disappear for chunks at a time and so by the time our food and drink arrived, our table was ready! That didn't stop us from digging into the Corn Cakes and Bites before giving up the comfy couch. We easily moved over to main dining area and had plenty of space to park the stroller by our table. Shall I mention that they had a change table as well? At this point Little Monkey was awake and eager to eat. None of us had really had anything substantial during the day so we were all starving! Boy was I glad when I saw a salmon dish that not only sounded healthy and delicious but was also Little Monkey approved! The hubs ordered the Italian Sausage Pizza which he'd heard many a good thing about and I shared my Seared Salmon dish with the kids. My dish also came with Curried Chickpea Succotash (SO Good!), a Cilantro Herb Salad and a Seasoned Yogurt.
Our second server was definitely more attentive and very kid friendly which made our evening even more pleasant. He was entertaining (loving EVERY single drink choice we made) and kept checking in on us until the bitter end. With over 400 beers available I happened to stumble upon a Southern Tier Creme Brule beer that I had been hunting down for a good while and the hubs found a Special Edition Sour Blend 2015 that he still remembers! The kids got plastic cups with lids of course!
Not only did we walk to the restaurant that night, we also walked back! It was around 11 p.m. and we needed to grab groceries (mainly milk) and so we decided to make our way back through town. A few local ladies at the shop told us to be cautious and gave us directions on which streets to avoid and so we were all set. If you're in Alexandria with kids or without, Rustico is a great choice for an upbeat vibe with a casual atmosphere for solid drinks and a satisfying menu!