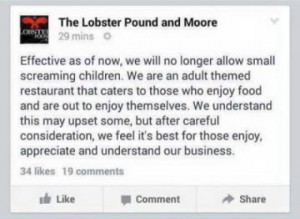 As you know we enjoy taking our little ones out to dine with us and they've been known to accompany us on some pretty epic menu tastings around the city of Toronto and around the world. Last week a Cape Breton restaurant came under fire when the owner took to their Facebook account to complain about a screaming child and in the heat of the moment shared this post.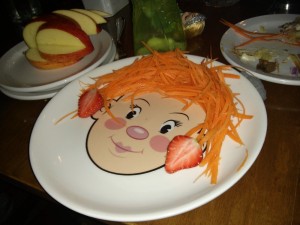 Well, what do you know? We've actually been to this restaurant and we wrote about our EPIC meal and experience. Sure the restaurant never pretended to be family friendly (we were told there's no high chairs or kids menu when we called to make a reservation) but the owner was absolutely lovely once we were at the restaurant. My sister in law loves the Lobster Pound and Moore and during our Nova Scotia travels last summer she insisted that we dine there one night. Which is how we got to meet the owner after securing a hard to come by reservation. He was charming and made fun plates for both kids and even brought out a lobster claw for Little Monkey to touch.
So when I got a couple comments on my original review stating that they had now banned kids, I was quite shocked but decided to probe a little deeper. I had no contact details for the owner other than through their Facebook page and by this time the original post had been  taken down and there was an apology on the page insisting that bellies of all sizes were still welcomed. Having since chatted with the owner I know he still welcomes children to his fine establishment. Do yourself a favour and swing by this spot for a meal if you're in the area during the spring, summer and fall months.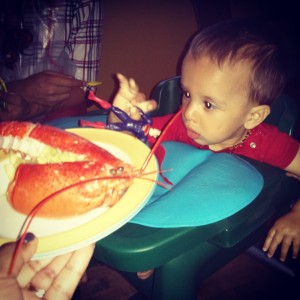 Should babies be banned by certain restaurants? My answer when a Chicago Chef tried this was "HELLZ NO" and my answer still stands today.  Yet I'm totally okay with the Lobster Pound and Moore's original statement. In this case a perfectly fabulous restaurant took to social media a bit too rapidly and everyone got their dinglehoppers up for a fight. Yes the restaurant owner should have chosen his words carefully but in his defense he did say 'small screaming children'. Well behaved ones were always allowed!
In fact, Little Monkey needed a break when we were dining at the Lobster Pound and Moore and the hubs immediately whisked her out for a quick walk by the water. She was 2.5 years old at the time and we have always taken her out of a restaurant (even when she was just a few weeks old) as soon as a cry session was on its way. Once she turned three we have taken her home on a couple occasions (click here for a good story on this!) and she has learned her lessons. The threat of going home is now good enough. I say it's up to us parents to know our kids limits and time our restaurant visits according to their schedules.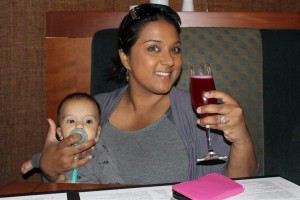 For now I'll tell you this…the next time I'm in Sydney, Nova Scotia… I'll be going back to the Lobster Pound and Moore. In this case the owner has profusely apologized to the many he may have offended (I can't believe some people threatened his family over this!!) which shows his human side. At the end of it all I support a ban on screaming kids and would like to add yelling adults into the mix. I'll still bring my kids because they know they shouldn't scream outside of our home (and yes I'm working on that too). One yell more than necessary and we march right out!
I don't mind restaurants banning screaming kids as long as they don't ban all kids. Do you agree?