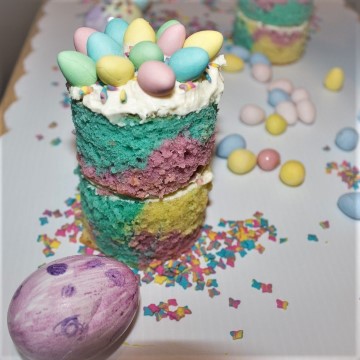 Easter is on the way!!! The kids are excited for the egg hunts and I'm taken back to memories of my childhood when we'd go to Easter Mass and come home to a decadent breakfast. Yes there was chocolate but there were many other dishes that we enjoyed during Easter. When I think of Easter I think warm fuzzy thoughts, pastel colours and treats (as a Catholic I should be thinking of plenty of other things, but that's a topic for another day). There's a Sri Lankan cake that always reminds me of Easter because of the colours. A traditional Sri Lankan Ribbon Cake recipe will yield a variety of pastel coloured layers but I wanted to mix things up so I made up a fusion of ribbon cake meets marble cake, both of which transport me back to Sri Lanka the moment I think about them.
Disclosure : This post is sponsored by Egg Farmers of Canada but, as always, opinions are TOTALLY ours!
This week, the kids and I got in the kitchen with my mom to make the Ribbon Cake ahead of the Easter celebrations and even my neighbours got to enjoy a piece because we made a couple batches. This might be our Sri Lankan recipe but my Trini neighbour told me that it took him back to his own childhood and brought back memories of baking with his mom. I have a feeling that this ribbon cake recipe might bring back memories for quite a few because it's a butter cake recipe which many cultures have a version of. It's not overly sweet but just sweet enough with a chewy yet melt-in-your mouth texture and goes perfectly with a cup of Sri Lankan tea.
As many of you know, my mom's the baker in our family and you've seen my instastories where every time my parents visit us from Niagara on the Lake, they bring us butter and eggs. Why? Because my mom believes it's cheaper on her end and she wants to control the brands we put into our bodies. We eat a lot of junk according to her (I whole heatedly disagree, but again, topic for another day) and she believes that if she can control two items the kids eat on a daily basis, all the better! She brings us top quality Canada Grade A eggs made by Canadian farmers. Now, I haven't burst her bubble by telling her that in Canada, no matter where you purchase your eggs from, they're from a Canadian farmer. Unlike in some countries I've lived in, here in Canada, on average eggs travel from the farm to grocery store in less than a week. No sitting in transit for weeks at a time!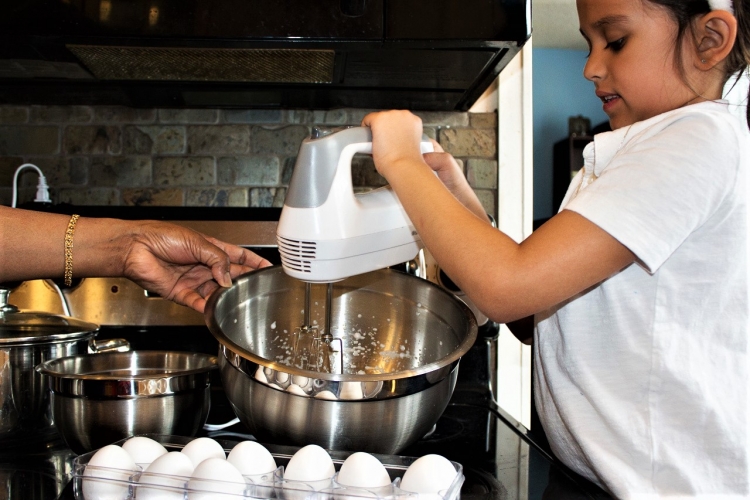 We know that over 1,000 Canadian family farms work year-round from coast to coast to provide us with the fresh, local, high quality eggs we love and enjoy. In addition to colouring eggs and enjoying egg hoppers for breakfast, we will be digging into this Sri Lankan Ribbon Cake before we start our chocolate egg hunt! That's the beauty of delicious and nutritious Canadian eggs, they're perfect for breakfast, lunch, dinner and all sorts of treats in-between!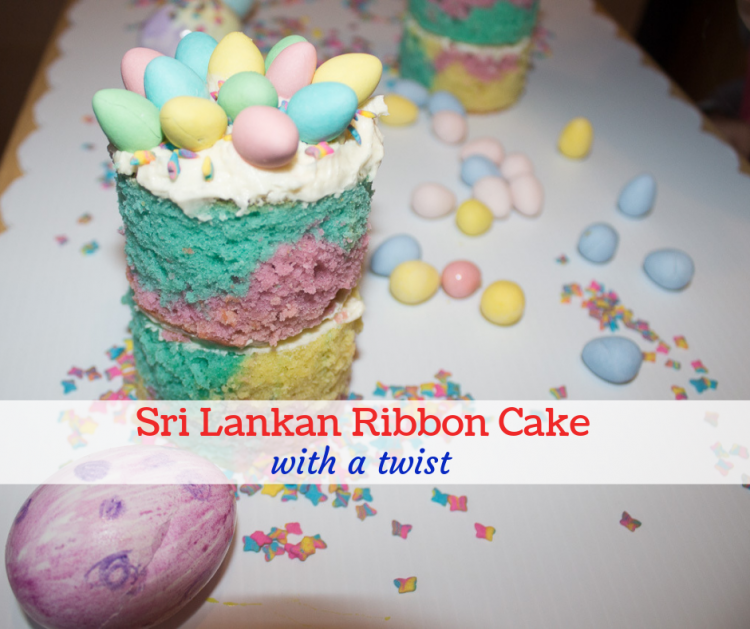 Sri Lankan Ribbon Cake Recipe
3 Large Eggs at Room Temperature (cake won't rise if it isn't)
200 g Unsalted Butter at Room Temperature
200 g All Purpose Flour Double Sifted
1 Teaspoon Baking Powder
200 g of Ground Sugar (ideally sugar should be put in a grinder but not mandatory)
Pinch of Salt
2 Tablespoons Milk
2.5 Teaspoons Vanilla Extract
3 different food colouring bottles (you will only need about 2 drops of each)
Rose Essence
Almond Essence
Preheat oven to 180 Celsius (350 Fahrenheit). Grease or line a cake pan with parchment paper
and set aside. Whisk together all-purpose flour, baking powder, and salt. Set aside. In a large mixing bowl, beat butter and sugar until pale and fluffy. Add vanilla extract and egg yolks, one at a time, and beat well with each addition. In another large mixing bowl, whisk egg whites until foamy. Continue whisking until stiff peaks form. Fold the egg white and flour mix into egg yolk batter in 3 batches with a spatula. Be extra gentle so as not destroy all the air bubbles from the egg whites.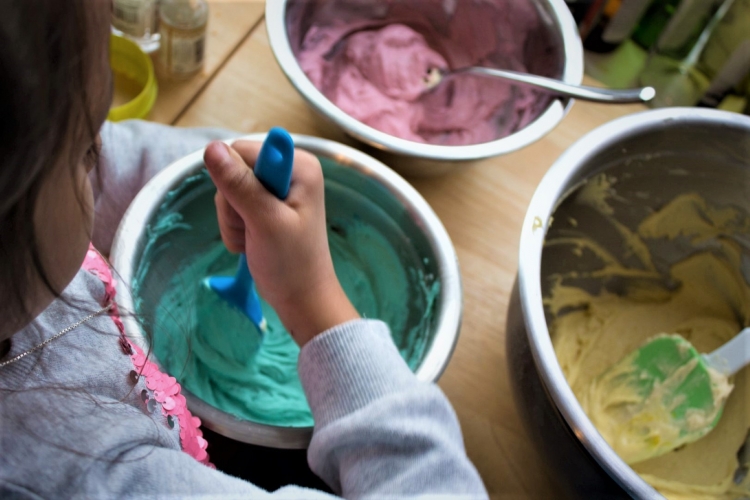 Next, divide the batter into three bowls. If you want to use more colours, get additional bowls. Slowly add in a few drops until you get the desired colour. Have fun with this step and go wild! Get the kids involved because they loved this step. As you can see, we opted for pastel colours.
Into the pink mixture add 2 drops of rose essence and into the green, add 2 drops of almond essence.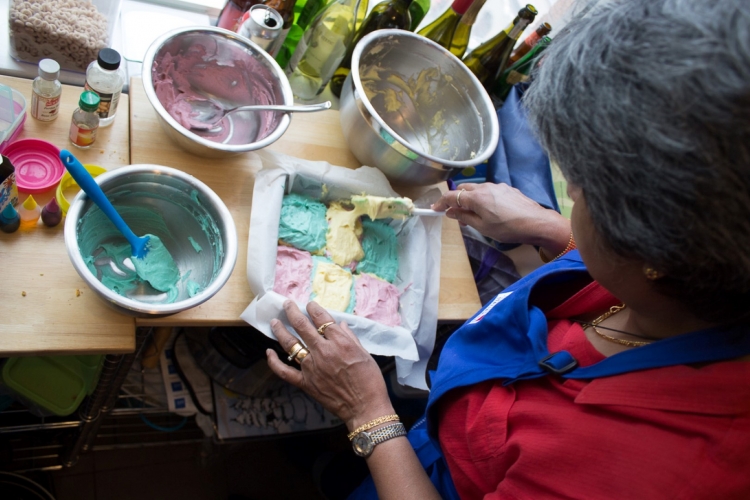 As I mentioned above, most traditional cakes will layer the different colours but I wanted to have fun with this one and so we put dollops of each colour. Again, no matter how you layer it, you'll have a pretty fun looking cake. For ours, we put dollops of alternating colours on the bottom layer and then did rows on top. We then ran a knife through the layers (once from the top to the bottom on two perpendicular sides) to create a swirl-ey effect. If you want clean layers, it's best to bake each colour separately and then using icing, layer them on top of each other.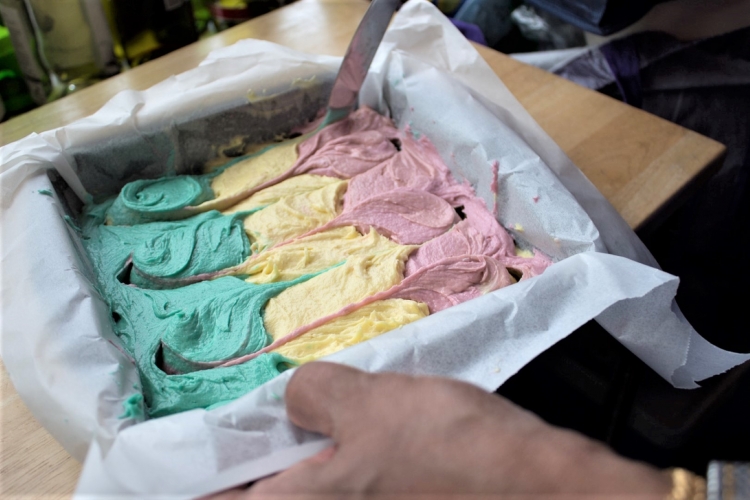 We put our batter into a lined 8 x 8 pan and baked at 180 degrees Celsius (350F). Cover the top with parchment paper and bake for 45 minutes. In the last 15 minutes, remove the top cover to get it brown. I love the brown parts and it's the first thing I attack! I will make a note here that if you have a deeper pan, that would be best if you want to create the individual towers. Round pans lead to much wastage but it did give a nice easy tower. Square pan had less wastage but I did have to patch up two layers to get the height required.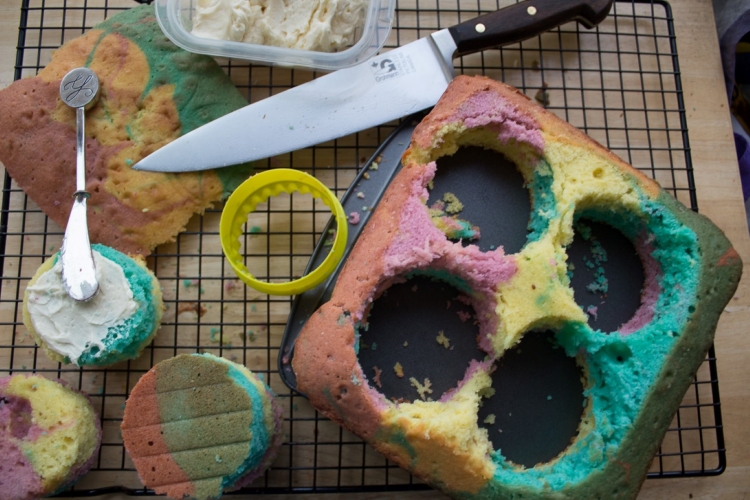 Remove the cake from oven and let it rest in the pan for 10 minutes, then gently remove the cake from pan (this is why a parchment paper helps immensely, ensuring that the cake remains intact) and let it cool completely on a wire rack.
That said, once the cake comes out of the oven, be sure to taste it because it's my favourite time to taste a cake – it's like a warm hug!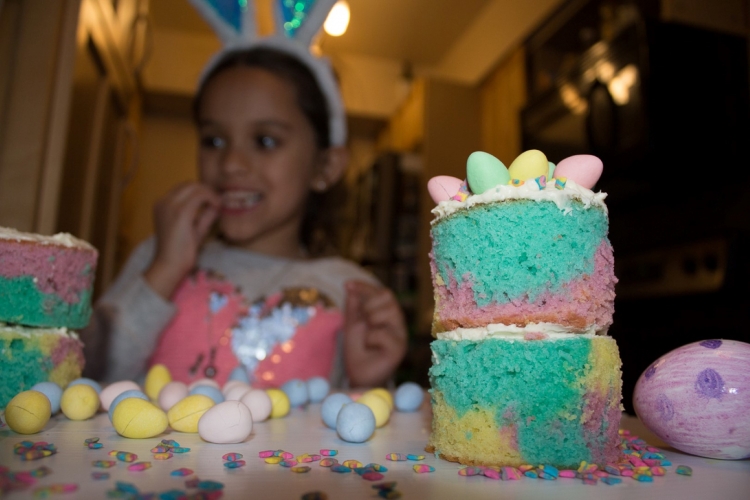 I love it just slathered in butter but at birthday parties we often see this cake topped with vanilla icing and sprinkles. This Easter I want to make personalized cakes for the kids so we took an extra step. Using a circular cutter we cut into the cake once it had cooled down and the top had been leveled up. In our case we could have easily served it as a single layer but the kids wanted to make towers, and so we obliged.What we got was a pretty looking tower. The 8 x 8 pan gave us four circles, so if you want to make more, double the recipe and use a bigger pan.
The kids then took it upon themselves to decorate the top with mini eggs and sprinkles. Wouldn't this be a cute dessert to serve this Easter weekend?
Easter is the perfect time to celebrate Canadian eggs by sharing our favourite egg dishes with family and friends. If you're looking for another dessert, how about this super cute sunny side up, choose-your-own pavlova topping station at your Easter celebration? Let us know how you'll be enjoying eggs this Easter by tagging us and sharing on social media using #Eastertaining!