With Turkey day approaching I thought I would share some of my favourite easy thanksgiving recipes with you and my Thanksgiving menu as well. This year we celebrated Thanksgiving 3 weeks earlier than the official date. Why? Because I could! It just so happened that a really good friend of mine was visiting and her husband is a huge fan of turkey and used to drive from the U.S to celebrate Turkey day with us when his (then) girlfriend and I used to be roomies. So… what better way to celebrate the end of their visit?
I can tell you that it was a lot less chaotic than the usual Thanksgiving festivities. I suppose it helps that I was only cooking for 8 people versus the 15 to 30 people that usually tend to descend at our place. Oh also… the Turkey was way waaaaaaaaaaaaay cheaper! I'm used to dropping $60 on a turkey but this time we found them on sale for $15!
Here's a  Thanksgiving menu I sent out to my guests when I had a formal dinner two years ago.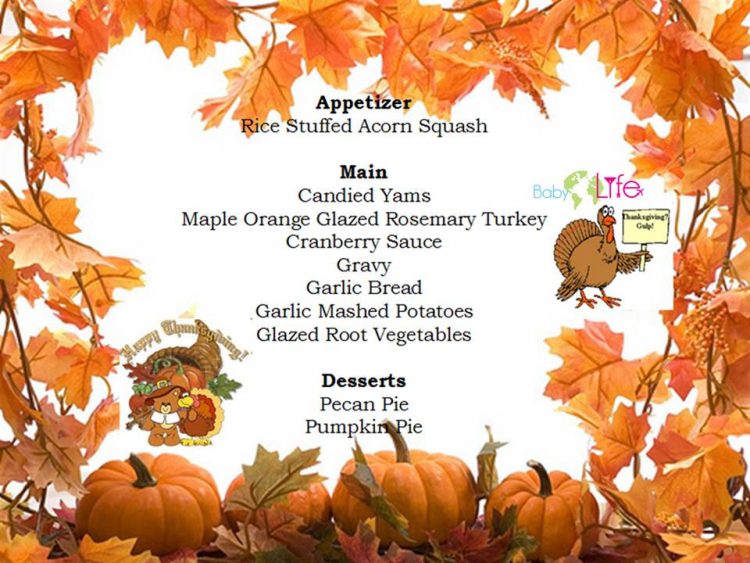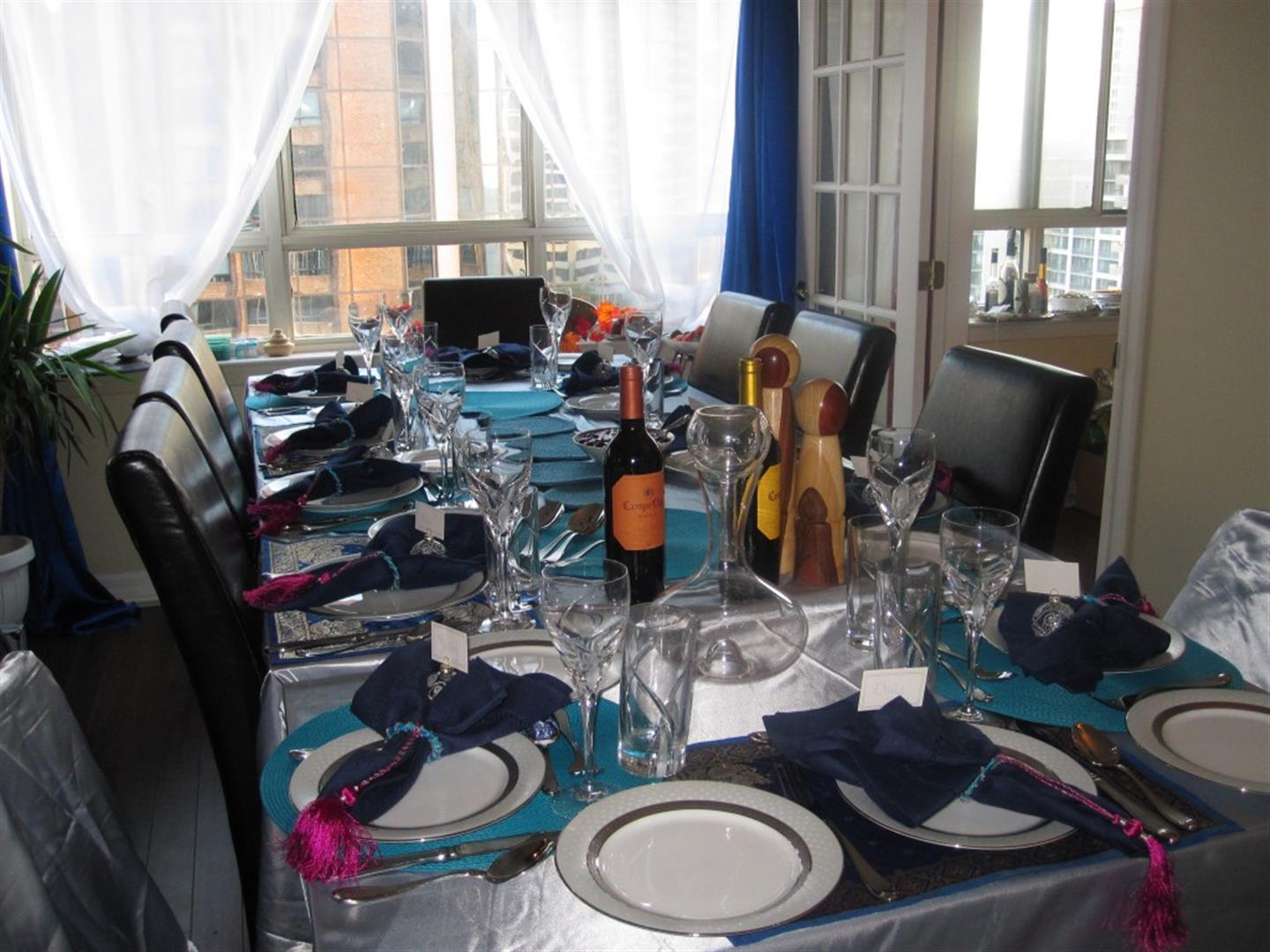 I find it nice to share the menu prior to the dinner so that anyone thinking of bringing a side dish can work around the menu. My menu is quite traditional with a surprise dish or two and I pay a lot of attention to the table setting and the wine we serve. My favourite turkey wine is a Campo Viejo Crianza.
Easy Thanksgiving Recipes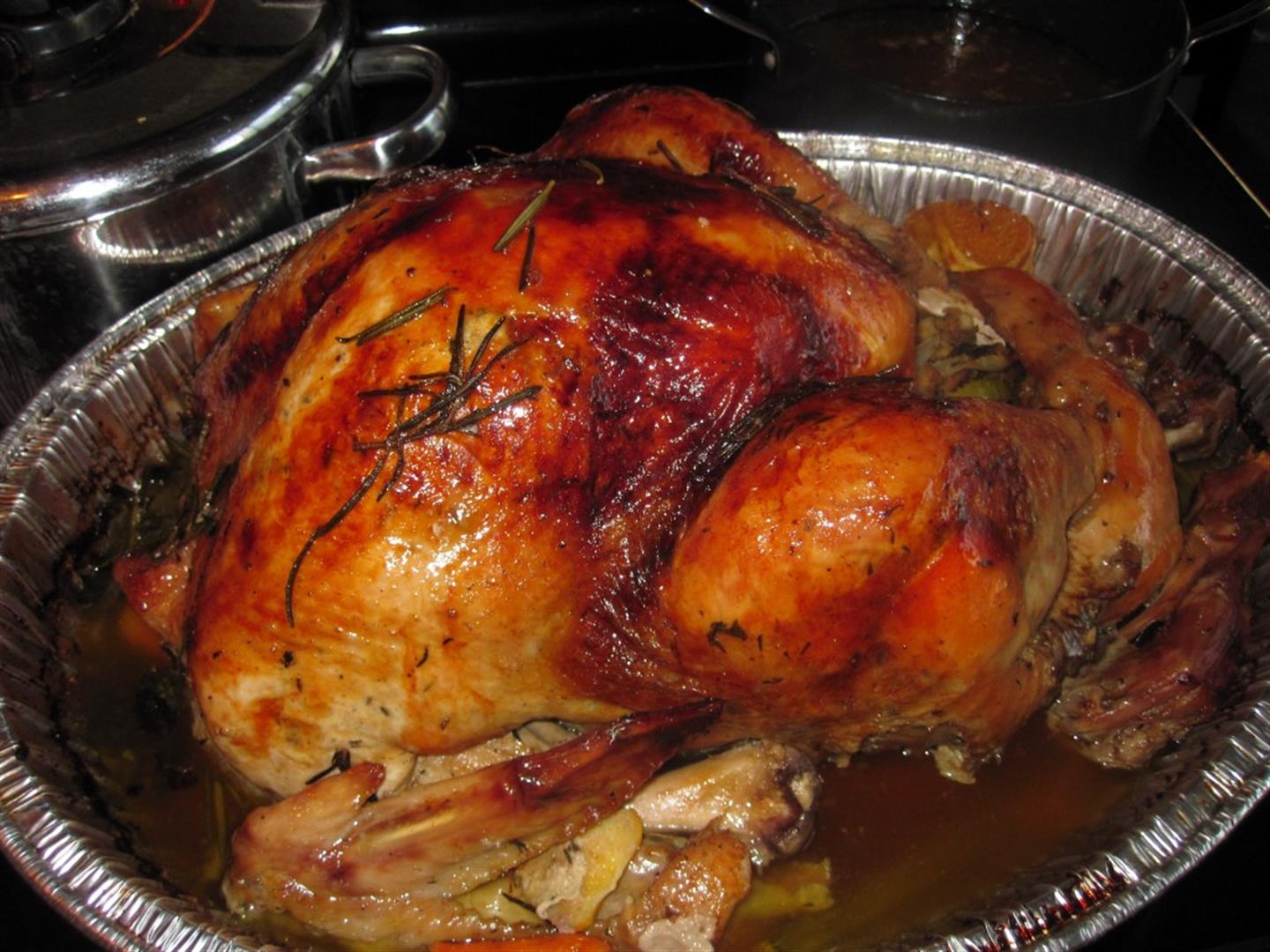 Turkey : I always make a honey glazed orange rosemary turkey. I know.. sounds weird but it's delish. I prep my turkey the day before… I throw in a handful of butter chunks between the skin and flesh (get in there !), I also squeeze in a few orange rinds (fairly large pieces of the orange skin) and finally I rub the outside of the turkey with a mix of olive oil, fresh rosemary, salt, pepper and chunks of garlic. Wrap her up and toss her in the fridge. Depending on the size of the turkey (let's say it's 20 pounds… 1.5 pounds per person if you'd like some leftovers) I start prepping at 8 a.m the following day. Prepare the stuffing ( I use the boxed variety) and then once it's cooled, stuff the turkey and toss in an orange into the cavity. Then rub more of the olive oil, rosemary, salt concoction. Toss her in the oven starting at 100 F and then fill the sides with veggies (I use onions, carrots and whatever is around) and pour in enough water and orange juice to fill the pan halfway. Every hour I continue to baste and increase the temperature by 50 F. For the last 30 minutes I always glaze the turkey with a mix of honey and orange juice. Come 5 p.m the turkey is ready for carving. You can use a meat thermometer to know exactly when the turkey is done.. but I tend to just 'know'.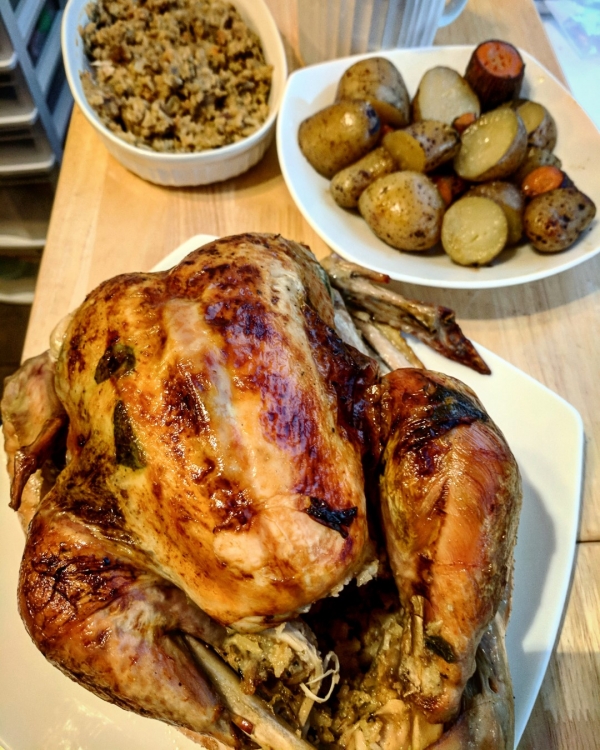 Candied Yams : You know when you're looking for good recipes that you can make ahead of game day? You got it! This recipe yields one large baking tray which is just the perfect amount for our 15 guests. Bake five large sweet potatoes till they are nice and mushy. Once they've cooled, peel and mash ( I use my hands but you can use a masher, don't use a blender for this) in an oven proof serving dish. Melt 1/2 a cup of butter and 1/2 cup of brown sugar, sprinkle a tablespoon of cinnamon and then stir the mixture into the mashed sweet potatoes. Layer the top with marshmallows ( I then keep it in the fridge overnight) and right before you are ready to serve, pop it in the oven to get the marshmallows warm and gooey. DELICIOUS! You can use small or large marshmallows and there's no taste difference.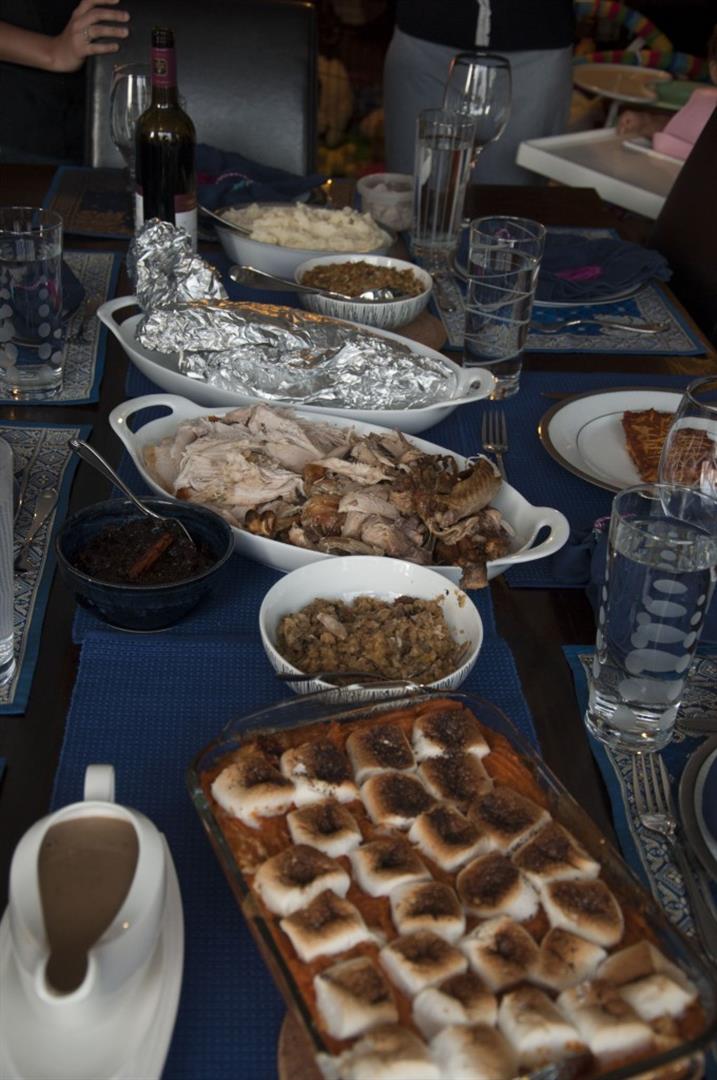 Cranberry Sauce : I love making cranberry sauce and it's so simple.None of that canned stuff. Bring 2 cups of orange juice, 2 cups of sugar and 12 oz. of cranberries to boil. Toss in a cinnamon stick if you like that extra ooomph! I like using the frozen whole cranberries that are available in the freezer section. That said I've used craisins and fresh fruit in the past as well. You will have to adjust the sugar to taste. I boil the concoction for bout 40 minutes on medium heat. The sauce does thicken as it cools so don't worry if it looks a bit watery. I like my sauce on the chunky side but if you like it super saucy, toss it in the blender. This dish chills well and is an easy one to make ahead of Turkey day.
Pecan Pie : If you're looking for a healthy dish. Stop reading. This recipe yields one pie. I like using the ready made graham cracker pie shells as it makes my life oh so much easier! Heat the oven to 350 F and place the pie shell to warm up (about 10 minutes). Gently whip 2 eggs and slowly stir in 3 cups of brown sugar and 2 tablespoons of flour. Once that is mixed well (I use a spoon and fold the ingredients in one by one) add in 3 cups of corn syrup, 2 tablespoons of melted butter and 1 tablespoon of vanilla. Toss in a cup of chopped pecans and mix well. Pour the batter into the warm pie shells and bake for an hour. When a knife is inserted into the center of the pie and comes out clean.. it's ready! I make these the day before and warm them at 100 F while we're having dinner. It's just the perfect amount of oooey gooey when it's time for dessert!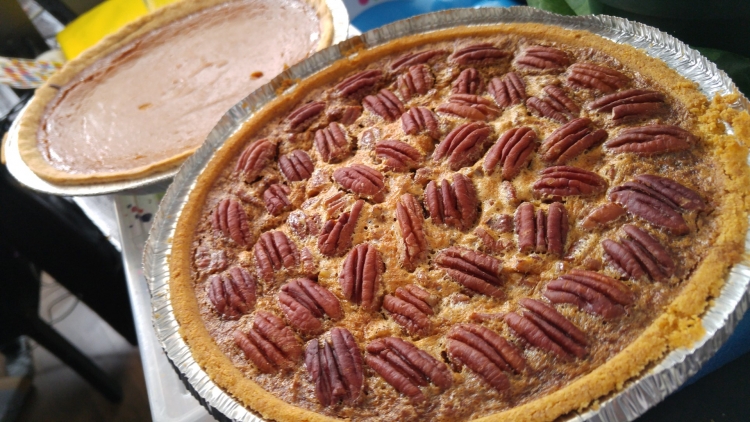 I can never make good gravy, that's my brothers job, which is why there's no gravy recipe here. Please share if you have any good gravy recipes and I'll be sure to give it a try!
Have a fabulous thanksgiving filled with love, mirth and family!
Cheers!