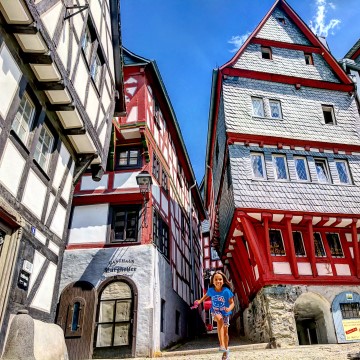 As luck would have it, our GuestToGuest home was located between Frankfurt and Limburg and was an easy train ride away from both these cities. I had never heard about Hofheim  (officially known as Hofheim am Taunus) or Limburg prior to landing at our GuestToGuest home and so I was curious to discover these cute little towns.
Mostly known for its 7th Century Castle (Limburg Castle), Limburg an der Lahn is a well-preserved historic town of the Lahn Valley, renonwed for its timber-framed architecture. Some might even argue that Limburg's old town is one of the prettiest and with houses dating back to the 13th Century, one of the best preserved in the region. We thought we were taking the train to visit the Castle but we got charmed into exploring the historic centre and ended up forgetting all about the Limburg Castle!
Armed with our RheinMain Card (which gave us unlimited rides on the train) we started our day by taking the train from Hofheim into Limburg and the kids immediately wanted to stop at the water fountain while I was starving! Please note that kids aged 5 and older need tickets to ride the train and the RheinMain family Card allows up to 5 people to travel on it and offers discounts at certain attractions. It is only worth if you plan to explore many attractions or take the train a fair number of times.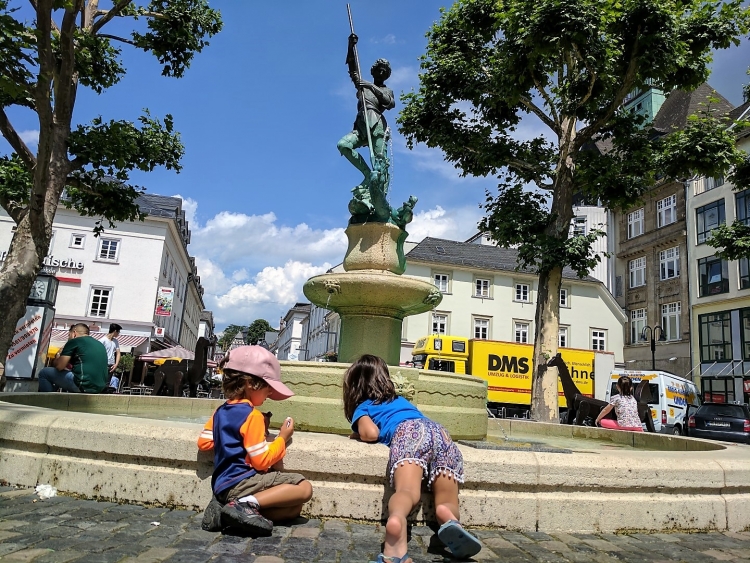 The weather was absolutely perfect during our July visit and with blue skies following us, we roamed around the streets, taking in the architecture and reveling in the cuteness of it all.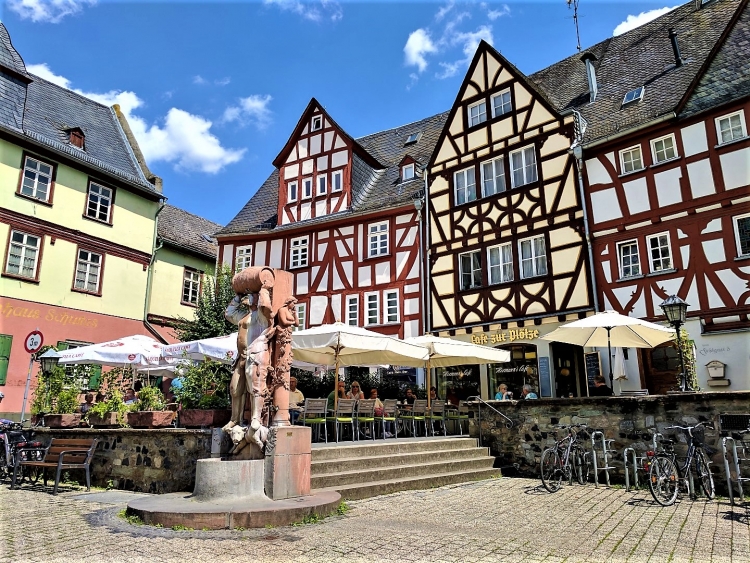 Soon we stumbled upon many stores selling local arts and crafts but it was the liquor shop that caught our attention. We were looking to buy a present for our GuestToGuest host family and in addition to some jam we picked up a pear cognac for my dad. There are so many flavours to be sampled and the owner was nice enough to take us through a tasting so we could notice the difference between the various local berries and fruits. She even offered a treat to the kids.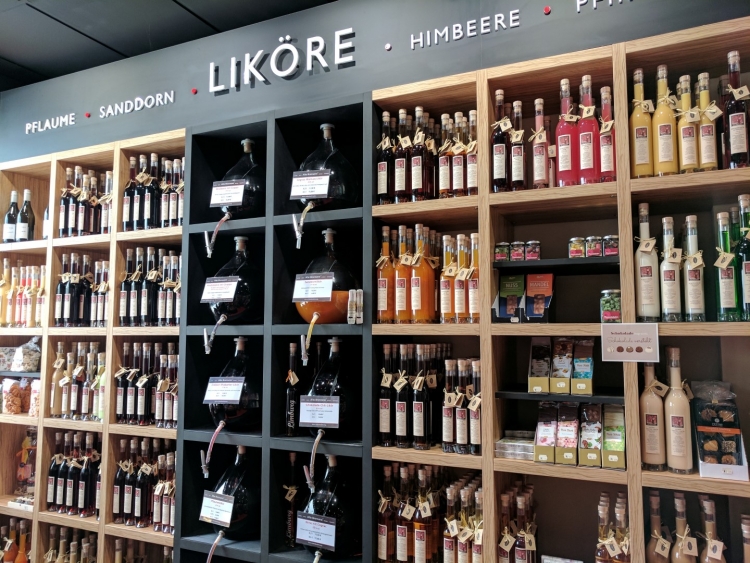 We finally stopped for a quick snack and while the kids ate pretzels and croissants, I enjoyed this delightful treat.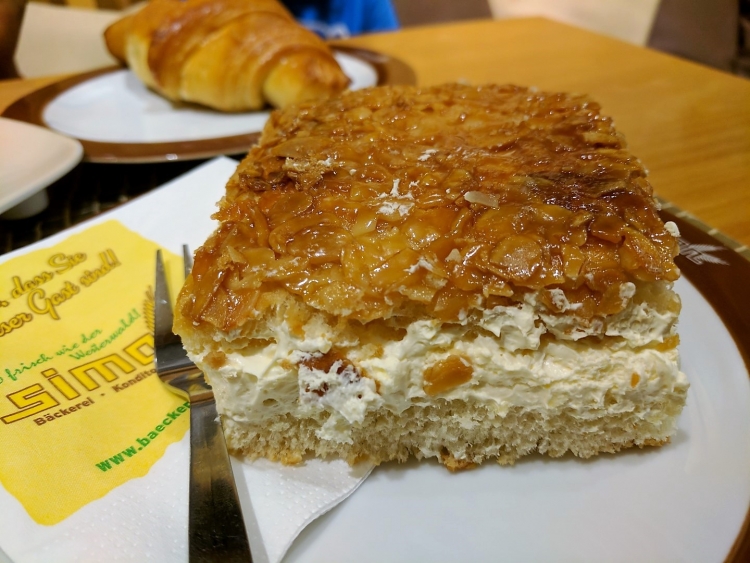 We attempted to explore the main city (you have to leave the historic core) but our afternoon visit was ill-timed and we couldn't get into any of the restaurants as they were all closing after lunch.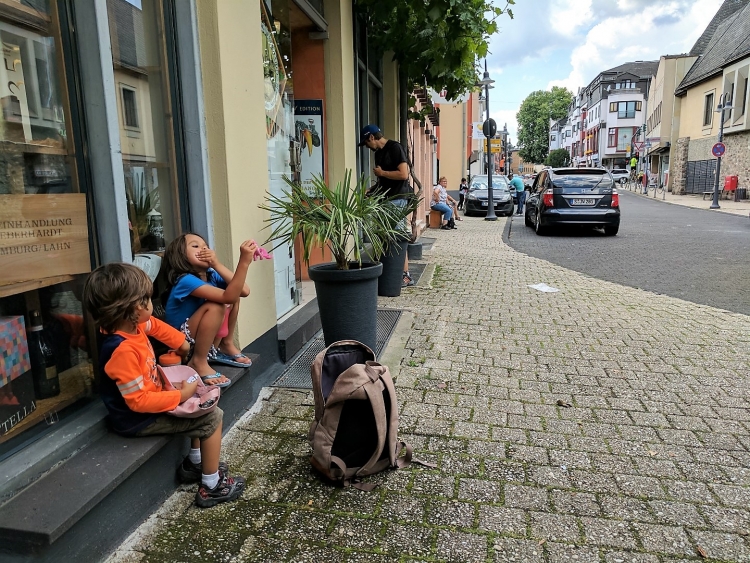 Having circled back into the historic centre, we were lured by an angelic voice near the 13th century Limburg Cathedral. Apparently there was a concert that night and the Church choir was practicing! The Cathedral sits on a rocky hill watching over the town and I popped in to take in the Romanesque structure's interior. Certain sections were covered in frescoes that date back to the 1200s! I heard after our visit that the Limburger Dom is one of the most complete creations of Late Romanesque architecture. The cathedral has of course, been renovated and painted to reflect its original appearance.
If you walk behind the cathedral you'll encounter a little courtyard and from there you have quite the view!
We ended our visit by enjoying some apfelweif at a local pub. While we sat on a patio a local musician strummed some tunes and we just took a moment to reflect on how we were in the midst of one of the most well preserved historic towns.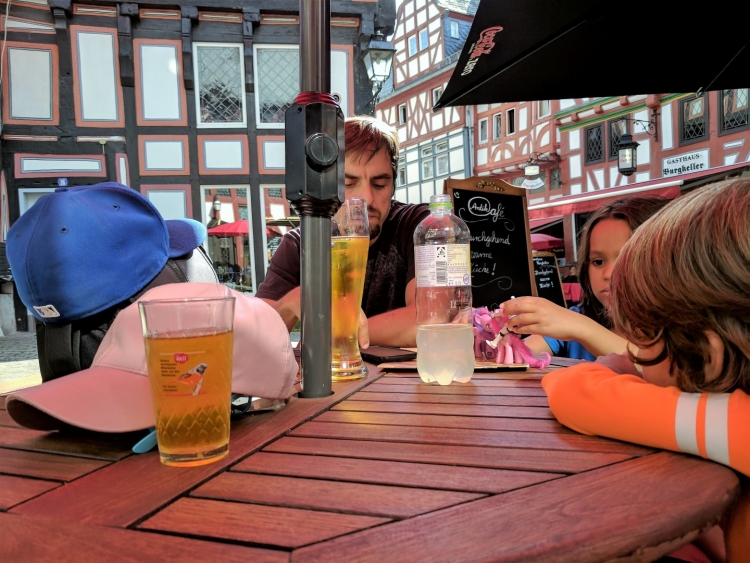 To visit Limburg is to wrap yourself in 13th Century charm and witness a miracle of historical integrity. It is by far one of the most charming little towns we've been to and is definitely worth a leisurely day trip to if you are in the area.