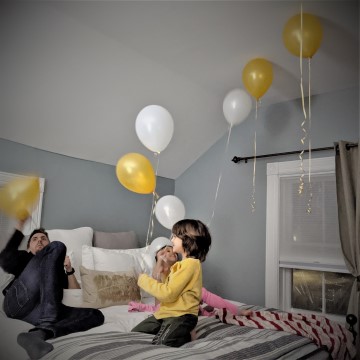 We recently spent our family day weekend in Grey County and had the luxury of staying at the Rocklyn Inn Bed and Breakfast near Meaford, Ontario with our kids. We've always avoided staying at a B&B with kids because kids can be so noisy and disruptive to others. Since my parents own a Niagara on the Lake bed and breakfast, we know how important it is to be respectful of those paying to enjoy a romantic getaway at a bed and breakfast. However, since the kids are now older (6 and 8 years old) we figured they (and we) may be ready for a stay at the Rocklyn Inn Bed and Breakfast. This Grey County bed and breakfast allows kids older than 5 years of age (or under 10 months old) to stay in one of their 5 rooms and I had long conversations with the kids to prep them for this visit. Luckily it worked out with a healthy dose of us saying 'shhh talk quietly'. We had a relaxing stay and owners, Leslie and Micheal, ensured that the kids were kept happy!
Disclosure : We were guests of Grey County on this visit but, as always, opinions are TOTALLY ours!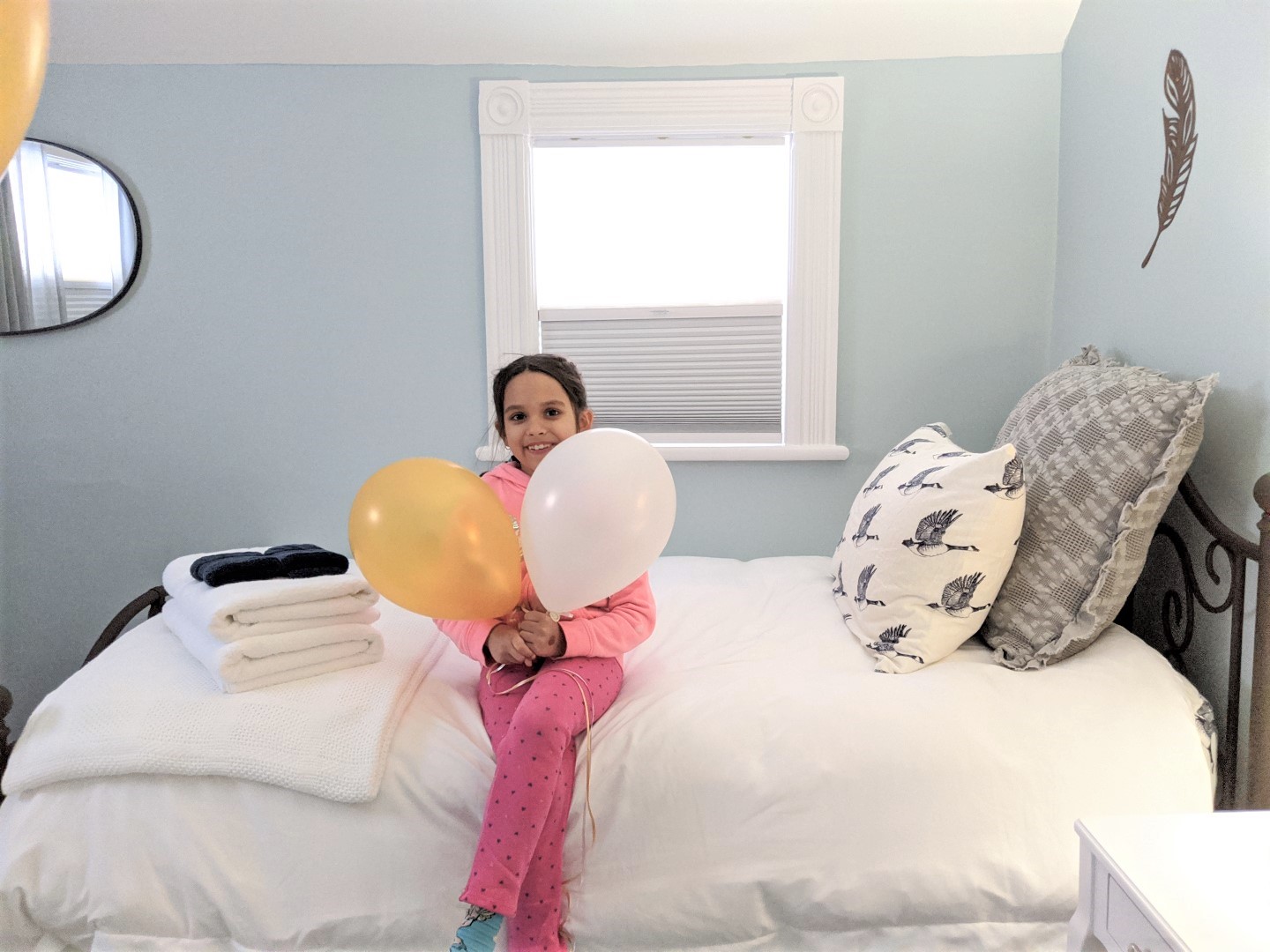 Originally built in 1881 as the Lorne Hotel, the Rocklyn Inn Bed & Breakfast has been fully restored and is one of the few century Inns in Ontario. We were celebrating Chris' birthday over the Family Day holiday in Grey County and upon arrival, our room was decorated with balloons and a personalized message. Such a thoughtful gesture and one that the kids really enjoyed! So much so that they brought a couple balloons back home with us.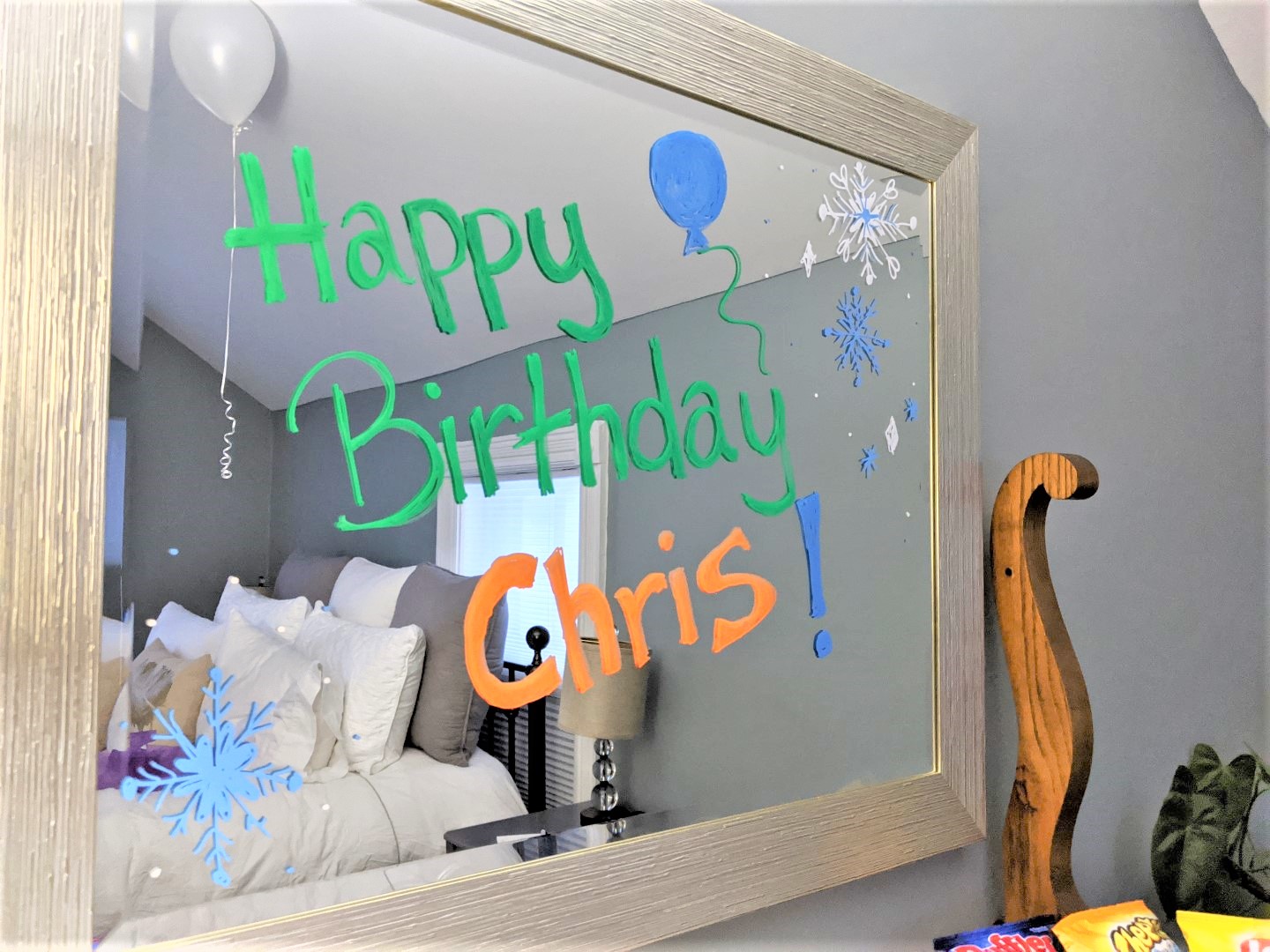 If you're travelling with kids, I recommend getting Suite 1 which has the option to add on a second interconnecting room which has two single beds. Chris and I had our king bed and could close off the kids' room door when we wanted. I preferred this option to booking another room down the hall because the kids were in the same area as us and had I needed to check in on them in the middle of the night, it was easy to do so (without having to throw on a bathrobe). Our Serta Perfect Sleeper mattress was luxuriously comfy and filled with many fluffy pillows, which I adored. They do offer a pillow menu with a selection of hypo-allergenic polyester gel fiber pillows if you prefer a down alternative pillow option. There were extra blankets as well. Super cozy!!! There are other rooms with king or queen sized beds so be sure to check them out as well if you're travelling without kids! 
If I had to whine about one thing, it would be the lack of en-suite options. That said, we encountered zero issues when we wanted to shower or use the bathroom. While there were no en-suite washrooms, we had one right next door to us and never encountered any of the other guests using it when we needed to. They also have a second bathroom available for guests and that one has a claw tub if you prefer a soak in spa-esque style!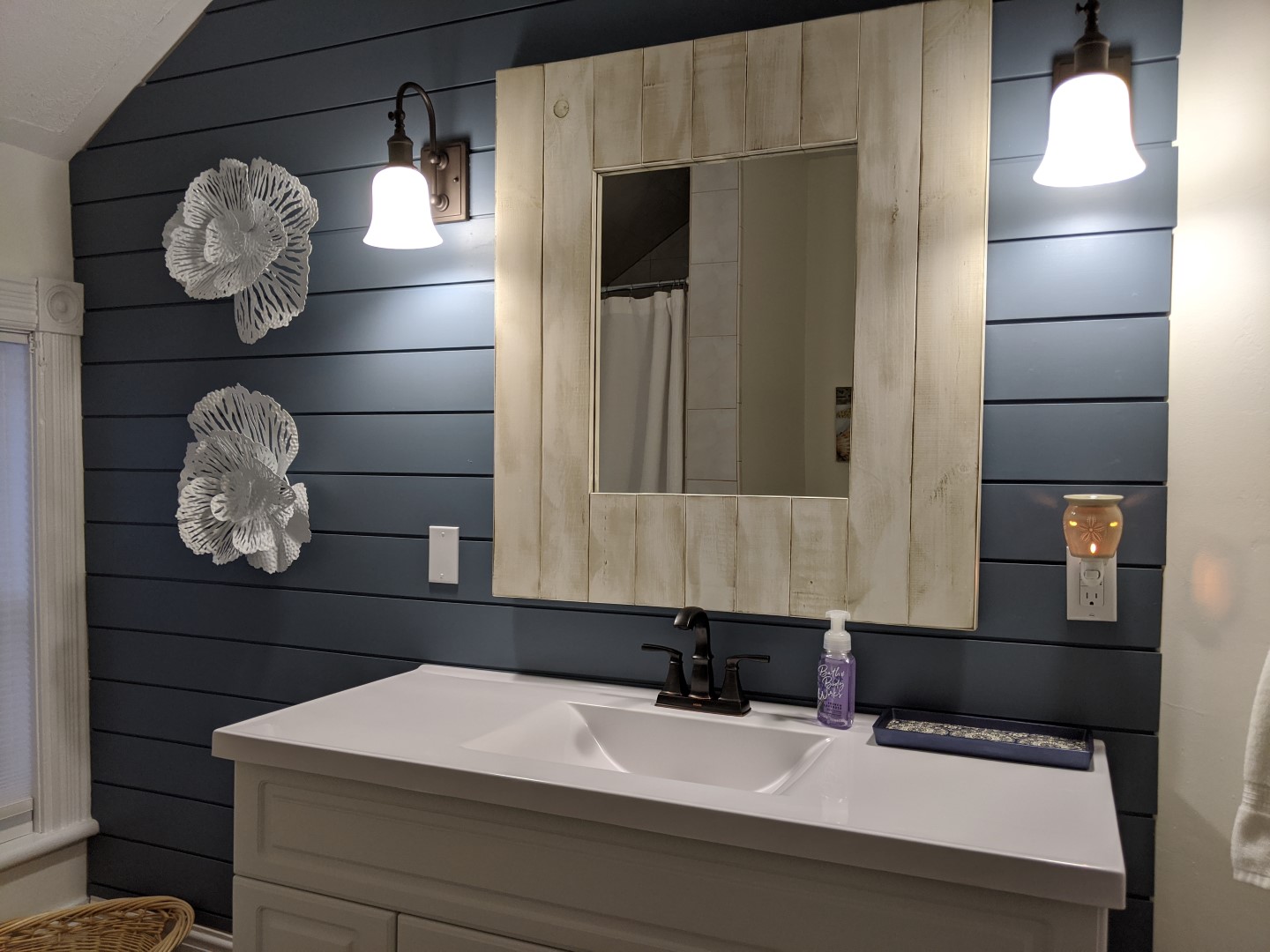 What I loved about Rocklyn Inn B&B was how warm and cozy the entire space was. We had access to so many little things that you don't usually expect at an Ontario Bed and Breakfast. Not only do guests have access to a communal mini fridge that was stocked with pop and juice but, there was also a 24-7 coffee/tea station with baked goods on the same floor as our rooms! This was in addition to the snack tray in each of our rooms which were replenished each day. Truly amazing as my kids made good use of the granola bars, candy and chips! Definitely helped me not worry about snacks for the day! They also offered mini toiletries like shampoo, bath gel and conditioner so you don't have to bring your own.
Downstairs on the main level there were bowls of candy and chocolate at every corner and large open spaces for us to relax in. Sadly we had a busy schedule so the only time we got to enjoy this space was at breakfast. Lesley serves up quite the spread so you can always expect a self-help cereal station with bowls of fresh fruit, breads and spreads. This was in addition to the warm eggs, bacon and potatoes. We even had a build your own waffle station one day! The garnish selection reminded me of fancy hotel buffets. Also, don't forget to grab a muffin or buttertart from Blackbird Pie which Lesley always has on offer.
Planning a winter road trip to Grey County? We'll soon have a list of fun activities to do in this part of Ontario! 
We prepared the kids for this bed and breakfast stay by talking with them about the importance of being quiet when we were indoors and that they couldn't whine or cry. I had this conversation numerous times during the two weeks leading up to our Grey County road trip from Toronto and it did help a fair bit. Mind you, they did end up fighting on our last morning and I thought they were really loud, but everyone was downstairs for breakfast and there was happy banter happening that I don't THINK we disturbed anyone. Luckily!! Yes, ensuring that they were quiet was a bit stressful but I'd totally do this again because it teaches all of us how to travel respectfully and that's an important life skill. I will also mention that internet reception is pretty weak in the area (even our cell phones had in-and-out moments) so if you aren't a fan of watching cable tv, download your Netflix shows prior to your arrival, especially for the kids! Some remote B&Bs in the area don't even offer Wi-Fi access so I was grateful that Rocklyn Inn offered it. While kids between the ages of 10 months and 5 years old aren't allowed to stay (quite reasonably), newborns are and they have cots/cribs available if you need one!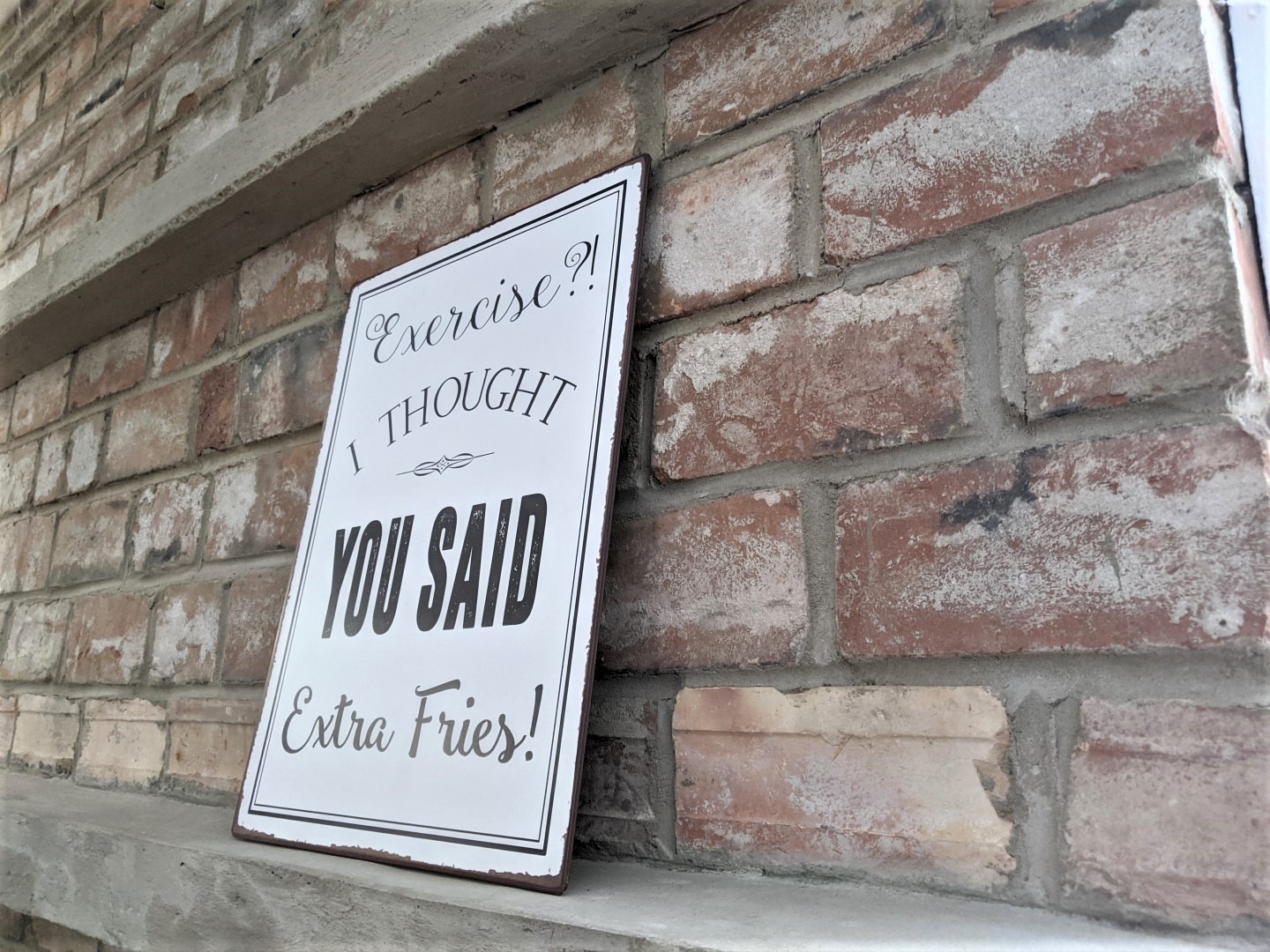 Lesley and Michael are fantastic hosts and has great advice for local eats and attractions, so don't hesitate to ask them about how best to plan your visit to Grey County.