As summer rolls around I can't help but think about the amazing Niagara on the Lake picnic areas. I have already shared my hidden gems in Niagara on the Lake and today I'm going to share some our favourite picnic areas in this Niagara region. We'll tell you where to pick up picnic baskets in Niagara on the Lake along with some tips on the perfect spots to enjoy a picnic at in the traditional territory of the Haudenosaunee and Anishinaabe peoples.
Things are constantly changing, please be aware of current rules in place and follow protocols when visiting the area.
Niagara on the Lake Picnic Areas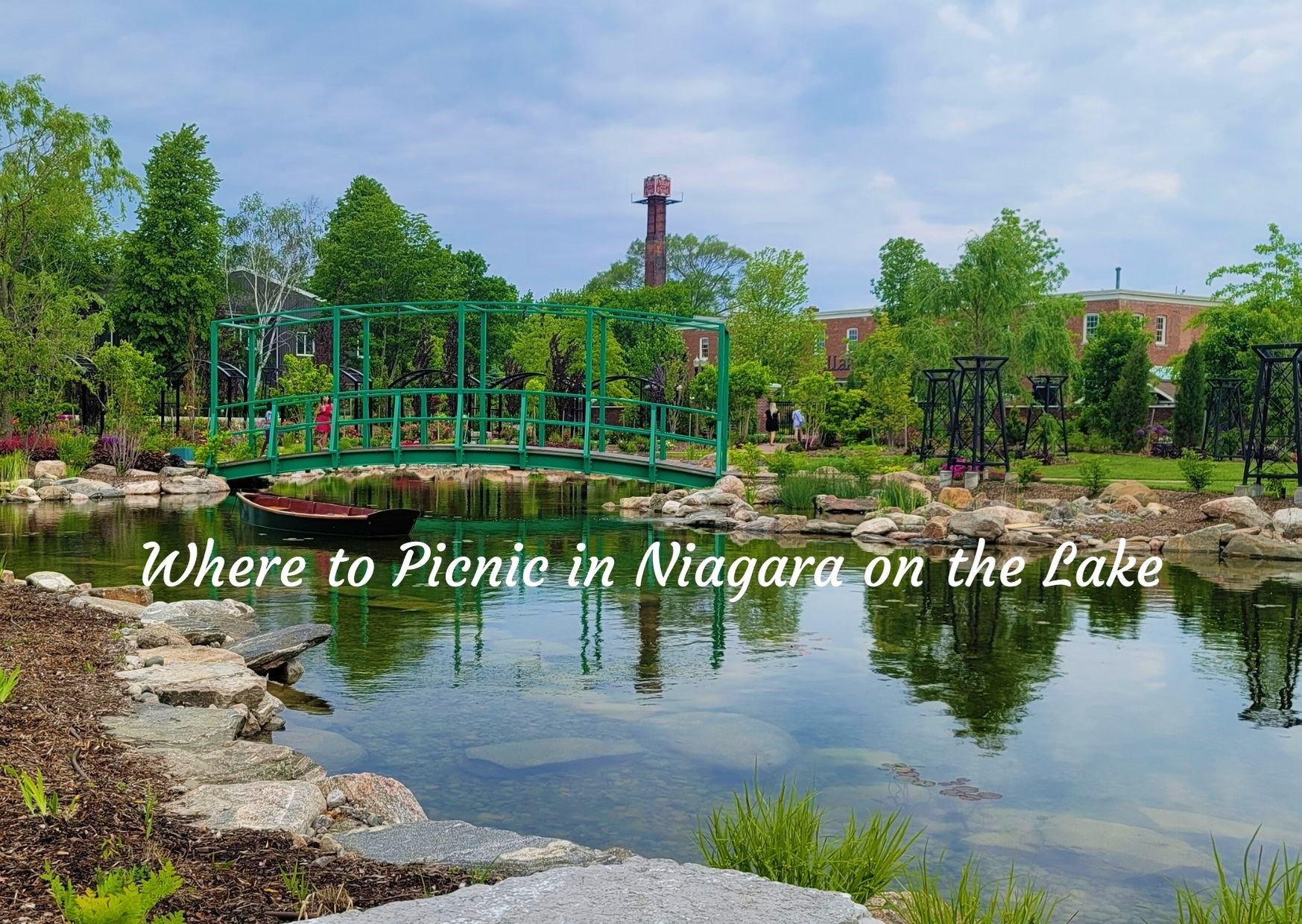 There's no shortage of scenic picnic areas in Niagara on the Lake so be sure to pack a picnic blanket when you make your drive. Pack a cooler for all the extra treats you'll be buying too! From wineries to parks and even a beach, we have many Picnic spots in Niagara on the Lake for you!
Instagram Worthy Picnic at The Garden
Adjacent to the Pillar and Post, at 48 John St W, is a beautiful manicured garden that the public can roam through when there are no events. This is a popular spot for weddings so it will be busy on the weekends I assume. However, if you're visiting during the week day, a picnic in this stunning oasis is highly recommended. The Garden opens at 9 a.m. and closes at 7 p.m. The area is relatively spread out with waterfalls fountains, bridges and the cutest green spaces. While no outside food and drink is allowed you can order a picnic basket from the Pillar and Post and pick it up at the on-site Outpost Café & Bar (which opens at 11 a.m). If a traditional picnic isn't what you're after, The Outpost also offers a beverage and snack menu featuring alcoholic and non-alcoholic selections. If you purchase food or drink from them, they also have lawn games that you can play at no extra cost. Since there are many cruiser tables and benches throughout the garden, it's easy to picnic here! Please note that pets are not allowed in the gardens. Click here for the picnic menu which you can pre-order.
Casual Picnic at McFarland Park
The historic McFarland House, at 15,927 Niagara Pkwy, is surrounded by lush gardens and green pastures with water views. What's great here is that there's a play area so kids can enjoy that whilst you relax nearby. There are picnic benches scattered throughout the park and parking is easily available. It was a great spot to throw a frisbee around and enjoy that quintessential no fuss picnic vibes. We opted to bring our PicNic basket and enjoyed a delicious Banh Mi here with my dad however, you can also order a Niagara Parks picnic kit featuring sandwiches made with ingredients right from the McFarland House garden, freshly baked scones, pastries and cookies. Click here for the picnic menu which you can pre-order.
Sunset Picnic at Ryerson Park
If you're planning a sunset picnic, this is the BEST picnic spot in Niagara on the Lake. Located at the very end of Niagara Boulevard (and Vincent ave), not only can you see the Toronto skyline from here on a clear day, but you could also wander into the water and picnic on a tiny sandy beach if you didn't want to sit on one of the benches or picnic on the grass. Keep in mind that parking here is very limited with 5 designated spots (can park for 1 hour max.). Whether you're visiting Niagara on the Lake with kids or without, I highly recommend this Niagara on the Lake picnic area. Just remember that there are no public washrooms here but it's a great spot by the water's edge to relax and listen to the wind whistle through the trees.
Picnic Alone at Butler's Barracks
Butler's Barracks is a historic military complex located at the edge of the Commons behind the Fort George National Historic Site of Canada in Niagara-on-the-Lake. What I love about this massive (and I truly mean massive) area is that it's so easy to pretend that you're the only one around (locals definitely walk their dogs through here hourly but there's still plenty of space to hide from people if you wish to do so). There are deep fields to get lost in The Commons, benches and a playground near Veterans Memorial Park and water views at Paradise Grove. Bring a blanket, a book and some fabulous eats with you so you can easily spend an entire afternoon in the middle of wine country surrounded by tall trees. Parking is very easy here but there are no public washrooms!
An all day Picnic in Historic Queenston Heights Park
This extensive hillside area on the Niagara escarpment is the site of the Battle of Queenston Heights in the War of 1812. Located at 14,184 Niagara Parkway, this is easily an all day Niagara on the Lake picnic area for those looking to enjoy some views, get some history lessons and explore the trails. In addition to ample paid parking, there's a small splash pad area open from July to October and many seating areas at pavilions and band stands. During regular times there's also a small museum highlighting the early life of Major General Sir Isaac Brock and you can climb the 235 steps to the top of Brock's Monument to enjoy a spectacular view of the Niagara Frontier. Even with those attractions closed during various stages of the pandemic, we were able to enjoy a picnic and explore the southern terminus of the popular (and long) Bruce trail. It can be hard to find but this trail, located near the stone cairn, is great for kids and pets. Be sure to walk through the Landscape of Nations memorial in the main park and learn about the sacrifices and contributions made by the First Nation and Métis communities during the War of 1812.
Picnic by the Niagara River at Queen's Royal Park
What fascinates me most about this Niagara on the Lake Park at 45 Front Street was how it used to be the home of Queen's Royal Hotel. The hotel built in 1868 was said to be one the best hotels in North America frequented by many dignitaries but was demolished in 1930 due to a decline in tourism to the area!! Can you imagine? It's a prime area for tourists today. Luckily for us, we still get to enjoy a gorgeous park with a boardwalk, a small beach area and a gazebo ( built for the filming of "The Dead Zone"). In addition to easy parking and washrooms, you will also find many shady areas where kids can run and shriek at. Masaki Sushi is just down the street so we brought our sushi picnic here and enjoyed it with our friend's dog but you can easily bring any cuisine you want since there are many Niagara-on-the-Lake restaurants and cafes nearby.
Picnic in the City at Simcoe Park
Located at one the busiest street in Niagara on the Lake, this park at the corner of King and Queen St, is an easy one to head to when visiting Niagara on the Lake. Despite the bustling activity at Simcoe Park, my kids like to picnic here because of the large playground and small wading pool. I personally like to picnic here when the flowers are in full bloom because it's very picturesque. There are picnic tables and washrooms here but keep in mind that parking can be hard to find so look at one of the side streets such as King and Gage. Also remember that you're right by The Exchange Brewery when visiting this park so grabbing a few brews from one of the best Niagara on the Lake Breweries is totally expected!
Picnic in a Niagara on the Lake Vineyard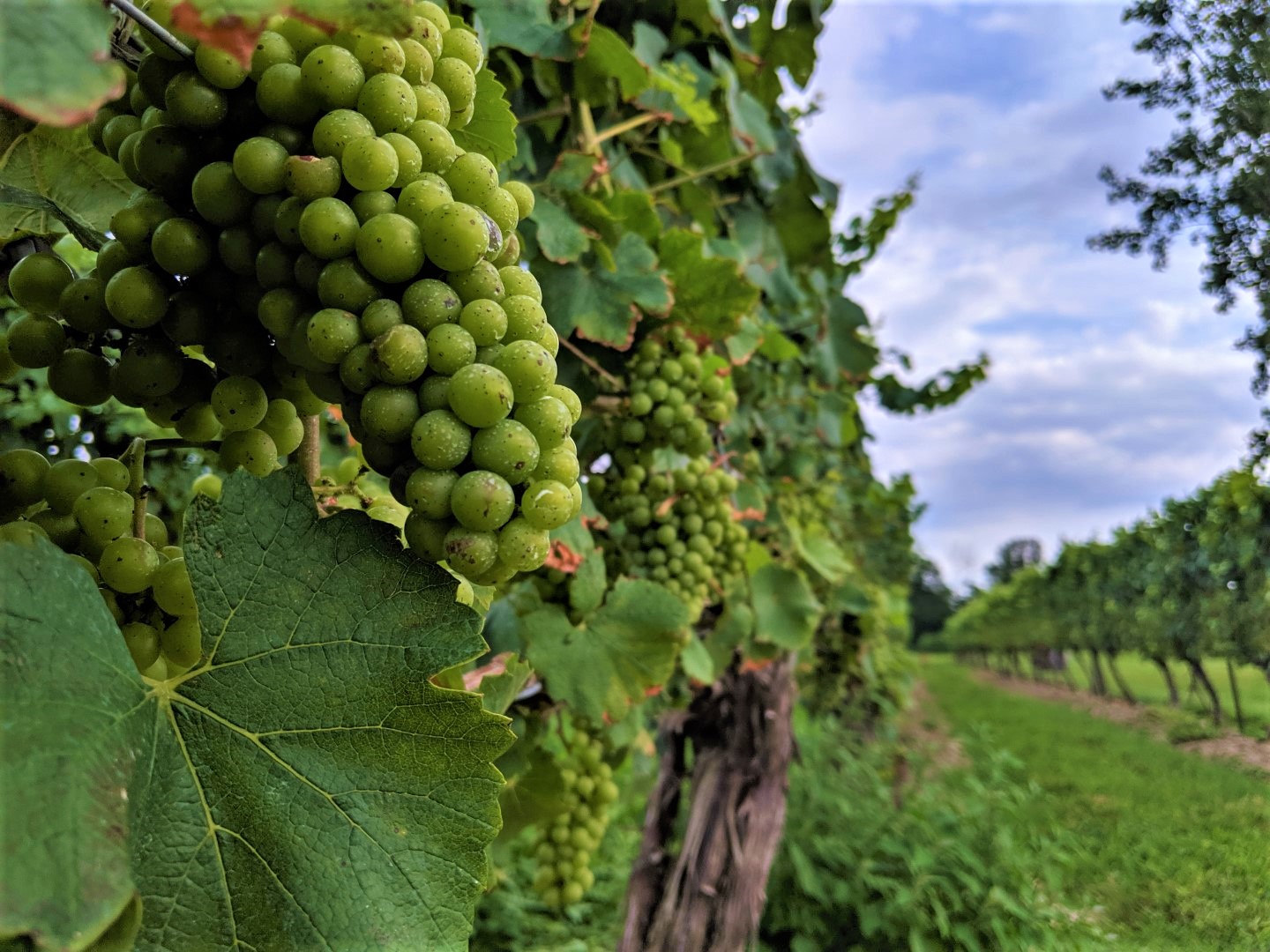 Many of you are looking to picnic in a vineyard and Niagara on the Lake is a great place to do that at. All your vine-worthy Instagram pictures can definitely be captured. Most Niagara on the Lake wineries have restaurants on site and with patios opening, they welcome you to dine in their vineyards. Have I randomly collapsed on lawn when visiting a Niagara on the Lake winery and stopped to munch on a snack in my purse? Absolutely. However, if you're looking for that cute elaborate picnic set up, our recommendations are to head to one of the following wineries who allow such fanciness.
Reif Estate Winery :

In the past we've lounged by their water fountain and near the barn at the back to picnic. Mind you I have never taken a full on blanket and plopped it down here but have bought some chocolate from their shop and sipped wine outdoors.

Queenstone Mile Vineyard :

They have cute Muskoka chairs and lounge areas, but also allow you to walk into their vineyards with a glass in hand. They offer charcuterie boxes on the weekend (no outside food allowed obviously) and may allow you to plop a blanket on their lawn!

Caroline Cellars :

Swing by their Farmhouse Cafe and order takeout options to enjoy in their vineyard. What I like about the menu here is that it's a hearty one for those hungry HANGRY days! Although their patio is open they stilll allow guests to order takeout and setup a picnic or tailgate along their vineyards or on their lawn!

Back 10 Cellars :

While no outside food or drink is allowed, from Friday to Sunday, they offer a picnic lunch package at $23 per person on their lawn and you have to bring your own picnic blanket. You can easily add a wine flight to that and they also sell charcuterie boxes on Saturdays and Sundays. Lawn picnics have to be booked ahead!

Palatine Hills :

This is a very laidback winery and I bet if you ask them nicely, they'll say yes to your picnic idea!
Picnic in an Orchard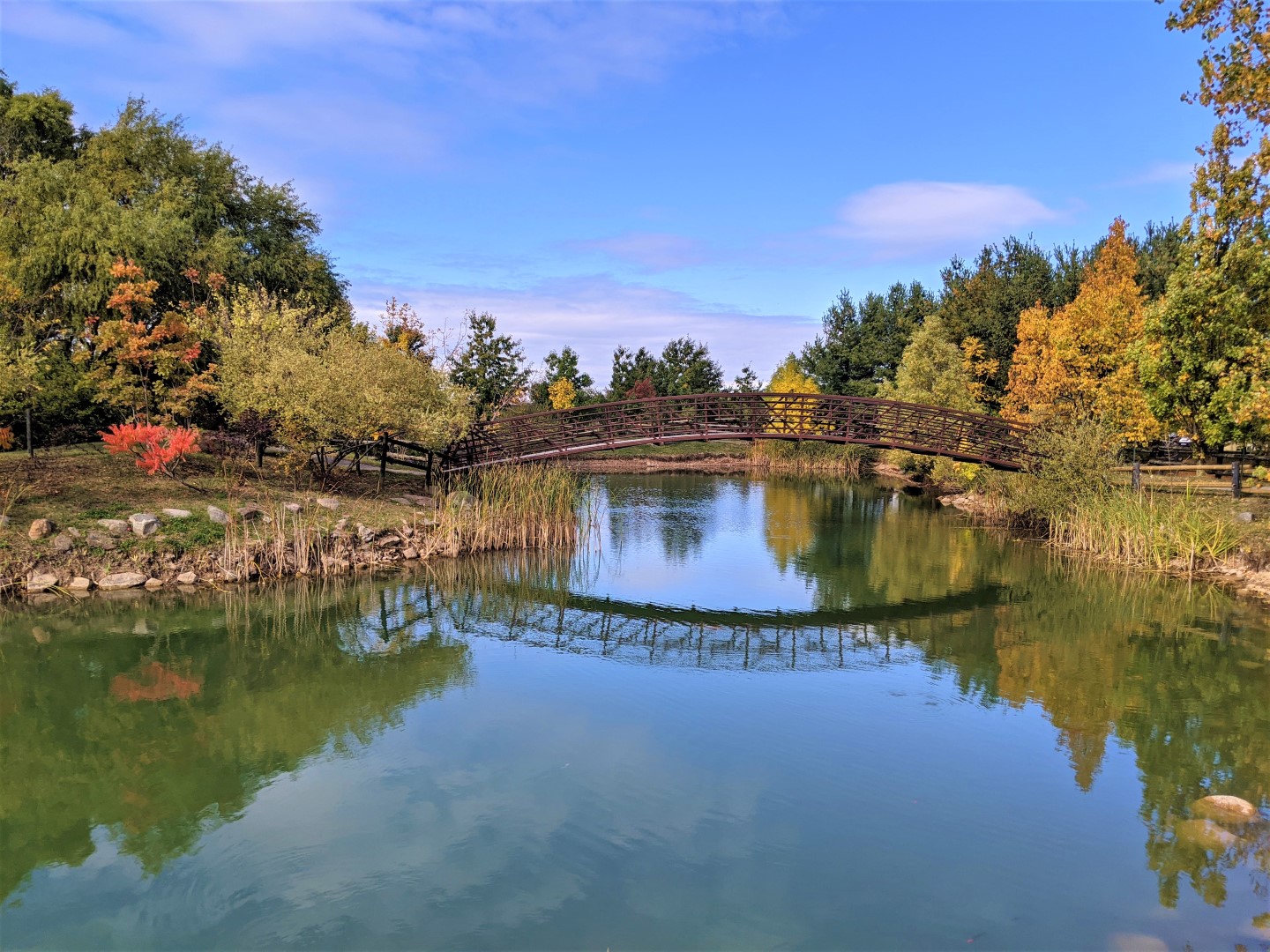 Kurtz Orchard is a wedding venue but during the week days and on occasional weekends you can purchase some delicious jams, breads and pastries made in their in-market bakery to enjoy orchard-side. I've taken the kids during the fall season here and it was so lovely to see the foliage turn but during the spring months, I visit to smell the fruit ripening on the trees. Between the wooden bridge and the pond with koi fish, this orchard located at 16,006 Niagara Pkwy, is away from the usual hustle and bustle of downtown Niagara on the Lake and just the quiet you may be craving.
Best Spots to Grab Picnic Food From in Niagara on the Lake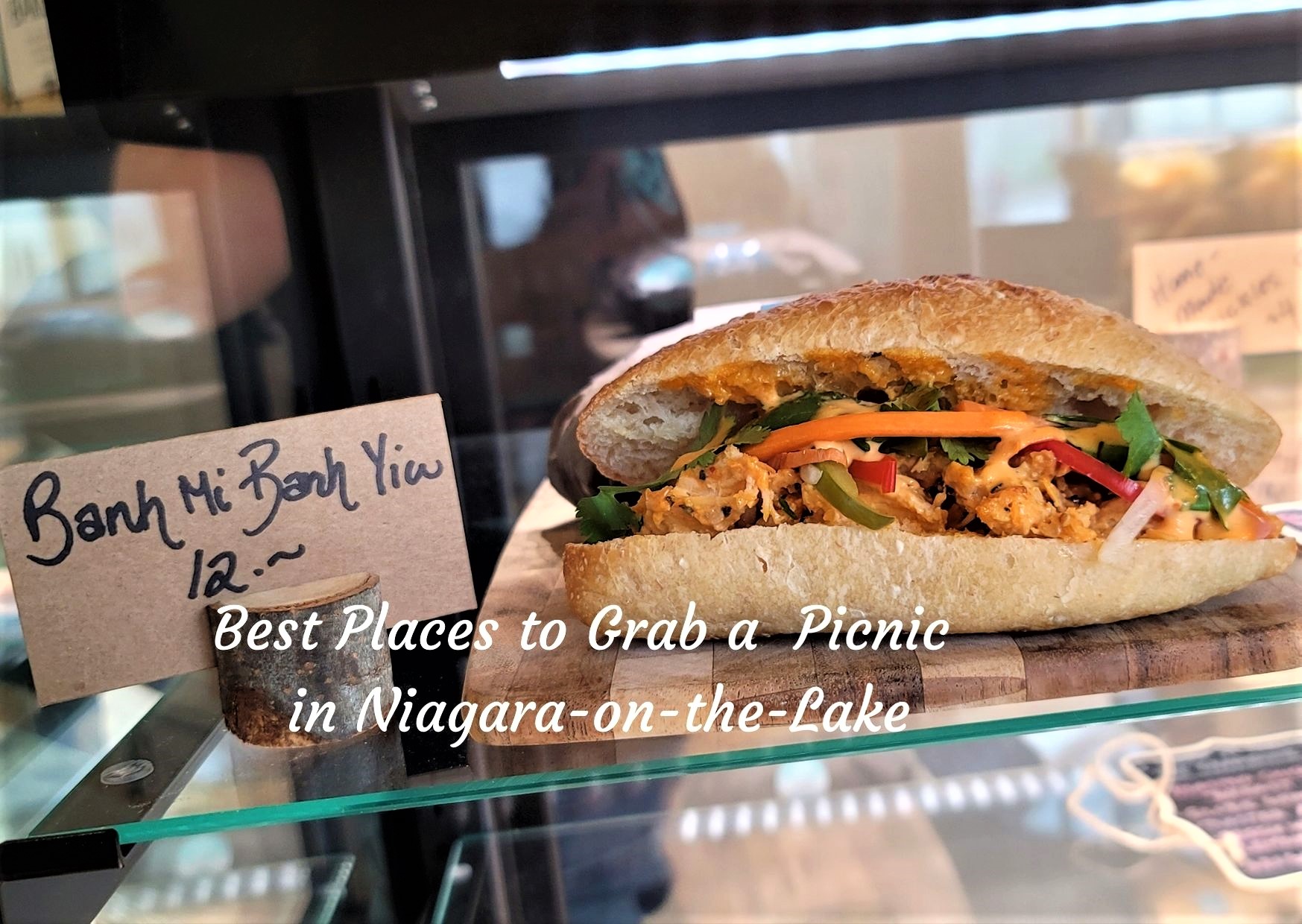 Alright, now that you know where to picnic in Niagara on the Lake, it's time to tell you HOW to picnic in the area!! I'm talking about all the delicious food that is available in the region. While there many amazing spots that you will be driving through on your own into Niagara on the Lake (and can easily bring your picnic with you in a cooler), I am going to share some local Niagara on the Lake restaurants and cafes that you should patron when visiting this charming town in Ontario. While some may expect nothing but tourist traps, I am going to share with you some amazing eateries that will fill your bellies and put a smile on your lips. Just grab a snack before you read this section, okay? Oh also, given Ontario's liquor laws, I'm not going to encourage anyone to illegally drink in unlicensed areas but you will notice that the wineries allow for tastings purchased on property.
PicNic : This newly opened spot at 38 Queen Street is truly your one stop shop. They not only offer food and drink for purchase but they also sell and rent baskets and blankets in addition to sunscreen, bug repellent and reusable bottles. The attentive staff will help you build your basket and they have a-la-carte and pre-packaged options as well. You are guaranteed to nosh on local ingredients during your picnic and since it's by the same owners as Cheese Secrets, you should totally check out their charcuterie boxes. I was surprised by how good their Banh Mi was and by the many vegan treats on offer for Apollo. Also, everything is packed in recyclable and compostable containers! They are open for pick up from 10 a.m. to 6 p.m. Thursday through Monday and you can see their ever changing menu here.
Masaki Sushi : While many may not agree with me, sushi is one of the best picnic foods ever! They are dainty and totally adorable. Yes you do need a cooler if you plan to walk around with it but if you place your order right before heading to your picnic spot, Masaki Sushi near the Queen's Royal Park, is a fabulous option if you're bored of the usual sandwich and charcuterie options. Their Picnic for Two option is available from 4 to 9 p.m. (hello romantic sunset picnic) and comes with a Spicy Salmon Roll, Ebi Mayo, Vegetable Roll and Dynamite Roll. Their seafood is very fresh and their house-made soy sauce is DIVINE!!
Budapest Bake Shop : I flock to this Hungarian Chimney shop on 118 Queen Street any chance I get. Sure they have sandwiches but if you don't try a couple of their Chimney stacks, I would be very disappointed in you!! I have enjoyed each and everyone I've tried. The Jalapeno Cheddar being my fave and the Oreo Cheesecake being Akira's favourite. I would suggest eating the stuffed ones sooner rather than later so pre-order and pick up right before you picnic!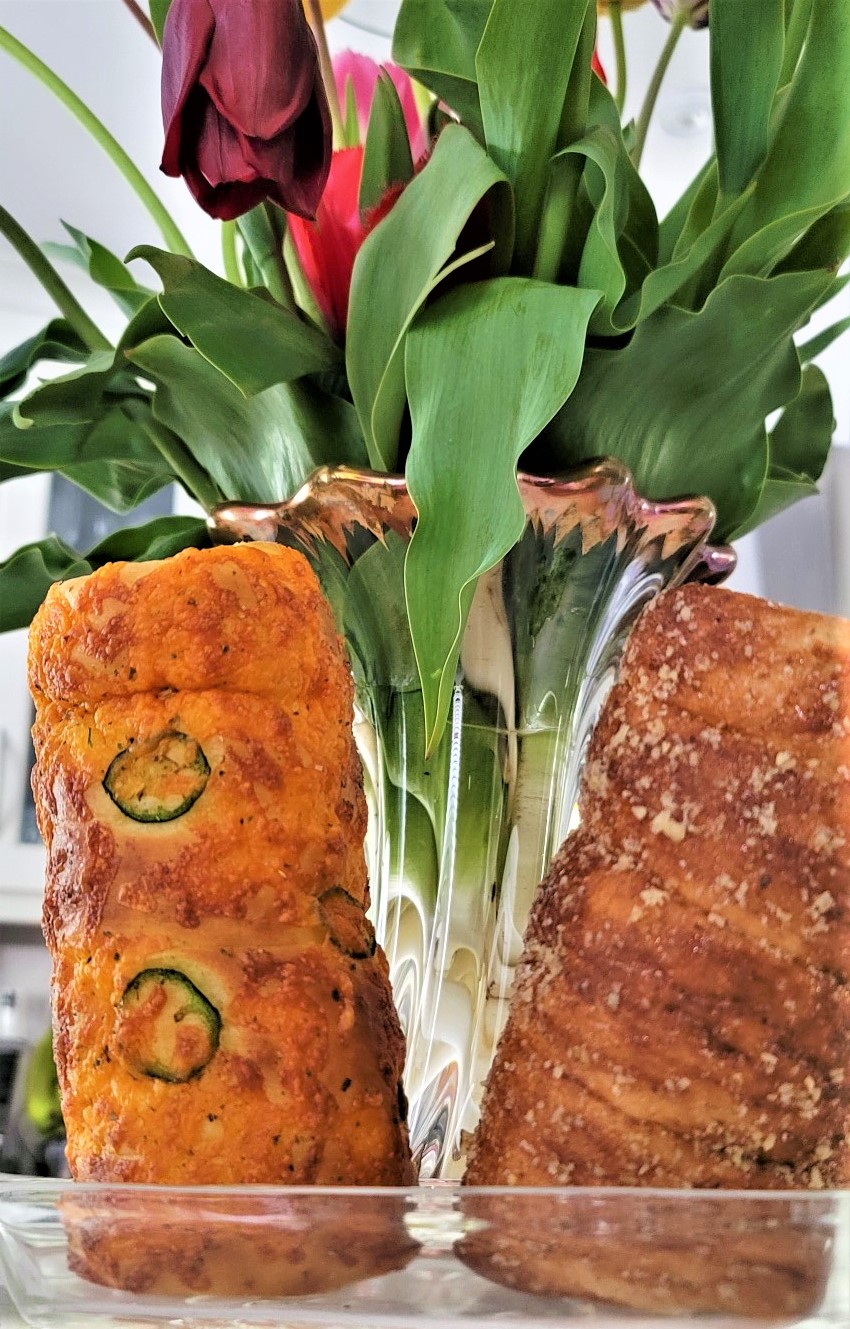 Fritters on the Lake : Definitely swing by this newly opened window at 217 King Street (next to Balzac's) and enjoy some delicious apple fritters during your picnic. Sure they're best eaten warm but these friend apple rings are still delicious cold I've been told. I am yet to try them despite having lived down the street from them for many months but I will as soon as I visit my parents next!
Pillar and Post : If you want a nice packaged lunch in a cooler, the two person option at Pillar and Post is quite fab at $55. You have to give them at least an hour to make the picnic for you. We loved our insulated picnic basket ( you get to take it home with you!!) which came with a choice of 2 sandwiches, salad (the house vinaigrette was shockingly good), snack (popcorn or chips) and cookies. While there was a veggie sandwich option, we opted for the Turkey and Roast Beef ones and my favourite was the shaved roast beef with bib lettuce, crispy onions and horseradish mayo on a ciabatta loaf. You can easily add a drink if you wish!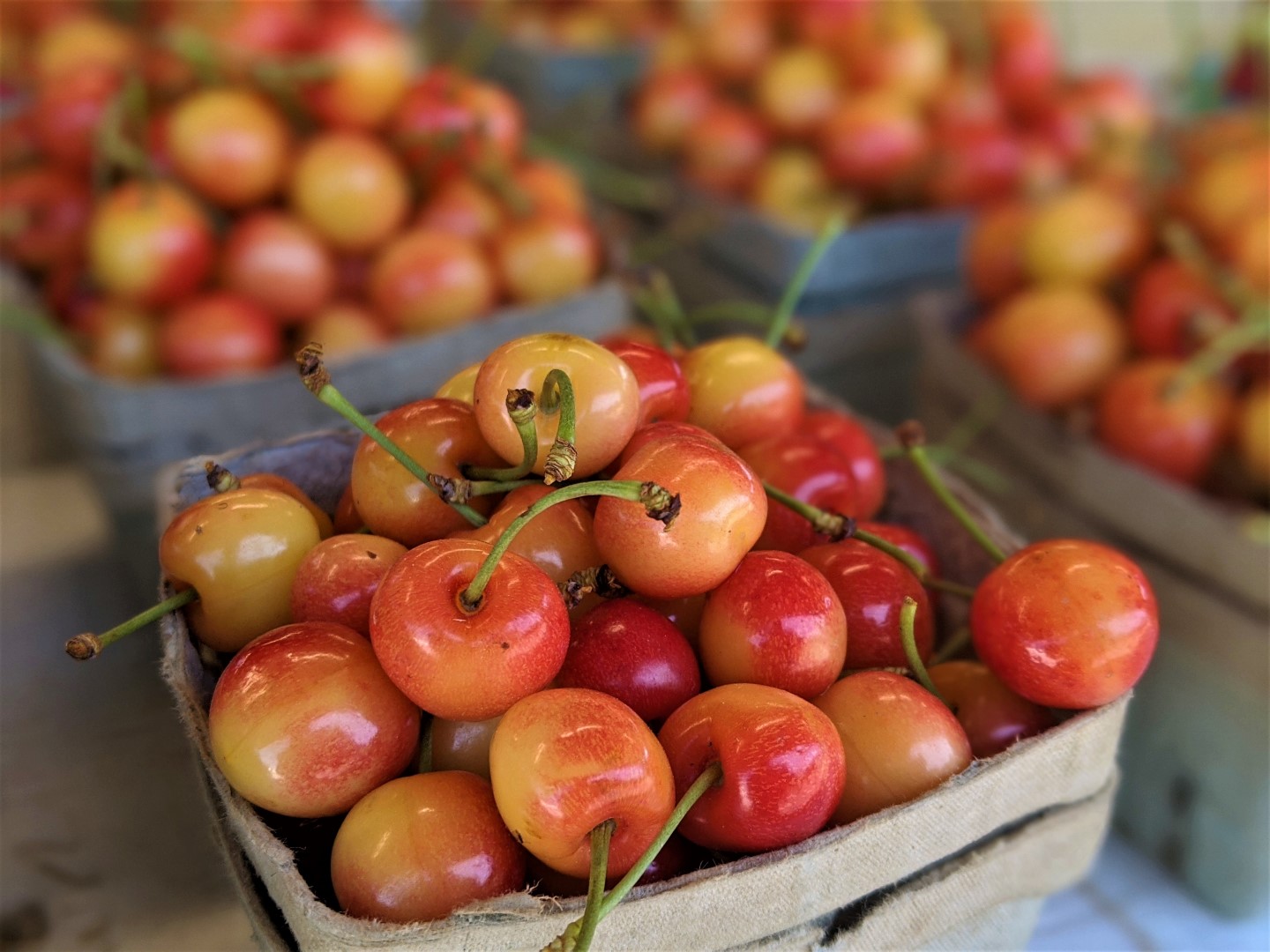 Farms and Orchards : As you drive into Niagara on the Lake you're bound to spot fruit stands and little pop up stalls. Visit them and purchase some healthy treats for your picnic. I highly recommend swinging by Seaway Farms or Quiet Acres. Both spots always have local produce (fruits and veggies) and Seaway Farms have some treats and snacks as well.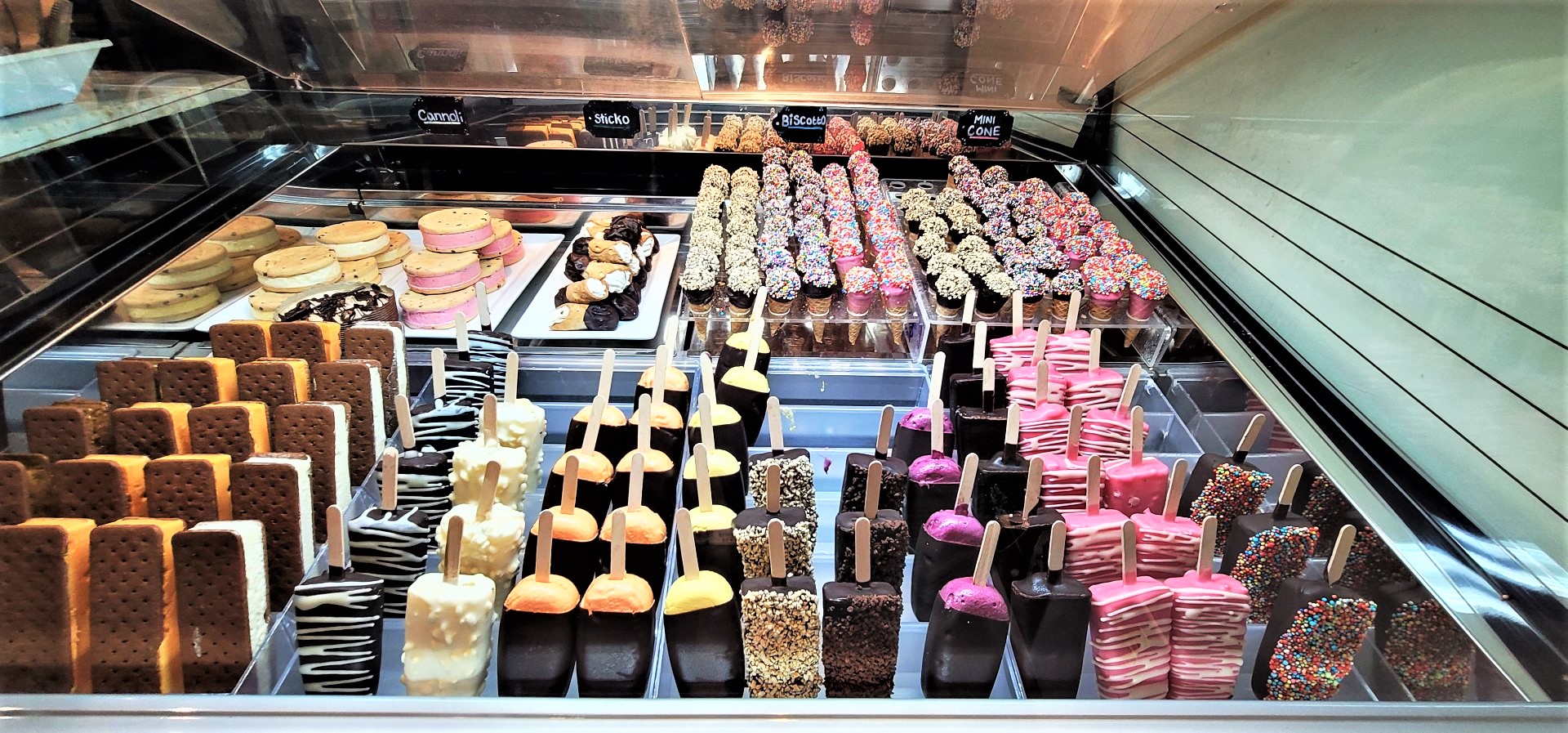 Ice Cream : Sure ice cream melts in the heat but if you eat ice cream before lunch then you've solved that problem, right? Bring a cooler with you and grab some pints at Nina's Gelateria or Il Gelato di Carlotta at 59 Queen Street (these guys have Styrofoam containers which keep those treats cold for longer). I will also randomly mention that if you're looking for ice cream and hot sauce for your picnic, check out the store It's All Fun and Games, at 29 Queen Street because they have a bunch of things for your picnic in Niagara on the Lake.
There are many picnic options in Niagara on the Lake and while I have a very long list of Niagara on the Lake restaurants I love, today's post was about a few I think would jazz up your picnic experience. If you discover other Niagara on the Lake picnic areas, please share them with me as I'm always on the hunt for the best picnic spots Niagara on the Lake