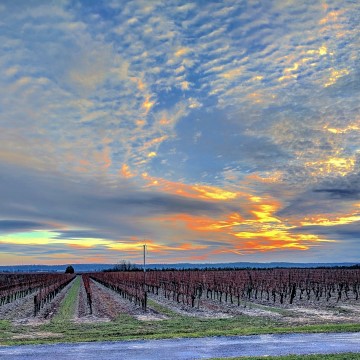 We've been visiting Niagara on the Lake for years but in the past three years we've been visiting more frequently because my parents now live in the area and it's the perfect weekend getaway. If you're visiting Toronto and looking for a relaxing weekend drive (or week day drive!) Niagara on the Lake can be combined during your Niagara Falls visit. For those who love wine, craft beer, culinary delights, theatre and nature, Niagara on the Lake is the perfect escape. The area is mostly frequented as a romantic escape but we have taken our kids to visit the wineries and restaurants on numerous occasions. If you're thinking of visiting Niagara on the Lake and looking for things to do, places to eat at and where to stay, we've got you covered!
Getting to Niagara on the Lake
Most of you are probably trying to figure out how to get to Niagara on the Lake from Toronto and I'll admit that there is no easy public transit route. During the summer months (high season – May to September) you can get a train from downtown Toronto to Niagara Falls and you can easily get on one of the many buses from Toronto to Niagara Falls. However, Niagara on the Lake is about a 20 minute drive from Niagara Falls and we usually hire a car to explore if we plan to visit the wineries. The drive from Toronto to Niagara on the Lake is under 2 hours (depending on traffic) but you can find UBERs and taxis (about $30) from St. Catherines and Niagara Falls if you prefer to take the train or bus. There is also the WeGONiagara shuttles that can transport you from the falls to Niagara on the Lake and your Niagara on the Lake B&B hosts may also be able to arrange a pick up from the train or bus station for a fee. That said, you're looking at a $150-200 UBER ride from downtown Toronto to downtown Niagara on the Lake if you decide to go down that route.
When to Visit Niagara on the Lake
We visit Niagara on the Lake during all seasons and find that most wineries and restaurants are open throughout the year. The town does a fantastic job of always having events throughout the year and so in the winters you can attend Icewine festivals, chocolate and wine weekends, wine awards and so much more. In the Spring I love attending the Sip & Sizzle winery tours and of course during the high season which runs from May to October everything is open and in full swing. September and October is grape picking season and a slightly less hectic pace of life. You can visit throughout the year and you'll find plenty to do, see, eat and drink. Take a look at the town's calendar of events as you plan your trip.
Where to Stay in Niagara on the Lake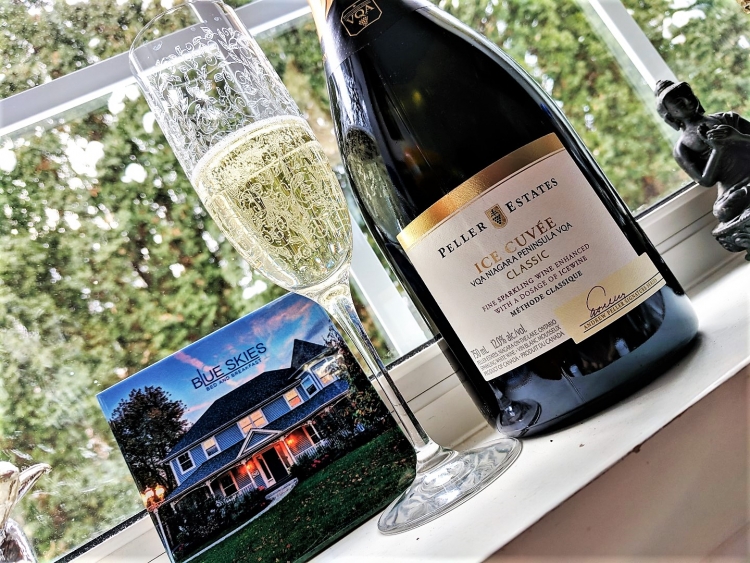 There are multiple options when it comes to accommodations in Niagara on the Lake and it all boils down to what you're looking for. Most visitors stay at a bed and breakfast as there are quite a few in Niagara on the Lake. I don't think my parents would forgive me if I don't call out their 5 star bed and breakfast in Niagara on the Lake, Blue Skies B&B. My mom whips up an amazing breakfast and you can even request for a traditional Sri Lankan breakfast if that's what you'd like. Chris, my brother and I all helped with the design and amenities during the planning stages so I'm quite comfortable stating that they're one of the best B&B's in the area if you're looking for a luxury getaway. There are more traditional options like Inns and boutique hotels as well. Pillar and Post is where some of our friends have stayed at (right by my parent's B&B) and the Prince of Wales is a hotel steeping in history.
Things to do in Niagara on the Lake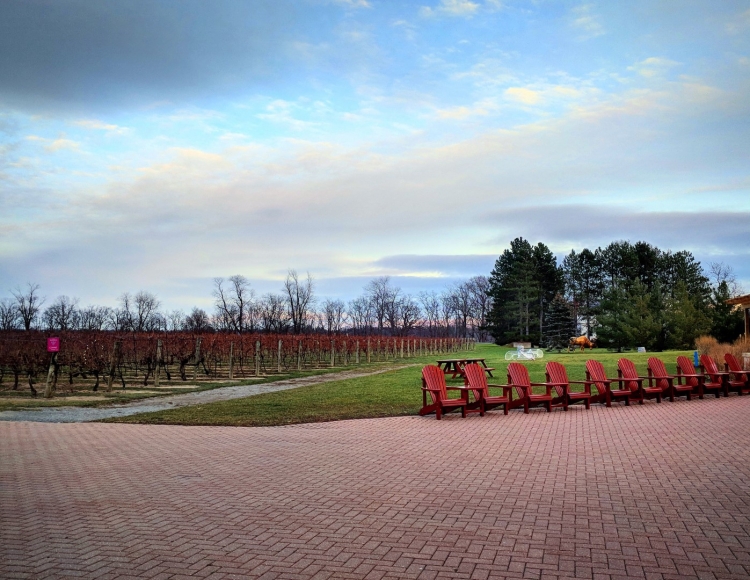 If you're looking for a slower pace of life after the hustle and bustle of Toronto, Niagara on the Lake is what your body and soul needs. Leisurely strolls, quaint shops lining the main street and tranquil vibes looking over vineyards awaits you. I often get asked what there is to do in Niagara on the Lake and while it's true that we mostly lounge around my parent's place while my mom cooks for us and my dad cleans up after us, we also find something new to discover each time we visit. The Niagara region is home to many activities (especially towards the Falls) but I am going to focus on what is available specifically in Niagara on the Lake.
Theatre : If you're a theatre lover then the Shaw Festival is probably the reason you want to visit Niagara on the Lake. Inspired by Bernard Shaw this roaming festival has been based in Niagara on the Lake since 1973 and was officially opened by Her Majesty Queen Elizabeth II. The season kicks off each April and continues into October and tickets can sell out so be sure to book yours soon!
Wineries : The Niagara region is home to nearly 100 wineries and about 40 of them can be found in Niagara on the Lake. They offer tours, tastings and beautiful views for visitors who walk into their wineries. Some are quite grand and gorgeous to look at while others are a bit more rustic but they offer something for every palate. You do not need to pre-book simple tastings but if you'd like a tour be sure to call ahead and find out the tour times. Speak to your B&B hosts and they'll arm you with some wine sampling coupons so that you don't have to pay for the samplings at certain wineries. On average most charge between $5 and $10 for a sampling of 4 to 5 wines and some wineries offer free tastings as well. Plan your visit around lunch and enjoy one of the popular winery restaurants! Our kids have been visiting the wineries for years now and everyone has been quite friendly despite there being no special kid focused activities offered at the wineries. I've highlighted some of our favourite ones in the sample itinerary below but you can check out Wine Country Ontario's full list of wineries if you'd like to learn more about others in the area. If you plan to indulge designate a driver, call for a taxi or join an organized bus tour!
Breweries : Niagara on the Lake may be known as Wine Country but there are also quite a few Breweries. So if wine isn't your jam, perhaps beer is! I will also highlight that there are a couple Whisky Distilleries in the area now as well and Wayne Gretsky has wine and whisky tasting rooms. Some of our favourite breweries in the area include The Exchange (they have a great gluten free beer too), Oast House, Silversmith Brewing and Niagara College Brewery. Click here to read all about these Niagara on the Lake breweries and what you can expect to find when you visit. As with the wineries, we've taken our kids to all these breweries as well!
Shopping : If shopping is your passion then you have a few options in Niagara on the Lake. For cute hand crafted items, Christmas decor (all year round!) and trinkets, you should walk along the Queen St strip. Don't worry there's plenty of jewelry, clothing and home decor options as well. You're bound to be tired so be sure to pop into the cute little bakeries and cafes along the way to keep that shopping energy high! If you're into food shopping this street is also home to stores filled with homemade goods , cheese boutiques and bakeries. The Niagara Outlets are also nearby and is a great way to score some deals. For non Niagara residents there is a additional discount booklet available if you visit the information centre (be sure to do that!!).  If you're a peanut lover you'll want to visit Picards and stock up!
Spa : For the ultimate relaxation visiting the spa seems like a great idea. There are two main spas that my mom likes to frequent – The Oban Inn Spa and the 100 Fountain Spa at the Pillar and Post. These spas are part of the hotel/inn and those not staying there are also welcomed to book appointments and services.
Golfing : During the summer months getting a few rounds of golf in can be a favourite pastime for quite a few. If you'd like to spend your days on the green the Niagara Golf Club, the OLDEST course in North America, is where you'll want to head towards. My dad mentioned that Royal Niagara Golf Club  is also a popular choice.
Biking and Walking Trails : Niagara on the Lake is home to quite a few trails if outdoor adventure, beyond biking to the wineries (you can rent bikes easily), is what you're after.  The Niagara River  Parkway Trail is a popular 56 km route linking Niagara on the Lake to Fort Erie and is a good one if you plan to visit Niagara Falls. Families who cycle enjoy this route because of the many pit stops along the way and the lack of vehicular traffic. The Two Mile Creek Conservation Area is a small spot if you want to enjoy the spring and summer flora and fauna.
Water Adventures : I was surprised to learn that you can take Paddle Boarding lessons and join some epic yoga and SUP sessions right in Niagara on the Lake. Check out these Paddle Boarding guys and let me know if you do the sunset one! For those looking to get soaked, the Whirpool Jet tours will be what you're after. You will learn about the history and geology of the majestic Niagara River and experience the excitement of playing in class 5 whitewater rapids.
History Explorations : History buffs will love learning about the Niagara on the Lake region on a two hour walking tour and will most likely want to visit the Niagara Historical Society and Museum (who also offers walking tours on weekends). Niagara on the Lake is also home to the Fort George National Historic site  where you can witness history being re-enacted.
Ghost Walks : It is said that this is one of the oldest towns in the world and so if you believe in the supernatural phenomena, perhaps a 90 minute walking tour  all about ghosts in the area will strike your fancy!
Chocolate Factory Tour : Chocolate lovers will rejoice upon hearing that there is a chocolate factory where you can not only buy chocolate but you can also see the production line and get a tour! Tours run daily every hour on the hour from 10 a.m. to 2 p.m.
Where to Eat in Niagara on the Lake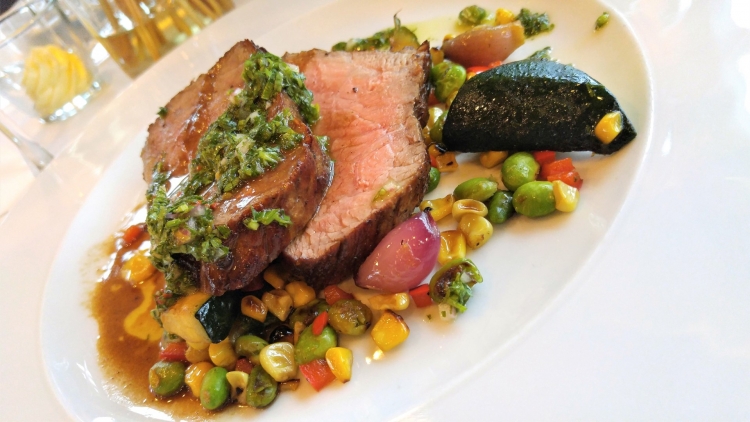 Niagara on the Lake is a culinary hot spot and you can find some amazing chefs in this town. Quite a few wineries have a restaurant on site and you can find a mix of cuisines available. Whether you're looking for a pubs, fine dining or bakeries, you'll find it all here. I've narrowed down a few options based on the spots we have visited over the years, but know that there is so much more to explore! I'll keep updating this as we continue to discover more. Just remember to make reservations if you plan to dine at one of the more popular spots!
Baked Goods  : If you have a sweet tooth that needs to be satisfied, Willow Cakes is where you should visit. They offer some great breads and their cakes are divine! Don't even get me started with their chocolates and donuts! Another spot we like to visit is Niagara Home Bakery where you can find some fabulous English and Scottish baked goods. They've been operating for 75 years so you know they're a local favourite!
Italian  : If you're after a good Italian meal you will want to visit Bella Vita on Queen Street. Not only do they have an amazing pizza but their pasta is really good too. I loved that they offer a gluten and dairy free option in Niagara on the Lake! The Two Sister's Winery is home to an extremely popular ( and hard to get a reservation at) Italian restaurant and they have a gorgeous patio to unwind at.
Canadian/Contemperory : If you're looking for a leisurely multi-course dinner Backhouse is my recommendation. Click here  to read all about our experience and you'll see why you should book yourself in!  I also have enjoyed each of my visits to the Niagara College teaching restaurant, Benchmark. Students run this fine dining spot and you can read more about our experience here. Oliv and Treadwell are on my list to visit because I have heard nothing but amazing things about these two spots.
Patio Vibes : Summer time calls for some patio vibes and Peller Estates is my hangout. Their patio overlooks the vineyard and you can enjoy the sunshine as you sip on some wines and nibble on some charcuterie boards.
Fish and Chips : I am going to have to call Corks out because everyone we visited with enjoyed their fish and chips here. I guess there's a reason they've received awards for this dish! Just don't get here if you're adhering to a gluten free diet as there's nothing beyond salads on offer. The Irish Harp is another spot with good fish and chips in Niagara on the Lake and we like to time our visits on a weekend evening when there's a live band cranking out authentic Irish jigs! If you're visiting on a Thursday be sure to swing by the local fish fry put on my the Legion.
Nibbles with drinks : If you're lucky and time your visit to Oast house you'll be greeted by El Gastronomo pop up and their dishes are always fantastic! Another fave is hanging out at the Silversmith brewery which is housed in a church and they have a small kitchen pumping out some good stuff. The sharables at Garrison are also fantastic. Caroline Cellars has a cute backyard and offer some great nibbles as well.
Things for Kids in Niagara on the Lake
Given that we mostly visit Niagara on the Lake with our children I thought I should mentioned a few kid focused activities we partake in. While there aren't any specific attractions for kids, the town is filled with older people who love seeing young kids. As I mentioned previously, we take them to the wineries and breweries with no issues. In addition, there is a playground on Queen street (right across from the Exchange Brewery) and Queen street is lined with candy shops! Fort George is also a great spot for kids to roam around and learn a history lesson or two!
Weekend Two Day Niagara on the Lake Itinerary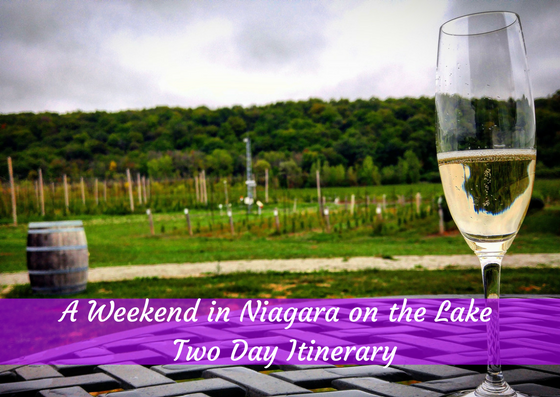 I know I've armed you with enough details to plan your trip but inevitably I get requests about exactly how to plan a weekend visit to Niagara on the Lake and so I thought I'd offer a quick break down on how I'd spend my ideal weekend there. Keep in mind that you can switch things out to suit your needs and that I've arranged this in a way that makes sense route wise.
Day 1 – Arrival 
If you're looking to enjoy some outlet shopping, swing by the Outlet Collection in Niagara on your drive in and visit Niagara College's Brewery and Winery before arriving at your accommodations. If you have the time before heading to your Niagara on the lake accommodation, I'd probably swing by Ravine Winery to grab a bottle or two and some snacks for your room! Take an evening stroll down Queen Street and visit one of the restaurants for dinner before ending up at the Irish Harp for some late night tunes and drinks.
Day 2 
Wake up to a scrumptious breakfast and either go shopping or take in one of the historical tours. If it's a hot day you'll want some ice cream from COWS for sure! In the afternoon tour the wineries (remember to ask your B&B hosts for free wine tasting coupons and a hard copy of this map). The wineries can be spread out but if you make a plan to follow a route you will end up visiting ones you like. My usual route is as follows:  Two Sisters, Stratus,  Nomad at Hinterbrook, Small Talk, Lakeview, Inniskilin and Reif.  Be sure to plan a lunch time stop or grab some snacks if you're still full from breakfast (which happens often for guests who stay at the Blue Skies Bed and Breakfast). If you're wined out, swing by one of the breweries before heading out for dinner.
Bonus Winery Tips : 
Prettiest Wineries : Chateau des Charmes, Two Sisters, Peller Estates and Konzelman.
Best Wines in the area (in my humble opinion) : Ravine, Jackson Triggs, Lakeview and Strewn.
Day 3 – Departure 
After breakfast take a bike ride to the waterfront and swing by Queen street to grab some pastries for the ride back. If you have time, visit the Chocolate factory on your way back home!
There you have it! Hopefully this gives you enough inspiration to plan your trip to the beautiful region of Niagara on the Lake!