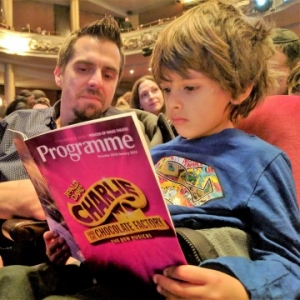 Please tell me you read Charlie and the Chocolate Factory numerous times as a kid. I sure did. No shame about that. However, I didn't watch the movie until a couple months ago when Chris was showing it to the kids and I was shocked that a movie even existed. How did I not know about that? Okay, don't answer that, we all know about my lack of a movie education. When I heard that Charlie and the Chocolate Factory Musical was coming to Toronto's Mirvish, I wanted the kids to see it. Toronto's theatre scene is a strong one and we take every opportunity to experience a variety of shows with our kids. I wasn't too sure if Baby Boy would stay awake for 7:30 p.m. show (remember Annie?) but not only did he stay awake for the entire 2.5 hours, but he has been singing "Willy Wonka" non-stop for the last week! This musical is in town until January 6th 2019 and you can experience it at the Princess of Wales theatre in downtown Toronto.
Disclosure : We were guests of Mirvish but, as always, opinions are TOTALLY ours
I'm not going to tell you about the plot because you should know it by now. If you don't – go grab the Roald Dahl book and read it now! I honestly had low expectations going, I mean, how could they possibly bring all those amazing things to life on a stage? I was going mainly for the kids. Yes, that's what I told myself. I was wow-ed. The set design and the oh so creative Ooompah-Loompah portrayals left me speechless. I had a smile on my face and the ones on the kids' faces were even bigger. I found the musical wildly captivating and it engaged kids and parents alike, bringing our imagination to life. I didn't hear one peep from our kids and that's an amazing achievement! They were truly captivated by this show that is recommended for kids aged 6 and above.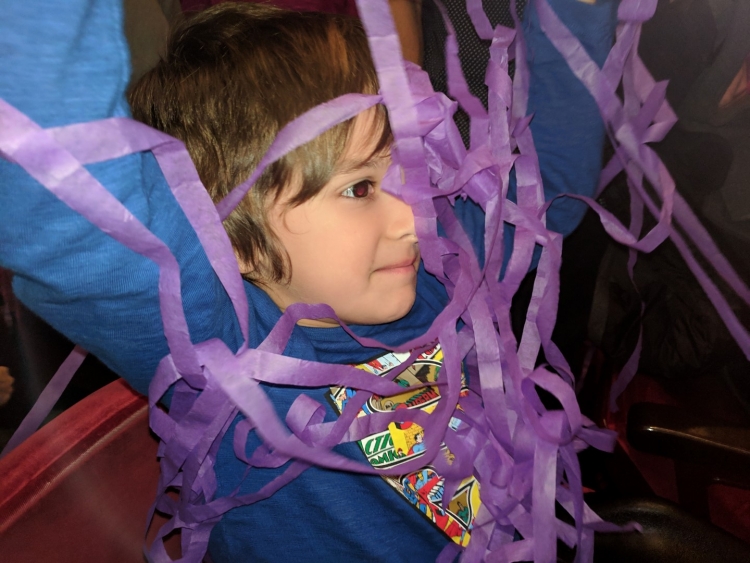 As you know, we've been taking our kids to the theatre since they were young and only in the last year has 5 year old Baby Boy been able to truly appreciate Broadway quality theatre. He has perfected the art of sitting through 4 hour movie sessions so are now able to take our 7 and 5 year old to most kid-friendly Broadway shows and I love it! As you can imagine, hearing about chocolate makes you crave some, so be sure to stock up on some in the concession stand. Also, grab a booster seat before you enter the main theatre as our kids needed them to see the stage properly.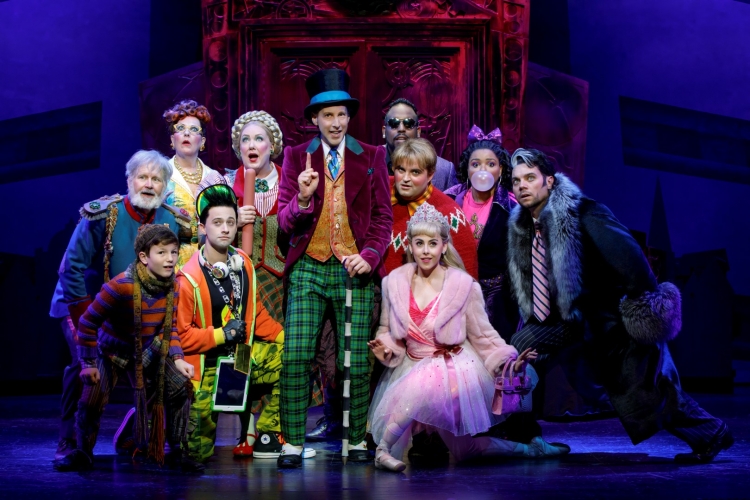 While Chris didn't love the show tunes, the kids were fully into it and have been singing random lines this whole week. My favourite part of watching Charlie and the Chocolate Factory Musical was the amazement and wonder on Little Monkey's and Baby Boy's faces. Having watched the movie, I knew they were most eager to see Veronica turn into a Blueberry and sure enough, we saw that happen. Spoiler alert, she blows up on stage but luckily the kids weren't mortified by the whole thing. Mike Teavee is Baby Boy's favourite character it seems as we've heard a lot about how he saw a "boy" (I believe he was an adult acting as a child) go inside the TV.
While some acts were drawn out, overall I truly loved watching Charlie and the Chocolate Factory with our kids. I liked that they stayed true to the original story (at least as much as I recall – haven't read it in ages). As far as the cast goes, I appreciate that they wanted to ensure that there was a balanced cultural representation but I felt that some characters like the "very stereotypical Russian" Veruka and her dad, were over-done. I also would have liked to see more REAL child actors because Henry Boshart did a fab job as Charlie Buckett. That said, Noah Weisbery was truly made for the role of Willy Wonka. Not once did he mix up the words in the right sequence (got to reverse that, right?) and he was mean enough without being overly intimidating.
I highly recommend taking your kids to watch this musical. One of Little Monkey's best friends was also in the audience and her mom told me that her little girl was on the edge of her seat for the entire show! Oh and be sure to wait until the very end, because they have a lovely surprise to finish it all off! We left the Mirvish theatre with big smiles on our faces and happy hearts. These are the feel good vibes we need in today's world.
Charlie and the Chocolate Factory provides you with an opportunity to chat about right and wrong, respect for other's property and being satisfied with what we have in life. If you want to take it a step further and delve into the literature, I found this cool worksheet and study guide on the Mirvish site. Any opportunity to provide a lesson, right? If you take your kids to see Charlie and the Chocolate Facory, do come back and let us know how your experience was.