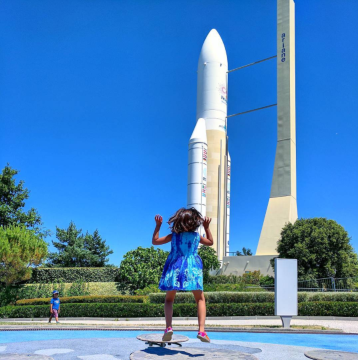 Toulouse was a surprising find for us during our travels through the south of France. The city had some quirky street art, amazing pedestrian only downtown areas and some educational museums that we all loved. Yes, even the kids! When I first heard about the Cité de l'Espace, I wasn't sure that our 3 and 5 year old would truly appreciate a visit and ALMOST didn't do the 30 minute drive outside of the city to visit this French Space Museum. Boy am I glad Chris thought we should check it out! The museum is a very engaging and educational attraction that's perfect for kids (and adults!) of all ages. They've done a fabulous job at making it easy to understand the science behind the various elements showcased.
Disclosure : We were hosted by Cité de l'Espace but, as always, opinions are TOTALLY ours. 
The Cité de l'Espace is situated about a 30 minute drive from the downtown area but luckily for us, it was on our way out of the city as we headed towards Lyon. Alternatively, visitors can take a bus from downtown. The Cité de l'Espace is a VERY hands-on and interactive museum where one can easily spend 4 to 7 hours. We spent 3 hours and wish we could have hung around a bit longer as it was a great educational experience for the kids. They've done an amazing job at making all things space accessible to kids, Toulouse is Europe's space capital after all.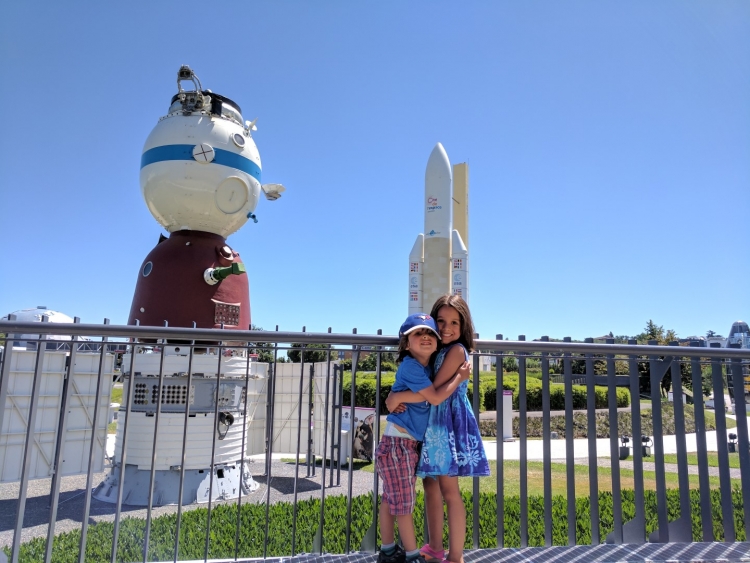 Things To Do at Cité de l'espace
The place is quite massive and has indoor and outdoor areas so families can come in and out depending on their mood and weather. We started indoors where all four of us played around the various exhibitions (including Little Monkey's favourite – "how Astronauts poop") and caught an IMAX show before we ventured towards the outdoor gardens and playground.  There were over three floors of interactive exhibits inside, including a moon-running simulator, a rotating pod to test your tolerance for space travel (WOAH-that was hard!), a planetarium and an observatory, plus the cinema. We watched a movie that had Little Monkey asking us all sorts of questions about the planets and the moons!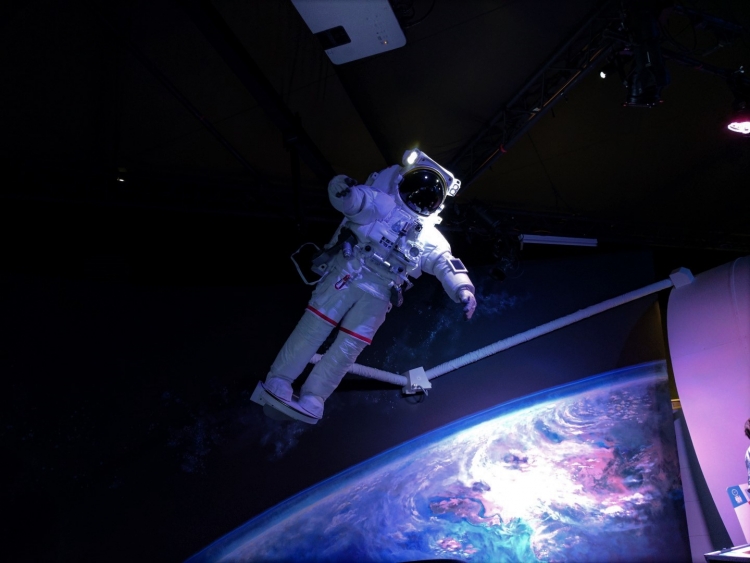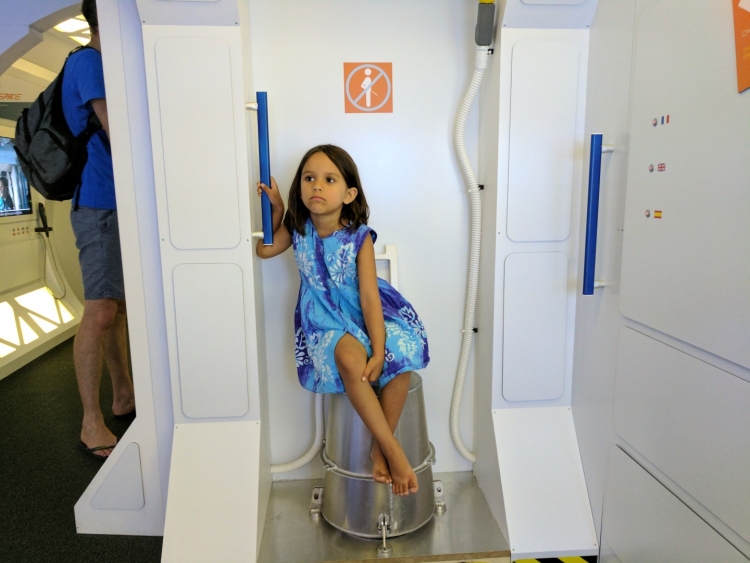 As the kids ran around the 2-hectare outdoor gardens we explored the 'Infinity Alley', the 'Galaxy Maze' and a real LIFE SIZED spacecraft. There was a Kids' Base which was a learning area for children aged between 6 and 12 years but we didn't see much action there during our visit. Needless to say, Little Monkey and Baby Boy thoroughly enjoyed the playground for 3 to 6 year olds where they were able to slip down a rocket slide, climb into a space station and play at being a cosmonaut in space. That said, the REAL showpieces are the full-scale replicas of iconic spacecrafts, including the Mars Rover and a 52m-high Ariane 5 space rocket.
In addition to the exhibitions and hands-on centres, there's also a few activities and movies so be sure to find out about them as soon as you enter. We got side tracked and missed the water rocket launcher but that sounded super fun!
Dining at Cité de l'espace
While we could have brought some lunch in with us, we decided to enjoy a relaxing lunch at the restaurant on-site as it was a scorcher of a day and having been outdoors for 30 minutes, we needed to cool down. The meal did take a while to come out and the kids were starving so I pulled out some veggie snacks I had to keep them quiet. Luckily when the food did arrive it was tasty and relatively well priced. We had the kids share a meal while Chris and I each had our own lamb meals.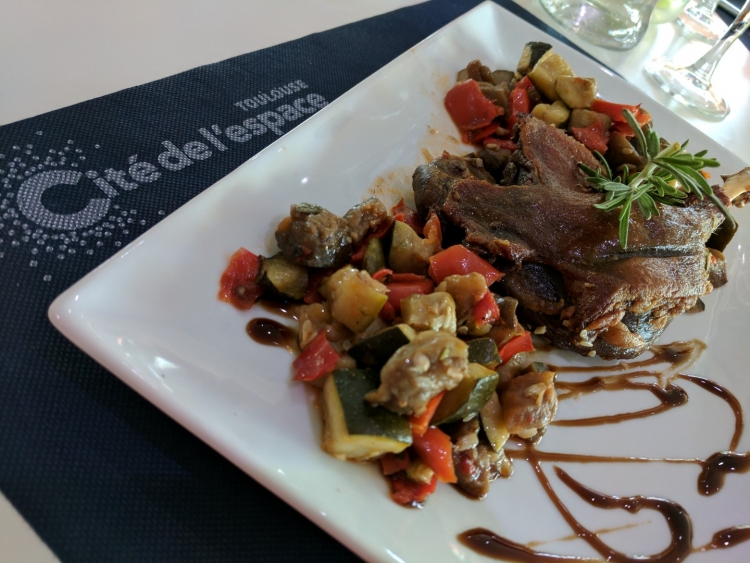 Tips for Navigating Cité de l'espace
I highly recommend grabbing a map and a schedule as soon as you enter so you can hit up the shows you want to. We totally missed some fun ones during our visit because we didn't look at the calendar of events and the activities only happen once every couple of hours.
The space is quite stroller friendly but we didn't have ours with us as we drove to the space museum. There are change tables in the women's washrooms and loads of room for kids to run wild at.
Bring some snacks and plenty of water, especially if you visit in the summer months. Our visit in early June was on an EXTREMELY hot day and we finished our water within the hour.
If you plan to purchase the Toulouse Tourism pass, there is a discount for the museum.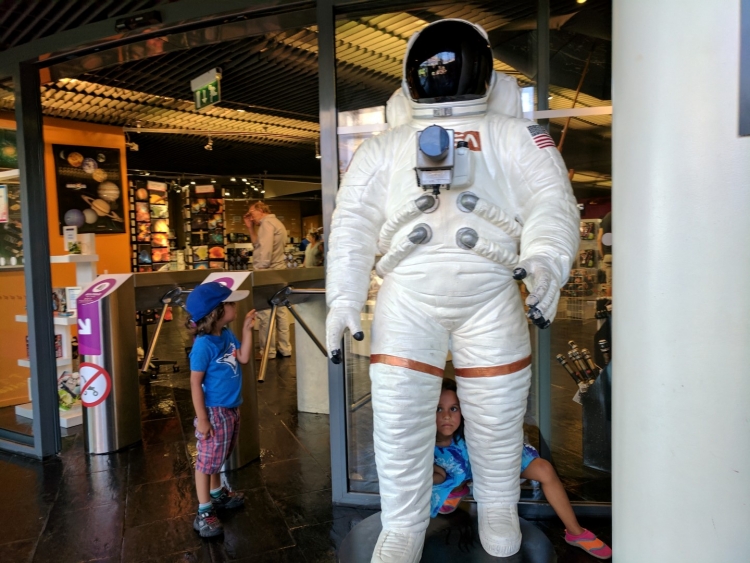 I know I was hesitant on going to visit this Space Museum but I'm so glad we went. I learned more than the kids did and it was all very engaging and captivating. I also liked that it wasn't overly crowded unlike some other space museums I've visited. I was actually able to leisurely read and play with the various exhibits as we took the time teach the kids about what we were looking at and the science behind what was happening. I highly recommend a visit if you're a world schooling family!