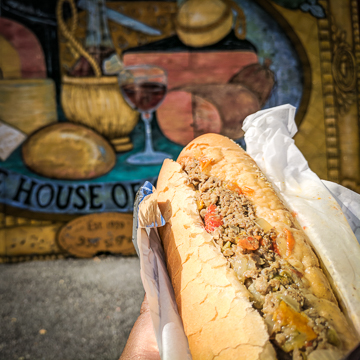 The first thing we did upon landing at Terminal Station in Philadelphia was to go looking for a cheesesteak. Not many cities in the world have inspired the name of a famous sandwich and we were just unwilling to focus on anything but finding Philly Cheesesteaks. Before we even landed at our hotel, we were trudging our bags and double stroller through the busy Reading Terminal Market in search of a sandwich I have eaten in so many cities, except for the one that really counts. We succeeded quickly and was it ever worth the wait.
We were meeting up friends from other parts of the US on our recent trip to Philadelphia. As many as 11 of us (5 kids and 6 adults) would share several meals together, and so we did a little more planning than usual for this trip, calling ahead for reservations at our dinner choices and looking for lunch spots that could seat us relatively quickly. Amazingly, we never had a bad meal over our four days in the city. The food was so great, in fact, that whenever I hear someone mention Philadelphia, it will be the food that I think of first. Rocky is now a distant second.
Here is a summary of our four days of dining with kids in Philadelphia:
Thursday Lunch at By George
We found our first cheesesteak at By George in the Reading Terminal Market. A busy downtown market filled with scrumptious looking desserts, fresh produce, and grilled meats, we ordered a cheesesteak at the first sandwich stall we found. We were in luck, because the cheesesteak sandwiches at By George are delicious, and the French Fries are pretty great too. The sandwich is quite large and so we were wise to share one, despite how hungry we were. After picking up our order, we escaped the busy market to eat on the street. Once we polished it off, I felt good; I felt powerful!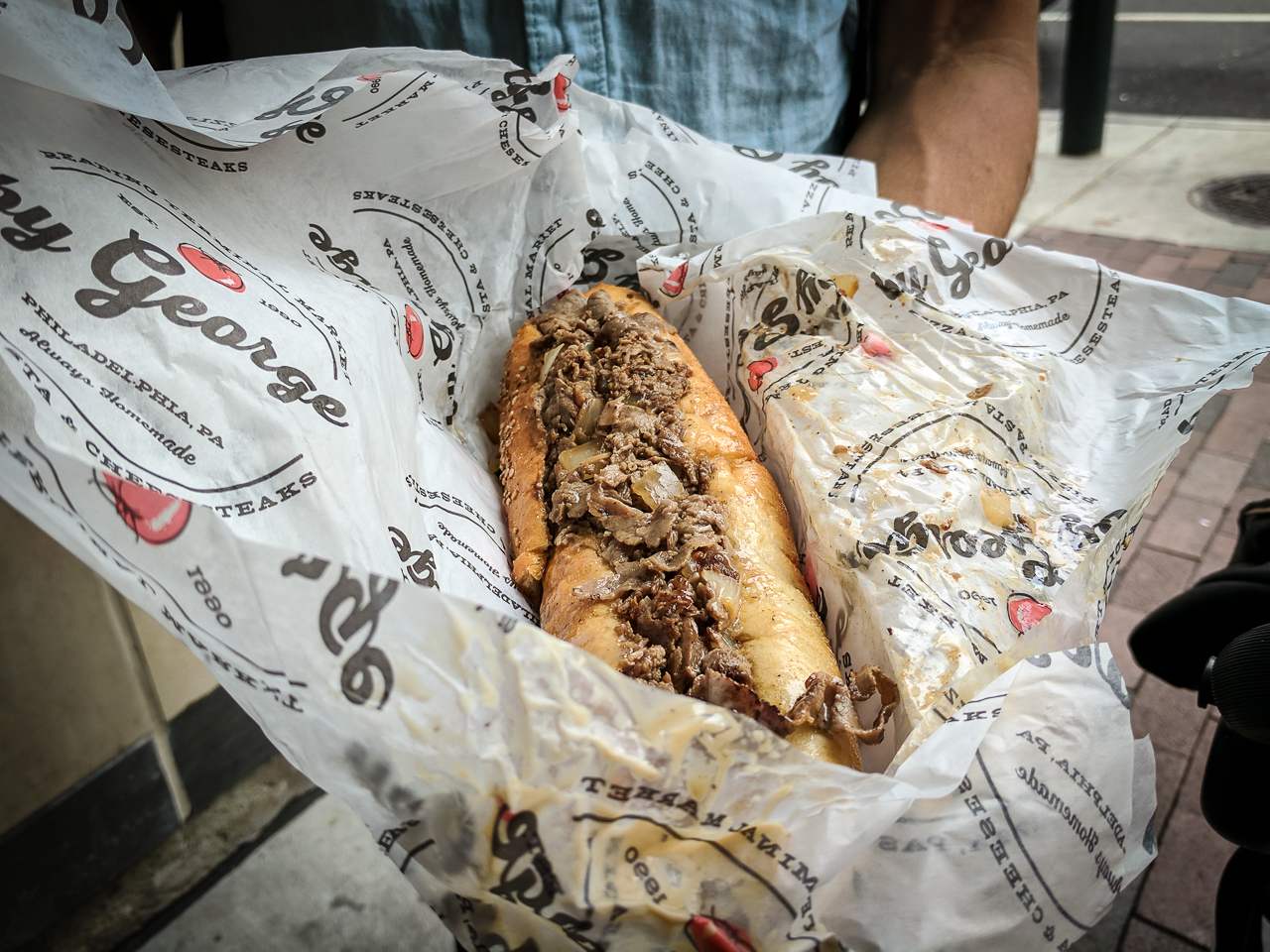 Thursday Dinner at Moshulu
After some downtime at our hotel in the historic district, we made our way east to dine at Moshulu, which serves guests aboard a massive sailing vessel that rests on the Delaware River. The vessel itself has a fascinating history. It is the world's oldest and largest square rigged sailing vessel still that is still afloat. Original built in 1904, the ship has survived two World Wars and has seen some of the farthest corners of the world. Movie lovers will have seen its exterior in both "Rocky" and "The Godfather, Part II". The boat deserves its lofty resting spot on Philadelphia shores, where it is now associated with good times and great food.
The boat is so large that it features multiple dining areas. As we entered, a few others followed us in who looked like they were on the way to a nightclub, and sure enough, the boat's deck is a great place for cocktail hour. Our party of 8 were seated at a large round table down below, and we settled in to find a number of very appealing food options. To my pleasant surprise, the menu listed a half dozen premium sushi rolls.
Our table started with Tuna Tartare, Calamari, and Spanish Octopus from the starter menu, plus a Spicy Salmon Roll and the aptly named Moshulu Monster Roll. Oh my were they good. I can't really give you a favorite because it just wouldn't be fair to the effort that went onto the other dishes. Let's just say that these are all great choices and I now regret that we didn't visit with an even bigger group in order to have room  to sample all of the starters.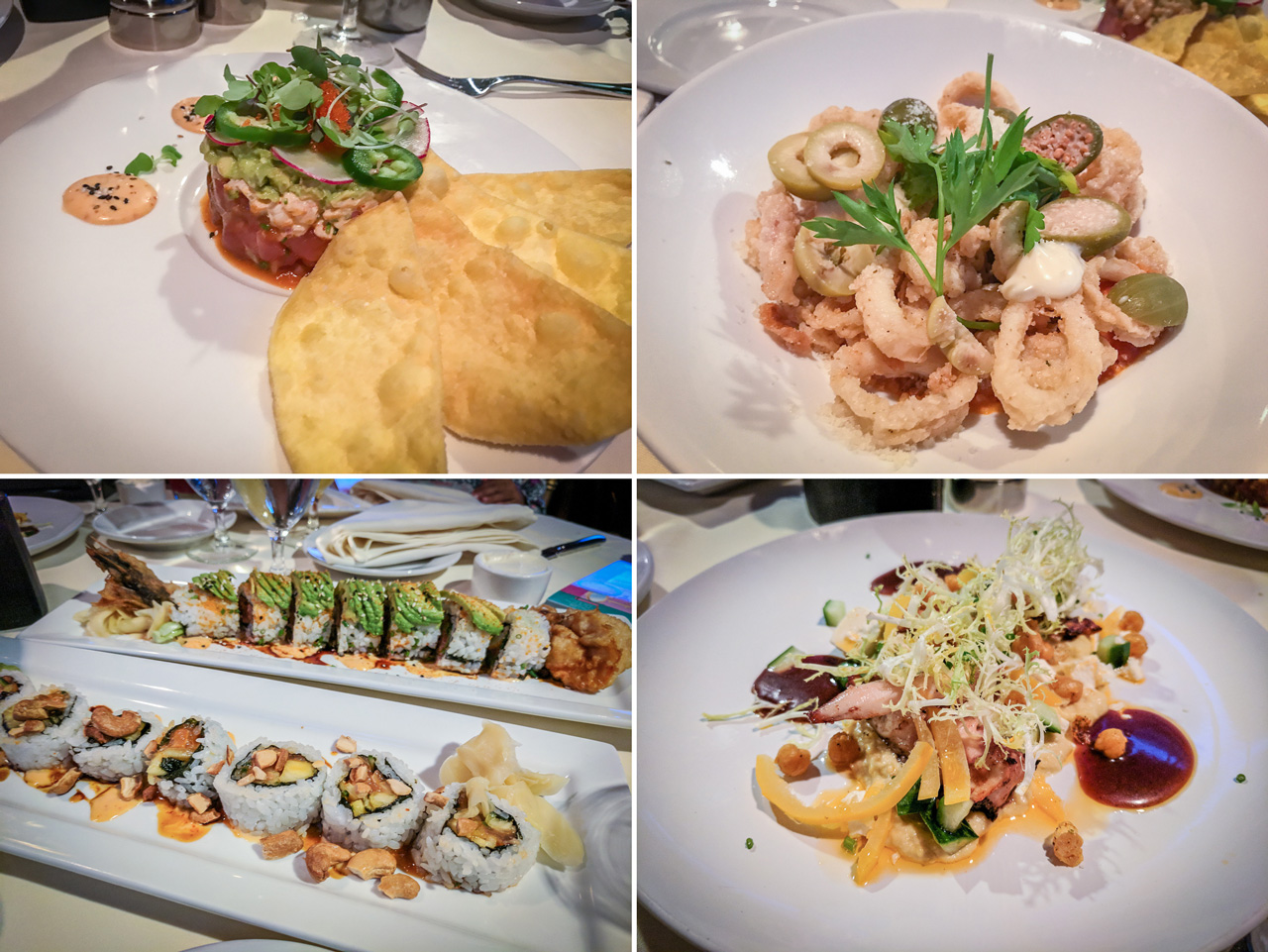 We each ordered an entree too. The couple with us decided on the Thai Steak and Noodle Salad and the Steak & Shrimp. I had been eyeing the former and was happy that we all shared the entrees. I had been training for a half marathon at the time and the salad was a welcome bit of healthy eating. Yashy and the kids went with the All Natural Fried Chicken and I the Jumbo Lump Crab Cake. Oh, and we added on the sides of Brussel Sprouts (that was just okay) and Hand Cut Truffle Fries. We had all flown into the city that morning and had full appetites by the time we arrived at Moshulu. It turned out to be a perfect place to eat heartily.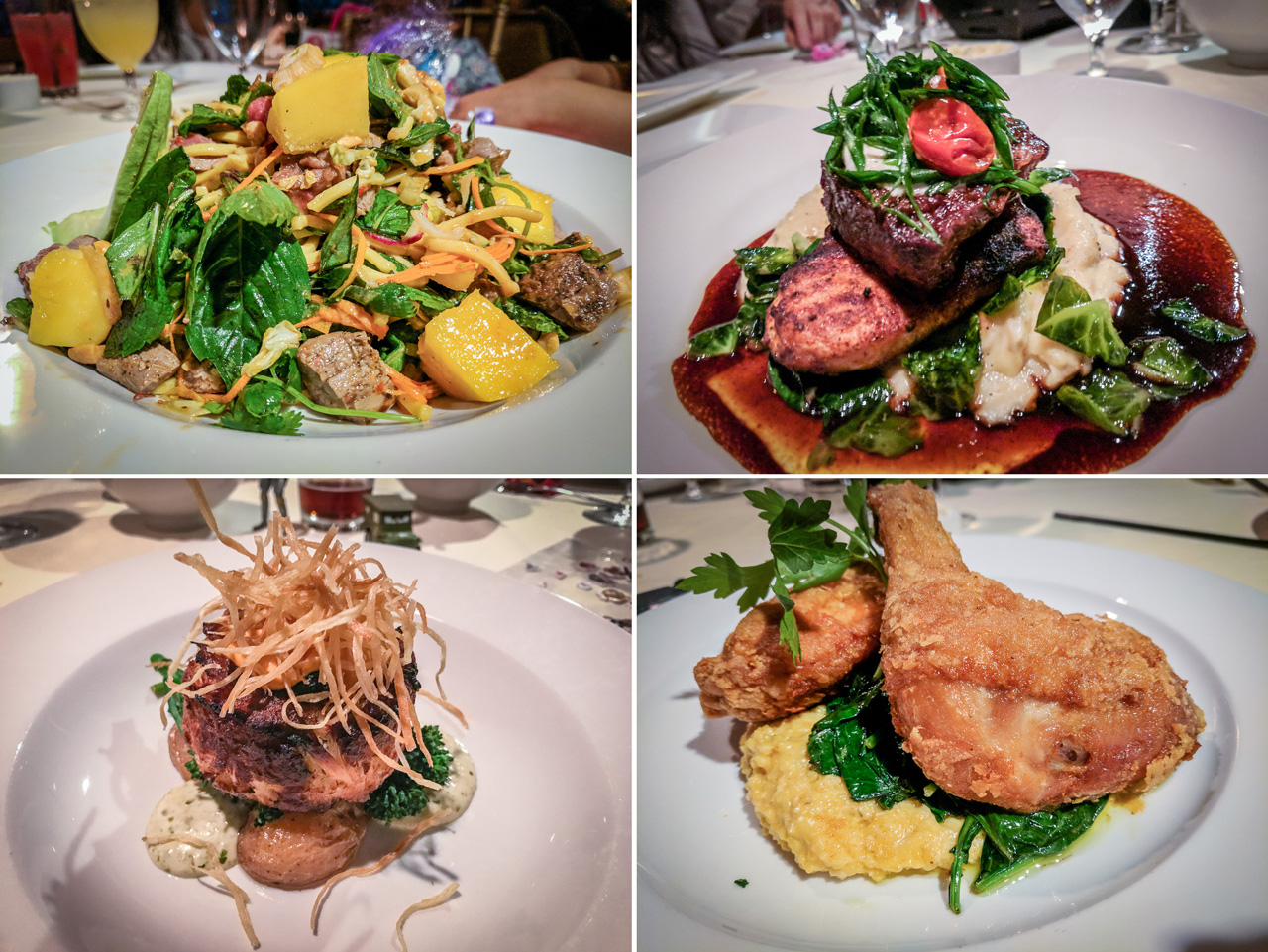 Of course, since we had 4 kids with us and they dutifully ate their dinner, we ordered the Moshulu Signature Sundae for Two, the Chocolate Luxe Layer Cake, AND the Cafe Mocha Creme Brule for dessert. We may have met our match with the desserts, but there was impressively little left by the time we left. The Sundae was the clear winner, as the bowl was almost licked clean by the time the kids finished with it. I went with my usual beer dessert, a really nice IPA from the locally based Yards Brewing Company.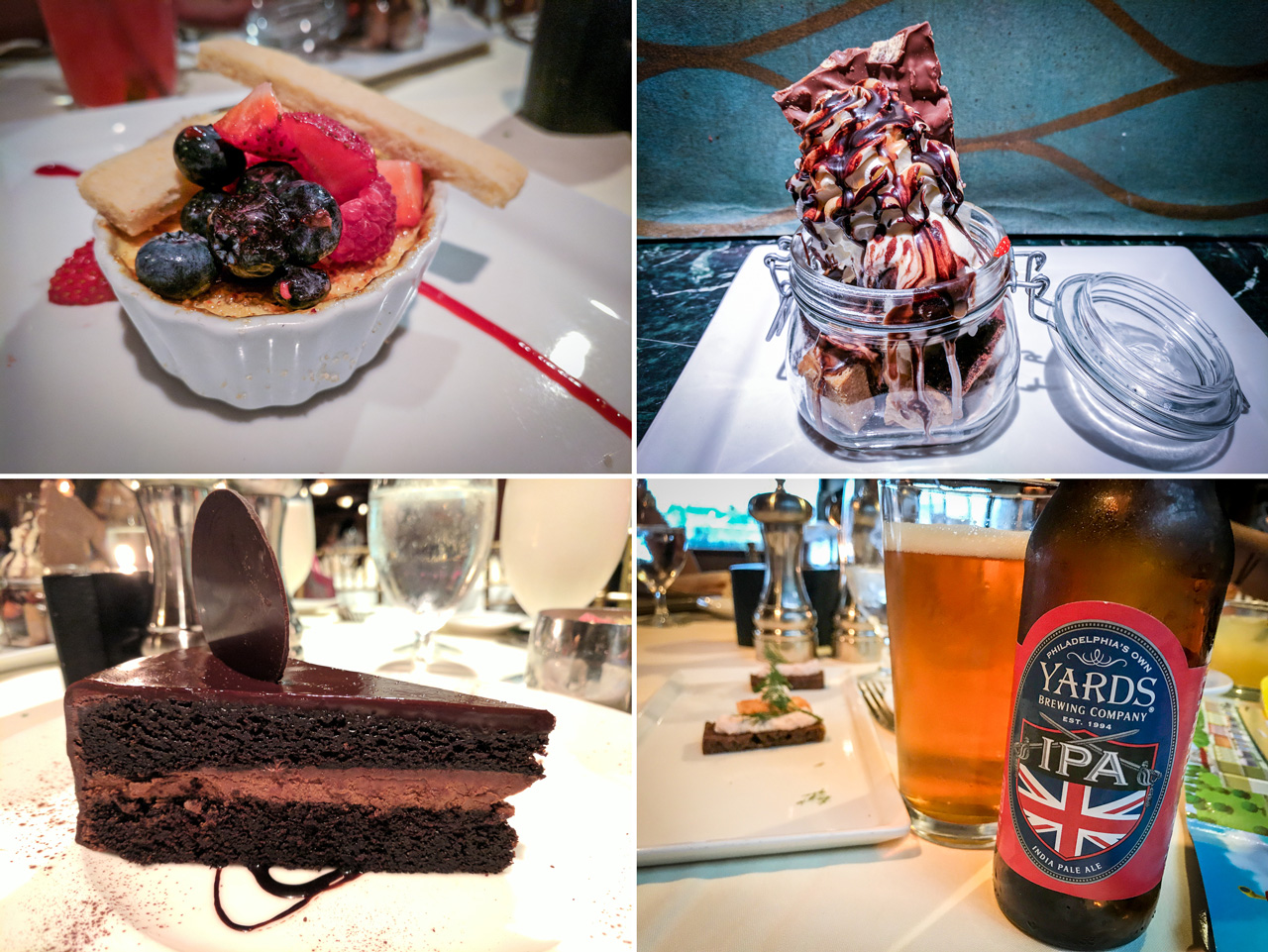 Friday Lunch at Zorbas Tavern
En route to the Eastern State Penitentiary on Friday afternoon, we stopped in for lunch at Zorbas Tavern, located right across from the old prison. Zorbas has a small lunch menu, but it covers all the major meats – lamb, pork, chicken, and beef – with its platter and sandwich options. I was the boring one on the group in going with the traditional gyro but I definitely didn't regret the choice. A fellow dad decided on the Roasted Leg of Lamb Sandwich and graciously allowed me a bite, while Yashy went with the Soutzoukaki sandwich, which consisted of meatball-style portions of ground beef and lamb on a pita. If I were to go back, I would order the Roasted Leg of Lamb sandwich. Great dish!
The kids all shared a Gyro plate, which came with fries, rice and a few veggies.While the restaurant looks small from the outside, especially when its small sidewalk eating area is full, the interior contains three additional dining areas and we were seated quickly. The prison was an amazing attraction and so Zorba's is the ideal place to stop for lunch if the penitentiary is on your list.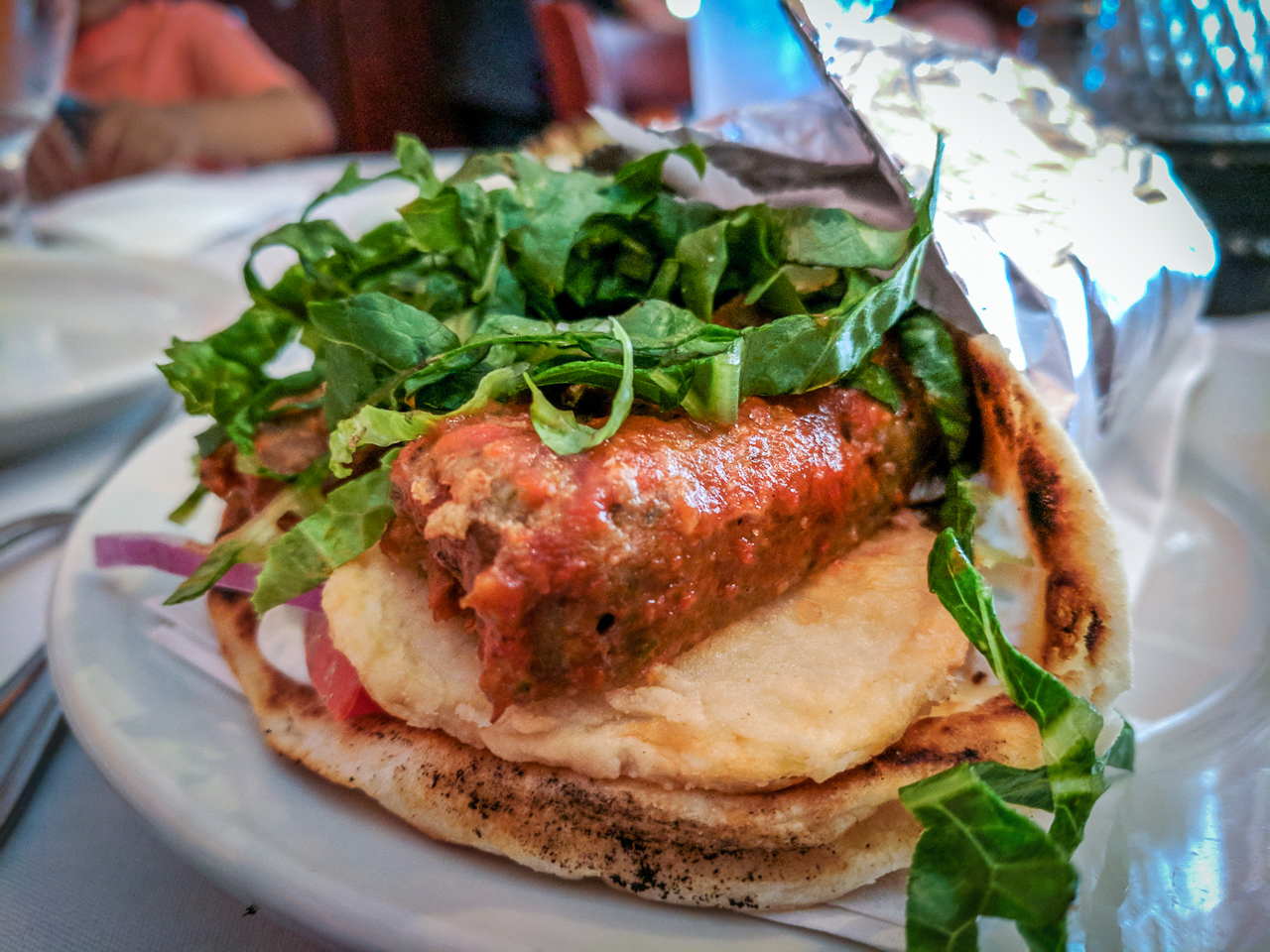 Friday Dinner at Alma de Cuba
After some great seafood on Thursday evening and a helping of Greek food for Friday lunch, we ventured to
Alma De Cuba for a Friday evening smorgasbord of Cuban dishes. Admittedly, we ate a lot on Thursday night, we walked over 7.5 kilometers through the city on Friday and were once again ready to EAT. Alma de Cuba features a great starter menu as well, with a range of ceviche offerings and a sample platter consisting of Smoked Marlin Tacos, Royal Plum Dates, and Crab Empanadas. Yes, Yes, and Yes. The tacos were particularly tasty, but being a ceviche lover, the Agua Chile Cobia, which features cobia, octopus, avocado, jalepeno, and kafir lime fire water was the highlight for me. It was perhaps the best thing I tasted in the city.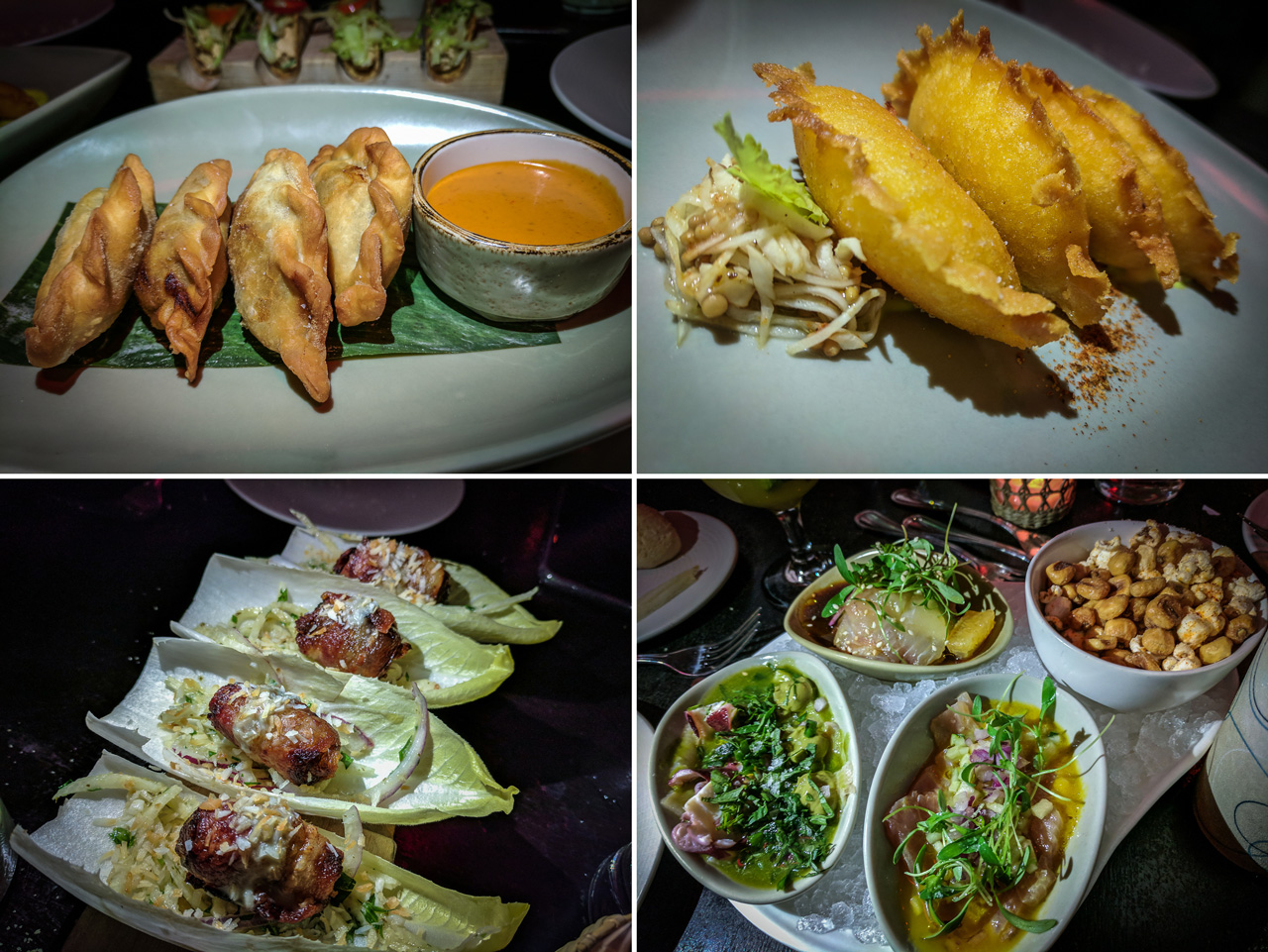 The entrees we ordered, the Sea Scallops and the Sugarcane tuna, were great choices as well. Both featured very generous portions and were perfectly garnished. Being from Cape Breton Island in Eastern Canada, I usually gravitate towards the fish dishes when dining out and those at Alma de Cuba are sure to satisfy anyone who grew up on an island. Once again feeling full, we decided to forgo dessert, but we had a good reason, an unusual selection of gelato awaited.
Gelato at Capogiro
After a short walk to regain our mobility, we visited Capogiro,  where we browsed a selection of Italian Ice Cream options that included Ruby Red Grapefruit with Campari, Mojito, and Fior de Latte. I was a little worried the kids would not settle on one of the non-traditional flavors available but who am I kidding, they happily ordered a "pink" one and thought it was delicious. Not only do they make fresh gelato daily they also use local ingredients for their flavours! This place was quite a treat and there was even a Shake Shack across the street where my friend couldn't resist ordering his favorite milkshake.
Saturday Lunch in the Italian Market
Day 3, and the eating would contine. We signed up for a morning walking tour that took us through several of the city's historic districts. So naturally, we needed something hearty at the halfway point of the four hour tour. Luckily, our guide brought us near the Italian Market, where we were able to sample our second cheesesteak sandwich, this time at George's Sandwich Shop (no relation to By George, so to speak). This one was pretty good too. It had onions and tomatoes, which I appreciated, but we both liked the one at By George more. I was really loving these Philly Cheesesteaks though. Were I a resident, I'd make sure to track down and sample every notable place in the city serving them. For the kids, we picked up a few slices from Lorenzo's Pizza next store, which I would describe as a greasy looking slice of pizza, a little messy, but quite good.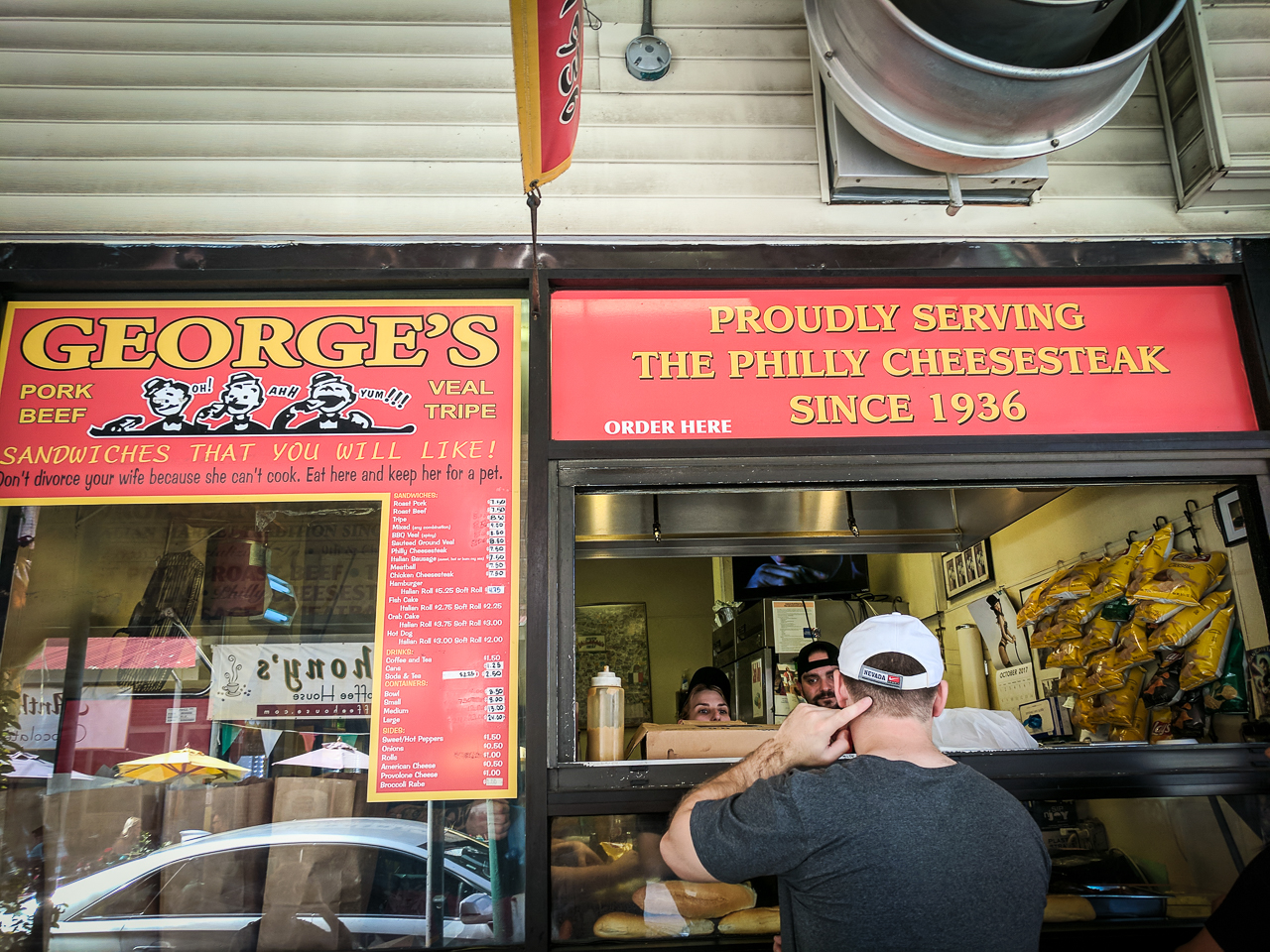 Saturday Dinner at Sampan
Our final dinner in Philadelphia came at Sampan, which specializes in contemporary Asian cuisine. Like we did on the previous two nights, we ordered as many menu items as we felt we could eat, including the Shrimp Pad Thai, Curry Fried Rice, Edamame Dumpling, General Tao Soup Dumpling, Spicy Cucumber, Pork Bao Bun, Chicken Bao Bun, BBQ Beef Satay, Hamachi, Crispy Spicy Shrimp, Unami Fried Chicken, and Chilean Sea Bass. Phew! Pretty much the whole menu as you can see.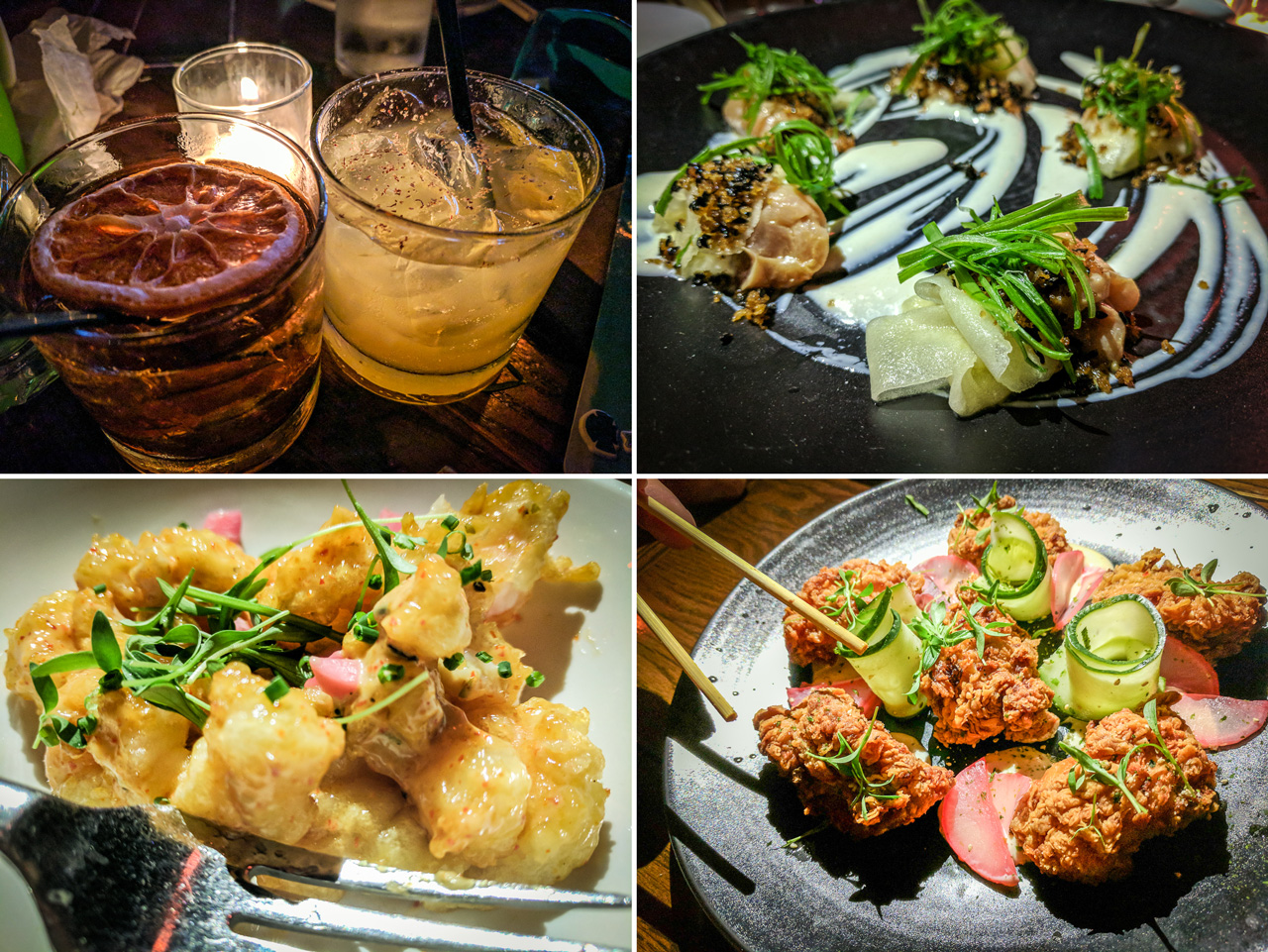 The favorites were the Sea Bass, Chicken Bao Bun and the Edamame Dumplings. The experience was similar to a Dim Sum meal with additional Thai and Vietnamese options. The restaurant is located in the Midtown Village, which was the site of a street festival the day we ate here. Luckily, we had made reservations. It's a great place for large groups. We had 11 in our party for this meal, giving us the chance to sample a large portion of the menu, as you may have surmised. Half of them went on to order dessert as well because we couldn't leave without tasting the special ice cream and lemon tarts! Half of the group also went back to the hotel and ordered Halal Guys-clearly we're a hungry bunch!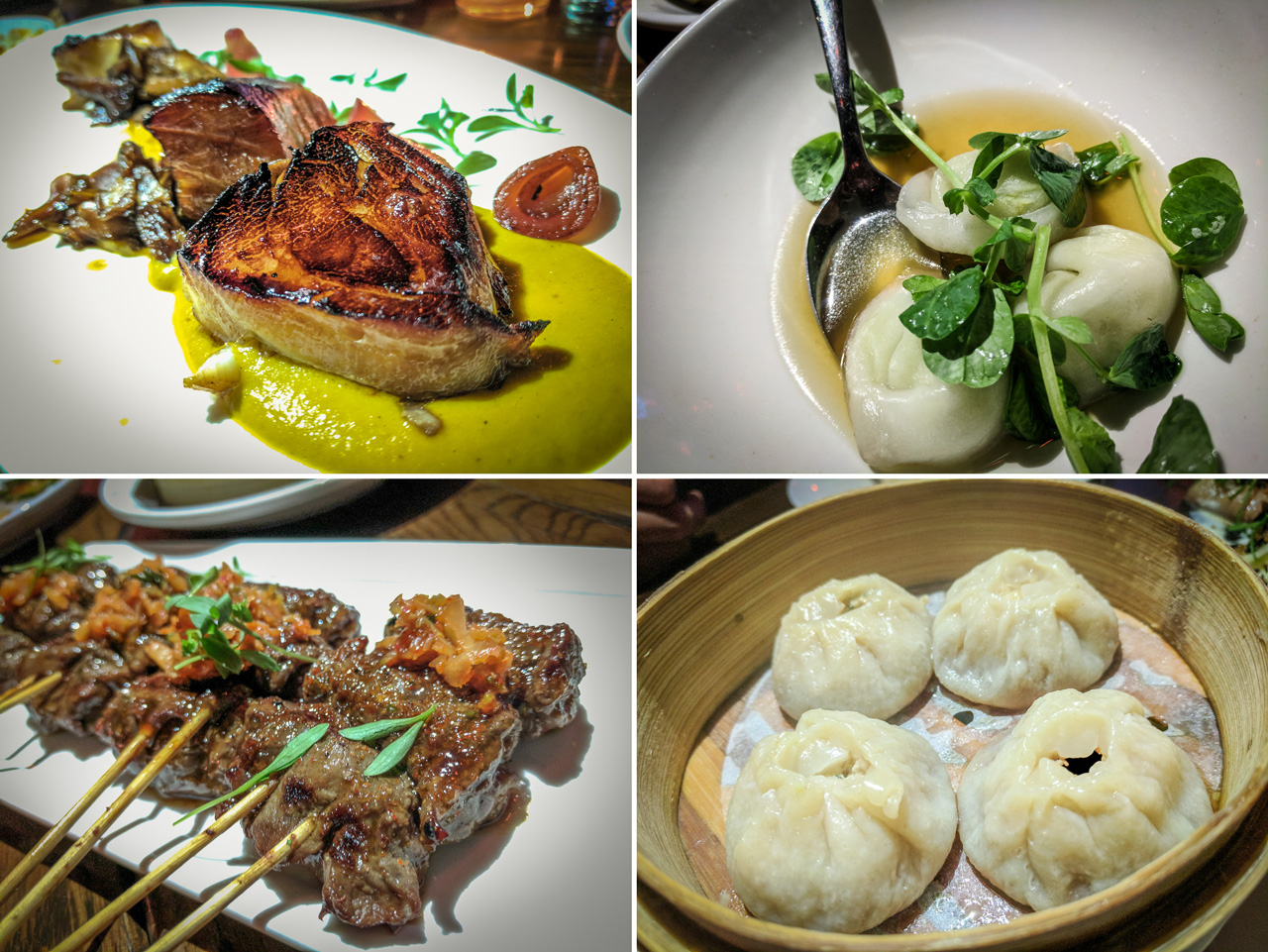 Sunday Lunch at Roy Pitz Barrel House
We had intended to visit the well reviewed Cafe la Maude on Sunday but the restaurant doesn't take reservations and we were out of luck when we arrived for a late lunch. I considered it a stroke of good luck, however, as the Roy Pitz Barrel House was a fifteen minute walk away and had more than enough room for our large group. We arrived halfway through the Philadelphia Eagles game that was taking place in the city that day and enjoyed a very nice last meal in the city as we followed the game with the locals. Roy Pitz produces several craft beers in house and I was able to try the Sour Hound Ale as well as the Vermont-Style Heavens to Betsy IPA during the meal. Yashy and I both ordered the excellent short rib and brisket burger to go along with the beers while the kids enjoyed some excellent chicken fingers. The place was very welcoming for the kids, with ample space and picnic table style seating.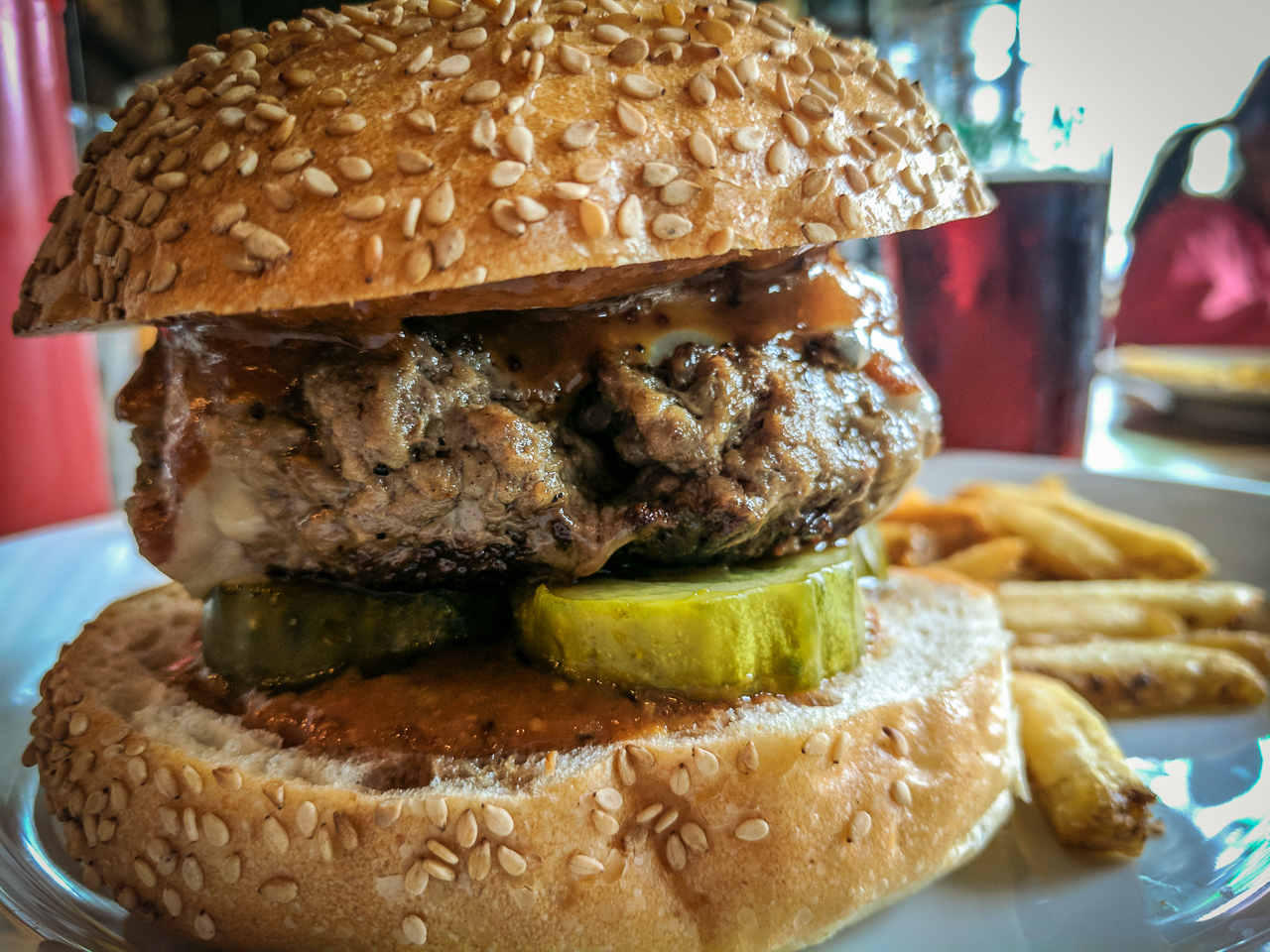 A couple years ago, Yashy and I visited Pittsburgh, Pennsylvania's other famous city, and were struck by how much we enjoyed the food. We knew that we would be sampling the Philly Cheesesteak at multiple locations, and were confident that it would be delicious, but we didn't expect to love pretty much everything we sampled in the city of Brotherly Love. As to that moniker, it's true, service in Philadelphia restaurants always comes with a smile.
Check our our video recap of things to do in Philadelphia