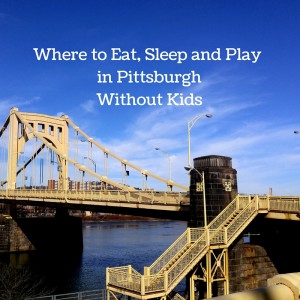 When the hubs and I first decided to explore Pittsburgh for our first getaway outside of Canada without the kids, I had mediocre expectations about the city. What I came to discover is that Pittsburgh is a foodie city that many overlook for various reasons and I truly believe now is the time to visit this city. Given that it's just an hour ride away from downtown Toronto (thanks to Porter Airlines!), it was perfect for our two night getaway and gave us the chance to travel without the two little ones. With no diapers, wipes or milk bottles to worry about, we focused on feeding our own bellies, hanging out at bars and balancing my tush on bar stools… and I'm quite certain that I came back ten pounds heavier!
Where to Sleep
Downtown Pittsburgh is home to a couple hotels and we chose to stay at the Omni William Penn  because of the grandeur of the place. I knew exactly what to expect from all the pictures I had stalked through their social media channels, but I was still in awe when I stepped into the entrance. The rooms were fairly standard but what sets the Omni William Penn apart was the attention to detail and historic charm that takes each and every guest back to the forgotten era. I mean, come on!!! ….There was a  legit speakeasy at the hotel and the Omni William Penn celebrated their Centennial in 2016! Enjoy staying at Omni William Penn Hotel from March 1 through December 31, 2016 and enjoy 19.16% off their best available rates, a delectable breakfast, "throwback" cocktail and complimentary valet parking.
Where to Dine
Oh Pittsburgh you're quite possibly one of my most favourite foodie cities. We honestly could not go wrong with any of the spots we stumbled upon! It comes as no surprise that Pittsburgh was named one of the top 10 foodie cities in 2015 according to Livability and I see this city being a sought after food destination in the next ten or so years. Chefs from all over are flocking to Pittsburgh and the downtown area has no shortage of new spots to try on a monthly basis, I've been told by the locals. Below are some of our highlights but if you're looking for more inspiration check out EatPGH!
Täkō  This cool Mexican spot is where you'll want to go for Poke, tacos and a church like vibe. In fact I wouldn't mind ending a night here for snacks and drinks! Full review can be found here.
Proper Brick Oven Tap Room The beer list was rated pretty highly here and given that we'd had no luck in discovering craft beer in Pittsburgh, we swung by for some fresh brick-oven fired pizza and pints on our last day and were greatly satisfied. I know the hubs wishes we swung by here earlier into our trip because the beer list was fab!
Meat & Potatoes This was our first dinner spot and the highlight of our trip. Even if you can't get reservations, swing by, nudge your way to the bar and ensure you dine at Meat & Potatoes. Their cocktails and dishes are ever revolving and you can't ever go wrong! Pigs ears…gotta try them at least once! Full review can be found here.
Grit and Grace I was drooling over their menu and on Saturday morning while the hubs was still sleeping I crept out to try and sample some dishes here. The server was lovely as was the cocktail I ordered but I was highly disappointed when I realized that I had made it in time for their lunch menu but the dinner menu had all the items I was after! Do me a favour… go here for dinner and let me know how it is!
Grand Concourse If you're looking to mix in an attraction with your dinner then this is your spot. This restaurant is housed in an old railway station and you'll be enjoying your eats and wine under quite the glass ceiling.  Full review can be found here.
Primanti Bros Everyone  I know wanted me to dine here and so of course I did but only because I bumped into during one of our walks. The sandwiches are HUGE and I'm so glad I got the hubs to split one with me. Next time I'll be ordering the fries on the side because they were a bit dry but the actual smoked meat was moist and flavourful.
Where to Play

I will have to admit that we didn't get around to visiting any of the museums and I really wish we did get to the Andy Warhol one (or the kid's museum if we had little ones along) but what I loved most about Pittsburgh was how walk-able it was. UberX rides were only $5 within the city and so after a couple shopping sprees we did cab it back but for the most part we walked and walked. We're from Toronto and so our walking limits are quite high and if you're open to exploring the waterfront and wandering through the different parts of the city, this is definitely a city for you! If you want a full list of things to do in Pittsburgh check out this link!
Inclines  There's two inclines in the city and we only went up one but we did get quite a view of the city. Kids would really love this but it's romantic for lovers as well. We were warned not to go up at night but if I ever head back, I'd totally swing by for some nighttime twinkly lights! Click here for a full review!
Strip District We stumbled upon the district during one of our walks in pursuit of donuts (don't say nothing good ever comes from donuts!) and wish I had the chance to hang out, shop and explore the area for longer. There were fish terminals, vendors selling sporting apparel, authentic Italian pastas and grocery supplies and a throng of local restaurants. Click here for more details on what we explored!
Music The music scene is alive and well in Pittsburgh from what we discovered and our favourite musical encounter was at the Fairmont hotel. The hubs and I had popped by for some drinks and nibbles (who doesn't love hotel lobby bars!!) and we then roamed around the hotel exploring the artifacts on display.
The city of Pittsburgh has something for everyone, but especially for the food lovers. It's a great weekend escape for parents looking for an urban spot to explore with the kids. For those from the Toronto area, check out the great Porter Escapes packages where you can go away for a weekend for around $600 per person with your flight and hotel taken care of!