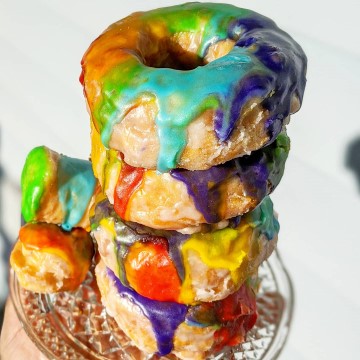 The kids have a huge love for all things rainbow in general and this month when Akira's teacher asked to share her favourite flag with the class, Akira chose the Pride Flag. Since it is Pride month we came up with some easy fried rainbow donuts to kick things off. The donuts use the same two ingredients that we used for the rainbow bagels  and I guarantee that kids will love them. 16 of these rainbow doughnuts were eaten in one day alone, if that's saying anything.
Cooking with Kids  | Easy Rainbow Donuts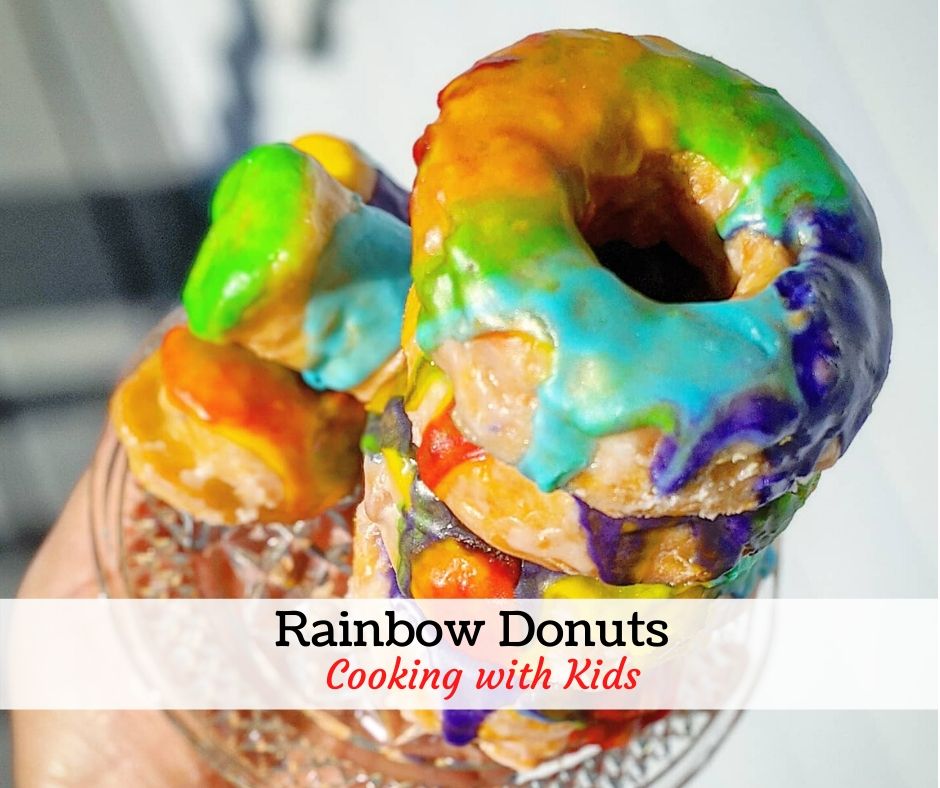 One thing I want to mention is that is a quick recipe, I'm not talking about crazy fancy yeasty donuts but these are fluffy and will disappear into your bellies quickly. If you want to win yourself some hours, be sure to let the kids hand paint the donuts and that will keep them busy for hours I bet! This recipe yields 6 to 8 donuts depending on the size and thickness you're after.
Rainbow Donut Ingredients
1.5 cups of self raising flour (you can mix 1 cup of all purpose flour with 1 teaspoon of salt and 1.5 teaspoons of baking powder if you don't have self-raising flour at home)
1/3 cup Greek yoghurt
Food colouring of your preference
5 cups of icing sugar
1 cup of water
Oil for frying
Rainbow Donut Recipe Instructions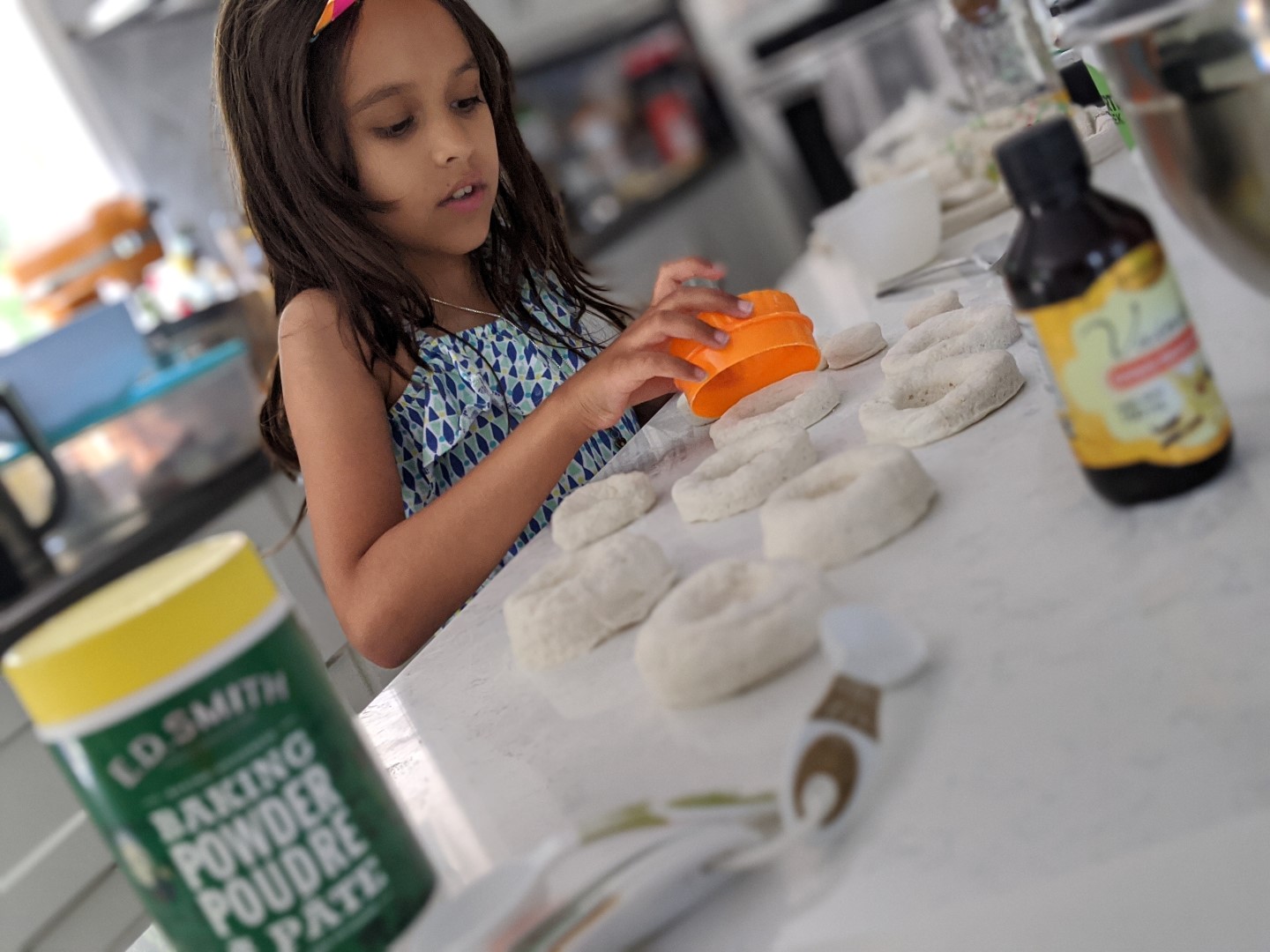 In a bowl mix the flour and yoghurt. Room temperature can impact things when it comes to baking so go slow in adding the yoghurt and see how the dough forms
Once the dough becomes crumbly pull it out of the bowl and bring it to a clean surface that has been dusted with flour. Keep kneading it with your hands, pulling it out and in, similar to bread making. I didn't use a stand mixer for this recipe, instead I kneaded it by hand for about 5-10 minutes until a smooth dough formed

Think about how thick you want your donuts to be as you shape the dough in a square or rectangular shape. We made ours 1/2 inch in height and got 6 to 8 donuts
Using a round cuter cut out your shapes. Use a smaller one for the "hole". Alternatively you can just poke your finger through the first cut out and call it a day! If you don't have cookie cutters you can easily use a drinking glass or small bowl. Once I cut the 4 donuts, I mixed the leftover dough and flattened it again so I could get another set of doughnuts. The centre pieces are great "Timbits" or " Munchkins" if you want!
If you watched the video above you would have heard me suggest placing the donut shapes onto piece of parchment paper as it's much easier to drop them into your bowl/pan of oil for frying  
We fried the donuts in vegetable oil. I like to use medium to high heat so that the donuts quickly puff up and rise to the top. I then flip them so that they get a golden brown colour in 2 – 3 minutes   
Once fried, let the donuts cool on a rack
While the donuts cool, get your glaze ready by mixing 4 cups of icing sugar with 1 cup of water. I like the first dunk to be a bit more "liquidy" than the final colours so I save a cup of icing sugar for later
Once the donuts have cooled, dunk them in the icing sugar mix and let them dry off in the fridge or a cooling rack. Save the leftover glaze/icing sugar mix. You can omit this step if you don't want a glaze on your donut
Once they are cooled you're ready to get the rainbow patterns on them. Using the left over glaze, add in the remaining cup of icing sugar. You want it to be a thicker consistency but still "runny". Think of it like thick paint
Separate the  glaze into small bowls – as many colours as you'd like. Ideally you want 3 to 5 colours.
Into each of the bowls stir in the food colouring – a colour per bowl
Now comes the fun! Take a spoon and spread each colour lengthwise on a plate as pictured above

Drop your donut (If you glazed your donuts, it should be dry before you do this) and place it on top of the striped colours. Gently tug as you lift the donut up and you will see the swirl of colours. Be sure to replenish the colours between each donut. I had a couple plates so we could mix the colour combinations up
Let it sit so that the colours set
As I mentioned earlier, you could have your kids paint the donuts with a paint brush and coloured glazes instead of making the coloured stripes. We had fun decorating these and made two batches in a day! These definitely should be eaten the day they're made and takes an hour to make (including cooling time if you plop them in the fridge to cool down after frying). You can also play around with this recipes as it's quite forgiving I've noticed. I messed up and did a 1 :1 ratio or flour to yoghurt for one batch and it still turned out great. Mix in essences to the dough or the icing if you'd like. You could even add in some chocolate chips or sugar into the flour at the start. Have fun with it and if you make these, please show them to me!