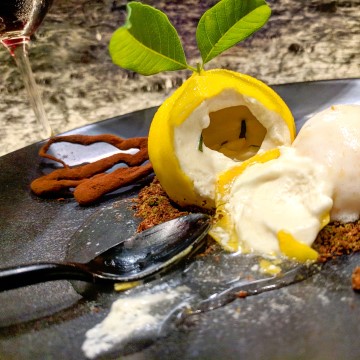 After our first few experiences at all-inclusive resorts, Yashy and I found the food to be so uninspiring that we started planning trips on our own. In search of authentic local cuisine, we shifted away from all-inclusive resorts towards urban adventures. However, those excursions across town and down back alleys are not as easy with kids. We wanted to try an other all-inclusive, but we were not sure where to look.
That all changed a couple years ago when we discovered Air Transat's luxury options. Our first trip to Azul Fives with kids in 2016 was a life changing experience, one during which we found that all-inclusive resorts could be rich culinary adventures. More recently, we discovered Hotel Xcaret. There, we even had the chance to enjoy a meal developed by the first Mexican chef to be awarded a Michelin Star.
If you are on your way to Hotel Xcaret with young kids, you are in for a number of great culinary experiences, so many in fact that it's hard to choose which ones to enjoy. During our week at the hotel, we made it our mission to sample dishes in as many places as we could. At each restaurant, we were treated well, and the range of dishes we sampled were truly impressive. We were even happy to discover that every place started out by asking us if we had any allergies before the feast began. We also spotted non dairy milk options and gluten free bread at many of the buffets. Read on to find out what we discovered.
Disclosure : Our visit was in partnership with Air Transat but, as always, opinions are TOTALLY ours!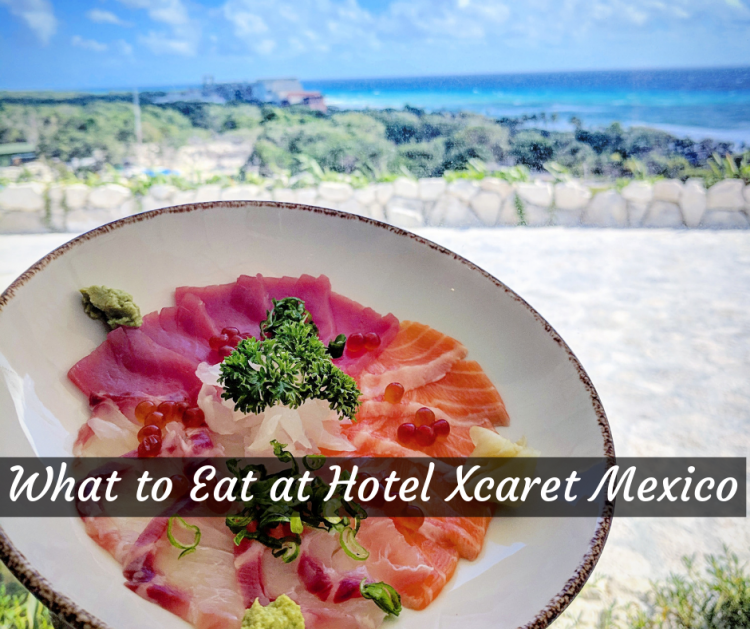 Breakfast at the Xcaret Hotel
Mercado de la Merced
Almost every morning, we made our way to Mercado de la Merced to enjoy their amazing breakfast buffet. The spread includes a taco cart, a smoothie bar, a great selection of Mexican themed dishes, as well as American staples like bacon, eggs, and, for the kids and less adventurous adults, a selection of cereals. You can also hit the make-your-own mimosa stand or pour a glass of fresh squeezed orange juice from the 'squeeze box' (is that the official name?).
I loved starting the day at Mecado de la Mercad. The place even has multiple walls of hot sauce available and a server is never too far away with fresh coffee. I've barely named a fraction of what you can find at this buffet. Discover it in your first few days at the resort so that you can go back and sample as much as you can.
Chibali
The kids did not share my enthusiasm for Mercado de la Merced, even with its waffle station and ice cream bar. That's because Chibali, located right outside the Kids Club, offers more than just breakfast – it also has a candy bar. The place is right out of Willy Wonka's chocolate factory. Everyday after spending some time at the Kids Club, the kids made us promise to take them to Chibali so that they could grab a few treats to enjoy throughout the day. We also grabbed a couple meals here. The offerings are limited and mainly geared towards kids, like hamburgers and pizza, but they do have an omelette bar and a nice selection of fruits and vegetables.
Sunday Brunch at Xpiral
Since the dining hall inside the amazing Xpiral is only open for brunch on Sundays, add this to the top of your list when making breakfast plans. The spread features some amazing sashimi and ceviche as well as a stand dedicated to marinated lamb on soft tortillas. We found the Mexican dishes to be tastier than most of the fish options, which included oysters and king crab. The dessert spread was pretty impressive as well, and the restaurant even has a kids area with baby sitters and table service. Our little guy jumped at the chance to order waffles. Best of all, Xpiral offers the best views of the hotel and beach area. When we visited this was included as part of the offer but since February 2019, we have been informed that there is an additional charge for this breakfast now.
Bio Restaurant
Hidden behind the caves near Las Cuevas is a restaurant that offers vegan and vegetarian dishes during the day time. Determine to visit as many restaurants as she could, Yashy was able to grab a quick breakfast here on our last morning. She spotted fresh juices, smoothies, fancy toasts and breakfast bowls on the menu, but decided to enjoyed two types of toast. The first, Huevos Salmon, had smoked salmon, avocado and a poached egg. The second, Totstada Proteina, was sweeter with fresh berries, peanut butter and chia seeds.
Hotel Xcaret Dinner and Show Options
Cantina Los Faroles
The site of our favourite family meal, Cantina Los Faroles offered a great mix of food, atmosphere and live entertainment. On the lower level, patrons can enjoy a sit down meal and watch live music later in the evening. Upstairs, which is adults only, the party goes until 2 am. It's one of the few places open late on the resort. Kids in tow, we skipped the late night and opted for a really great meal on the lower level, where kids are allowed until midnight.
The restaurant offers a nice cocktail menu, though we did experience some inconsistently made drinks, and the main menu features a great variety of flavours. With so many enticing options, we ended up ordering a little more than we could handle but we enjoyed it all. Yashy was thrilled to find bone marrow on the appetizer menu, while I ordered the duck tacos, a plentiful helping of the cantina style ceviche, and the cucumber salad with jicama, agave syrup, and chia vinaigrette.
We weren't done, ending the meal with the baked chicken with Yucataán spices and xpelon beans, as well as the grilled beef picanha, which also came with bone marrow. Yep, we were full after this one, and very content.
Teatro del Rio
We enjoyed two set menus at Hotel Xcaret. The first was combined with a Mexcian song and dance show at Teatro del Rio. After we arrived for our reservation, I felt well treated throughout the night. Our amazing waiter always made sure that I had a fresh margarita on the rocks, while Yashy's wine glass never once ran empty. The kids were served first, and the delicious chicken tenders (from the kids set menu) placed in front of them kept them content through to the end of the show.
Our first course was straight out of Spain, slivers of Iberico ham served on top of peaches, a great start. The rest of the meal was hit and miss, though I did enjoy the main course, a nice cut of beef served on top of an excellent mushroom sauce. At a fast paced 45-minutes, the performance was the perfect length for our tired kids after their first full day on the resort. If you are here for the week, make sure you book a spot at Teatro del Rio.
Teppanyaki Show at Xin-Gao
Our most entertaining meal was served at Xin Gao in the form of a fantastic teppanyaki show. Our chef pulled out all his tricks as he flung utensils around, lit tequila fuel flames around the grill, and even threw out a few jokes, gleefully referring to our group by the nickname, 'famileee'. Our Little Monkey happily tested out her new video recording device as she captured the chef's moves. She also pulled off the most impressive feat of the night when she was the only one at the table to catch one of the chef's flying veggies into her mouth.
The meal was simple but tasty. We started with a miso soup before enjoying a dish of vegetable fried rice, followed by a mixed grill platter. We had the option of salmon, shrimp beef, chicken, or a mix of the four. The beef was too fatty but the other three meats were quite good. The main meal was also served with a vegetable medley, rounding out an entertaining meal of fire, food and fun. It was the desert that was the prettiest though!
Dinner Restaurants at Hotel Xcaret Mexico
La Trajinera
On our third evening, the kids wanted to go for a swim after a long day at Xcaret Park. So after a few minutes relaxing near the pool bar, we shuffled over to La Trajinera, which is literally in the center of the pool. This restaurant specializes in seafood and is one of the few places we found on the resort that offers a printed cocktail list.
As I am admittedly a seafood snob with a preference for North Atlantic catches, I was not thrilled with the seafood entrees at La Trajinera, but the appetizers we ordered were quite good. Those included the Ceviche, with shrimp cooked in sour orange juice, recado negro from Yucatán, watermelon and coriander; and the avocado, stuffed with fresh tuna, soy sauce, chives, and sesame oil. The best entree we had was the Octopus, which we actually ordered for our daughter but then finished off when she passed out in the booth.
Ha'
At an all inclusive resort, I did not expect to find a dining experience like the one we had at Ha'. The restaurant is presented by Carlos Gaytán, the first Mexican Chef to receive a Michelin Star. Featuring unique and unforgettable dishes, the seven course meal is available to Xcaret guests for an additional cost. If you are serious about food, it's worth the expense, which was $85 USD during our visit. Please note that you will be paying extra for everything else, including water, tea, coffee and additional cocktails.
Among the dishes were Flor de Calabaza, a shrimp chorizo with a Jamaica glaze, dates, and bacon jam; Hamachi, coal cooked with sacred leaf, lime zest, and tomatillo sauce; and Pork Belly with black mole, sweet potato and pork crackling granola. A wine pairing accompanied each dish, and during a memorable palate cleansing ritual, the bartender served up a sorbet made using nitro glycerin. The presentation of each dish belonged in a museum, and the food was delicious. They also threw in a few surprises to round things off.
A Night of Sushi at Xin Gao
For our second meal at Xin Gao, we enjoyed one of our favourite cuisines, sushi. The minute we sat down and reviewed the menu, one particular roll stood out, the Truffle Roll, which contains shrimp tempura, avocado, and cucumber accompanied with salmon and truffle essence. If you eat here, get this roll! You may sample it and decide to order a few more. The number of times I have not enjoyed a meal featuring truffle is exactly zero., and it makes me think of mu favourite episode of Anthony Bordain Parts Unknown, in which ie is the guest of a Montreal restauranteur who seems to add shaved truffles to every meal.
We also ordered the Omakase Tasting, another item I highly recommend, as it consists of a great sampling of sushi, maki, and sashimi. The other dish we enjoyed was the Salmon Tiradito, which is sliced raw salmon served with serrano chilli, purple onion and coriander. The kids fell asleep again, but not before they ate a few spring rolls, one of our go-to dishes when dining with the kids.
Las Cuevas
Set amidst a series of caves, Las Cuevas is one of the more memorable dining experiences we've had in recent years. Described as a Brazilian Steakhouse, Las Cuevas is the place to go if you've built up an appetite, even on an all-inclusive resort. A slew of waiters roam the various crevices of the restaurant carrying platters of meats and fish or holding large skewers of beef. I recall one of them mentioning that there were 17 varieties available but I had to throw in the towel after number 11, due in large part to the buffet of appetizers that greeted us as we entered the restaurant.
After filling up on salad and sushi, I wasn't prepared for the amount of food that would be offered throughout the evening. The kids were loving the buffet and the novelty of eating in a cave kept them engaged and awake. I needed to lie down after this meal. I should note that reservations are required at Las Cueves. In fact, most of the dinner places required one, so it's a good idea to plan out your meals and book ahead of time.
Fuego
Fuego is limited to Casa Fuego guests only and is located in an adults only section of the resort. We did have the opportunity to visit this noticeably quieter, more peaceful area of the resort but did not dine at Fuego.
Las Playas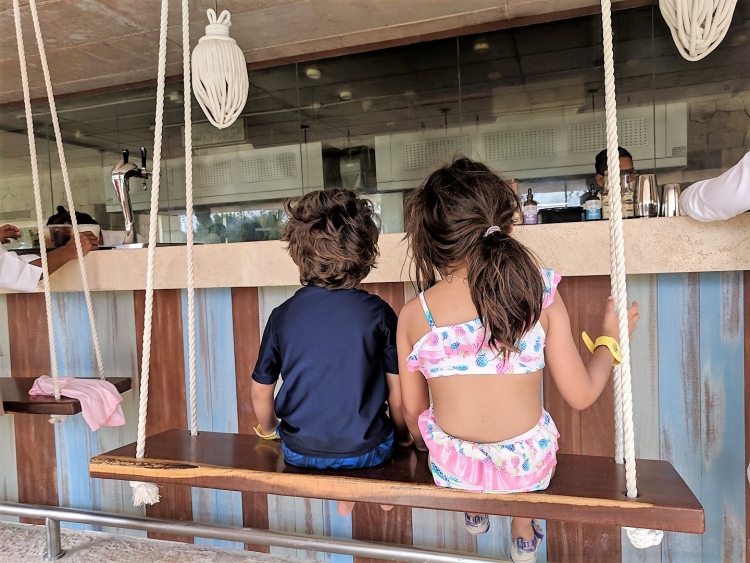 Las Playas is the one that got away. It's located near the pool and beach area and offers an a la carte selection. The only reason I note this restaurant is because we were chatting with two elderly Mexican ladies one afternoon who told us that Las Playas was their favourite restaurant on the resort. It's a small sample size but these two ladies seemed serious about food and they told us the cheesecake here is one of the best! We did order drinks here and sadly none of them were very good but there is promise for that cheesecake.
Room Service
Let's not forget that room service is also available 24/7 at Hotel Xcaret. In fact, our first meal was delivered to our room in the form of a strange looking but very tasty avocado soup with shrimp. We also ordered steak tacos, which were not as good as the one from the taco cart we found every evening outside of Mercado de la Merced. We also included a pretty good sirloin burger and some spaghetti for the kids.
There's no shortage of places to eat at Hotel Xcaret Mexico, that's for sure. We were out at the parks for most lunches (and yes, food is included at the parks as well) but the resort does have quite a few options for lunch as well.