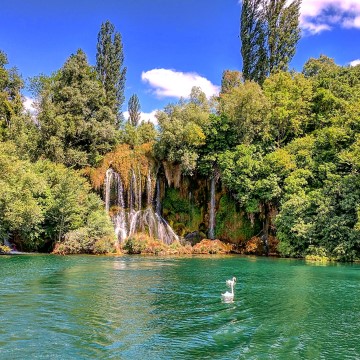 Croatia is home to two popular National Parks – plus six others! During our travels through the country, we were lucky to have the chance to spend a morning at the Krka National Park with young kids. When it came to picking between Krka or Plitvice, another well known destination, I opted for Krka, mainly because August was a very hot month. The idea of hiking for hours through Plitvice wasn't attractive to us.
Situated along the Krka River in southern Croatia, the park is known for a series of 7 waterfalls. That sounded refreshing enough for me! The reviews told us that we could swim at Krka National Park, so that really was the main reason we visited Krka over Plitvice. Whether you're looking to visit KrKa National Park with a baby or young kids, or just checking it with friends or family, we've got some tips to share!
Disclosure : This post is in partnership with the Skradin and Krka Tourism boards but, as always,  opinions are TOTALLY ours.
Prior to our trip, we weren't really sure what to expect, but we're back with a review of the Krka National Park after having spent 6 hours visiting various parts of the park with two kids aged 3 and 5 at the time. I was amazed that there was much to do beyond just hiking, not a love of mine. While Chris is very outdoorsy, I'm not, as you may have figured out by now and I wasn't too sure I'd like Krka beyond the amazing pictures I'd be able to click. I'm here to tell you that even a lazy bones like myself was pleased with our visit to the Krka National Park with young kids.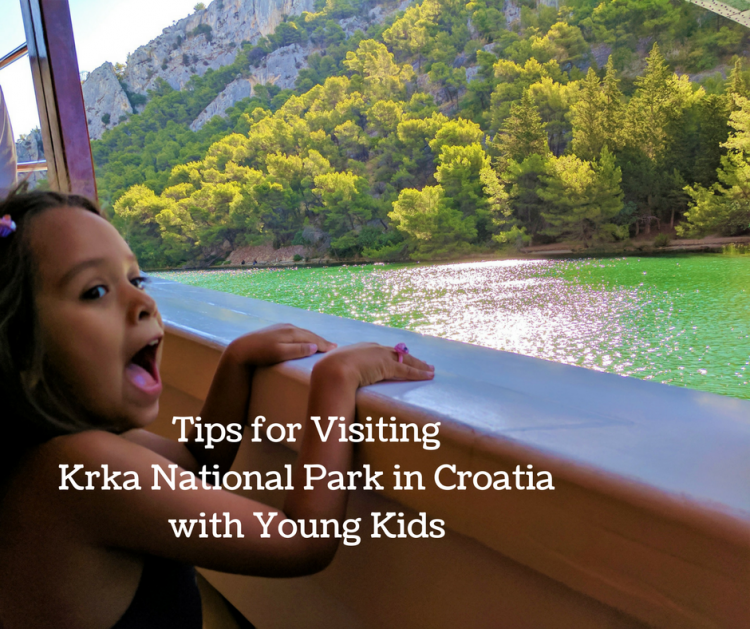 How To Get to Krka National Park by Public Transportation
Krka National Park is open year-round, but certain areas are closed during the off season. Most visitors are interested in Skradinski buk and Roški slap, which are open throughout the year. If you want to visit the monastery and Burnum, those areas are only open during the main season, which runs from April to the end of October. There are 5 entrances into the park,  Lozovac, Skradin, Roški slap / Laškovica, Burnum / Puljani and Kistanje / Krka Monastery. Visitors can tour by water, road or explore its many hiking trails on foot.
As you can see below, we opted to visit via Skradin and spent three nights there (click here for things to do in Skradin with kids). We met people who were also on a quick day trip to visit the park while staying in nearby cities such as Split and Zadar. We started our morning by picking our ferry tickets from the main centre in Skradin and catching the 8 a.m. ferry to the park. The ferry price included access to the park and kids under 7 years of age were free. The boat was big and we spotted many families with strollers, but we had decided not to bring ours. Given the terrain and the number of steps we had to climb while exploring, we were glad we left the stroller behind.
What to do at Krka National Park with Young Kids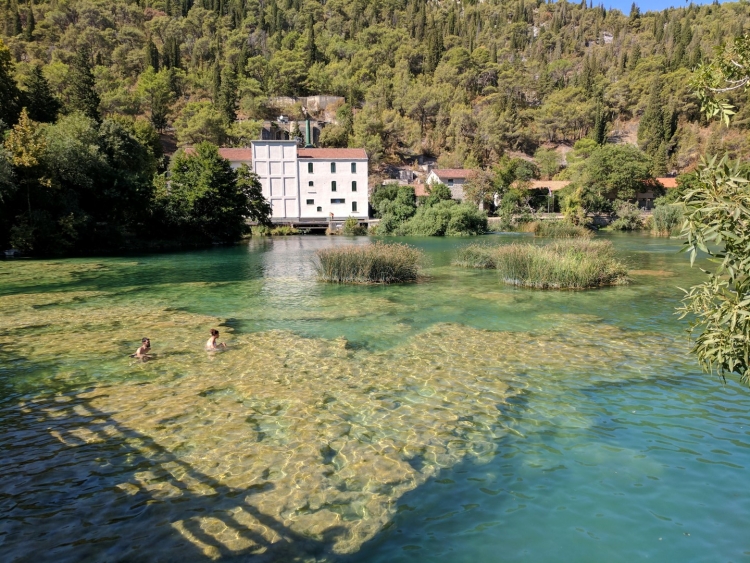 There is plenty to do beyond just going to the main part of the park! The entire area is very well maintained and the natural ecosystem is very well preserved, making this a great place for a science lesson. Be sure to download the special Krka Kids app. Though wifi is pretty weak at the park, if you have your own network, you will be able to lead the kids on a scavenger hunt through the park. Inside, there are 18 species of fish, 860 subspecies of plants, 222 bird species and 18 bat species (amongst many others!) in and along the Krka River.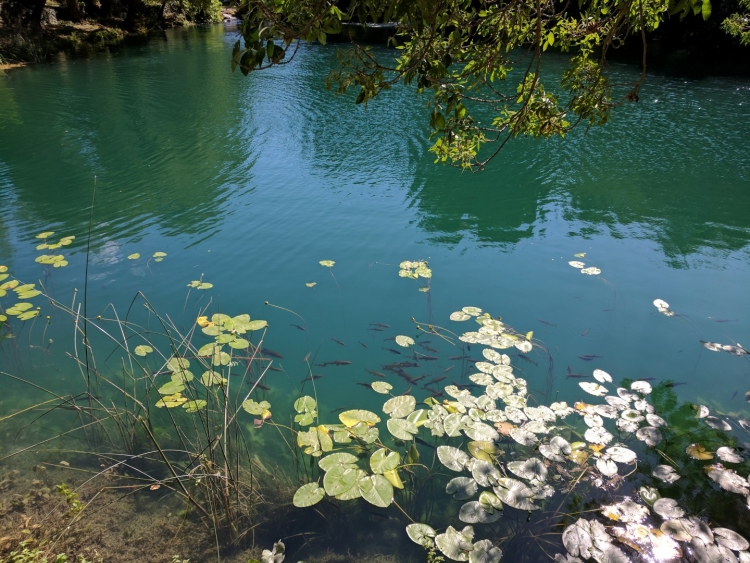 Here are the places we visited within the park
Skradinski Buk : This is a massive, clear, natural pool with high waterfalls at one end and cascades at the other end.  We spotted a couple areas where people were attempting to swim, but there are two spots that we think are best for those with young kids. The main area we recommend is closer to the bridge. The water there is very shallow and you can sit and wade. It was a busy spot in the afternoon but less so at start of the day. The other spot is further back, near the pop up tents, where there is a sandy area under the shade of trees. However, entering the water isn't so easy from this point. If you have young kids, keep in mind that the stones are very slippery. Wear water shoes and it will help a bit. This is where we ended up. While we did walk through Skradinski Buk, we saved our dip for later in the afternoon when the sun was scorching and we were in need of a refreshing splash.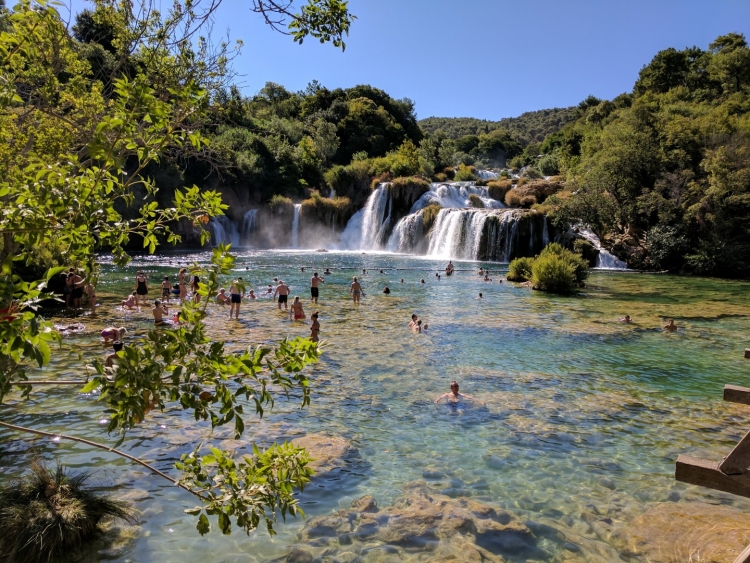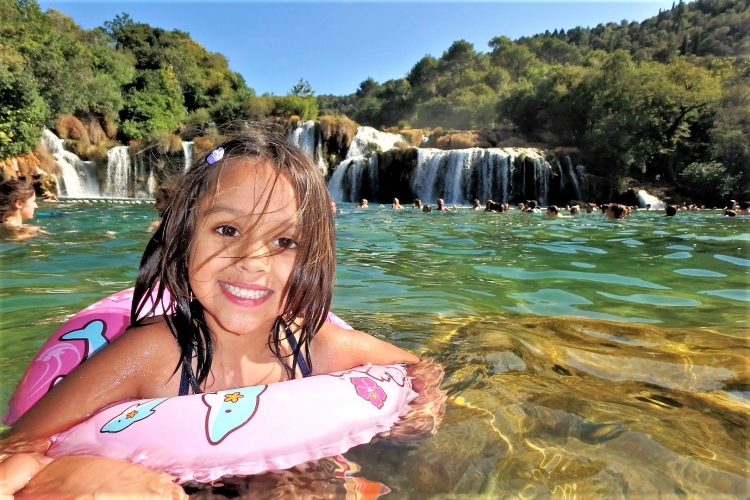 Instead of walking between the various parts of the park, we took a 4 hour boat tour for an additional fee of 130 Kuna for adults and 90 Kuna for kids 4-14). This tour took us to a number of areas in the park, including the following spots: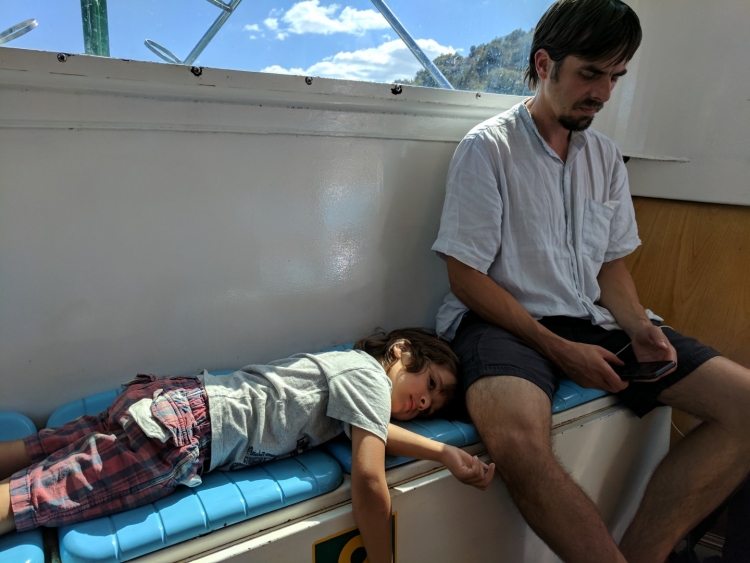 Visovac Island :The Island is home to the 15th-century Franciscan Monastery of Our Lady of Mercy and many pilgrimages are made here yearly. Our guide told our group about the history of the island before allowing us to wander through the small museum at the island's centre.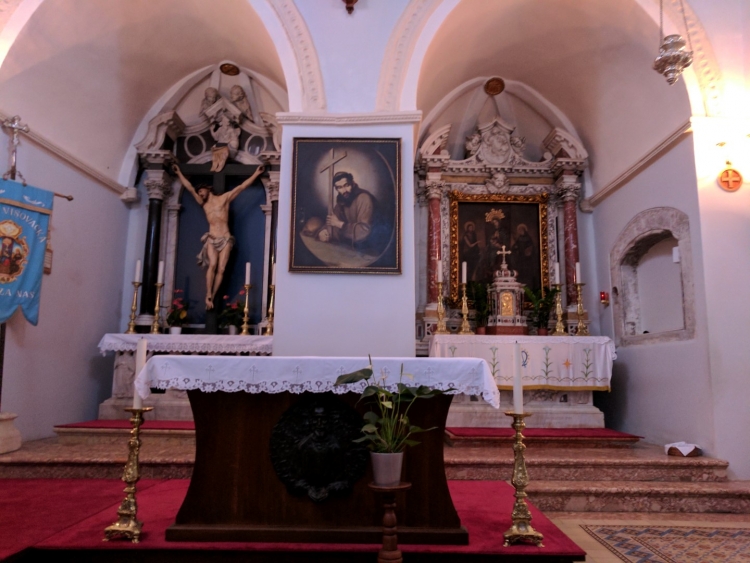 Roški Slap : Our boat continued upriver through the Među gredama canyon toward Roški slap, where we spent two hours. Here you will see some powerful waterfalls and our boat took us INTO one as well. There was plenty to do here. We started off by walking into a small village area, where we spotted some caves that were said to have provided shelter to humans as far back as 5000 BC! Next up, we found a cute little restaurant to grab a snack. Most of the restaurants were on the pricey side so we opted for a meat platter. They also gave us a free sampling of the local liqueurs. Little Monkey wanted to splash in the tiny "waterfall" but it was too cold for her, so we ventured off  towards where our boat had parked. There was a shallow entry there and she loved splashing around and climbing a few trees before our boat signalled for our return back to Skradinski Buk.
If you have the time and energy to spend hours at the park, be sure to check out the many guided programs offered, which will give you a more intimate Krka National Park experience.
Tips for visiting Krka National Park with Baby and Young Kids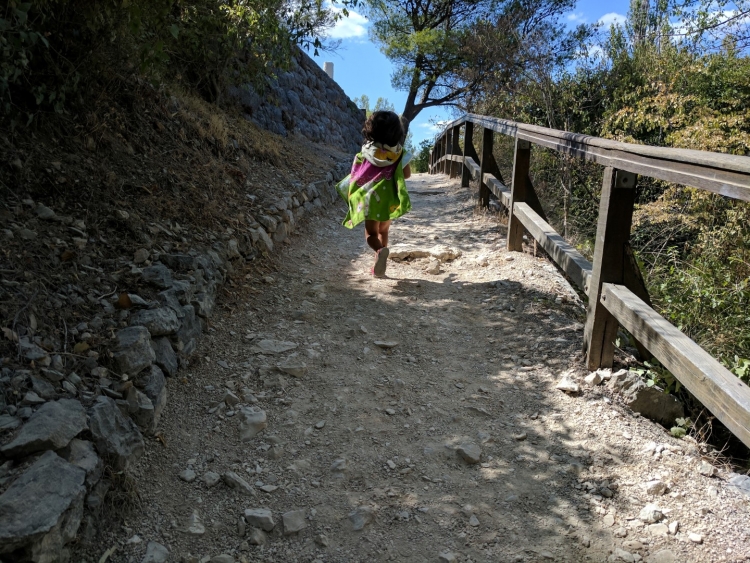 Goes without saying that you'll want the regular stuff such as an extra change of clothes, swimsuits, hats, sunscreen, and a mini first aid kit
Bring snacks and water (there was a water fountain where we were able to get refills)
Pack a windbreaker or light jacket for little ones
Wear water shoes as the rocks were very mossy by the waterfall
Get there early as the crowds accumulates quickly
There were many small cobblestone steps but as mentioned previously, many parents had brought the stroller for nap times and to stow away their things when they were off swimming. You may not be able to travel far with a stroller.
Bring a large towel to help dry off and to sit on if the kids get tired
While we didn't see any bees or wasps, we took our Orange Natural Bites + Stings with us because the Krka Waterfalls has the second highest concentration of lavender per square km in Europe, and we were warned about the high frequency of wasps and bees in the area
As you can see, if you're a waterfall lover, you simply must visit Krka National Park. If you have little ones in tow, the park is a great option for family fun on the coast of Croatia!  One day we hope to return to Croatia and check out a few of the 7 other national parks. Let's hope that isn't too far off in the distant future.