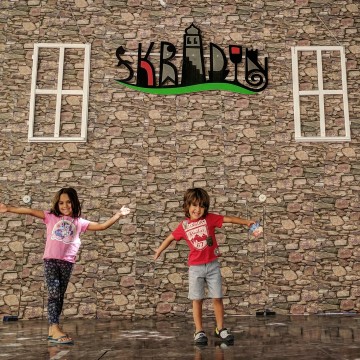 Have you been to Skradin with kids in tow? "WHERE?" you ask? Why, Skradin, the charming little town that's one of the gateways into Krka National Park and one of the oldest settlements in Croatia. We decided to visit Krka over Plitvice because the kids and I aren't into hiking and we wanted to swim as it was extremely hot during our August visit. While most do a day trip to Skradin to enter the Krka National Park, we decided to spend three nights and take it easy. We're so glad we did this because Skradin is a hidden gem in Croatia. It's one of the places that we want to take the grandparents to because it's the perfect spot for a multi-generational trip. I only recently discovered that Skradin is Bill Gates' favourite vacation spot!!
We had decided to roam around Croatia using public transit and found a Globtour bus that would take us to Skradin from Zagreb. Tickets were easy to purchase online using our credit cards but we had to have a printed copy as proof of payment. Luckily we found a small spot in Zagreb to print it out at. Our bus left Zagreb at 4 p.m. and pulled into Skradin around 7:45 p.m. It was a quick stop as half the bus disembarked right by a small grocery store. The kids quickly spotted a playground while we rushed them in search of our "hotel". It had been a while since we had stayed in a hotel and I should have informed the kids about the difference between a guesthouse and a hotel, but I didn't! Skradin is a small town that comes alive during the summer time and quite for the rest of the year. There is a small selection of accommodation options and given that it was the busy period and we were booking a hotel a night before we arrived, our options were limited. We spent our three nights at the family run Zlatka Guesthouse which was a small one bedroom apartment directly above a Italian restaurant operated by the family. We quickly discovered that everyone knows everyone in Skradin and everything (and I mean EVERYTHING) is within a a few minutes walk. From the moment we stepped off the bus we all realized that this was a holiday town. Families of all ages and sizes were spotted strolling outdoors and enjoying the fresh air and waterfront breeze; Couples hand in hand. Kids giggling and running around. Large boats bopped on the marina and could be spotted from every corner of the small town and I vowed to return and one day sail around Croatia.
Once we got our stuff into our room and stowed our double stroller under the staircase by the main entrance (and hoped that no one would steal it!) we rushed over to the corner shop to stock up on the essentials. The store we visited was a small one and the tiny selection of meat and veggies were pricey so we bought some snacks, milk and eggs opting to spend our money at one of the restaurants. We swung by another Italian restaurant and as we sat on the patio enjoying the evening breeze we watched tourists stroll by looking at trinkets and souvenirs. The paved alleyways were filled with tiny little stores and small restaurants and while our pizza dinner that night wasn't very memorable, we were pleasantly surprised to discover that Skradin is a food lover's paradise. We couldn't even get a reservation at the spot we really wanted!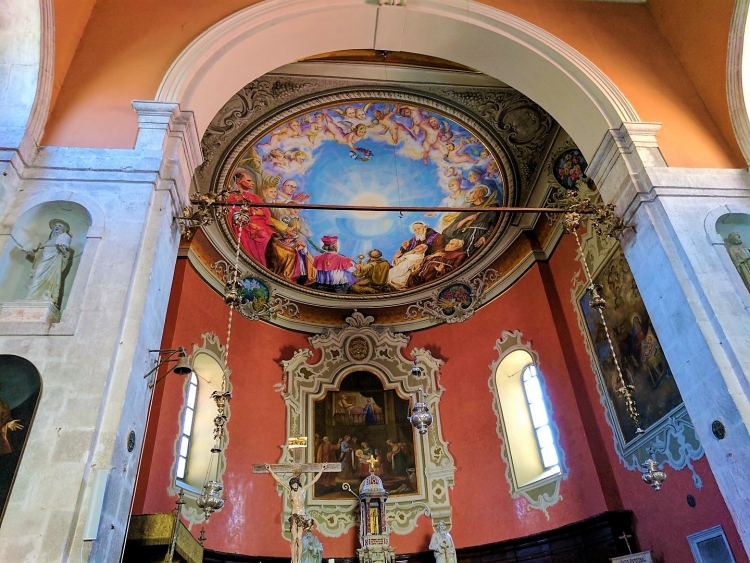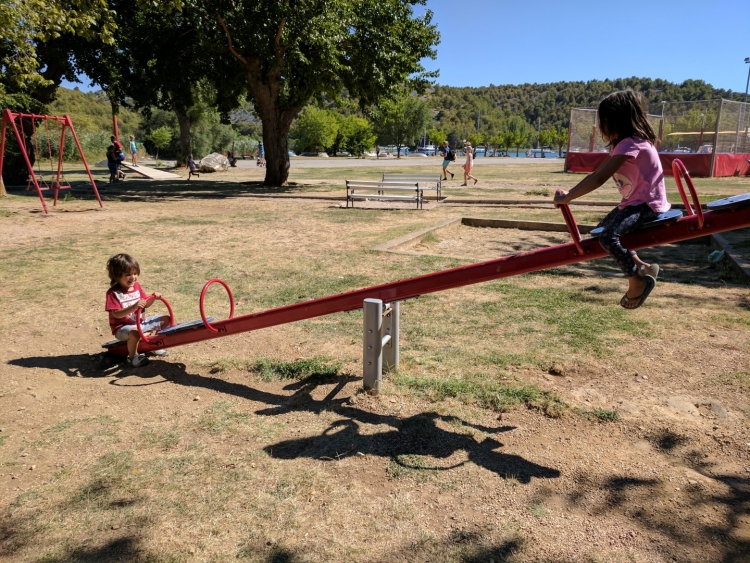 We were quickly enamored by this Mediterranean town and its walk-able core. It was a charming and idyllic holiday town and one with a small connection to Canada! Skradin had the first hydroelectric power plant in Europe, opened in 1895 at the same time as Tesla's famous power plant at Niagara Falls! We woke up early the next day to catch the first ferry to Krka. Ferry tickets can be purchased at the main tourist office and quite a few people were already in line for the 8:00 a.m. ferry when we arrived at 7:40 a.m. The boat is fairly large and we had no issues making it on board and finding a bench for the 40 minute ride. The kids loved the views and we had snacks and plenty of water on us for the excursion. We'll share more about the National Park later this week but will tell you that we had a leisurely day and have some awesome pictures from our visit. There's loads to share about our visit to the park as there's more to do than just swim by the waterfalls! We also met with the lovely owner (and fellow mom) of a Skradin tour company and she told us about some fun activities we could have done if we were staying longer. From wine tours and kayaking trips there's more we need to do in Skradin!
We arrived at Krka around 8:30 a.m. and then took the 2 p.m. ferry back to Skradin. We spent the evening mostly at home and ensured we weren't under the sun for the rest of the day. A sunset stroll by the marina had Little Monkey and I shopping for rings and shell pendants for family and friends but Chris was quick to remind us that we should get some dinner in us. We roamed beyond the marina and found ourselves at Skala. This cute little restaurant with a gorgeous patio was a lovely spot to end our day at as we enjoyed the seafood fare and famous Skardin Risotto.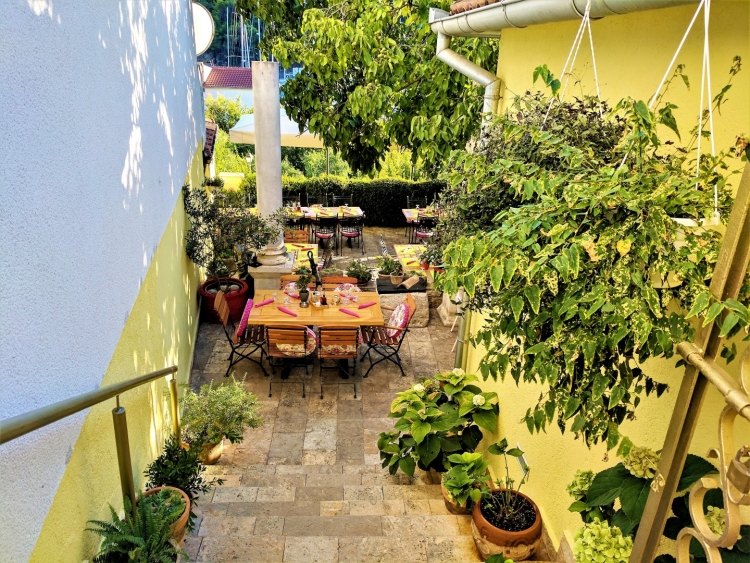 The following day we did some shopping and then took a dip in the lake that was right by the playground. The swans would come and weave between the people and Little Monkey loved watching them come by.
We then had a simple dinner back at our apartment and enjoyed a piece of the famous Skradinska Torta (a cake made with honey, walnuts and almonds) at Konoba Evala (our local friends said it was the BEST spot for the famous Skradin cake) before visiting the Fortress of Ban Pavao Subic Bribir (Fortress of Turin) for sunset.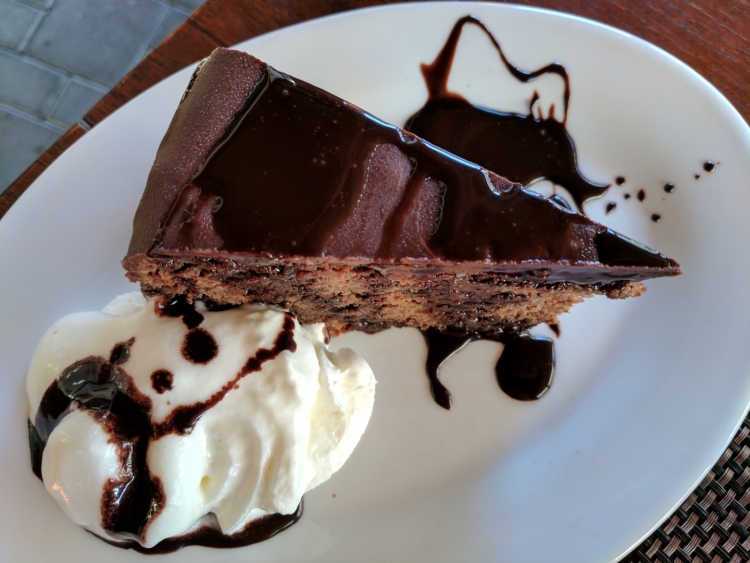 While the actual fortress wasn't that impressive, the views from there were incredible and worth the 10 minute hike up. From there you can see the olive trees and vineyards that surround Skradin and the ships sailing through one of the best marinas on the coast.  It was a rocky walk up the hill so definitely don't take a stroller.
One other thing we did on our last night was walk through to other end of the town and it was quite eerie. While the main tourist area was filled with music and energetic, crossing to the other end was like walking onto an abandoned old western movie set. Few people walked the streets and most of the shops and homes were boarded up. This is the end where some locals live in (some homes going back to the 18th Century) and we learned that Skradin was deeply affected by the war. Some scars are still seen today if you go out and chat with locals. The slow pace of life continues in Skradin and if you visit between November and April you'll see a completely different side to the town than what we saw in August!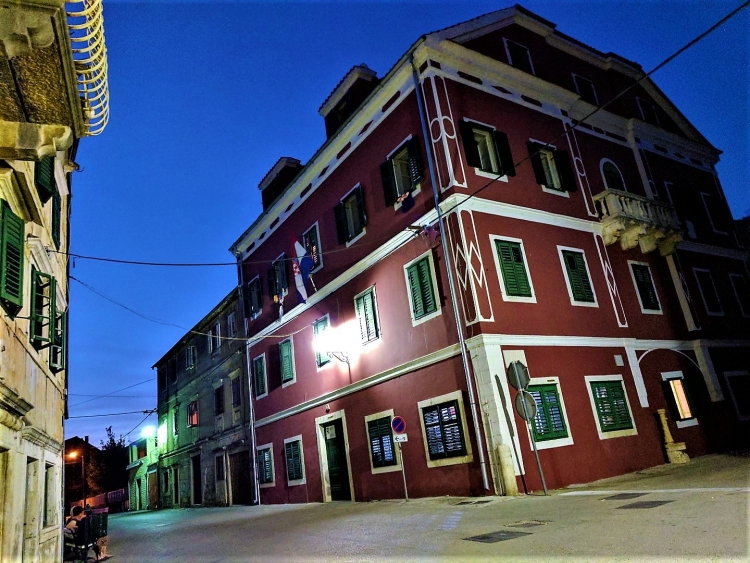 For me Skradin will be filled with memories of turquoise and aquamarine waters and golden sunsets. Yes, many buses drop off passengers early in the morning so they can take the boat over to Krka National Park and then the buses come back in the evening to take the same passengers back to one of the more popular cities. Not us, we spent three nights and we will tell you about Krka National Park on another day because as you can see, we had to tell you all about charming Skradin and hope you'll spend atleast a night here when you explore Skradin with kids. Next time we visit I plan to explore the wineries and try out some of the many adventure sports on offer!