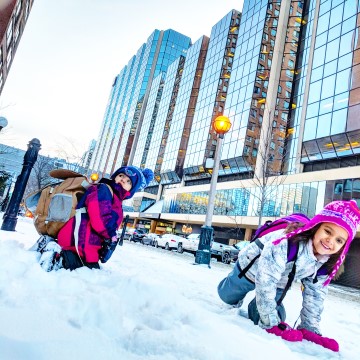 Family day always seems to creep up on us. It's weird how it does that because it's an important week for us with Chris' bday, Valentine's Day and our first date anniversary all falling in the same week. Yet, here we are scrabbling to figure out what to do for Family Day weekend in Toronto. We might be heading to Dubai in March so this Family Day we're staying local and unfortunately not travelling. However, a long weekend in Toronto isn't too shabby, let me tell you that! For food lovers and culture vultures, Toronto is full of delights and wonderful surprises even if you have young kids in tow. If you're looking for some ideas for this upcoming long weekend in Toronto, we're sharing some of the things that have caught our attention.
Best Toronto Hotel with Kids – Family Day
Whether you're visiting the city or planning a staycation, the Chelsea Hotel in downtown Toronto is by far the most kid friendly spot in the city. We live near the hotel and are often walking through their lobby so we get to see and hear the amazing things they're doing on a regular basis. We've stayed at the hotel on various occasions and know that in addition to the indoor pool with a water slide (you need to be a good swimmer or above 5 ft), the arcade room and the kid centre (go meet the resident bunnies Marbel and Thumper), there's a jam packed activity roster for the long weekend. From Friday to Monday this Family Day weekend in Toronto, the hotel offers craft sessions, Mario Kart racing, face painting, movie screenings and dance offs. All these activities are complimentary for hotel guests and the rooms start at $135 per night!!
Best Family Day Programs in Downtown Toronto for Kids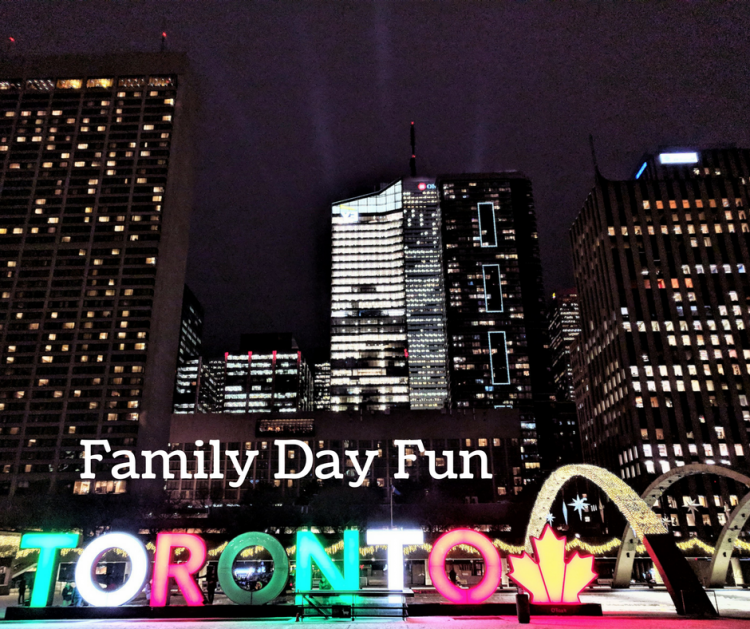 AGO : The Art Gallery of Ontario has a play centre in the light filled basement and our kids love going there on regular weekends. You do need to supervise your child so don't think you can drop them off and then wander to the exhibitions (bring another family so the adults can take turns watching the kids!). Family Sunday will see you embracing the rainbow with special art projects. On the Monday they are celebrating colour with a party, paintings and crafts.
I should highlight that many of the museums are offering special activities over Family Day weekend and if you stay at the Chelsea Hotel you will receive discounted tickets to some of the following spots. Check out the Family Day events at BATA Shoe Museum, ROM (they have some amazing programs over the long weekend!!) and the Ontario Science Centre.
Light Festival : Toronto's Distillery District is home to a fantastic light festival and as long as you bundle up, you'll have a great time exploring the art installations, sipping on warm drinks and snacking on treats as you explore the winter scene. Click here to see our Toronto Light Festival highlights from our visit a couple weeks ago!
Toronto Symphony : If your kids have watch the Wizard of OZ, go over the rainbow and follow the yellow brick road at the Toronto Symphony Orchestra. The two hour concert (includes a 20 minute intermission) is accompanied by a live orchestra and Little Monkey LOVED the one she attended a few years ago when she was just 3 years old (gosh! It has been 3 years since her granddad took her to the symphony!!).
Evergreen Brick Works : In addition to the usual clay table and garden fun, on Family Day the Brewers Backyard is also happening. We've loved every visit to the Brewers Backyard because adults can enjoy a few brews while the kids keep busy. If you get there early, there's a soup session kids can participate in! Entry is free and you pay for what you eat and drink!
Ontario Place : They've recently re-opened Ontario Place and if you can plan a visit around sunset, you can enjoy a stroll through the place, get in a skating session and then check out the winter lights on display. A truly magical winter evening is in store for you here and it's all free to enjoy!
Skating : Downtown Toronto is home to a couple ice rinks and checking out the ones at Nathan Philips Square, Harbour Front Centre and the quieter one on Gould St. near the Ryerson Campus is always fun. This year, the Bentway Skate Trail under the Gardiner Expressway has opened and is worth checking out.