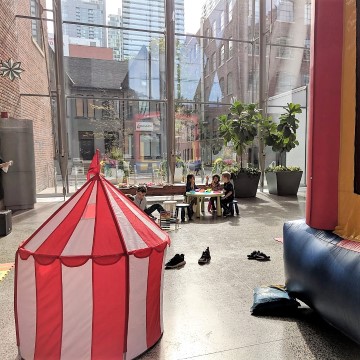 October is filled with birthday celebrations and with Chris' parents and sisters in town, we knew we would be having a big family meal one day. That one day came right after Chris, his dad and our brother in law ran their half marathon this past Sunday. With 5 kids under the age of 7 and 8 adults, I tried to find an ideal brunch spot and since a friend had mentioned a while back that I should check out Ricarda's in downtown Toronto, we thought it would be a great spot. Why? Because they have a dedicated kids area making this the best kid friendly Toronto brunch spot we've explored to date!
Trying to call their reservation line was no easy task but after numerous tries and a phone tag session, I finally connected with someone who was able to confirm our reservation! Hoorah! On arrival we were greeted to a lush green space that looked quite charming. On Sundays there is a Jazz Brunch  where families are welcomed with a bouncy castle and dedicated play area with a sitter! I love that we were able to drop off our kids and didn't have to sit there with them (if you do want to hang around, there's a comfy couch nearby). Not having to chaperone them makes it worth the $25 price point for kids aged 5 and over (4 and under are free of charge!). Little Monkey and Baby Boy had their cousins so they were plenty happy to spend 2 hours in that area and barely bothered us. IF you don't have children, you probably wouldn't even know about the kids area because it is neatly tucked away in the foyer outside (yet connected to) the restaurant. I actually love that it was all fancy and bright on the inside and that our kids had a special area. They even had fruits, veggies, chicken nuggets and treats laid out so kids could pick and choose what they wanted and stay in the kids area. The kids menu was quite basic and mine were not fans of the pizza ("not that great" is what I was told) but they did enjoy the rest of the menu.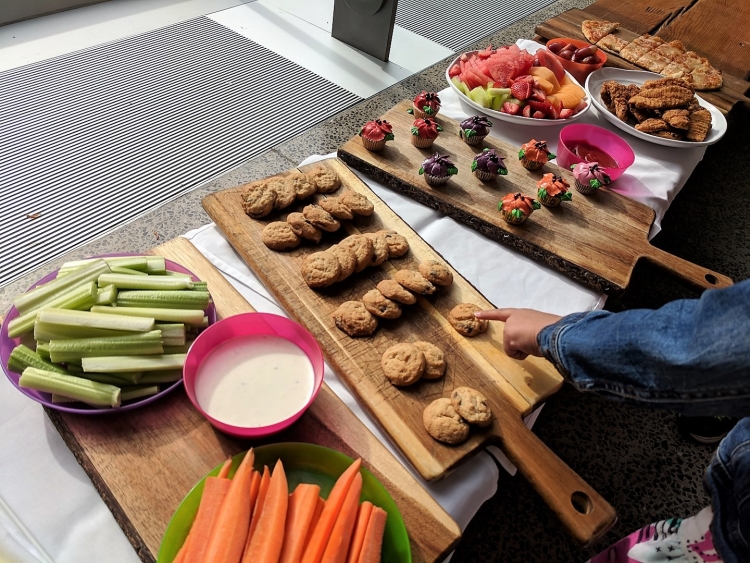 As for the adults, we had the option to choose an all you can eat buffet for $55 and upgrade to the $85 package which came with unlimited cava, mimosas and caesars. Sadly no beer. Since we were not looking for a boozy brunch and since the guys had just run a half marathon and were looking for beer, we all opted to order our drinks from the a la carte menu. With food stations spread out we had the option to roam around and pick what we wanted. There were chef stations for eggs, pancakes and pasta so we could each customize the dishes to our liking. My favourite was the self help salad bar which had so many great items to choose from (yes you heard right, I ate salad!!) and I loved the raw seafood bar where I enjoyed double helpings of Japanese Oysters and shrimp. The hubs was hoping for beef wellington and smoked salmon (he's still obsessing over the King Eddy brunch) and found a roast and delicious cooked salmon instead. They even had couscous and Moroccan calamari which reminded us of our desert adventures!
update : We've sine been back and discovered that they have foie gras at the omlette station!!! Get the pasta and then pile on the foie gras is my recommendation!
Once I enjoyed a couple plates and a delicious Espresso martini, I made it a point to bribe Little Monkey and Baby Boy into walking through the main food section with me. I knew they'd love the salmon, cheese and meats but also knew that they had stuffed themselves on the kids buffet. Luckily all the jumping they did meant that they were able to enjoy some of the salmon as long as they got to choose from the 20 odd desserts on display! That was a win! Next time I will definitely be making them walk through the main buffet area before they venture into the kids space.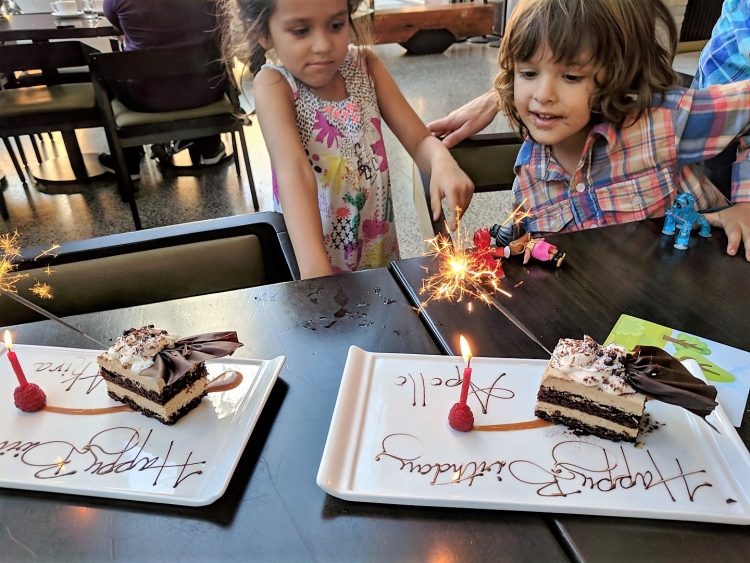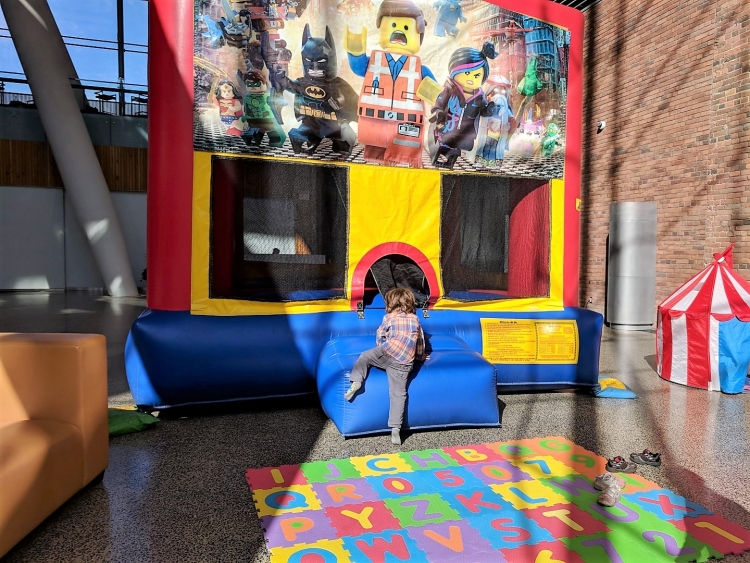 Food wise, the selection was good and I loved the ambiance of the space. While nothing was over the top, it was a good brunch spread. The cocktails were also stellar. Price wise they are on par with most popular Toronto brunch selections but they have an amazing kids area which puts Ricarda's at the top of my kid friendly Toronto brunch spots! Our server was friendly though service was a bit slow given that there was another large group she was tending to. I also loved that they had a lovely surprise for the birthday crew!
Be sure to check out our other kid friendly Toronto brunch spots!