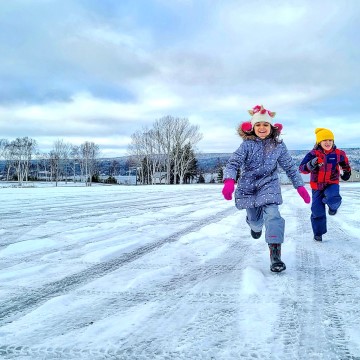 This winter we were able to enjoy a family friendly Nova Scotia road trip after completing our isolation in Nova Scotia. The main reason for this visit was to spend time with family and as we drove from Halifax to Cape Breton and back again, we found outdoor places to visit in Nova Scotia. During this Nova Scotia winter drive we discovered some lovely spots to enjoy the outdoors at whilst distancing from others. Travelling during the pandemic is not recommended but we hope our memories spark some ideas for future travels. We were spending time with the kids' 94 year old great grandmother so we took all precautions and stuck to outdoor adventures where we were often the only ones around. If you're living in Nova Scotia with kids, maybe you'll discover some new spots and we'd love to hear where else we should stop at on future trips back home.
Disclosure : This post is in partnership with Tourism Nova Scotia but, as always, opinions are TOTALLY ours!
Things to do in Nova Scotia in the Winter with Kids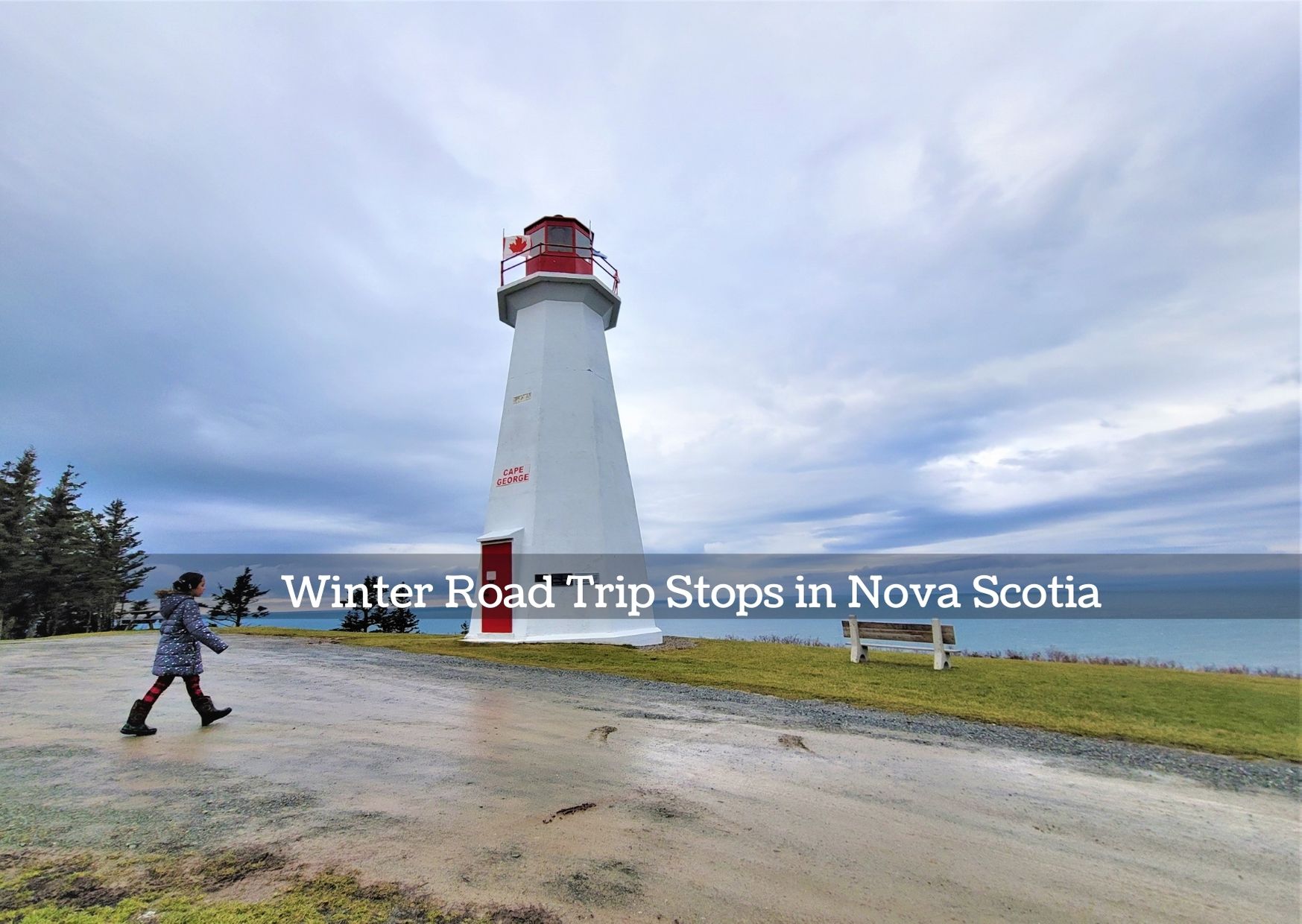 December weather in Nova Scotia is often mild with snow arriving towards January. Each Christmas visit to Nova Scotia sees me yearning for snow adventures and this year was no different. I had grand plans of visiting pretty farms offering sleigh rides and taking the kids tubing in Cape Breton. While we lucked out with snow on a couple days, most days were filled with sunshine and a mere dusting of snow. This meant that we found other ways to safely enjoy outdoor adventures in Nova Scotia with the kids. And have lovely memories to get us through these times. We were visiting during the pandemic and while COVID-19 cases were low, most spots had reduced capacity and proper protocols were in place to ensure everyone's safety. Luckily, Nova Scotia is home to some amazing seaside towns, natural wonders and scenic routes that are filled with opportunities for kids to run wild at no matter the season. As you will see below, we found plenty of things to do in Nova Scotia in the the winter!
Road Trip Stops Driving from Halifax to Cape Breton
We've done the drive from Halifax to Cape Breton numerous times and while we usually drive straight to Sydney with minimal stops, this time we took a different approach. After our two weeks of isolation in a condo in Halifax, we desperately needed a dose of mother nature. The drive from Halifax to Sydney takes about 4.5 hours on a good day but if you encounter a winter storm or plan to do make multiple stops, be prepared to spend a few more hours on the road. Our day started with sunshine and a few sprinkles (see if you can spot the rainbow at the beach!) and ended with an epic winter storm. Nova Scotia weather changes dramatically so if you're planning a winter road trip in Nova Scotia, come prepared to embrace it all. The below itinerary takes about 6.5 hours without calculating time spent at each of the stops and you can easily do half on the drive into Cape Breton and the other on the way back!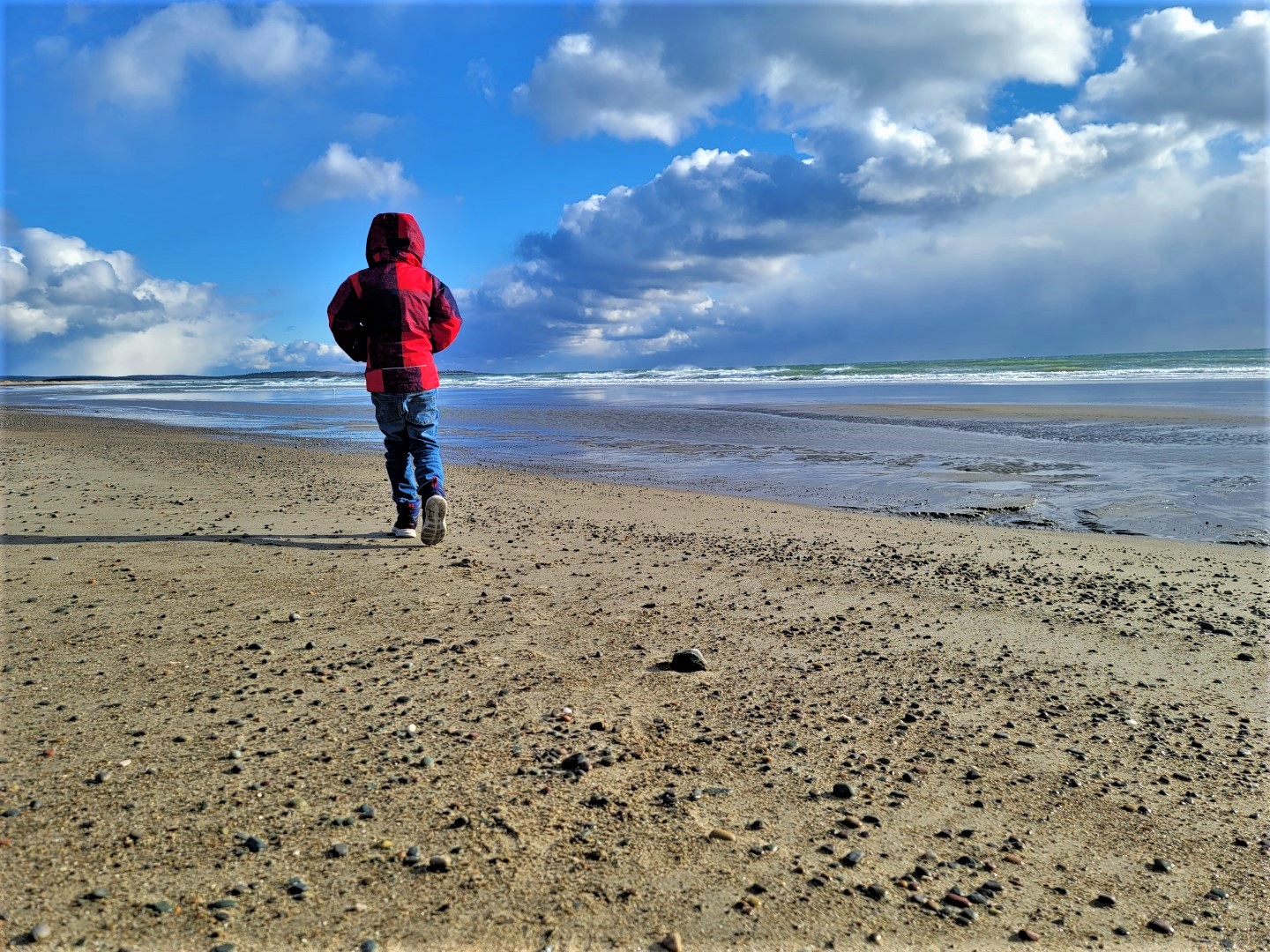 Martinique Beach : If you're looking for a sandy beach that's perfect for shelling and long walks, this is it. It's actually Nova Scotia's longest sandy beach! Located an hour from downtown Halifax, this is a popular summer beach for locals but in the winter it's not as populated and we had the area to ourselves. Which meant the kids were able to run around with abandon and find shells to bring back home to grandma. Our travel tip is to continue driving past the first beach entrance and make your way to the end of the strip. While we didn't use them, there are public washrooms and change rooms available here.
1 hour drive brings you to….
Big Wooden Playground : I've lost count of how many times I've visited Nova Scotia but this was the first time I had heard about the largest playground in Nova Scotia. It happened to be snowing by the time we arrived in Musquodoboit and the castle-like structures looked absolutely magical. It was the perfect spot to park the car and let the kids run around at. Also nearby is the Nature Learning and Playspace but we failed to find it via GPS. What I learned later was that we should have put our GPS to arrive at the Natural Resources Education Centre where we would have seen signs for the Playspace. Since you're already in the area, it's worth driving to Musquodoboit Harbour which is a natural harbour on the Eastern Shore of Nova Scotia. We spotted some awesome looking seafood spots that I wish we had time to explore. I saved that for a future visit!
1 hour 45 minutes drive brings you to….
Cape George Point : As we slowly made our way towards Cape Breton, Cape George Point Lighthouse was beckoning us. The snow had cleared out and we were greeted with cool winds here. The present lighthouse was built in 1968 and is the third one to be built on the site (original was burned in a fire). The main attraction for me was the views by the lighthouse. On a clear day one can see Price Edward Island and Cape Breton from here. St. George's Bay was looking mighty fine during our visit. The waters reminded me of the Caribbean and I was quite content sitting on a bench with Chris while the kids ran around. My only regret was not bringing a picnic with us because the weather was quite wonderful during this stop. Shocking as it was snowing a mere hour and 45 minutes before! We didn't have time to go for a hike but there were some awesome looking trails nearby.
25 minutes drive brings you to….
Mahoney's Beach : Just down the road from Cape George Point Lighthouse was Mahoney's Beach. It drizzled on our drive here and just as we pulled up we noticed a rainbow in the distance. Talk about a perfect ending before driving into Cape Breton! Bird watchers and rock collectors like visiting this beach area and the trails nearby. For us, it was all about skipping stones!
1 hour 40 minute drive brings you to….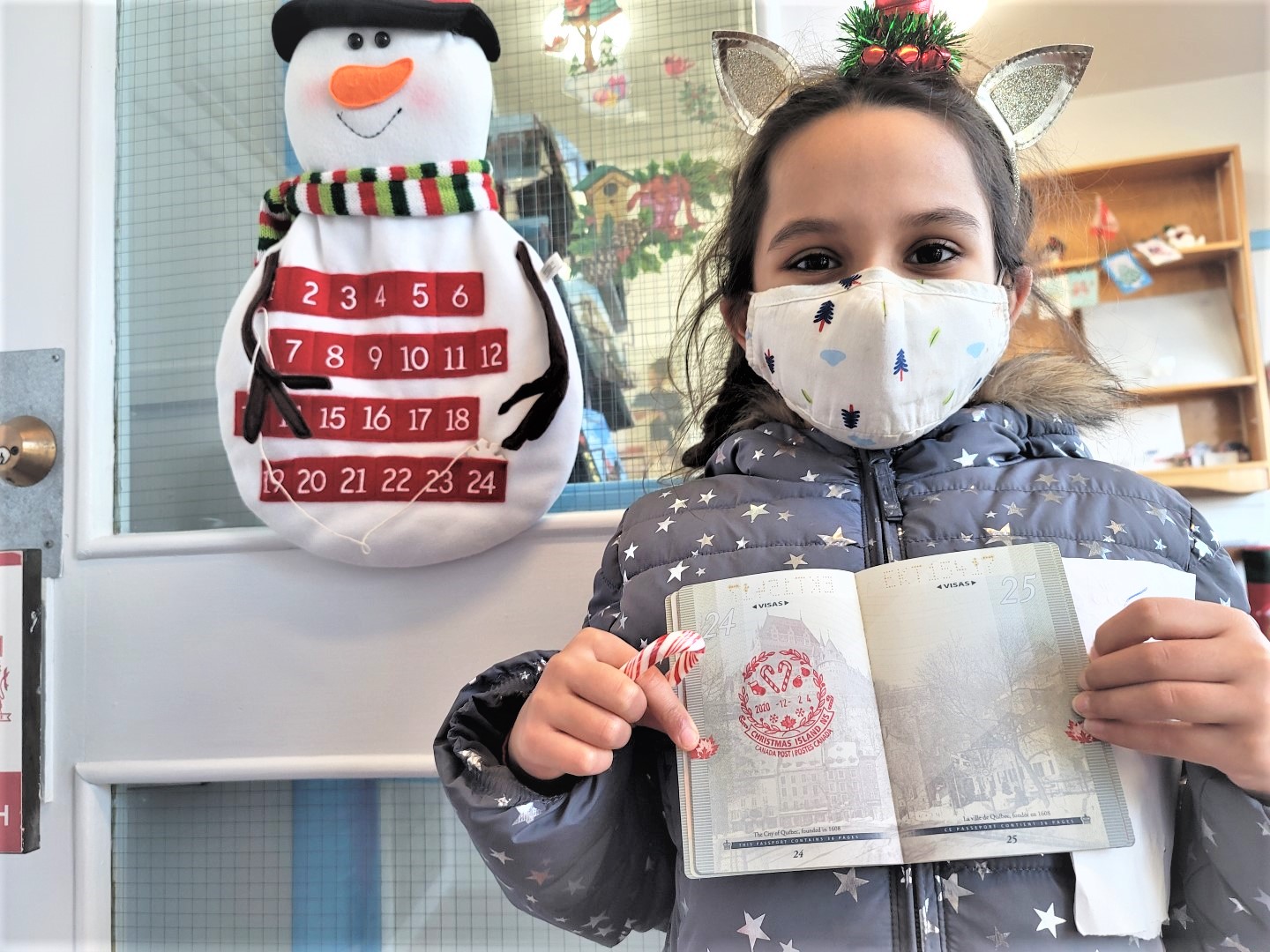 Christmas Island : Did you know that Christmas Island can be found in Canada (and Australia)? The original inhabitants of the land, the Miꞌkmaq people, called the area Abadakwichéch. Christmas Island received its present name from a Mi'kmaw leader named "Noel" who is burred on the island. The island is open all year-round and while there isn't much to do here, it's still worth a visit. Have your kids bring their passports in to the post office and they can get it stamped with the Christmas Island seal – how cute is that? Click here to see a video of our visit to the post office on Christmas Island. During our visit the Highland Village Museum was closed but the hills there were perfect for rolling down. Chris has memories of visiting the museum on school field trips and figured this would be a great place to visit in Nova Scotia for families.
Outdoor Winter Activities in Nova Scotia with Kids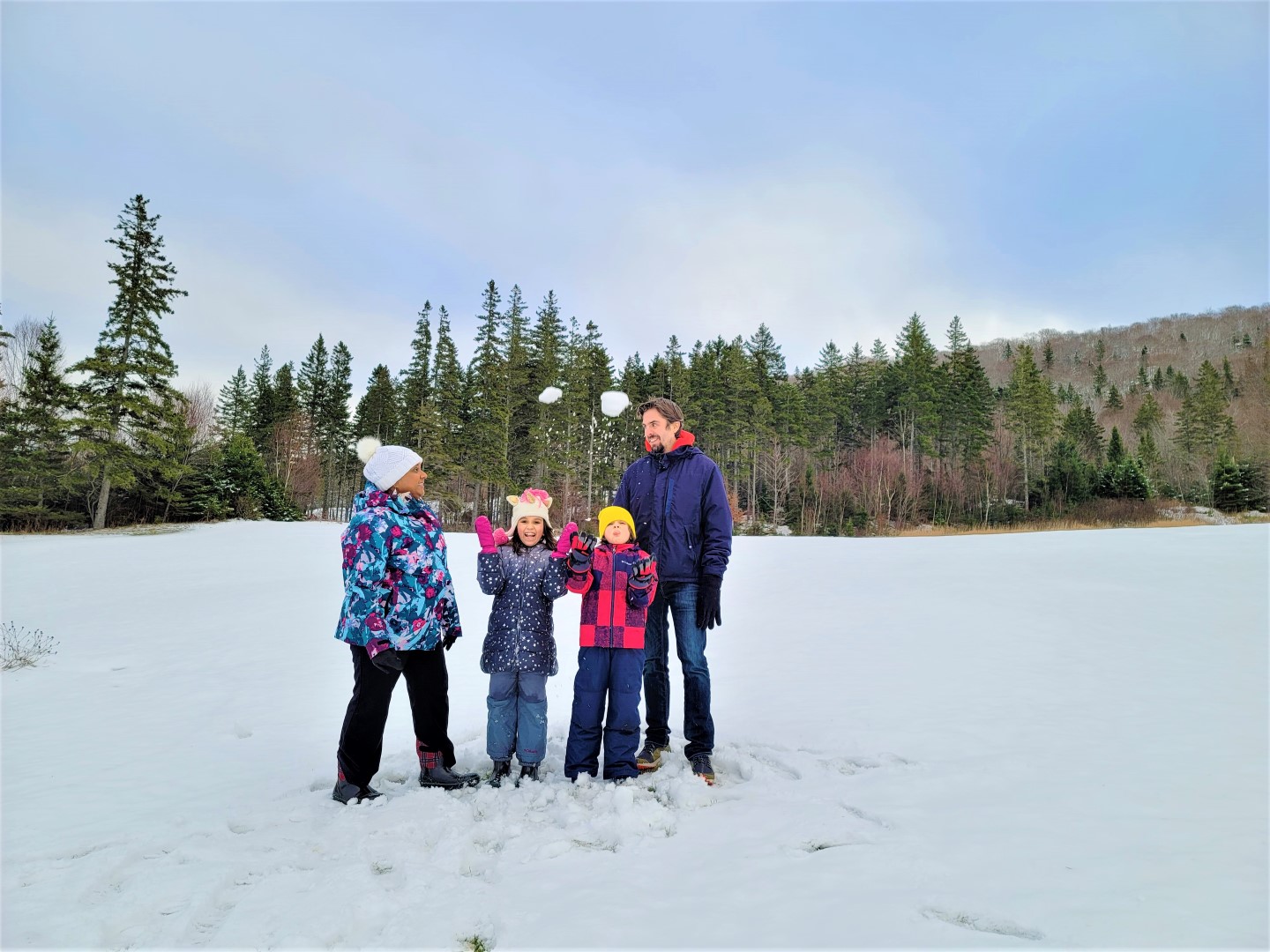 If you're wondering about other winter activities that can be experience in Nova Scotia, we shared these outdoor winter fun ideas recently. Nova Scotia has farms that continue to operate during the winter and one day I hope to participate in the Lobster festival that takes place in February. As I mentioned earlier, we missed out on the big snowfalls so we did not get to go snowmobiling or tubing during this trip but there are plenty of opportunities to partake in these Canadian winter activities in Nova Scotia. Below are some ideas if you're looking for some soft adventures in Cape Breton during the winter months.
Two Rivers Wildlife : This Wildlife Park in Nova Scotia is fun during every season but it was quite magical to visit the animals just after a snowfall. This 500 acres park is home to over 50 species of animals and birds, a petting zoo, hiking and cross-country ski trails, wagon and sleigh rides, a "U-fish" pond, children's playground and more. During our winter visit the kids learned about the arctic fox, reminded 'Blitzen" to tell Santa that they were good and watched an owl spin its head (watch our Youtube video to see it for yourself!). Having visited this park many times, I can attest to the fact that you can spend an hour or five here, depending on your mood. It's a great spot to go snowshoeing at with young kids so bring your gear with you. Park entrance fees will cost $8 for adults and $6 for kids aged 3 to 17.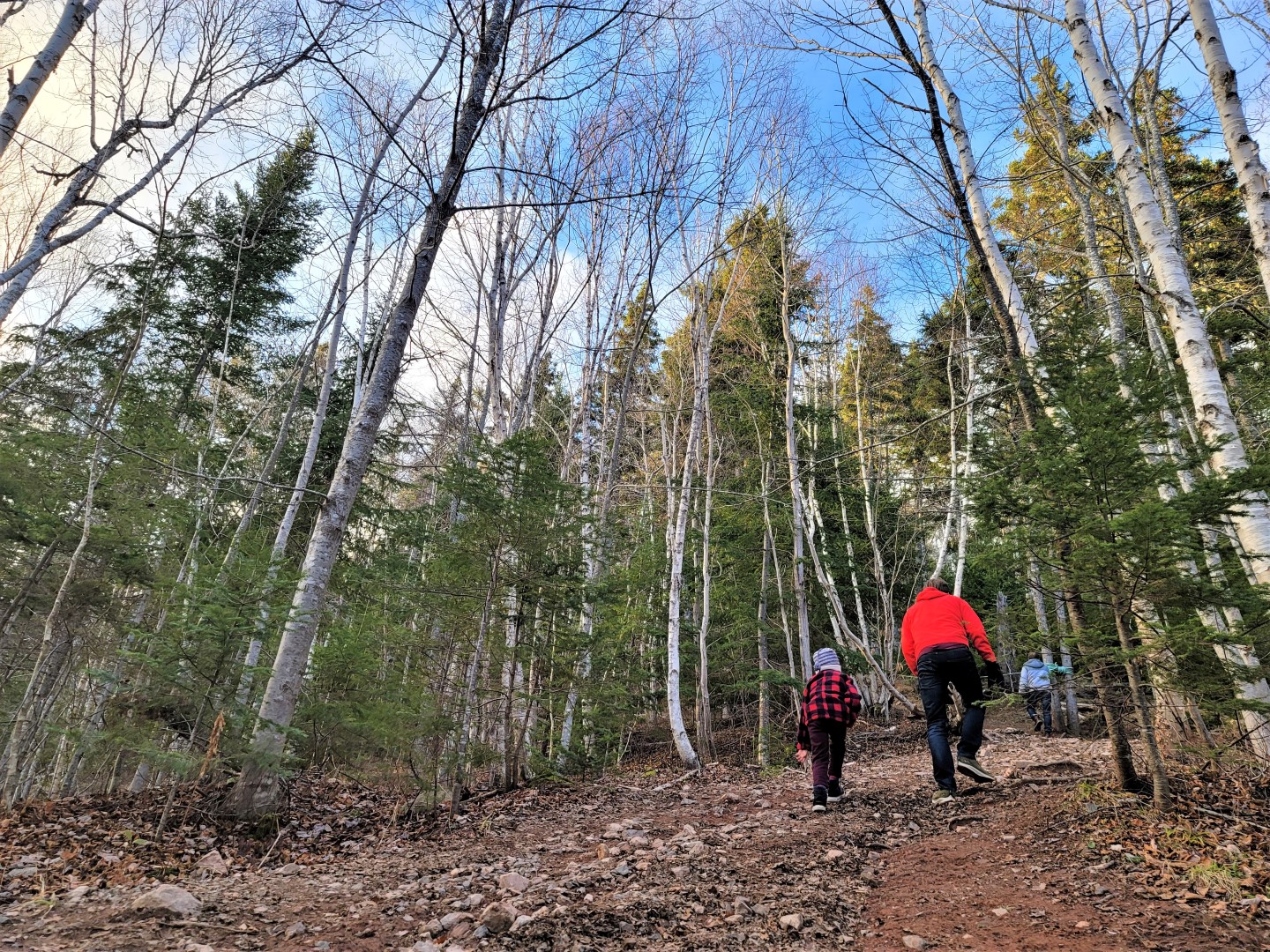 Coxheath Hills : Chris' dad took us here for a hike one sunny afternoon and the views from the area are quite lovely. Time your visit around sunset and you can thank me later. There are ropes to hang on to as you climb up the steep hills. This climb was a bit too steep for my injured knees which started hurting so the kids continued with Chris and his dad while I sat by a waterfall. I won't lie, it was pretty nice to sit there by myself! The kids loved this hike and while they could have continued on to other trails, they went to the top and came back directly. We spent about 30 minutes here and there was parking at the bottom of the hill.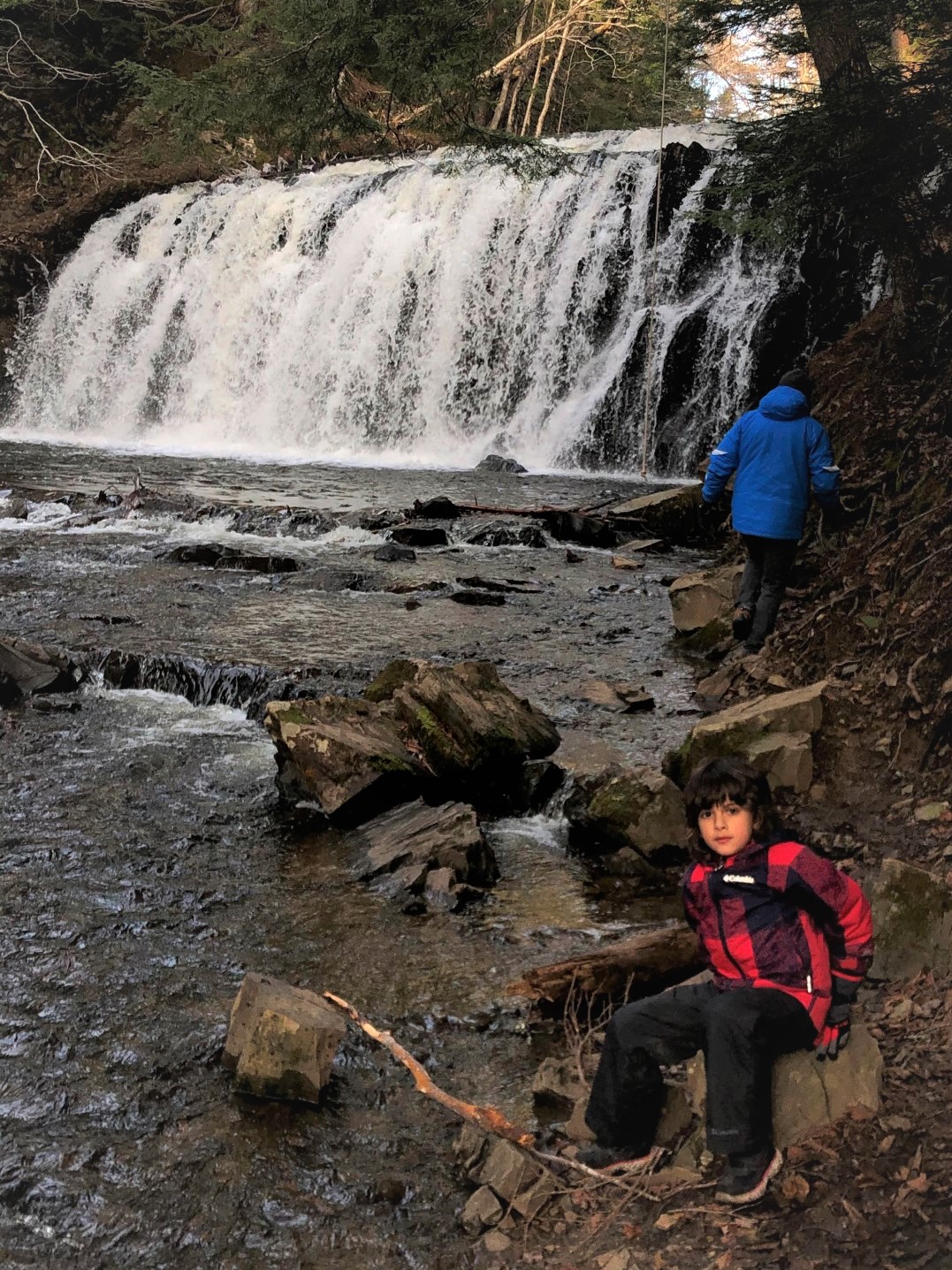 Gillis Lake Falls : There are two waterfalls at this site, one on either side of the bridge but only the lower falls are accessible. The upper falls are on private property and not accessible by the public. I hung out at the top while the rest of the family visited the waterfall at base of the hill. They would have gladly spent an hour here despite the descent only taking 3 minutes because the waterfall was fun to splash at even during the winter.
Ski Ben Eoin : This ski hill is popular with the local families who love to to ski and snow tube here. During our visit the ski hills weren't open so we couldn't go skiing or tubing but we did bring our sleds and magic carpets so the kids had a blast going down the hills. Nova Scotia in the winter is great for impromptu sledding sessions so we always have travel friendly sleds with us. For avid skiers and snowboarders, this is a great spot. One day I can see the kids enlisting at the Snow School for some lessons.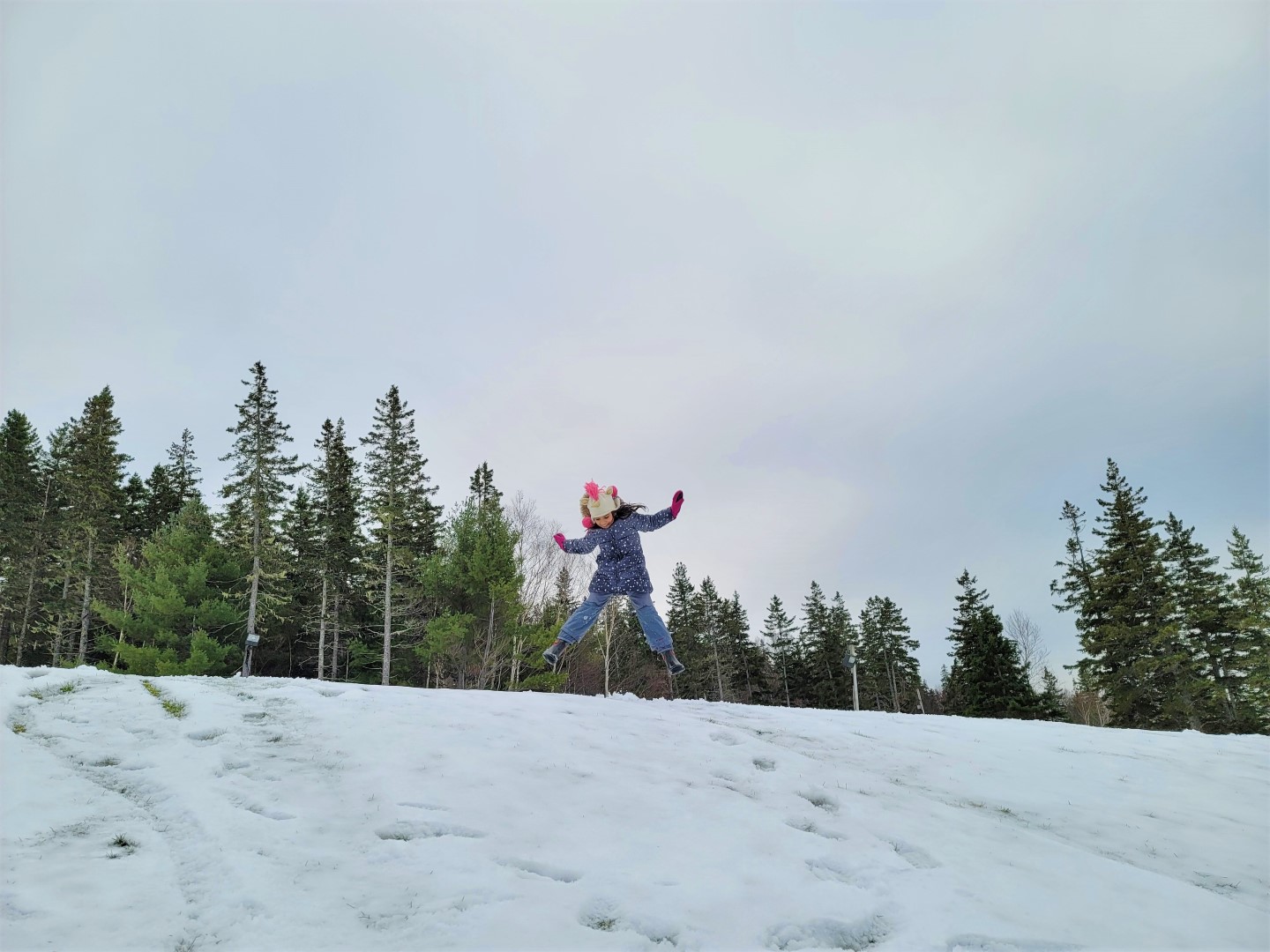 Nova Scotia in the winter is quite magical. There is no shortage of outdoor places to visit in Nova Scotia and they're just as accessible in the winter as they are in the summer. We hope our stories have sparked some ideas for your future Nova Scotia travel adventures!