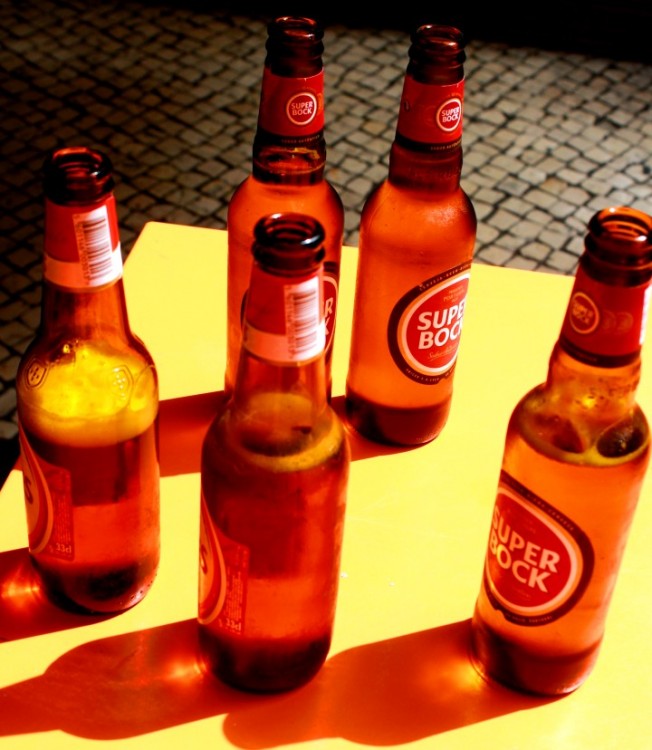 Sometimes it's hard to travel as a beer lover, especially one spoiled by the rich variety of craft beers available throughout Canada and the United States. During our recent travels through Belgium, we were in excellent hands, but I knew Portugal was going to be challenging. My pre-travel research turned up little – I only found one place I knew I needed to visit – and so for most of the trip, I had to see what I could discover locally.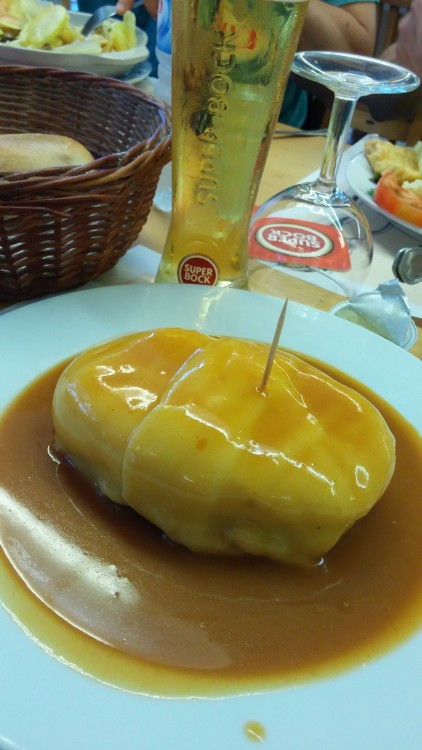 On our first stop in Porto, we ate at a cafe across the street from our hotel called Restaurante Capa Negra II. My first taste of Portuguese food was the steak with mushrooms, which was pretty good, and the only beer option was a brand called Super Bock, which I would soon discover is the Portuguese equivalent of Budweiser. Yashy paired hers with a traditional Francesinha which is what is pictured here. I was off to a bad start and things did not improve when, later in the afternoon, we stopped for a couple beers at a busy market along the waterfront. Here, I discovered the Super Bock Abadia (Amber) and Stout varieties. I would later learn that these are the two highest rated Super Bock styles on beeradvocate.com, but those ratings are not very high and these beers were fairly standard. I started to wonder if craft beer existed in Portugal!
On day 2, we visited two of the famous Port distilleries on the other side of the Rio Douro, sampling some fine Ports before trekking up to the The Yeatman, Porto's finest resort, for a Michelin star dining experience. Here, in addition to a divine eating experience, my Dad and I discovered and liked the Sovina Bock from Os Três Cervejeiros, a small Brewhouse located in downtown Porto that claims to have produced the first craft beer in Portugal. We had walked passed the place the previous night as we wandered home through the cobblestone roads of downtown Porto. I regret not going in but was fortunate to find one of their beers at the Yeatman. The beer had a nice flavour, a slightly creamy texture, and went down very well as we sat on the Yeatman patio overlooking the city. We spent the next two days asking for this beer in various establishments outside of Porto, to no avail. That night, we stopped by a Cerveteca just down the street from our hotel and discovered that Super Bock has a premium line that includes an Imperial Stout, which ended up tasting the same as the regular Stout. That was it, I swore off Super Bock.
When we got to Lisboa late on Day 3, I quickly hurried up to the grocery store nearby but just missed closing time. As a result, I found a small convenience store selling Super Bock, and a beer from Holland for which I now forget the name. I went with the Dutch import, had one before bed, didn't enjoy it, and began to long for Canadian Suds. While the beer was cheap, the variety was proving to be very limited.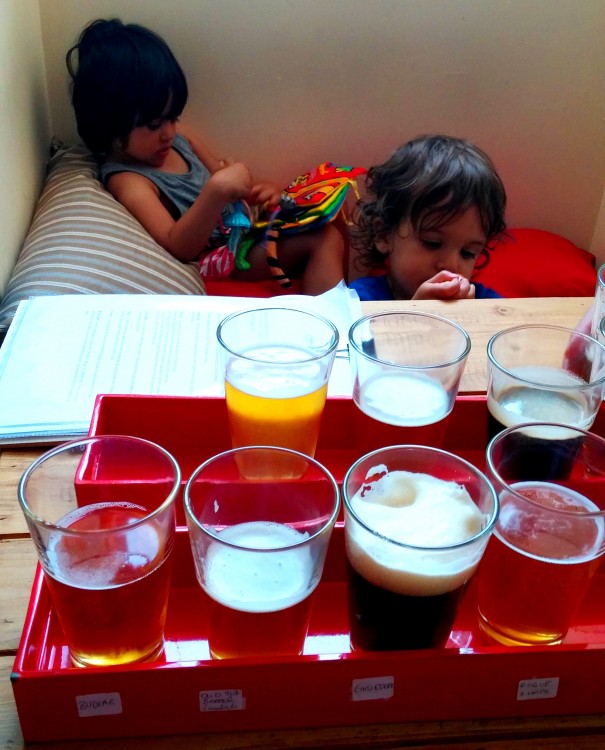 Day 4 saw our luck reversed. We took a walking tour and had a couple Sagres during a pit stop. Sagres is the main Super Bock competitor, and though it may have been the heat and my need for refreshment, Sagres tasted much better than its Big Brewer counterpart. After the tour, we found our way over to the Cerveteca Lisboa, the one place on our trip that I had planned to visit. The Cerveteca is a small beer shop with 11 beers on tap and a comfy nook for the kids to relax in (and a playground opposite the road). We purchased a flight that contained large samples of 10 beers (we excluded our good friend Sam Adams), which included beer from The US, Belgium, Portugal, and Denmark. The place featured dozens of beers from Rogue Brewery out of the US and Denmark's Mikkeller Brewery. Neither brewery is world class, but both contain some interesting flavours (ever tried Rogue's Bacon Maple Ale?), and it was nice to finally find a few options in Portugal, since my prior restaurant and grocery store visits had been unfruitful. My Dad and I bought about a dozen bottles form here, of varying sizes, and, together, with the sample flight, the bill was over €70, which is quite pricy. The 750 ml bottles were about €9 to €12 on average. Even the few Portuguese craft beer available were much pricier than the Sagres and Super Bock varietals. The same beers we found here can be purchased in the US for half the cost, and so if you are living in Portugal and are getting into craft beer, you better have a good job. Otherwise, enjoy some of the many €1.50 bottles of wine available
.
We did buy one of the few Portuguese beers available, the Bolina IPA, a nice, hoppy beer that we enjoyed later in the week. The owner of the Cerveteca was a great guy and introduced us to Lupin Beans, which are the equivalent of beer nuts in Portugal. He explained the extensive collection of Rogue Beers – essentially, they are the only US brewery that guarantees the beer will arrive to his shop less than 40 days old. I wish him well and hope that more shops like his start to appear in Lisboa.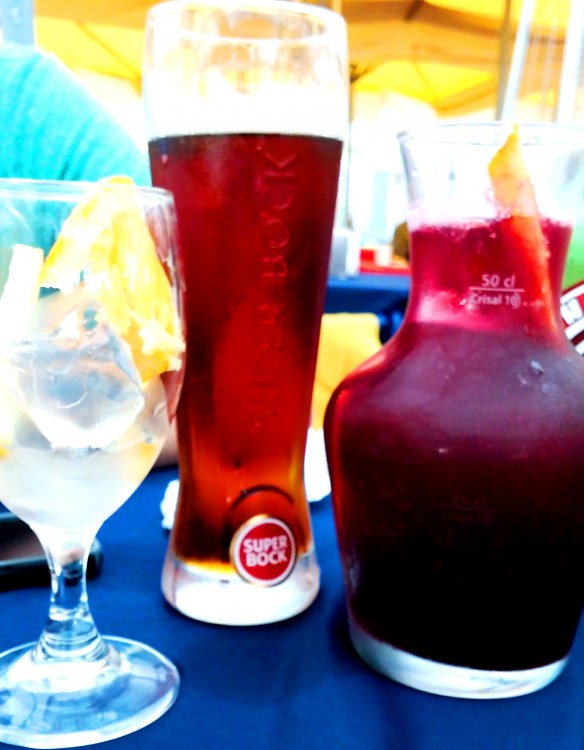 Now that we were stocked up, I spent the rest of the week enjoying our bounty from the Cerveteca. I continued to ask waiters and waitresses about their beer selection, and usually ended up drinking water or wine. After discovering that Ireland has a very limited craft beer selection two summers ago and finding similar results in England three years ago, my expectations of finding a wide range of beer in Europe had already been lowered, and the Portuguese craft beer experience did little to raise my hopes, but don't worry, Europe, you'll always have Belgium.