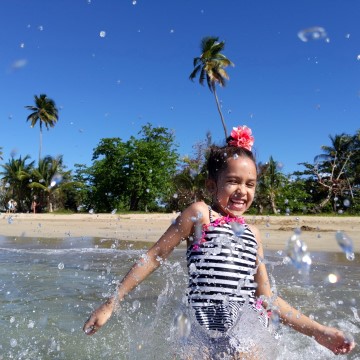 I was itching to leave North America and discover somewhere warm, culturally different and off the beaten path. That's how we ended up travelling to Puerto Rico with our kids! Don't worry, I'm fully aware that Puerto Rico is part of the United States of America. Remember when Chris and I snuck away for a romantic staycation in Toronto and I wrangled a travel budget for a trip? The $5000 he gave me wouldn't get us out of North America but it did get us to Puerto Rico, a country that's unique, culturally rich and one off the beaten path as far as our immediate circle was concerned. When we announced that we were heading to Puerto Rico for our March Break family trip, people thought we were crazy and that it would not be an inviting country. How wrong they were! Exploring Puerto Rico, with kids in tow, nourished my soul and tickled my travel bone in all the right places and, as you read on about a possible 4 day Puerto Rico itinerary, you'll discover why!
Getting to Puerto Rico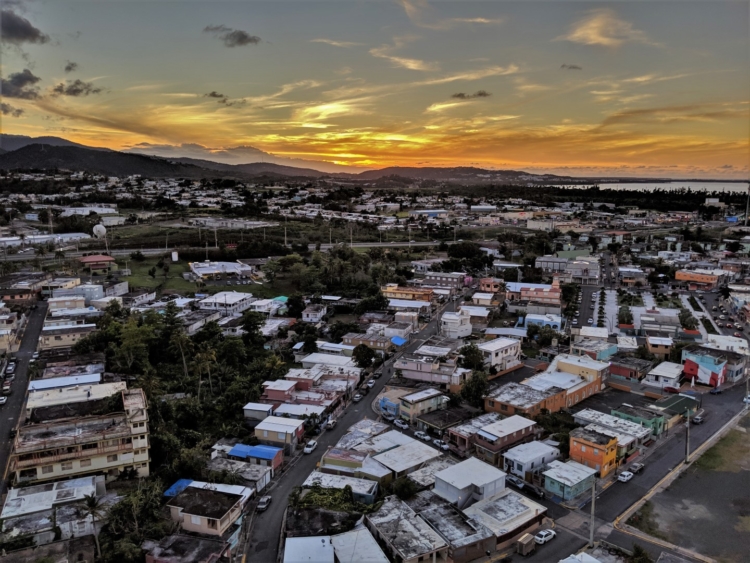 There are direct flights from Toronto but we opted to spend a night in Chicago on our way over as we were able to save a couple hundred dollars on our flight. The deal I found was CAD410 per person, taxes in for a United Airlines flight from Toronto to Chicago (overnight Chicago hotel stay was required) and then onwards to San Juan. Our return was a direct 5 hour Air Canada flight from San Juan to Toronto Pearson. Puerto Rico is part of the U.S.A so it is a domestic flight for those living in America and for us Canadians, it's just like flying to U.S and we had to do customs on this end.
The best time to visit Puerto Rico is said to be mid April to mid June, just after the busy winter season. The weather in Puerto Rico is always nice and warm (June being the hottest-mid 30C) but December to April is their high season. We visited in March for the Canadian March Break (luckily wasn't U.S March Break) and things were relatively busy and hotels were pricey!
Driving in Puerto Rico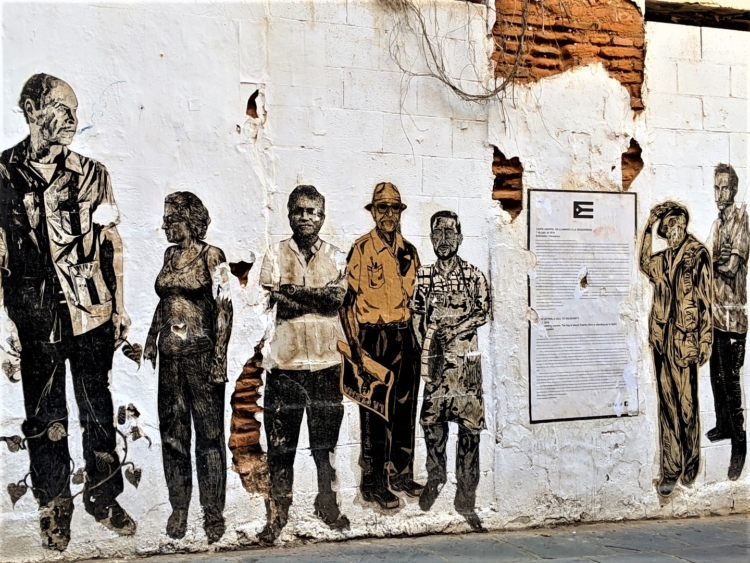 Since our accommodations in Puerto Rico were in Luquillo, a beach town about 45 minutes from the airport, we rented a car on arrival into San Juan. I had booked the rental online prior to our departure and noticed that we were able to save about $400 if I booked with an agency that was 5 minutes away from the airport. All the San Juan car rental companies that are beyond the airport terminal have free shuttles (which took quite a bit of time on our way in but was very smooth on the way out) and I also realized that it was only a $4 Uber ride from the airport to these car rental agencies. We booked a compact sized car from Europcar for $265 (Canadian) for the 5 day stay and ended up paying only $25 for gas. We also took our mifold travel booster seats for the kids.
The actual driving was quite comparable to driving in Canada and we did not encounter any issues when on the road. Google Maps will guide you as need and we were lucky that our Rogers cell phone plan enabled us to Roam Like Home and use our data and make calls as if we were at home. IF you rent a car in Puerto Rico ensure that you get them to give you the EZ pass as there are tolls where you cannot individually pay. Over the course of 5 days we amassed only $10 in tolls.
Where to Stay in Puerto Rico with Kids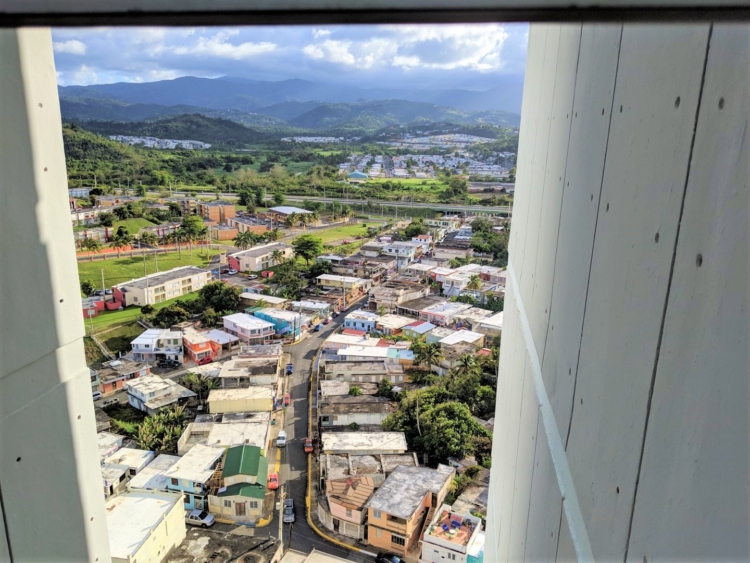 My original plan was to spend 2 nights in San Juan and then tour around to Luqiollo and Vieques but that's not how things worked out. March in Puerto Rico is extremely busy and hotels were around $400 per night so we decided to use our HomeExchange GuestPoints and stayed in an apartment in Luquillo that was right by the beach. We loved having access to the familiar comforts of a home, especially the kitchen and laundry machines (think buckets of sand in our swimsuits!). That said, Chris and I absolutely regret not spending a night or two in San Juan because the blue cobblestoned Old San Juan with gritty artwork is just so darn cute and filled with awesome bars. We're seriously thinking about a kid free return trip to explore the night life!
Puerto Rico is a small island and you could drive around the entire island in under 6 hours so it doesn't really matter where you stay. If you're looking for night life and want to avoid renting a car, stay in San Juan and embark on the many day trips that are available. If you want to explore on your own and avoid tours, then rent a car and stay somewhere in the middle. We only did the east part of the island but I really want to explore the west on our next visit.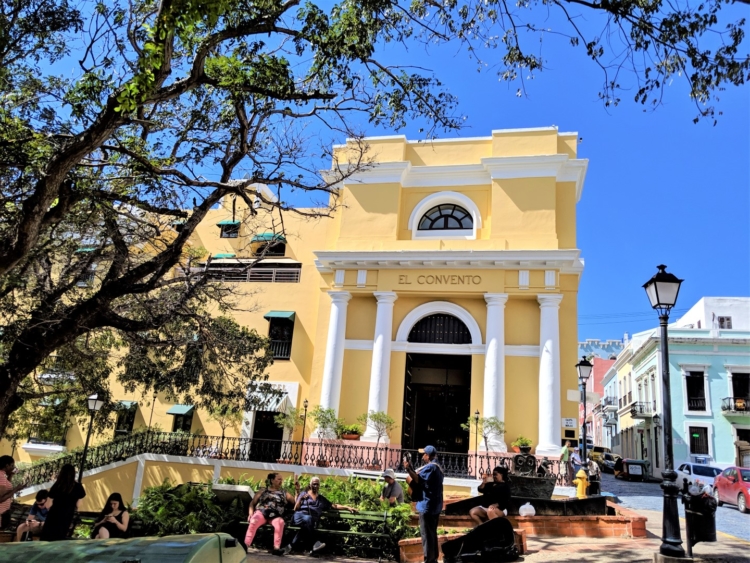 Based on my research and if I was travelling to Puerto Rico with young kids and looking for a hotel, I'd stay at Hotel El Convento in Old San Juan, the San Juan Marriott Resort and Casino in Condado (if I wanted to be close to Old San Juan but still enjoy the perks of a resort) or the El Conquistador Waldorf Hotel in Fajardo (slides, pools and other amazing family perks).
Things to do in Puerto Rico with Kids

Things to do in San Juan with Kids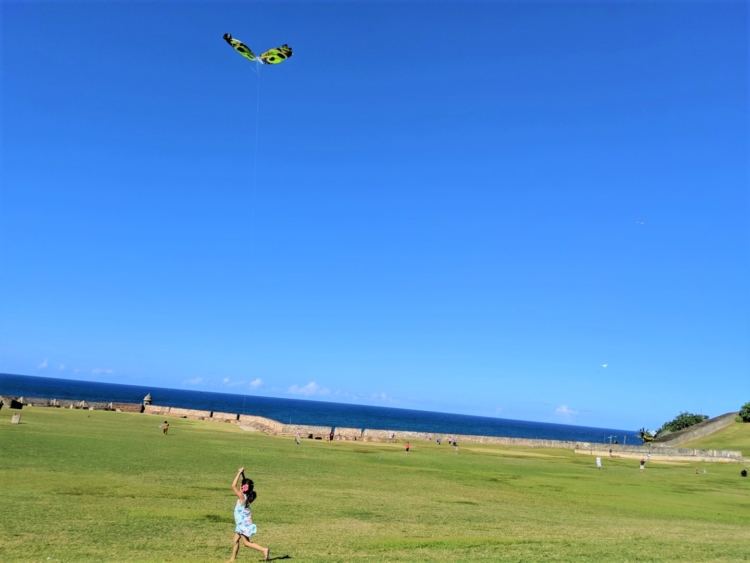 Walk through colourful San Juan and soak in the shopping, umbrella lanes and explore both the new and old parts of the city
Enjoy Pina Colada and lunch at Barrachina (Baby Boy loves his Pina Coladas and we had to take him to the birthplace of the cocktail (The Hilton Carribe was still under construction so we couldn't take him there unfortunately). It can get busy here but they will put you on the list and call you if you'd like. The snacks we had were quite delicious so having a meal here and enjoying their airy indoor courtyard, isn't a bad idea.
Fly a kite on the lawns of the Old Fort.  Instead of taking the free shuttle, we opted to walk from downtown San Juan to Old San Juan and so, we didn't go inside but opted to chill outside as there was a much welcomed wind after a long hike under the hot sun.
Take a food tour with Spoon Food Tours. We did the evening sunset one and stopped in at 5 restaurants. The highlight for me was the fancy mofungo we had at La Mallorquina. Our guide was extremely knowledgeable about the bar scenes and so that was perfect for me, given my beverage alcohol marketing background. Now you know why I want to return to explore the night life! The tour was kid friendly, despite the group setting and our kids were surprisingly well behaved as well. The promise of dessert and ice cream can do that!
There are many beaches near San Juan that you can visit. Condado is the beach area that many flock to and El parque del Indio is a fab spot for kids as there's a playground with swings right by the beach.
If your kids insist on exploring every Children's museum they come across, you'll want to spend half a day at the Puerto Rico Children's Museum where you'll find exhibitions about Volcanos, Mini Cities, Water Elements, the Universe, Theater, Eco Systems, Construction and Music. In addition, on the outside, visitors will find a Go Kart track, entertainment games for children and a real plane, donated by American Airlines.
[themify_hr color="gray" width="100%" border_width="1″ ]
Things to do in Luquillo with Kids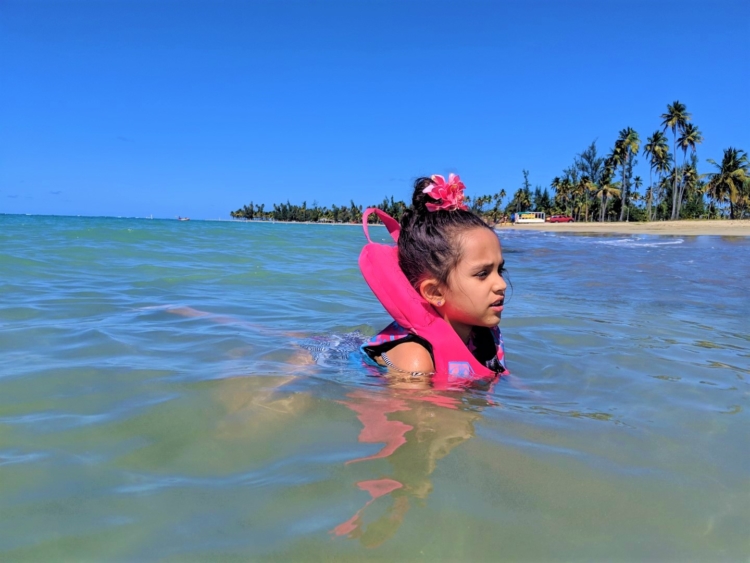 If you're looking for a relaxing beach day and good eats, Luquillo is a great option. It's where the Home Exchange condo was and we were located close by to El Yunque and Fajardo as well.
This beach town is fantastic for families and there are many beaches. Most are quite rough and perfect for surfers but we found one near the Luquiollo Kiosks to be perfect for us. As soon as you exit Kiosk #60 walk towards the  right and you'll notice that the smaller section of the beach has a shallower entry. That little patch in front of the kayak rental spot was our favourite!
The road side "hole in the wall' Luquillo Kiosks were on my "must eat at" list and we did just that. For $10 from kiosk #55 I got a huge virgin pina colada in a pineapple with all the flesh served in a takeout container so the kids could snack on it. We had the best traditional mofungo at Kiosk #59. Kiosk #31 was our least favourite, if you were wondering!
We also at at Lena's but the service took even longer than the average Puerto Rican dining experience (which tend to be on the longer side compared to in Canada or America) and we weren't impressed with the food. We did enjoy our cheap and cheerful diner and drinks by the beach at Boardriders Surf Bar though!

El Yunque National Forest With Kids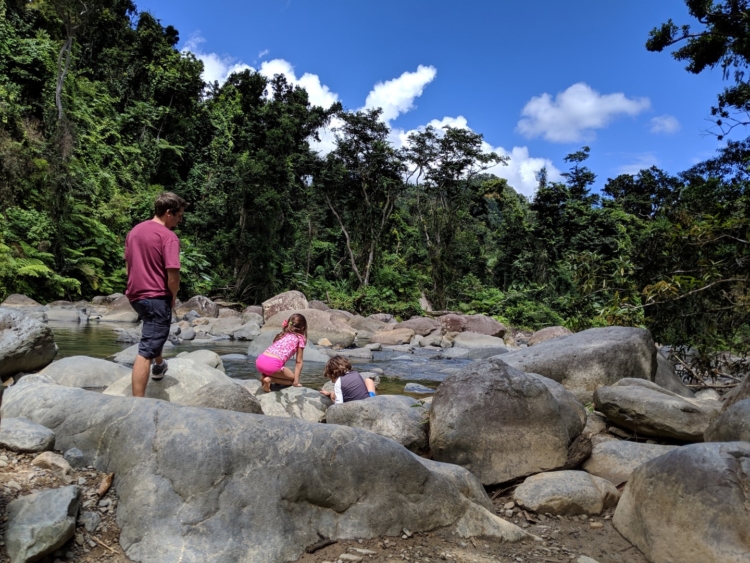 Yes folks there's a tropical rain forest in North America and it's an easy drive through. In March 2019 most of the park was still closed off but we were able to drive through and since our kids (or I) aren't into long hikes, we did the 20 minute easy walk on the Angelito trail. This was the first trail we encountered and we parked our car by the roadside. At the end there's a body of water that's very swimable but since we weren't in the mood, the kids spent an hour swinging and having fun on the tires and rocks while spotting fish.
Keep in mind that you could encounter rain at any time even if it is a bright and sunny day. Always pack a light rain jacket.  Here's a link to see what is currently open at EL Yunque. We didn't make it to the tower but we heard it's a nice look out point. We also didn't spot many animals or birds but was informed that it too was a result of the hurricane.
On our way in we stopped in at the Caribbean Trading store for gifts and ended up doing their hot sauce challenge where Chris and I received a certificate (it was cheesy but fun). Their hot sauce collections were flavourful which I enjoyed and they serve free coffee there as well. The kids also bought some souvenirs here so it's a good spot to pick a few things.
Fajardo Bioluminiscent Bay with Kids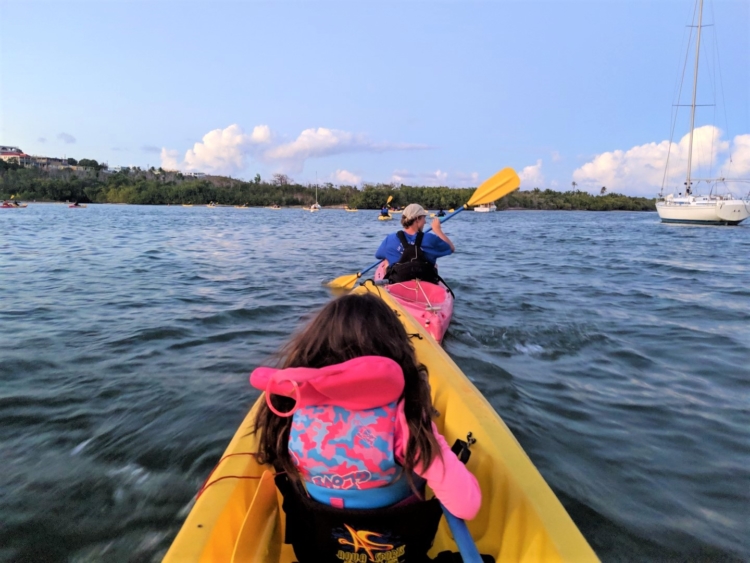 I spent so many hours researching how to do the Bio Bays with young kids and every tour company I found was for kids aged 6 and above. With Baby Boy being 5 years I really struggled but I did end up finding one.
My biggest tip is to book this trip as early as possible because they do sell out quickly. We even drove down to Fajardo one day hoping to find tour companies lined up by the road side. NOPES! I wasn't able to find too many online and those I did find, did not reply to my emails so I had to call them in the end. We were visiting between the moon phases and still enjoyed our kayak ride with Las Tortugas Adventures. When I called this company their website said they take kids aged 5 and above but have since noticed that the website has been updated to read 6 and above (worth giving them a call and chatting to see if they will allow 5 year olds). They had life vests for kids  but we were travelling with our life jackets so the kids used ours. We also wore water shoes but honestly, flip flops or sandals would have been sufficient. Definitely wear your swimsuits though!
Chris had Baby Boy in his kayak and Little Monkey and I were together in ours. As you may recall, I'm not the best when it comes to Kayaking, but it doesn't really stop me from attempting to get decent at it! Luckily for us, there were quite a few guides who accompany each group and one of them just hooked our boat to his and took us the whole way there and back. This guide has been tours since he was a young kid so he knew exactly how to entertain Little Monkey. Which meant that I was able to relax and play with the water as we went in. It's truly magnificent to see the water glow like that and when I splashed it on my legs, it looked like a billion stars just fell on my legs. The kids weren't even half as impressed as I was!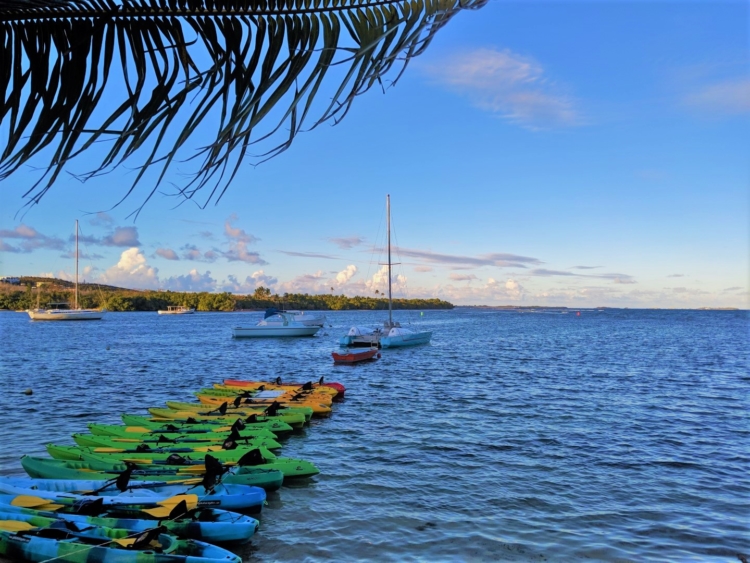 The tour is supposed to take 2 hours and we received a good science lesson too. The kayak ride in took about 30 minutes and we were there for about 20 minutes before heading back. It would have been cool to be in a glass bottom kayak as we would have had a better "light show". I know there are a few speed boats that also do this run and is better at accommodating young kids, but having seen them in action, I'm so glad we didn't go down that route as they are higher away from the water and don't get as good a view of the bio-luminescent action in Puerto Rico. I'm so glad we did this in Fajardo as we wouldn't have been able to experience this otherwise. The one in Vieques is supposed to be the best as you can walk into the water by yourself but after hearing nightmares of trying to get the ferry over to the island, I wasn't brave enough to attempt it. Since I was trying to stick to our budget on this trip I didn't attempt to take the internal flights that are available to get to the islands, either. I hear there are nearly 12 other bays like this around the world and if you ever have a chance to experience it, definitely make it happen!
5 Day Puerto Rico Itinerary with Kids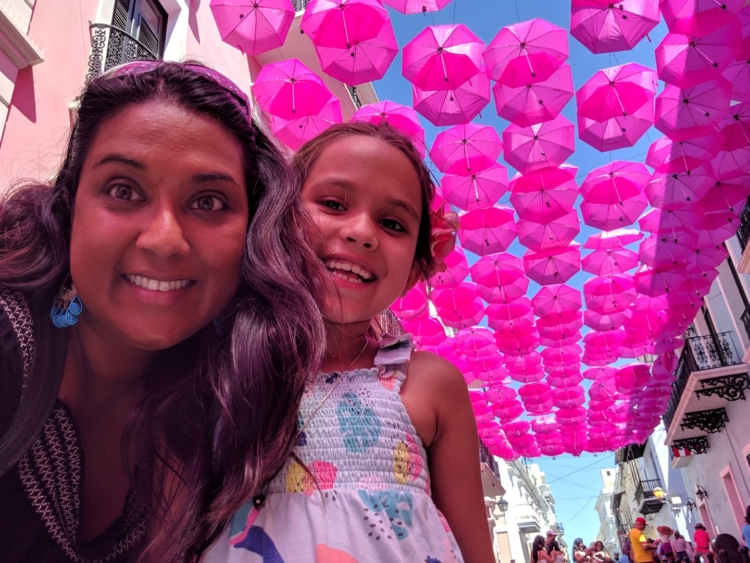 Day 1 Arrival and over night in San Juan. Ensure you go out and enjoy the night life in San Juan.
Day 2 Explore Old San Juan in the morning, visit the Children's museum after lunch (or hit up the Kiosk in Luquillo and enjoy a beach day) and spend the night in Luqillo or Fajardo .
Day 3 Visit El Yunque Rainforest and do an evening Bio Luminescent tour in Fajardo (if you think your kids cannot handle both in one day, spread these out and perhaps do the Bio Bay on Day 2).
Day 4 Take a day trip to Culebra or if you're feeling adventures, spend a night in Vieques (do the Bio Bay tour in Vieques instead of Fajardo if you're thinking about this)
Day 5 Departure.
What I Loved About Puerto Rico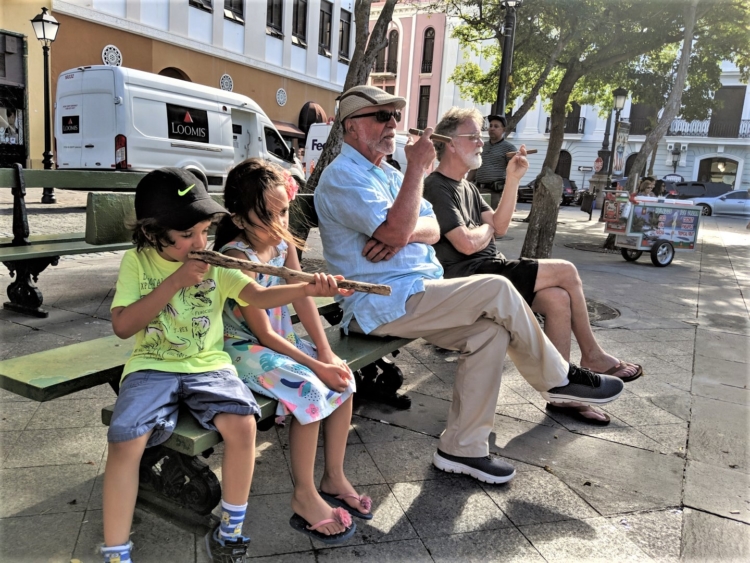 I was craving something different and Puerto Rico gave that to me. The country and culture reminded Chris about his days living in the Caribbean and for me, it reminded me of my travels through South Asia whilst giving me the creature comforts I am accustomed to now that I live in Canada. There are road side shacks selling wares, pop up fruit stands along the highway and because we were living beyond the tourist neighbourhoods, there was also poverty. The HomeExchange condo we stayed at looked out towards the emerald green waters and I enjoyed breakfast on the balcony and having a pack of rum punch there at sunset. However, when I looked slightly to the left, I saw some homes that were boarded up. I saw homes whose roofs were collapsing and ones that had cardboard windows instead of glass. I took in the slow life of elderly ladies sitting on their porch, killing time because it was too hot indoors. I also saw a family huddled around an old school tv with nothing else in the room except for a small school desk and the 2 seater couch the 4 were sitting on. All this reminded me of how different it is and I needed that reminder. Amidst the water adventures, the bays with stars glittering on them and the swanky boat rides, there was real life to witness. Sure, if you didn't want to see this, you didn't have to. Most of the tourist areas were pretty, lined with colourful wares and steeping with the passionate Spanish culture.
6 Puerto Rico Highlights
Quick Tips to Keep in Mind When Visiting Puerto Rico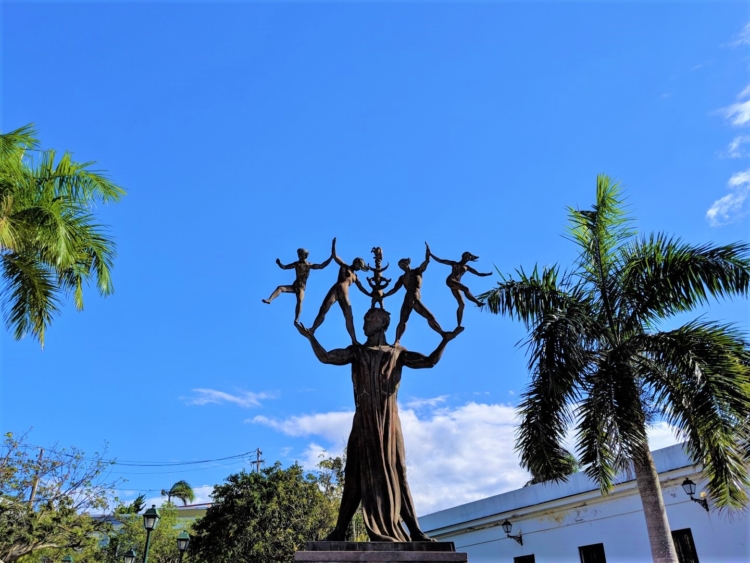 Nothing is rushed in Puerto Rico and so you can expect to have long leisurely meals (go prepared with snacks for your kids)
When picking up car rentals, anticipate an hour wait. I thought ours was a one-off but a local told me that this happens everywhere
You can easily find grocery stores and many of them carry North American brands for diapers and baby products
Spanish is the mother tongue and beyond the tourist joints, not many speak fluent English but they are friendly and will converse with you
Waters can be rough as Puerto Rico is a surfers paradise. Keep a close watch when kids are in the water and we highly encourage them wearing life jackets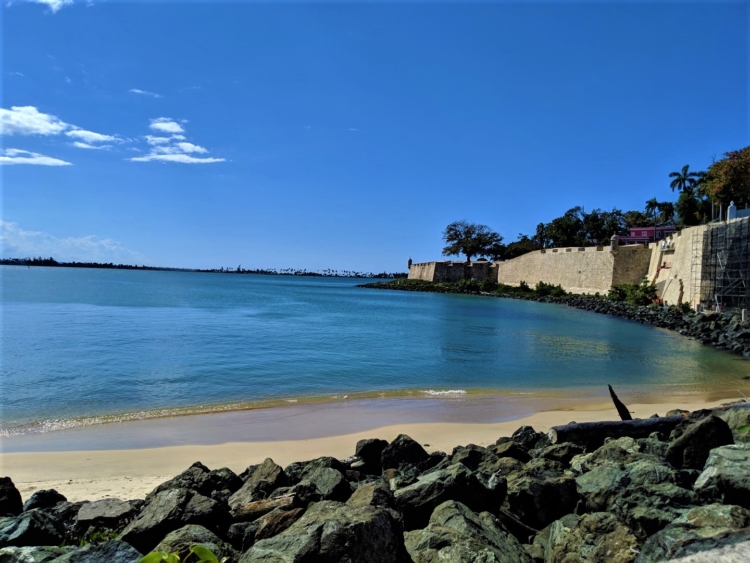 If you're hesitant about traveling to Puerto Rico as a family, I hope our stories have inspired you to explore this gem of a country. Puerto Rico is so accessible to us North Americans and enjoys great weather throughout most of the year. The country and its people have been rebuilding since the hurricanes and given what I know of Sri Lanka, it took us nearly 10 years to fully recover from the natural disaster. Tourism continues to help these countries and the locals are eager to welcome you and teach you about their culture.