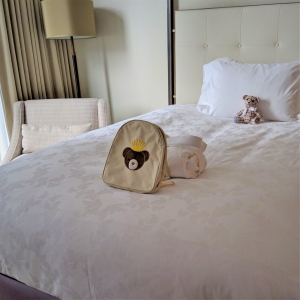 We enjoyed a night at possibly the best hotel in Chicago for kids. On our way to Puerto Rico for March Break we had a 19 hour layover in Chicago and was able to enjoy the many kid focused hotel amenities on offer at the Langham Chicago Hotel. We've been huge fans of Langham properties since we first stayed at one in Boston and now the Langham Chicago is truly one of our favourite North American hotels. If you're visiting Chicago with young kids and looking for a luxurious stay in Chicago, the Langham Chicago Hotel should definitely be on your list of places to stay in Chicago. Forbes thinks so too because they gave this family and pet friendly hotel a Forbes 5 star rating again! Read on to hear why you need to stay here when you're visiting Chicago with kids.
Disclosure : We were guests of the Langham Chicago but, as always, opinions are TOTTALY ours!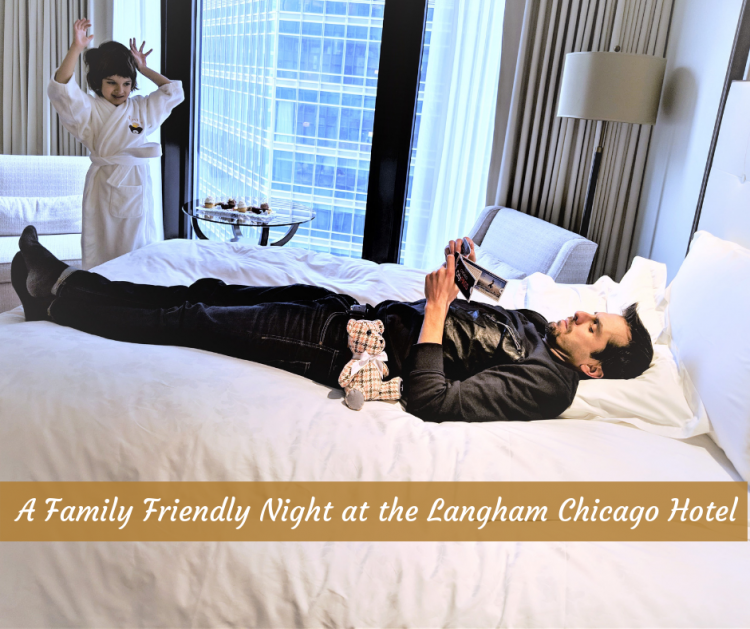 Our flight landed at Chicago O'Hare around noon and we were checked in at the Langham Chicago by 1:30 p.m. We could have easily taken public transit (1 hour approximately) to get from the Chicago airport to the Langham Chicago Hotel but opted to take a $36 Lyft instead as we had our Mifold booster seats with us and the ride was only 30 minutes on a Sunday afternoon. Upon arrival we were greeted warmly and informed that because we were staying in a Club Level room we had a private check-in on floor 12C versus the regular check-in area on level 2. When we first pulled into this Chicago hotel I didn't realize the grandeur and elegance that awaited us because the main entrance reminded me of our condo. I later learned that the hotel was designed by Mies van der Rohe and that the soaring 52-story structure was added to the National Register of Historic Places in 2010. It's only once you make your way through the hotel's floors that you see the design and stunning décor. The Langham Chicago Hotel is truly the best accommodation we've stayed at in Chicago as a family. They make it easy for parents to enjoy the finer things while kids are taken care of as well. There's so much to do at the hotel that families can easily spend a couple days indoors, if that's what they wish! Of course, when you stay at the Langham Chicago you're within walking distance to some of the best attractions in Chicago and we were able to step out for a 2 hour stroll with the kids on that sunny March day.
Club Level Access and Perks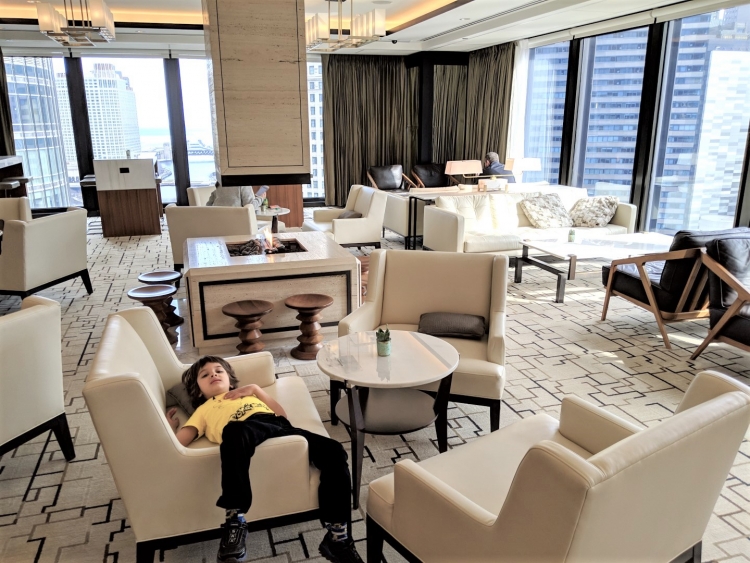 As I mentioned previously, we were staying on the Club Level and it gave us special access. Even if you book a regular room, you have the option to add on the Club Lounge access and I think it's absolutely worth every penny. The Langham Club not only provides you with one of the best seats to see Chicago from above, but it also is a space for you to relax and unwind at, even if you have kids. The 4000 sq foot space offers quite a few different areas for whichever mood you're in.
I was surprised that we ended up visiting the Club Lounge on three different occasions during the 12 waking hours we were at the hotel! The lounge is open from 6:30 a.m. to 9:00 p.m. making it easy to pop in and grab some snacks, fruits and drinks. They serve breakfast, afternoon tea and evening snacks here making it so easy for families to dine together without worrying about trying to find something for their kids to eat. I even stocked up on a few snacks and treats for our plane ride the next day! We missed breakfast and our first visit was in-between the afternoon tea and morning service but the kids were still able to find some fruit, yoghurt and smoothies. In addition, they spotted the candy cart!!! They were amazed that they could grab as many Twizzlers, gummies, Reeses, Hersheys and Lindt offerings they wanted (provided they didn't eat it all in one go!). Luckily for me, they decided on 5 small treats each (phew). There's always a friendly face at the lounge and they're eager to make you lattes, cappuccinos or any drink you'd like. When I popped in for Afternoon Tea we enjoyed sandwiches and cakes along with a glass of wine.  The kids nestled by the fire and took in the views from the floor to ceiling windows while Chris and I enjoyed some peace and quiet. During our evening visit we were amazed to find sparkling wine, a fully stocked premium bar (with garnishes), platters of seafood, dumplings and even empanadas! I dare you to tell me the food itself isn't worth the upgrade!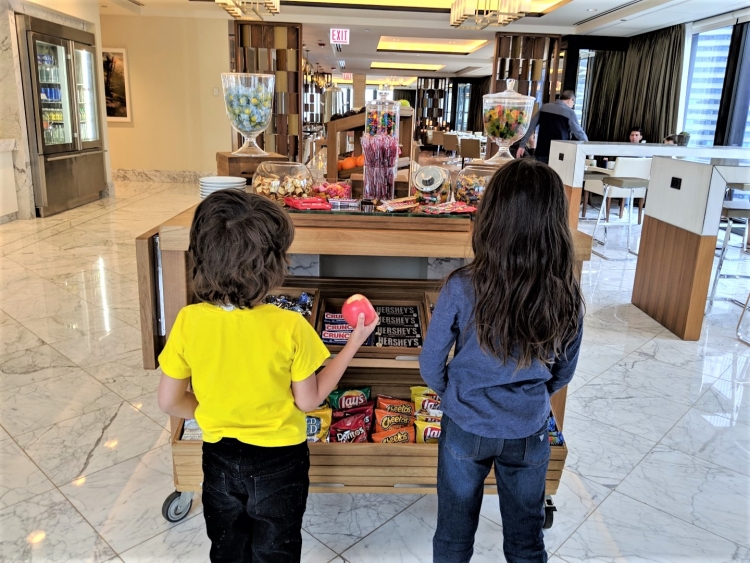 If you're looking for more excuses, Club Level access also provided us with complimentary pressing services for 3 garments and a dedicated concierge to answer all our questions and provide us with access to things like the Kids Suite and Cinema Suite.
Everything Families Need in a Chicago Hotel Room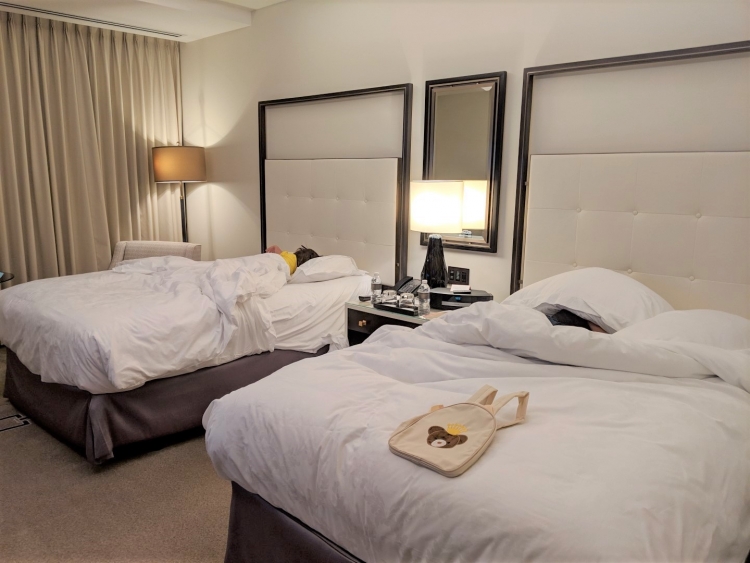 You know how much we love our interconnecting rooms when travelling with young kids and babies so the two rooms were a delight for us. The Langham Chicago rooms have plenty of space for ALL of our things and while the kids enjoyed their double bed room, Chris and I had a super comfy king bed all to ourselves. Each room also had a massive and gorgeously designed bathroom area with a standing shower and a tub (one in which Little Monkey was disappointed that she couldn't have a bubble bath in on this trip).
What amazed me was how many cupboards and drawers there were for us to put our belongings in! Honestly, if we had a stroller with us even that would have been tucked away nicely! The kids were able to enjoy their cartoon session when we had to wake them up early the next day and I didn't have to be subjected to those annoying tunes because I was packing away in our room. The rooms at the Langham Chicago enable parents to enjoy a relaxing holiday without being cramped up in close quarters. Now that's how you travel with kids!
If you're visiting Chicago with a baby, be sure to request a crib and any other items you may need, because they are very family friendly here and even have mini robes for little ones. Oh and by the way parents, if you're picky about your pillows, you can request a memory foam pillow!! In addition to the many amenities in the room ( toothbrush, shaving kit, cotton buds etc) if you happen to have forgotten something, like let's say lip balm…. Call housekeeping and they'll bring you a complimentary one!
Kids Suite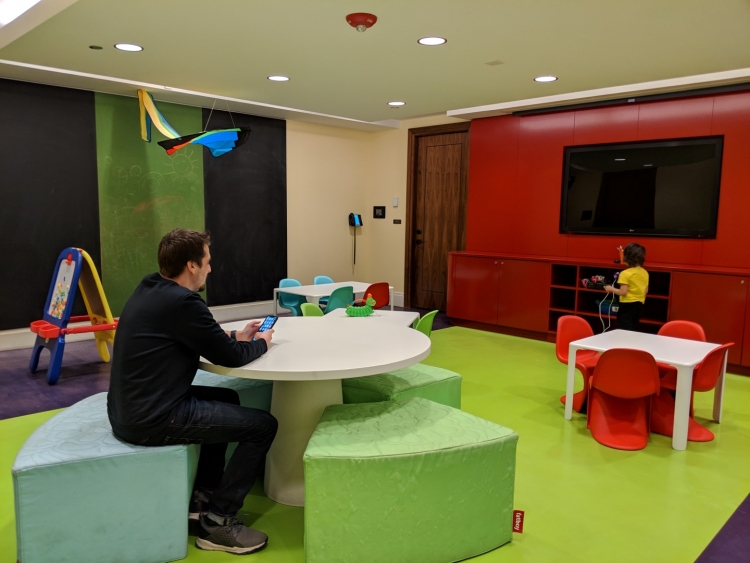 What first piqued my interest about the Langham Chicago was hearing about their Kids Suite. I thought it was a brilliant amenity for a family friendly Chicago hotel to offer visitors. The Kids Suite at the Langham Chicago is a brightly coloured play room for those with young kids. There were baby toys, board games, an Xbox and an arts station. There was a dedicated washroom in there with a footstool and a change table, making it easy when kids need a bathroom break.
Keep in mind that you DO need to be let in to this kids' suite so be sure to call your concierge before you plan to head over!
Chicago Pool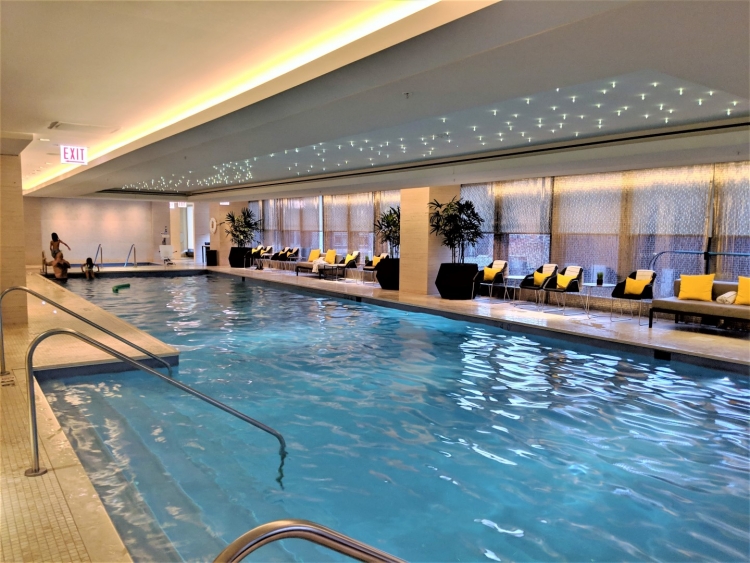 In addition to the spa and gym, the hotel also has a pool and a hot tub. Baby Boy's biggest regret was not being able to take a dip here but we did swing by to check it out. They had a few pool noodles during our visit and the pool was nice and warm when we dipped our hands in. On our next visit, I've promised to spend more time here!
Cinema Suite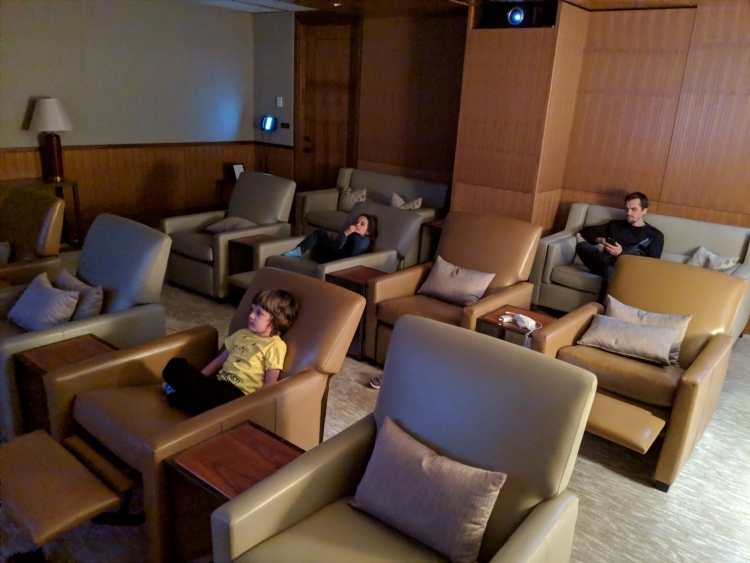 Another room you can book is a private Cinema Suite which is where you'll want to unwind at after a long day of exploring Chicago with your kids. There is a relatively large selection of movies on offer and the seats recline, making it possible for parents to take a quick snooze while the kids watch their movie. You can even order popcorn and snacks (at a surprisingly reasonable additional charge). This is another amenity that you will need to call concierge for and book ahead. We lucked out that no one was using it when we popped in during the evening and the kids were able to watch a few minutes of  "The Parent Trap" before it was time to head to dinner.
Dining at the Langham Chicago with Kids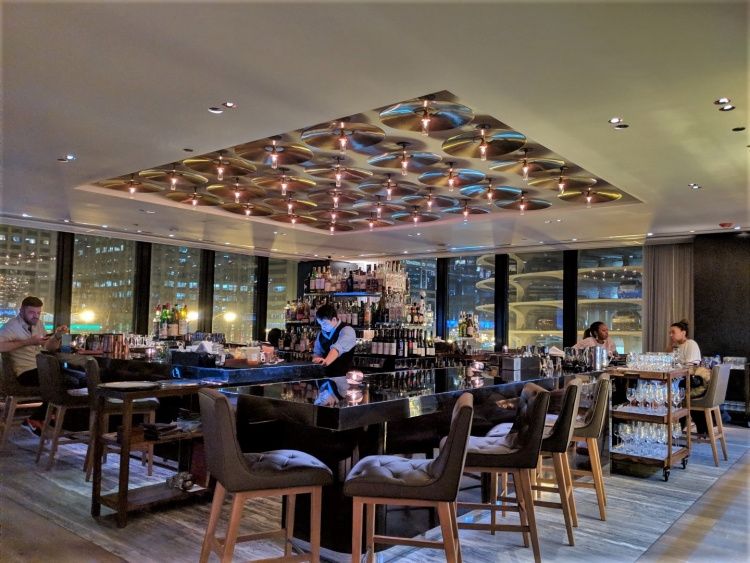 If you don't want to step outside, the Langham Chicago offers a few options when it comes to dining. You could always order room service, pop into the Club Lounge for complimentary bites and drinks (if you are staying on the Club Level or upgraded to Club Lounge access), enjoy the famous Langham Afternoon Tea service (there's an Alice in Wonderland themed on going at the moment but sadly we didn't have time to pop by and experience it) or you could enjoy dining at Travelle. Just as with the rest of the hotel, Travelle is welcoming and well designed. Travelle features interiors created by renowned designer David Rockwell, showcasing the pure lines of Mies van der Rohe's modern architecture. The wood and metal finishes pay tribute to the architect's industrial-age aesthetic, while a central digital art installation and floor-to-ceiling windows convey a contemporary elegance. There is a bar area when you can enjoy some craft cocktails at or you could dine near the glass enclosed kitchen so you can watch the chefs work their magic. I ordered a cocktail and Chris enjoyed a couple craft brews as we nibbled our way through the following dishes.
We opted to dine in the main area because it was getting late and the booth would be helpful WHEN Baby Boy passed out mid meal. We know our kids! Luckily for us (and him) he was able to enjoy a few Oysters, the Octopus Little Monkey ordered (seriously, my favourite dish of the night) and the mini sliders (these sliders were off the kids menu which also had pasta, chicken fingers, PB & J sandwiches and… ). Travelle loves kids, that's for sure. Not only did the kids get plastic cups with lids but they also received activity books with crayons and pencils.
Our server was attentive and we spotted a couple other families dining at the same time as we did and those parents had smiles on their faces too!
Why We Love the Langham Properties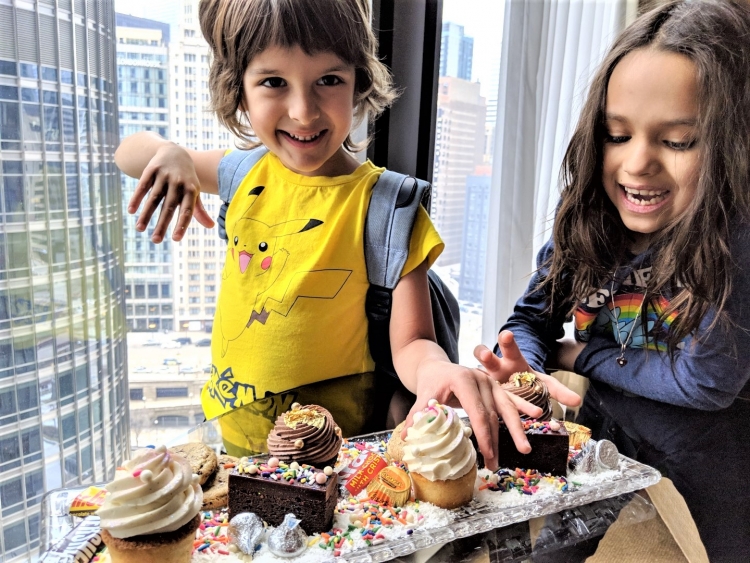 As I mentioned previously, this wasn't our first stay at a Langham property and the reason we enjoy every Langham stay is because of the people who work there. There's attention to detail, a genuine interest in engaging with guests and an eagerness to assist.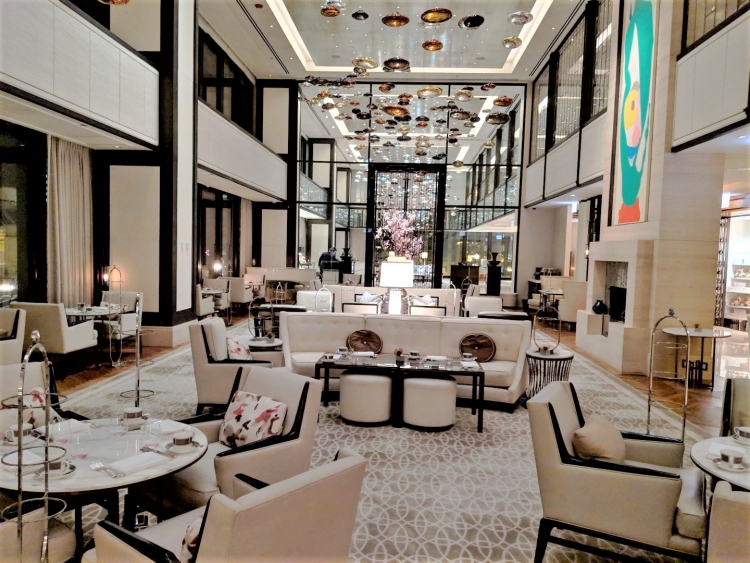 Of course, the stunning and modern aesthetic touches are things I enjoy when staying at a hotel but the reason we go back to Langham is because of the surprise and delights that happen. Our room has always had a treat waiting for us (and friends of ours who have stayed at a Langham say the same!) and on this occasion, they went over and beyond. The kids each received a signature teddy bear and backpack (which they received in Boston as well) but on this trip, they each received personalized bathrobes that will be treasured for years to come. Such a thoughtful gesture!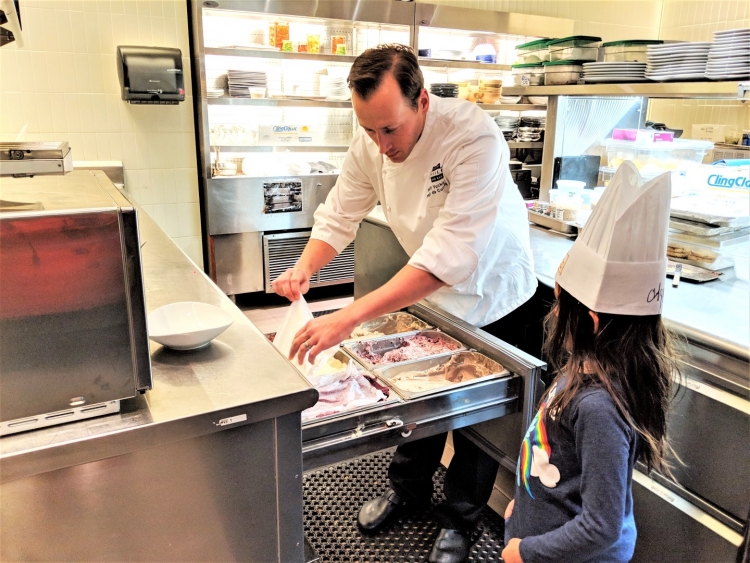 Another surprise was Little Monkey being invited to join Chef de Cuisine, Jeff Vucko, in his kitchen so she could make her own Sundae. Baby Boy was asleep and refused to join us but Little Monkey had the biggest smile on her face despite being so full that she couldn't finish her treat. I know this doesn't happen often and we totally lucked out because we were on a press trip on this occasion but honestly you guys, things like this happen on a regular basis when you stay at a Langham hotel. Trust me!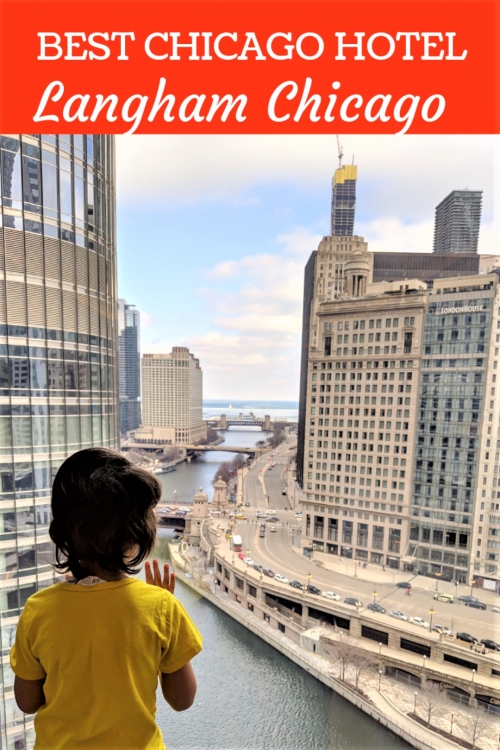 If you're visiting Chicago with young kids and looking for a luxurious stay in Chicago, the Langham Chicago should definitely be on your list of places to stay in Chicago with kids.