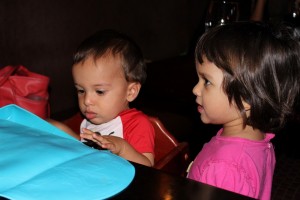 During our recent travels exploring Ontario, we spent a few nights in Burlington and obviously we had to check out the thriving food scene. We only had one night so we had to choose our dinner spot wisely and ended up at Rude Native with Baby Boy and Little Monkey. Location was key as we had a busy day exploring the Heart of Ontario and was thrilled when we discovered that Rude Native was just down the street from our hotel near the waterfront. The vibe here is definitely bar meets lounge and so we were a bit anxious when we walked in on a Saturday night, but were soon at ease.
The place wasn't busy around 6:30 and we had our choice of tables, ending up with a semi booth setup where Little Monkey could sit easily and Baby Boy had a spot for his high chair. Yes high chairs are available! Not only that, they brought out plastic cups for the little ones. At a lounge no less! Given that they call themselves a bistro and lounge I was shocked that there was no cocktail menu and didn't dare place an order off the top of my head. The hubs and I shared a bottle of wine instead and it definitely was a smart choice because our Malbec paired beautifully with the dishes we ordered.
This was a fairly uneventful meal as far as dining out with a baby and toddler. Both of them were on their best behaviour and we had a leisurely meal. We started off with Grilled Calamari which was quite delicious and well prepared. The Chicken Ja Dao was by far my favourite. These wings were crunchy on the outside, huge and had a lovely soy and ginger dressing. Baby Boy and Little Monkey devoured these and I was very close to ordering a second batch.
For our mains the hubs got the Tandoori Butter Chicken and I got the Curried Goat. I was expecting a strong Tandoori kick and a Carribean Jerk flavour but the curries were quite mild which was a good thing I suppose, because Baby Boy enjoyed the meat off our plates and Little Monkey ate the rice and slaw that accompanied the dish. In true fashion the hubs preferred my dish and I his. Go figure! That said, I think I'd explore the appetizer section a bit more if we ever get around to visiting again. Nearly all the appys sounded really delicious and we were truly pleased with both the ones we ordered.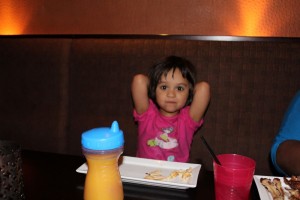 Can you believe we didn't get any dessert? Yup! None. My plan was to walk along the boardwalk with an ice cream in hand, but that totally didn't happen. Instead Little Monkey thew rocks into the water and we leisurely walked back to our hotel as the sun set.