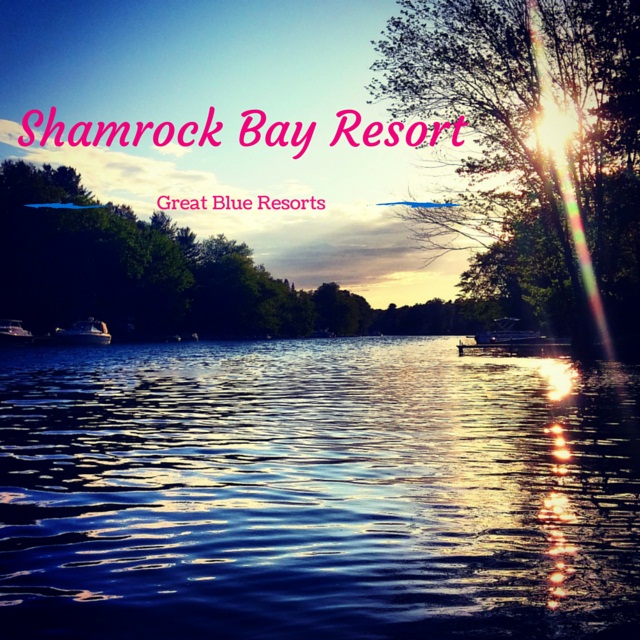 Couple weeks ago we spent one fun and relaxing weekend at Shamrock Bay Resort in Muskoka. This was my first true cottage experience and I'm definitely ready for more! Nestled on the Trent Severn Waterway, Shamrock Bay Resort is about 90 minutes away from downtown Toronto and is part of Great Blue Resort's portfolio of family friendly resorts. The four of us were joined by one of my elementary friends (yes I'm still in touch with some!!) who brought along her husband and her two year old, so the kids had plenty of company, as did we!
I think the secret to a good cottage experience is having the right type of people along and having comfortable accommodations! I'm not one who rough and toughs it so I was a bit anxious going into this! Great Blue Resorts promise their guests a fun, carefree, affordable family friendly vacation at great locations and they definitely deliver on that front.
Disclosure : We received a complimentary stay, but as always, opinions are totally mine! 
We rolled up in our 2015 Ford Mustang on Friday and unpacked ourselves into the three-bedroom cottage at Shamrock Bay Resort. The cottage came equipped with a full kitchen and open concept living room which was where we hung out when it rained for a bit during our long weekend visit. For the most part we hung out on the fabulous cottage patio and once the kids went to bed, we even snuck out to the front of the cottage where there was a firepit for us to enjoy some drinks and s'mores by!

Each cottage is slightly different as these are owned by individuals who rent them out when they're not using the cottage themselves. So yes, you too can own one of these if you wish to do so ( I was told they start at $60K)! During our visit we saw a couple new cottages being rolled in (they're cottages in a box essentially) for new families to purchase and enjoy . Our cottage had a large queen bed in addition to two double bunks in each of the other two rooms, so we had plenty of space for a family of 4 adults and 3 kids. Space is fairly tight in the rooms so fitting a crib in there is near impossible! The staff on site were extremely helpful when we forgot to bring Baby Boy's crib (you are supposed to bring your own linens, towels and food) and ran around town to get us one. Which they then made fit in our room by removing the master room cupboard doors. Talk about service!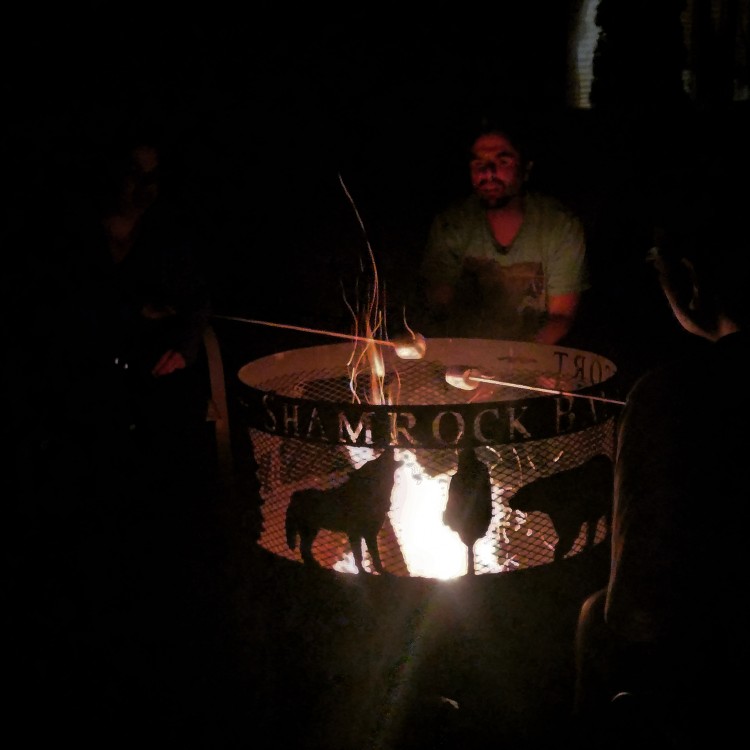 I enjoyed having the guys grill our nightly meals and my friend cleaning up after me…don't worry, I did help with dishes and made breakfast one day too! The cottage itself was great for our weekend stay but what sets Great Blue Resorts apart from a regular cottage rental, are the many activities and programs on offer for their cottage owners and renters. From the moment we stepped into the welcome centre, we were greeted by the loveliest folks (who work there) who were genuinely having fun themselves! During the day time you can drop your kids off at the Kids Club (we missed the 10 a.m drop off and kept the kids with us as there was SO much to do-such as a wagon ride with Sally the Skunk!) and enjoy some quiet time by the water. We stopped by to colour some Camp Ooch colouring sheets whilst the dads played chess and then we had ice cream by the welcome centre patio to round off our afternoon. In the evenings we had more options, such as joining in the Pirate Pizza party (special occasion parties) where kids played games, got tattoos and prizes (all this was free!). We also caught the sunset one night, right on the beach. The beach at Shamrock Bay Resort is on the tiny side but it is perfect for a quick waddle with little ones as it has a very shallow entry. Don't expect a white sandy beach but there were two lounge chairs to relax on. Our cottage was less than a three minute walk from the water but I did spot a couple cottages right on the water.  I'd recommend Shamrock Bay for those looking for a well rounded resort experience but not for a beachy getaway. These guys offer plenty of fun to keep the little ones busy and get them tired in time for an early bedtime!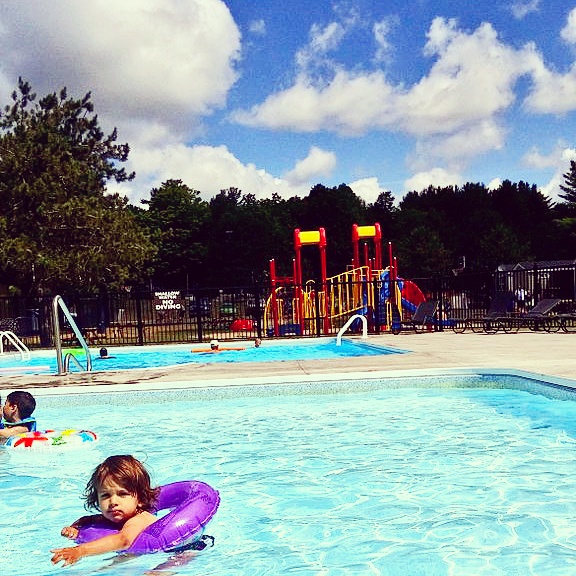 There are two  pools which my kids loved and a playground where we saw many parents allowing the kids to burn energy off at, whilst they sipped on a glass of wine or pint of beer. This was most definitely a very relaxing trip for us as it allowed us to enjoy the outdoors, hop back in to escape the heat or rain and then step back out. There was no shortage of fun and if anything, our three night stay was too short, as we didn't get a chance to use any of the boating equipment or water gear on offer (again, free)!!
One thing I wished Shamrock Bay Resort had, is a small convenience store with staples and maybe a small restaurant for when we were lazy to cook ourselves. That said there is a small shop just down the road (where the hubs went to grab some milk and a toothbrush!) and the town of Gravenhurt is only twenty minutes away (where I did a full shopping spree to stock up on groceries at Sobeys).We also hit up the Steam Ships and a Pirate festival, but more on that next week! As with any cottage trip, be sure to pack bug spray (we only needed it at dusk) and all your toiletries, linens and towels. I actually over packed for this trip as our particular cottage came with kitchen towels and pillows!!
If you and your family are looking for a resort cottage experience, I highly recommend taking a look at the Great Blue Resort properties (they have quite a few!!) and I hope to be able to explore more of their spots over the next years. As the hubs and my friends reminded me on quite a few occasions, a cottage isn't a hotel (sshh don't tell Little Monkey that!) and as far as a cottage goes, the guys at Great Blue Resorts know what they're doing as these were much nicer than any cottage the hubs has been to (and he's been to quite a few!). As you saw, Little Monkey has already requested that we return, before we even left Shamrock Bay Resort (or 'hotel' as she calls it)!