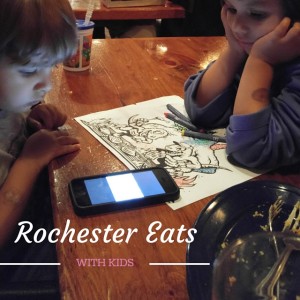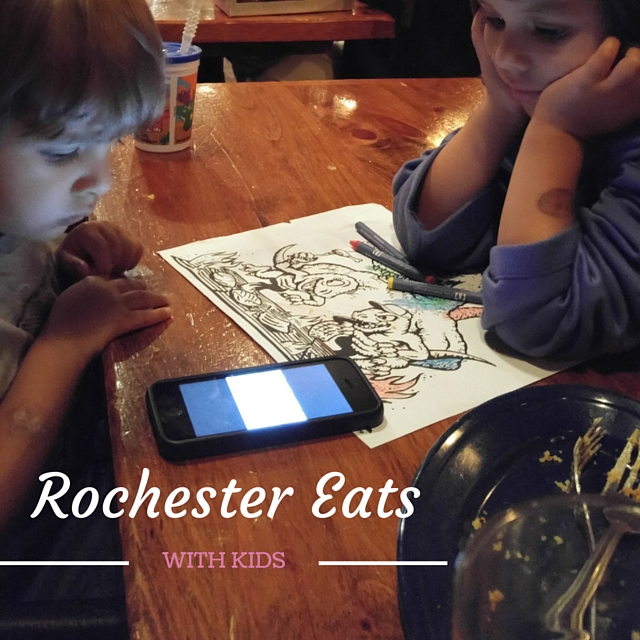 This past weekend we spent four glorious fall days (with summer like temperatures) in Upstate New York. This trip was focused on fall activities with little ones and unlike most of our other travels, I did not have a food agenda in place. I figured we'd dine at some local spots that came across our paths and that we'd be satisfied. However, what happened was that we stumbled upon (quite by chance!) some food traditions that are very unique to this region. So today we're sharing some of the unusual and surprisingly delicious eats and traditions we came across in Rochester, New York.
Trash Plates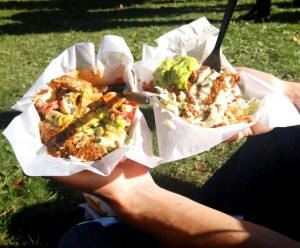 We were up in Bristol Mountain for their Fall Festival and starving when we spotted a food truck serving "Healthy Trash Plates". Needless to say that caught our attention and we ordered two plates, not really knowing what we were getting ourselves into. What was served up was absolutely delicious AND HEALTHY! I later did some research and learned that Garbage Plates were the original form of this dish. Nick Tahou Hots, a local area restaurant served this back in 1918 and it's still around today! A Garbage Plate is a combination of two selections of cheeseburger, hamburger, hot dogs, Italian sausage, chicken tender, fish, fried ham, grilled cheese, or eggs; and two sides of either home fries, French fries, baked beans, or macaroni salad. On top of that are the options of mustard and onions, and Nick's proprietary hot sauce with simmered ground beef. The dish is served with Italian bread and butter on the side. I'd be up for that challenge but the hubs MUCH preferred the healthy version we had from the Effortlessly Healthy Meals food truck which had the options of chicken, steak or burger on top of baked sweet potato fries served with coleslaw, avocado and meat chili. It was extremely filling and we actually felt good about what we put in our mouths!  Do yourself a favour and get a trash (or garbage!) plate when you're in Rochester!
Pretzel Necklaces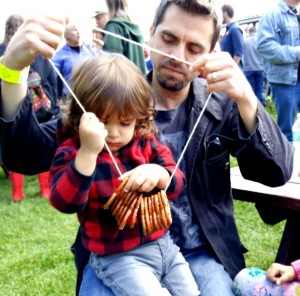 We swung by a local craft beer festival in Honeoye Falls and while the beer was plentiful and a great spread of IPAs was on offer for the hubs, it was these pretzel necklaces that caught Little Monkey's attention. I walked around and saw no vendors selling them, much to my dismay. I finally decided to ask an older lady where she got hers from and she told me that she brought it from home and gave me hers! How nice was that? I was a bit hesitant to offer the pretzels to the kids (stranger danger and all that) but the hubs and I figured an old lady was probably harmless and that Baby Boy must have eaten worse germs from the mud pile he was sleeping on. I later chatted to a few more locals and learned that because beer pairs well with pretzels, most beer festival attendees in New York wear these homemade necklaces! I saw some hip belts and bracelets as well. I'm totally bringing this tradition to the next Toronto area beer festival we attend!
Dinosaur Bar-B-Que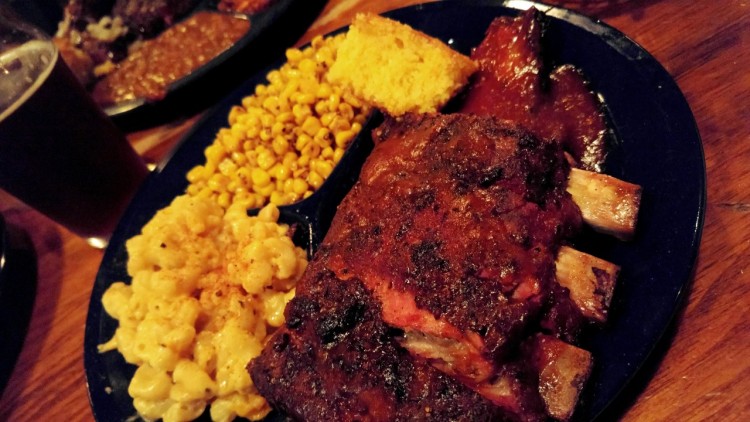 Over the years many friends have told me about this BBQ spot and their bottles of BBQ sauce have graced our kitchen on quite a few occasions. However, I totally forgot about this spot until we realized that the joint we were originally going to dine at on our very first night in Upstate New York was closed. I blame our delay on the Blue Jays game, but they did win and the hubs was in great spirits so I wasn't complaining as he was the one driving. We rolled in and was told there would be a fifteen minute wait and so we sat in the waiting area and explored the menu. Dinosaur is very kid friendly with high chairs, boosters, change tables and plastic cups with lids. It was great for the messy poop diaper change I had to do! The vibe and craft beer list are both fantastic here! There was a live band on Friday night and many families were in attendance dining alongside the biker crews. The BBQ dishes are fantastic and you can't go wrong with the combination platters here! This is an iconic restaurant in Rochester that is well loved by tourists and locals alike.
Pittsford Dairy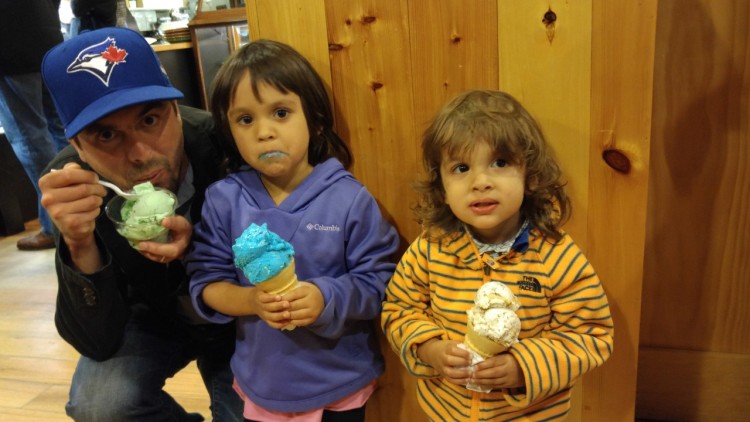 When we checked into the Del Monte Renaissance Hotel our concierge informed me that I simply MUST take the kids across the street for some ice cream.  I decided to trust this stranger and after dinner we popped by for some ice cream. Yes it was nearly 9 p.m. and yes I gave them each a kiddie cone. Call me crazy! Pittsford Dairy is a family run joint that serves delicious milk and milky treats. I hear their eggnog is mind blowing! With over 30 flavours of ice cream to choose from it was a tough decision and once I saw that Little Monkey's kiddy cone came with three scoops I decided that Baby Boy would share a Coconut Macaroon one with me! Smart plan indeed! The ice cream was one of the creamiest I've had and their unique flavours will have you coming back for more. This is also a great spot to grab some baked treats and goodies for those back home!
Okay now seriously, tell me… would you have a Garbage Plate?