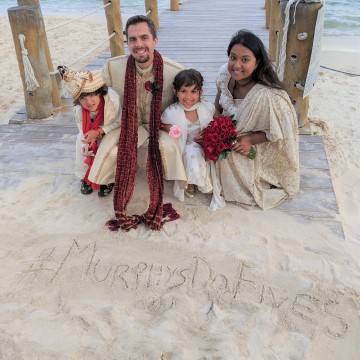 We did it! After much debate, we finally made the decision to spend a week in Mexico for our 10th wedding anniversary vow renewals at The Fives Beach Hotel & Residences (formerly known as Azul Fives ) with Air Transat. Last week I shared with you all the things we did to prepare for our vow renewal and this week I'm going tell you about how everything came together and some tips to help you plan your own vow renewals.
Disclosure : We partnered with Air Transat for our trip but, as always, opinions are TOTALLY ours!
Choosing a Vow Renewal Location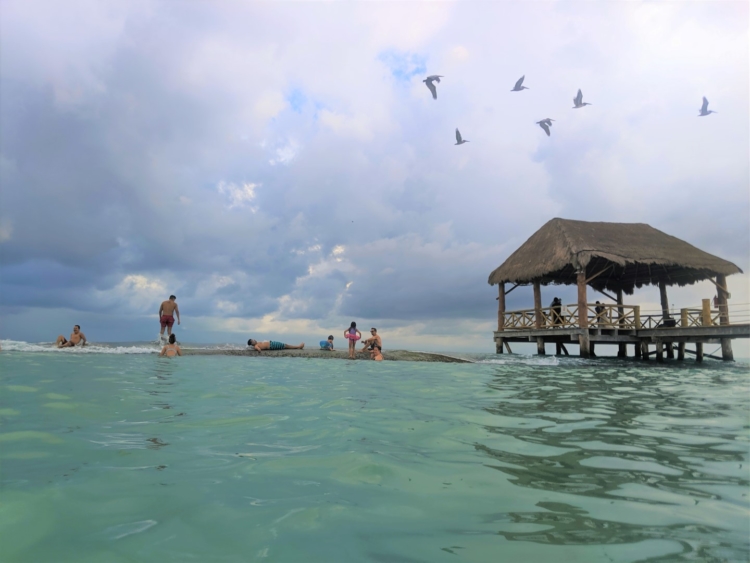 Once we decided that an all-inclusive vow renewal was what we wanted, I knew that it had to be at The Fives Beach Hotel & Residences because we had seen so many amazing weddings celebrated there during our 2016 visit. I wanted a space that would enable friends and family to join us and many of them booked a package with Air Transat so that their flight and all inclusive hotel stay were all booked in one place. Some did book separately but I will tell you that those who booked it via the Air Transat website were able to secure free airport pick up and drop off and had full access to the Air Transat rep on site who helped book excursions and answer questions we all had. I will share more about the resort in the next few weeks but I just want to mention that for us, finding a venue that catered to the adults and the kids, was as important as having a beautiful backdrop for our photos. What I didn't realized was that we also needed a venue with a stellar wedding team because I wanted to be hands-off in the planning and just turn up. Luckily for me, when I turned up, the wedding team at The Fives Beach Hotel and Residences, had done a fabulous job and even had a few surprises in store for us. Tulio (the groups and weddings director) and his team were absolutely fantastic so that I didn't have to worry about much.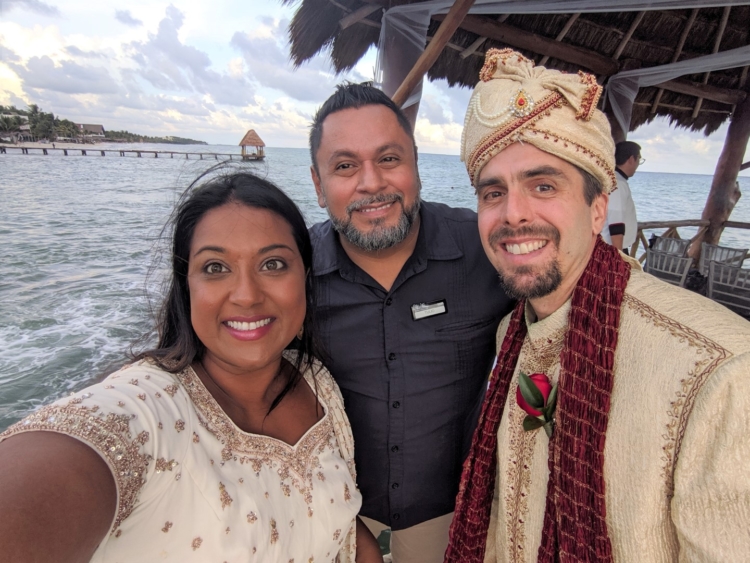 We only booked our trip two months ahead of departure and I had my first phone call with Tulio three weeks ahead of our vow renewal. On the phone he informed me that we'd be having the Sea Pier venue and that it would take place on November 4th 2019 at 5 p.m. He asked me if I had any requests and what colours our flowers should be. That was pretty much the planning I did before arriving at the resort.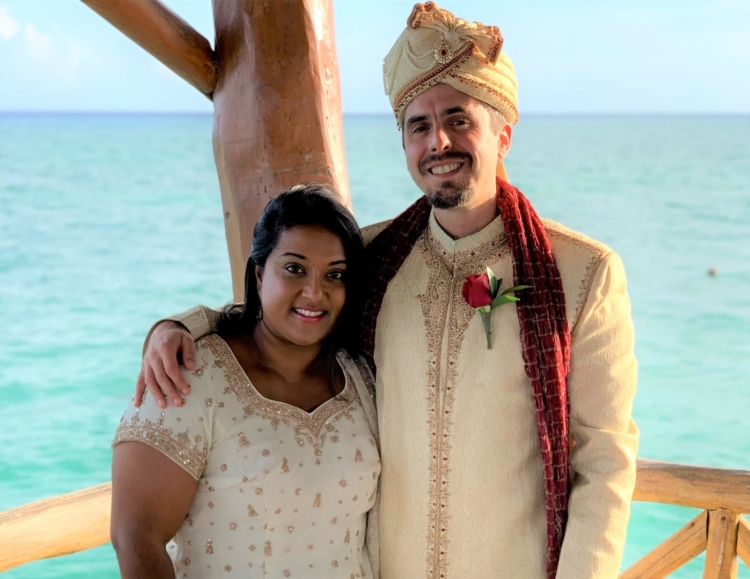 The minute I arrived at The Fives Beach Hotel & Residences, I met with Tulio and he shared more details with us, including the dinner options for our group of 15 and asked us about our song requests. There are quite a few vow renewal packages on offer and you can upgrade your experiences depending on your budget. We kept it fairly simple with an upgraded ceremony venue and a private dinner but could have added in more elevated experiences, had we wanted to. I was informed that while many pre-book their vow renewal packages, quite a few decide on an impromptu ceremony once they land (and see the amazing 11 venues on offer at the resort). Cost wise, a basic package is USD400 which comes with flowers, a minister and a basic sound system. Upgrading to a venue like the sea pier is an additional $400.
What to Wear for a Vow Renewal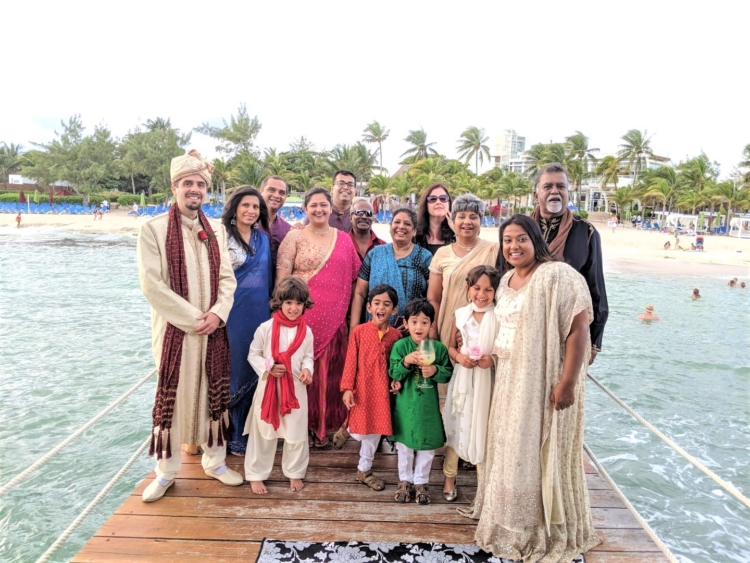 Vow renewal attire can be as simple or as extravagant as you want it to be. In our case, we wanted an excuse to wear our original wedding attire and since I only fitted into my Mehndi outfits, we decided to theme it around that. My aunt in Pakistan sent matching Desi outfits for the kids and we told our guests that they could either wear South Asian clothing or whatever they wanted. That's exactly what our friends did and doing a photo shoot post ceremony was super fun!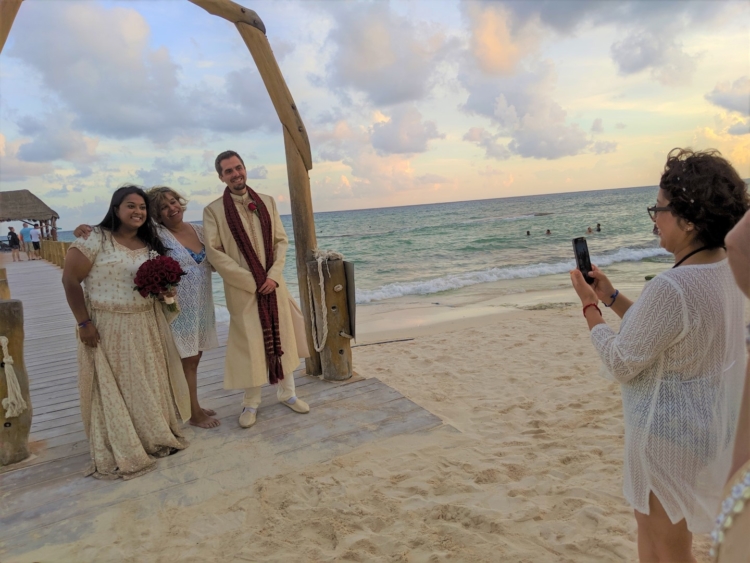 Chris and I were also randomly stopped by a stranger who wanted to take pictures with us (hah!) and I'm quite certain it was the attire that caught her eye.
No matter what you decide to wear for your vow renewal, it'll be perfect. Coordinating family outfits is a cute idea and if you're planning to have the kids involved in the vow renewal ceremony, it'll be a nice touch.
Getting Ready for a Vow Renewal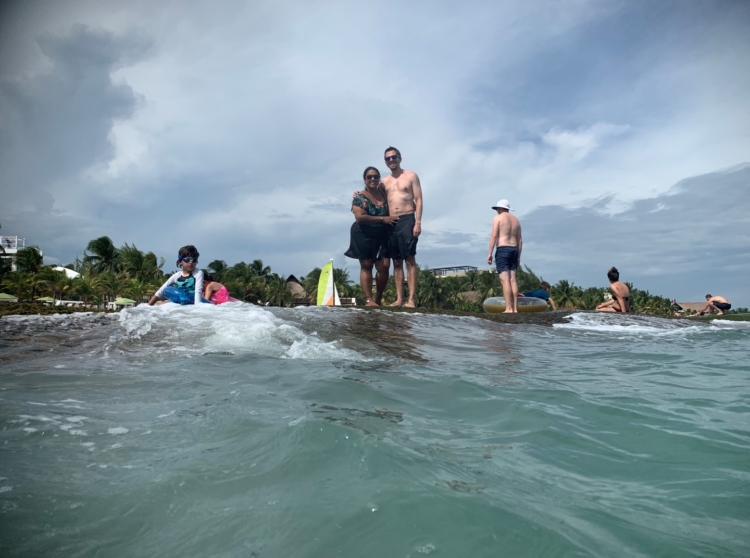 The beauty of staying and celebrating at The Fives Beach Hotel & Residences was that we were able to enjoy a sleep-in, a leisurely breakfast and even some beach time with our friends. These were things I thought about when we opted for an all-inclusive vow renewal because I wanted it to be stress-free (unlike our wedding).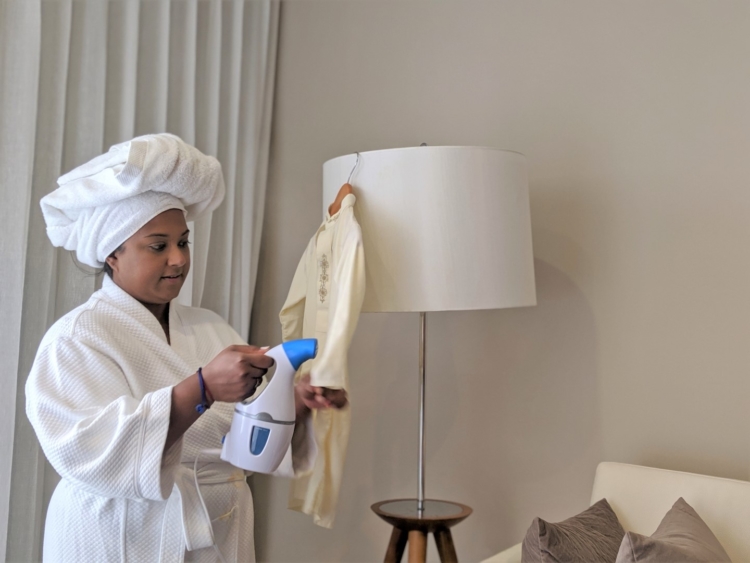 I went back to our room around 3 p.m. to ensure that we were all showered and dressed but of course, ended up having to do some last minute tasks like steaming Baby Boy's outfit. I was travelling with our Conair CompleteSteam Travel Fabric Steamer and it enabled us to avoid having to iron our clothes or send them to the on-site laundry. Each outfit required a refilling the water tank but it's very easy to do that and the Conair travel steamer is a powerful unit so I only needed to spend 3 to 5 minutes steaming our outfits.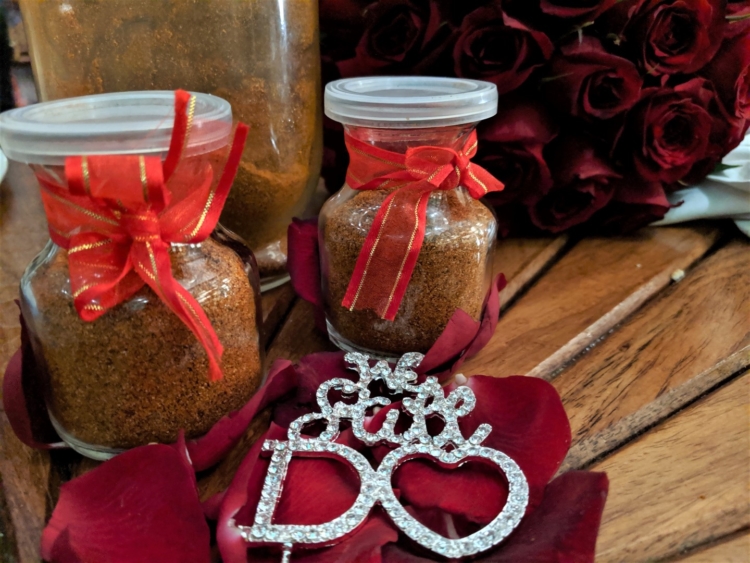 Just like our wedding, we needed all hands on deck during the last few minutes as I had forgotten to ribbon the little dollar store jars I had purchased for our spice ceremony.
As I was getting dressed Tulio also came by with a bouquet of red roses for me (to which I added the "We Still Do" crystal décor I had purchased on Ali Express) and a boutonniere for Chris.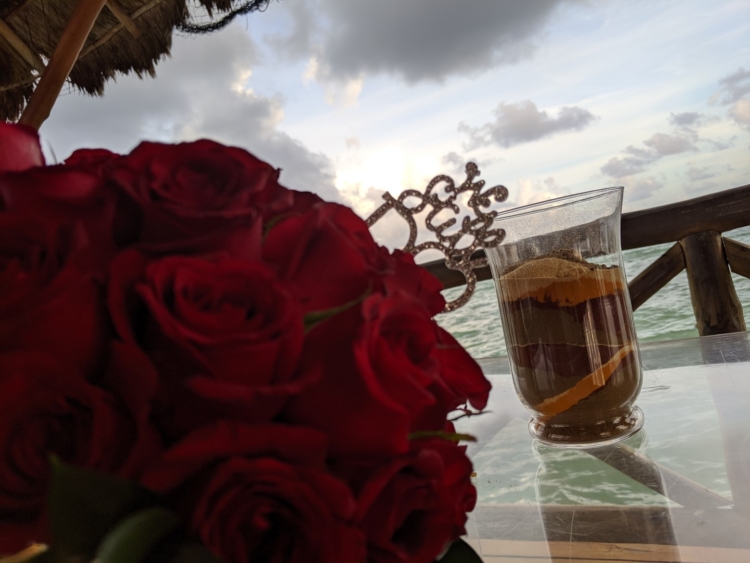 In hindsight, I should have had my hair professionally done because it was the one thing that I ran out of time for but luckily the sea breeze ensured that I had the wind swept look I was after.
Tulio had also arranged for a personal golf cart so that my parents and kids were transported from Villa 16 to the beach without breaking a sweat.
Vow Renewal Ceremony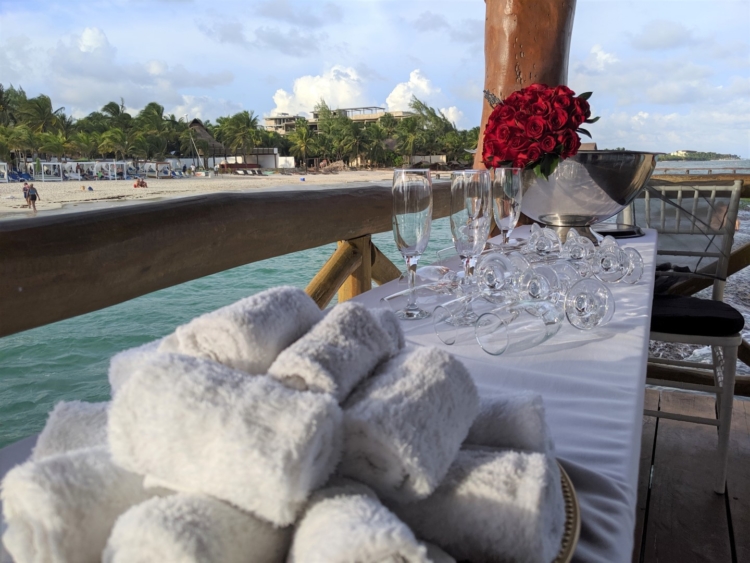 I honestly wasn't expecting much when it came to our vow renewal but what unfolded was perfect. On arrival guests were handed a cocktail or mocktail and we all took some pre-ceremony pictures as we arrived a bit early for our 5 p.m. ceremony. Since we had young kids, I wanted the ceremony to be short and sweet. We had the kids walk down the pier ahead of us and our guests were already in the cabana when the instrumental cover of "A whole new world" was playing (this was a version my brother and his friend created for us when we got married i 2009 and the song I walked down the aisle to in Sri Lanka and Cape Breton). As it was a windy day, the guests were given rose petals (instead of it being placed on the path we were walking) which they tossed as the four of us walked in towards the front.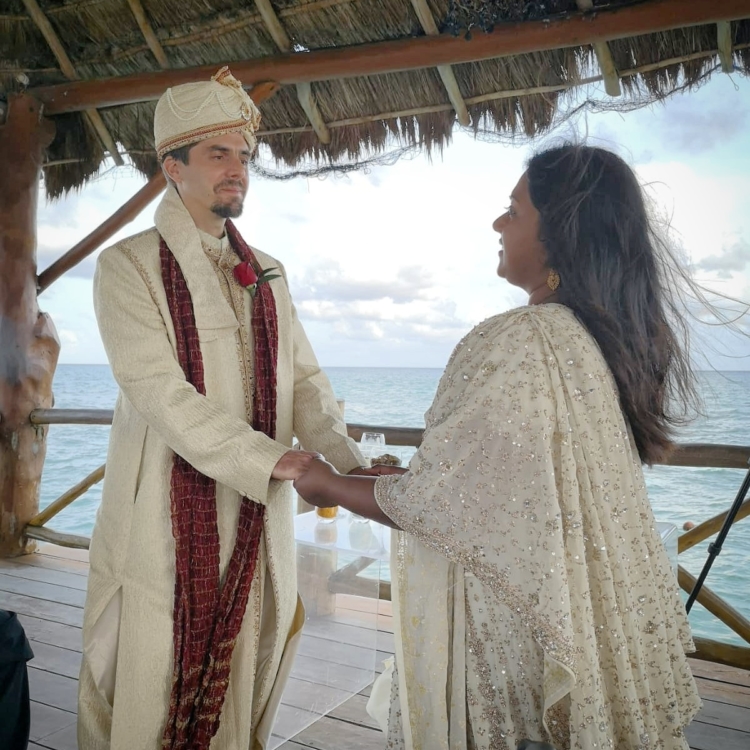 We had a minister (Alberto) who took the lead and offered an opening welcome before letting Chris and I say our vows. Baby Boy was perfect as he stood by Chris but Little Monkey was in quite the mood and decided to go off to a corner until I bribed her with desserts towards the end of the ceremony. They weren't part of our wedding so I thought they'd want to be included this time, but apparently she thought it was all boring (hah!).
Chris decided to wing his vows and I opted to recycle my original vows with a few simple updates to incorporate the kids and the new direction our lives were heading in. Despite the chuckles and light hearted jokes in my vows, I'm quite certain I spotted a few teary eyes, so mission accomplished, right?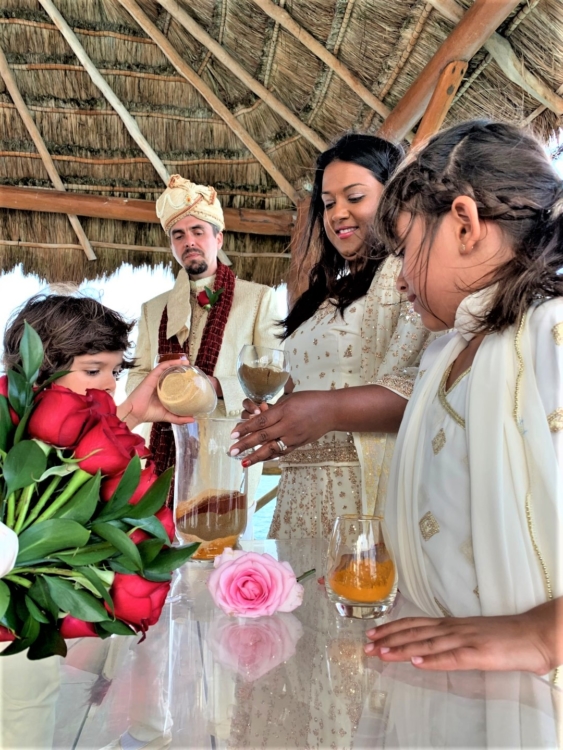 Instead of exchanging rings (we love our original rings and didn't want to "upgrade" them) I thought we could do a spice ceremony much to Chris' confusion. I brought a vase with me, along with 4 spices (Chilli, Cumin, Garlic and Turmeric) and took 4 glasses from the resort to place them in. The four of us then took turns to layer the spices and not only did it make for some pretty pictures, but I also liked how it represented that our marriage has added layers now. In addition, guests could now take home a spice mix as a vow renewal favour. During this part of the ceremony and the signing of the certificate (the resort provides this symbolic certificate) we chose an instrumental version of "Over the rainbow" by Isreal Kamakawiwo'ole which was also a song we played during our wedding ten years ago.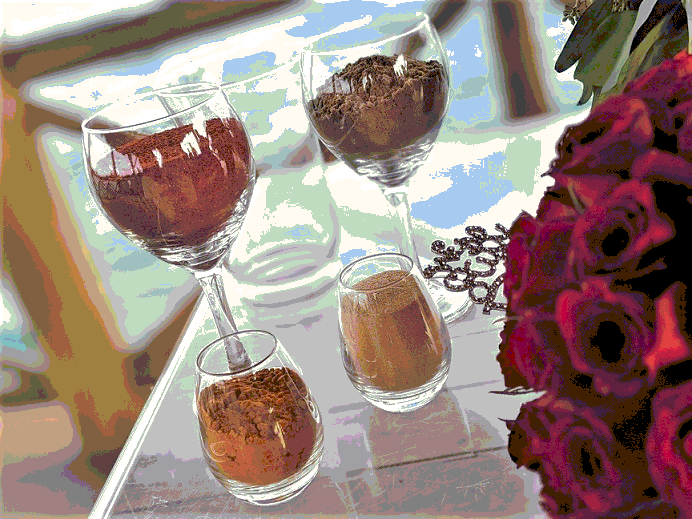 Once that was done, Alberto had a few more words to share about the importance of family and well wishes for our future and then the four of us walked back out to "Everything is Awesome". Chris wanted a fun song for the kids and that was the reason for that song choice.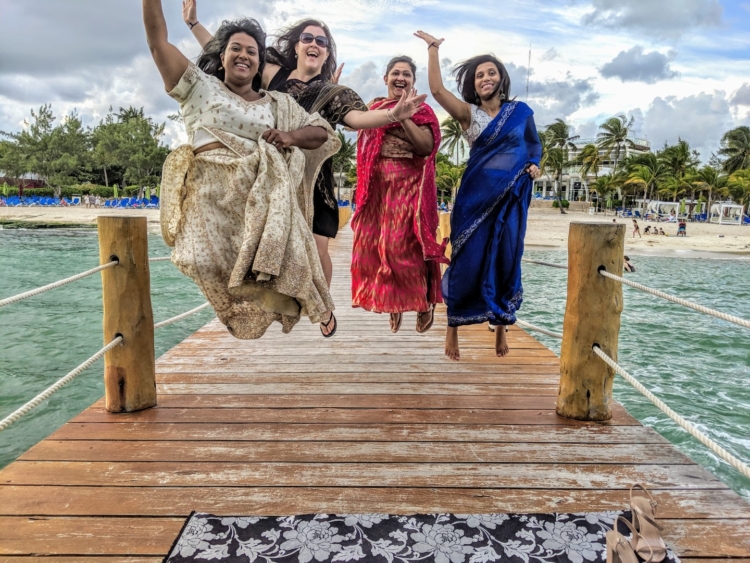 We then enjoyed some bubbly and took some fun photos on the pier, the beach and by the pool as we made our way to the golf carts that would bring us to dinner. The ceremony started at 5 p.m. and our dinner was at 6 p.m so I'm quite certain that we spent 5:30 to 6:00 p.m. hamming it up for the cameras. I was grateful that a friend of ours brought his DSLR and took a bunch of photos for me (and I had set up a tripod to film the ceremony) but having a professional photographer would have enabled us to capture some of the smaller details like the way the chairs were dressed up or of our friends and family tossing rose petals our way.
Vow Renewal Celebrations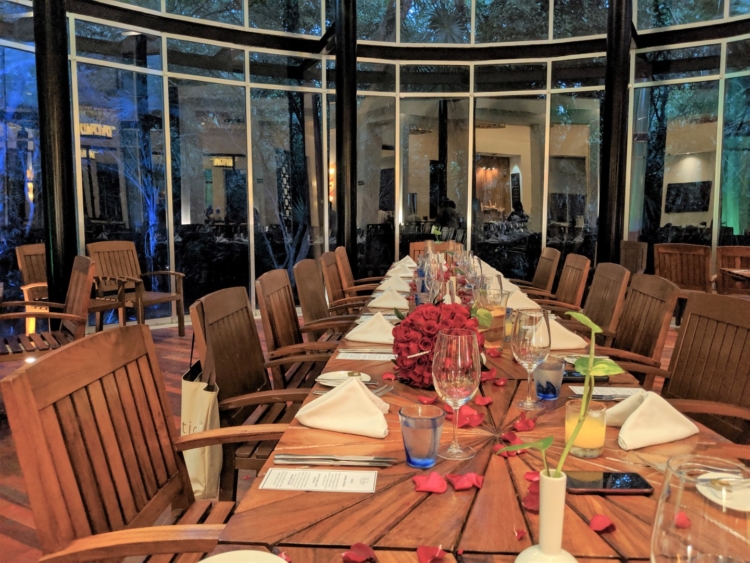 As part of our vow renewal package we were also provided with a private dinner at Flavours. We had our own section and a sit down meal along with full access to the buffet on site as well. On a whim we decided to feed the 4 kids from the buffet and dropped them off to the kids club so we could enjoy a peaceful 3 course meal and that was a great decision.
The kids watched a movie until 8:45 p.m. and the adults had a few cocktails, tequila shots and hatched plans to put the kids to sleep before heading to the beach after changing into comfier outfits. Below is what we adults got up to on the beach without any kids to bug us!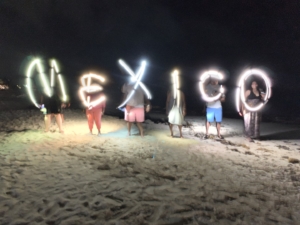 Vow Renewal Tips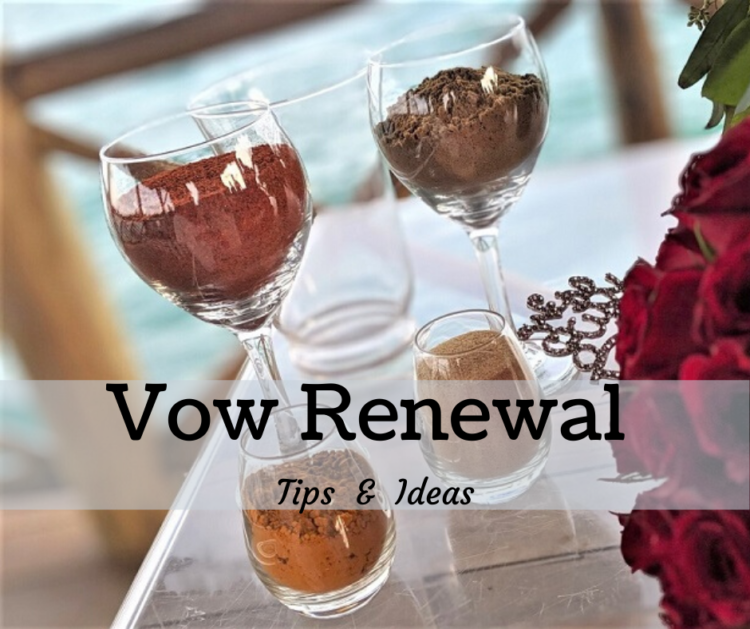 I wasn't sure if doing a vow renewal was a silly idea and truth be told, even when I was standing at the ceremony, I did feel a bit silly. I mean, there were people in the audience who had been together for 40+ years! However, I'm glad we did it because it was not only a good excuse to gather friends and family together, but it reinforces my need to celebrate all things. In South Asian cultures wedding anniversaries are a family affair but I noticed that it isn't always the case in North America where it's only the couple that tends to celebrate together. If you're looking to plan a vow renewal, here are some tips.
Don't put any pressure on others (or yourself) – I simply posted on Facebook stating that we were going away to celebrate and that everyone was welcomed to join us. I also shared approximate costs, the name of the resort and that this was a family friendly affair. Those who wanted to join reached out and bookings were made. If I wanted something formal I would have sent out personal invites or maybe hand written cards but I was going for a casual approach and didn't want to fuss about how many people we'd have.
Choose a theme – Between our outfits and the spices, we definitely had a South Asian theme at play. I had also chosen a colour theme of red and golden beige so that our immediate family pictures would be coordinate.
Plan a photo shoot – with a backdrop like The Fives Beach Hotel, we couldn't help but do a photoshoot. I had snooped on Instagram and knew a few spots I wanted to take pictures at so I was ready when the time came. Hiring one of the on-site photographers would have also been a great idea.
Trust your wedding specialist – I fully trusted The Fives Beach Hotel wedding team since I wasn't planning anything intricate. Once I told them what I wanted, they ran with it and set everything up for us, including the speakers and mics. They even downloaded the songs we sent to them the night before the ceremony!
I hope you've enjoyed this peek into our vow renewal at The Fives Beach Hotel & Residences with Air Transat! If you have any questions as you plan your own vow renewal, reach out and I'd be happy to answer them.