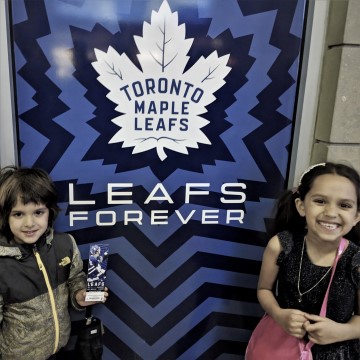 We recently had the chance to take Little Monkey and Baby Boy to their first Toronto Maple Leafs game thanks to an social media contest hosted by Mastercard (yup my primary credit card which enables me to earn Air Miles!). My first Toronto Maple Leafs game was on March 12 2011 and as you can imagine, while Chris grew up playing hockey, I did not. I landed in Canada in 2005 and 6 years later I was at my first Leafs game and had NO idea what was going on but it was a fast paced game with Toronto winning. That was Chris' second Leafs game so I think his enthusiasm rubbed off on me. Fast forward eight years and 5 year old Baby Boy has been asking to attend a game, which is why I had been trying to enter the contests. I've said this in the past and I'll say it again, entering contests can be fruitful! We've experienced the Blue Jays games with kids, took them to a TFC game last summer and have taken our babies to the Raptors game so winning tickets for a suite experience was exciting! Chris was very eager to experience a Leafs game with Baby Boy because Chris' first Leafs game was as a child visiting Toronto from Cape Breton and he has cherished memories of that game.
Disclosure : We won tickets from a Mastercard contest but, as always, opinions are TOTALLY ours!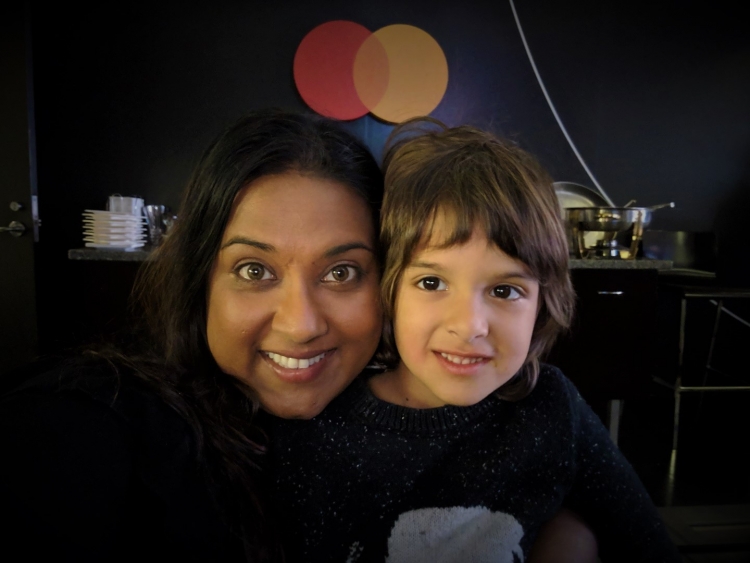 We were lucky to enjoy the game from the Mastercard Suite at the Scotiabank Arena in downtown Toronto. We've seen the Blue Jays, the Raptors and Toronto FC from a suite so this was the perfect chance to check a bucket list item off Baby Boy's list. He's a sports fan and such a curious fella who is constantly asking us to take him places. The game started at 7 p.m. but luckily our kids are pretty good at staying up late so they weren't too bad during the game (which went into overtime). Little Monkey, much like me, attends games for food and fanfare which is why I was surprised that she was the one who actually sat and watched the entire game! Baby Boy enjoyed the suite amenities like popcorn, apple juice, ice cream and chilling in the lounge area with his toys. That said, he kept checking in on the score and was super disappointed when the Leafs lost that evening. We may have enjoyed the game from a suite but we picked up a few tips that you may want to keep in mind if you're bringing a baby or young kid to a Toronto Leafs game.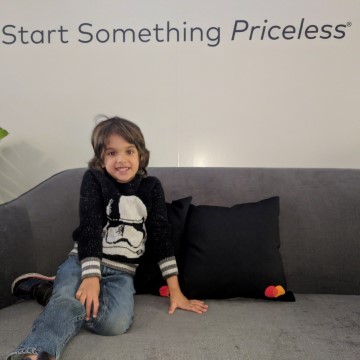 Things to Keep in Mind When Taking Young Kids and Babies to a Toronto Maple Leafs Game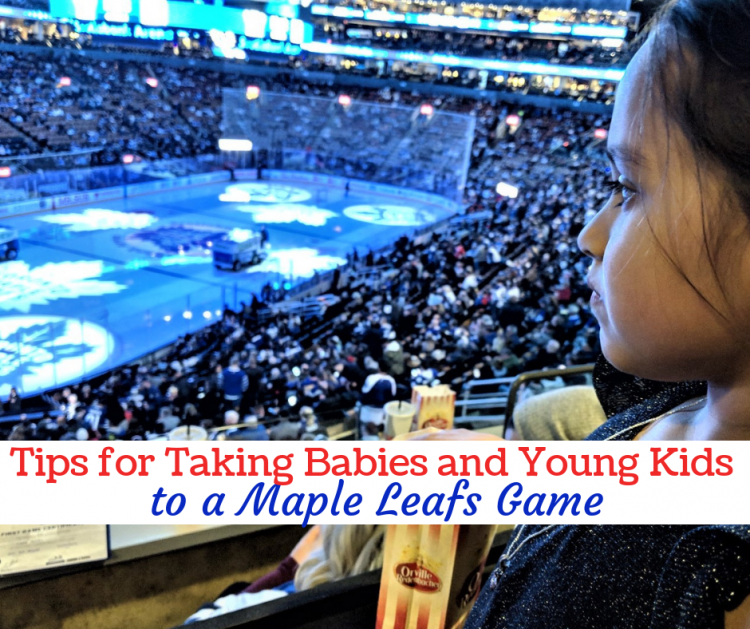 Children 24 months and under may enter without a ticket

but must sit on the lap of an accompanying adult. All children over 24 months MUST have a valid ticket
The Scotiabank Arena bag policy allows soft-sided bags, purses and briefcases

smaller than 14" X 14" X 6"

into the building. Permitted bags should be able to fit completely under the arena seats and all bags will be searched

Outside food and drink isn't allowed

into the arena but are exemptions for those with allergies. There are plenty of concession stands to buy treats galore!
The Fan Zone is an

interactive basketball and hockey station

that kids will love if you happen to arrive at the game early. It opens approximately 1.5 hours prior the games and closes at the start of the game.

First Aid Kits

can be found at Fan Services Desks (Gate 1, and 300 Level outside section 301) and at all fixed concession stands
The Fan Services desks at Gate 1/Section 301 offer noise-cancelling ear muffs.

The crowds can get loud and the horns freaked Little Monkey

at one point as you can see below. Ear muffs are handed out on a first come first served basis and are only offered to infants or children accompanied by an adult. You have to leave some form of identification (drivers licence, passport, health card) in exchange for the ear muffs. Something to keep in mind if you plan to use the same ID to buy alcoholic beverages. You could bring your own BabyBanz too!
A designated area is set up on the concourse near Gate 6 where strollers may be checked.

Strollers may also be checked in at Fan Services

Both, the men's and women's washrooms are equipped with baby change tables but

there are family washrooms

in the following locations: Level 100 – Sections 103/104 + 114/115 and Level 300 – Sections 310/311 + 317/318
If you are celebrating a birthday and would like a

name displayed on the Jumbotron

at a Toronto Maple Leafs home game here's the Request Form
The Fan Engagement team will also

help you celebrate birthdays, first games or any special occasion

with an unforgettable, personalized in-seat visit. Be sure to fill out the Request Form before game day!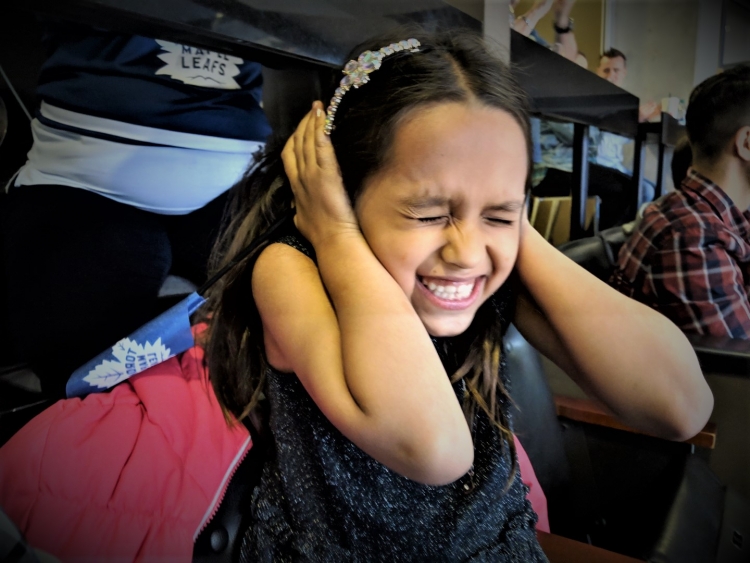 If you're looking for more tips on taking kids to live sporting events in Toronto, listen to the podcast episode below!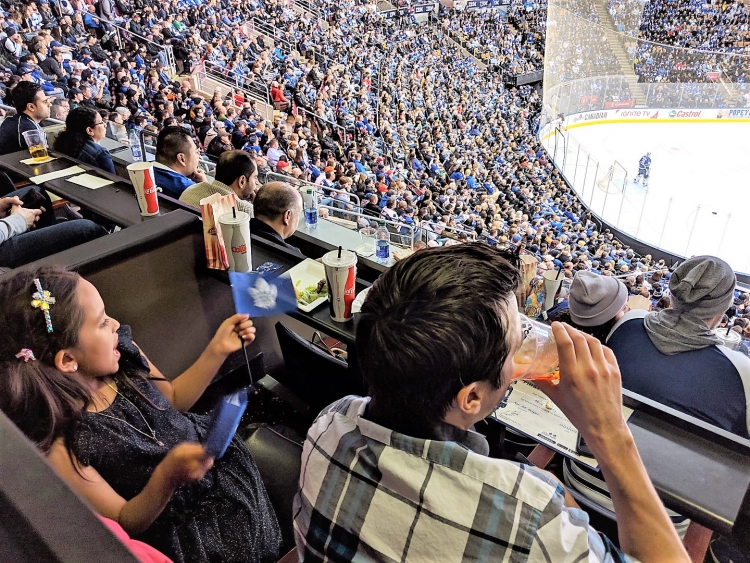 The kids had a great time and I enjoyed watching their reactions while Chris taught them about the game. They even received their personalized first game certificates to help us keep this memory alive for a long time to come!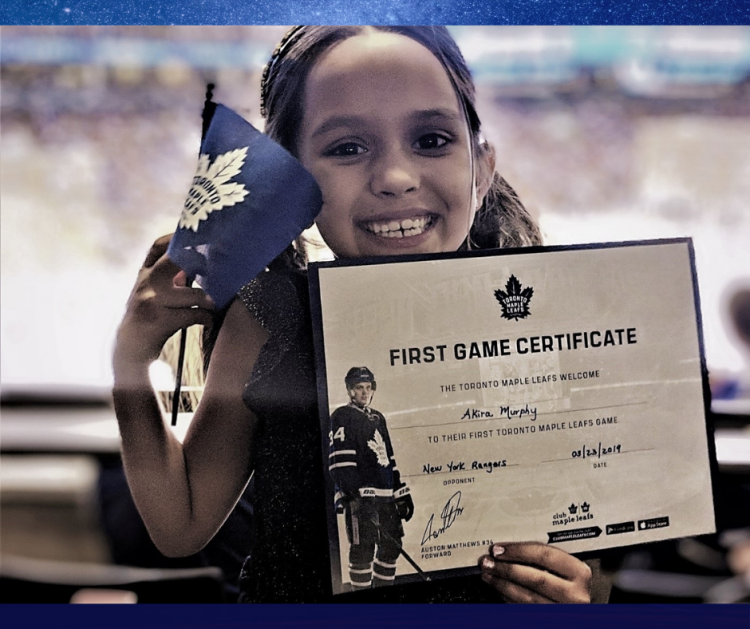 I also learned about the Designated Driver Program! This one is designed to promote the importance of having a plan to get home safely if you've been drinking. Fans aged 19+ who are not drinking alcoholic beverages can visit a Fan Services location (Gate 1 or Section 301) to take the pledge. Fans who sign up as a Designated Driver are rewarded with a voucher for a free Coors Edge (non alcoholic beer). They are also entered into a draw to win a year-end prize.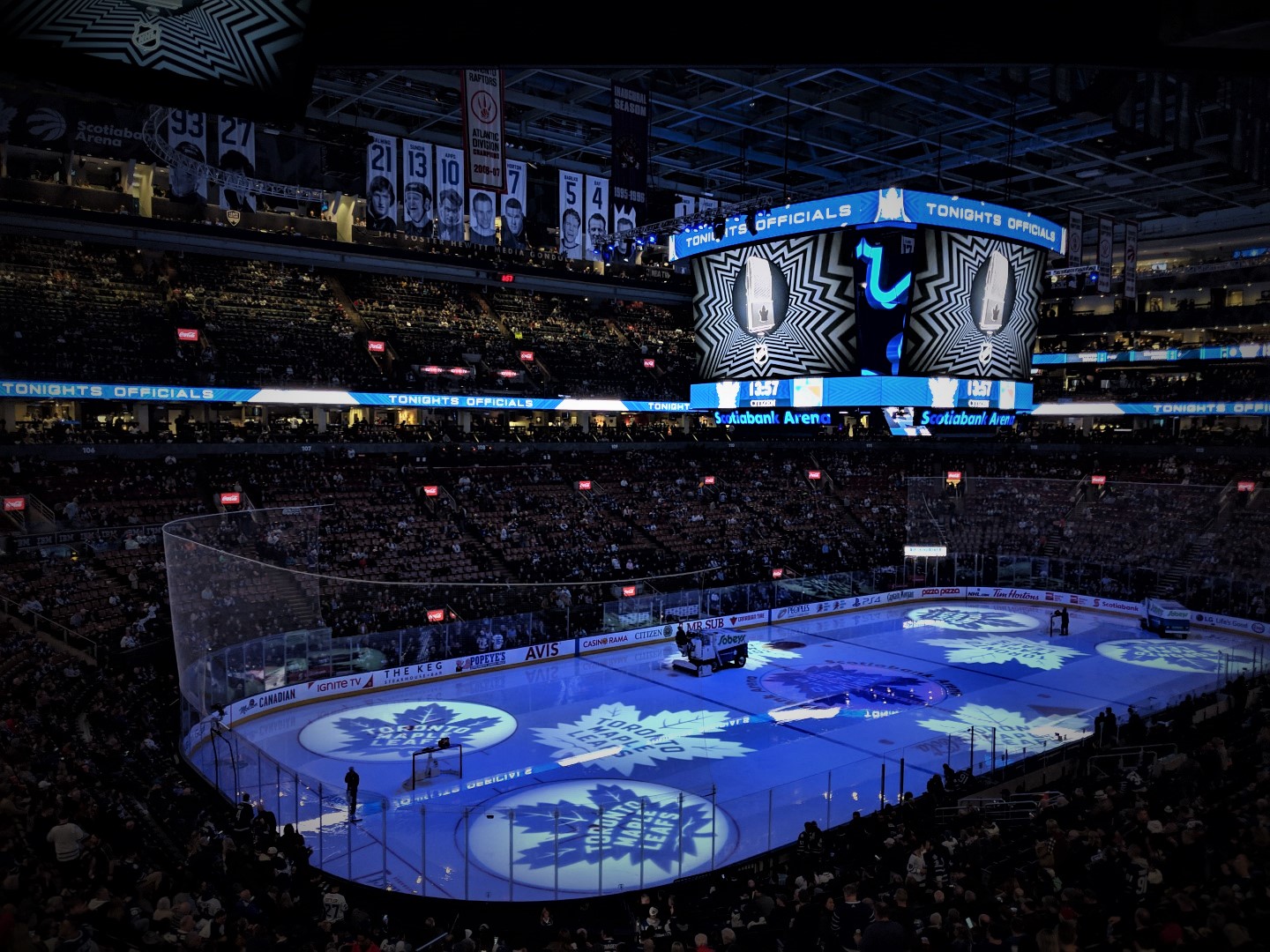 A huge thanks to Mastercard for enabling us to start something priceless with our kids. We may not get to experience another Leafs game for a while but it's a great reminder to buy tickets for other (more affordable) sporting events in the city. We're huge Raptors and Blue Jays fans so those are on docket for this spring and summer! If you are part of Leafs Nation, check out these free Maple Leafs activity kits for young kids!