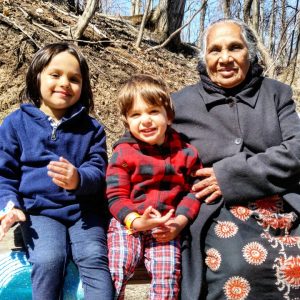 Back in April we explored Southwestern Ontario with the kids' grandparents and great grandmother and while our goal was to explore Blue Mountain resort, we also learned about Grey County and discovered some fun stuff to do in the area. Part of the Georgian Bay triangle, Grey County had some awesome food trails and I was disappointed that we didn't have the time to explore the cheese, beer and apple trails. We did visit an Alpaca Farm and spend an afternoon at the Scenic Caves. With a group consisting of those aged from 2 to 87 years and we all found ways to learn new things and enjoy mother nature.
Disclosure : Our visit was hosted by Visit Grey but, as always, opinions are totally ours! 
Kickin' Back Alpaca Farm
I wasn't sure what to expect during our visit with Doug and Carolyn, owners of the Kickin' Back Alpaca Farm, but I can tell you that you simply MUST pop by for a visit if you're in the area! If you're heading to the Blue Mountain resort, a stop at the farm is easy to do. All you have to do is call ahead and they'll ensure they're able to show you around and teach you something new! Needless to say, the kids LOVED their visit with Alpacas named after different types of candy, but what was surprising was how much us adults got into it. My mom had endless questions and I was fascinated by the breeding process and the looming. What started out as a hobby during their resort owning days, has turned out to be the focal point of their livelihood and the love the couple has for these animals is apparent from the moment we pulled into their farm.
It costs about $5 a person for a tour that can easily take up to 2 hours but they only charge $20 on average for large families. We started at the barn and despite arriving very late ( around 7 p.m.) the Lillymans were welcoming and took the time to educate us about all aspects of the farm. They even brought us into their home so the kids (and my grandmother!!) could see the different types of Alpaca hair and how they have been transformed into wearables. Carolyn is a Certified Classer, one of only a handful in Canada and this means their fiber is properly sorted and classed before going to a mill. This produces a much better final product and their hats, socks, scarfs and teddy bears are available for purchase on site.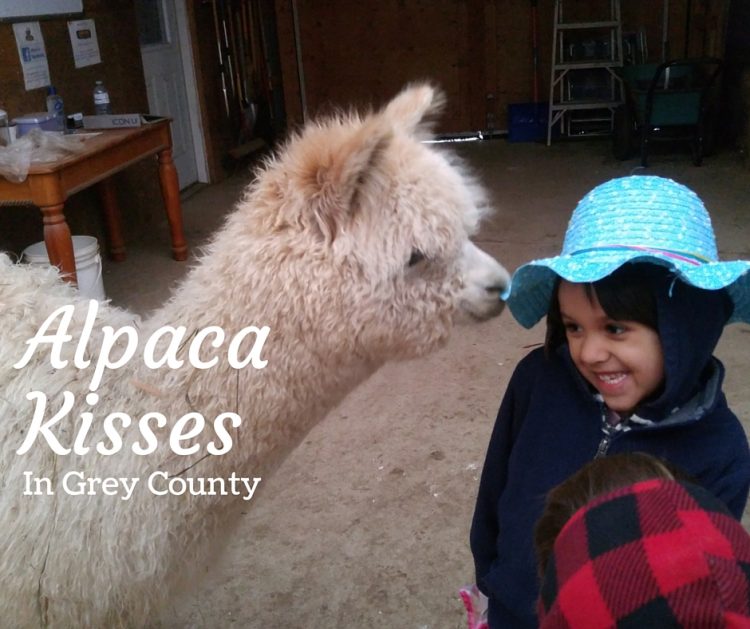 The animals were very friendly and Carolyn and Doug knew exactly which ones could nuzzle up to the kids. It is stinky in there (for us city folks), this is a farm after all but know that the Lilleymans keep the place very clean and as a result their animals rarely fall sick…which is why I didn't mind Baby Boy frolicking in the hay like he was a Cria (baby alpaca)! Obviously  you don't need a stroller here and baby wearing would work well if needed.
The Lilleymans are expecting 12 crias this summer so there's plenty of Alpaca loving to be had! A visit to this multi-award winning farm is mandatory for all animal lovers heading towards Grey County!
Scenic Caves
Adventure awaits the whole family at the Scenic Caves and I was certain that we'd only need an hour here but how wrong was I? With self-guided trails of the caves and caverns (only open during the summer months), spectacular views from the suspension bridge, guided eco tours featuring treetop canopy walking and ziplining, and mining for gemstones, there's SO much on offer here. We visited during a windy but sunshiney April day and while the caves were not open yet, we did enjoy a day outdoors with mother nature.
This is mostly definitely not a stroller friendly spot if you plan to explore the trails; baby wearing is highly recommended! The hubs and my dad took turns carrying Baby Boy when he grew tired but Little Monkey was just fine. For the most part, you do need to be careful and monitor the kids closely. Luckily for me, the grandparents were on full alert and so no one touched any poison ivy or went tumbling down the many trails we explored. You MUST wear running or hiking shoes when you visit here and even my 87 year old grandmother donned a pair.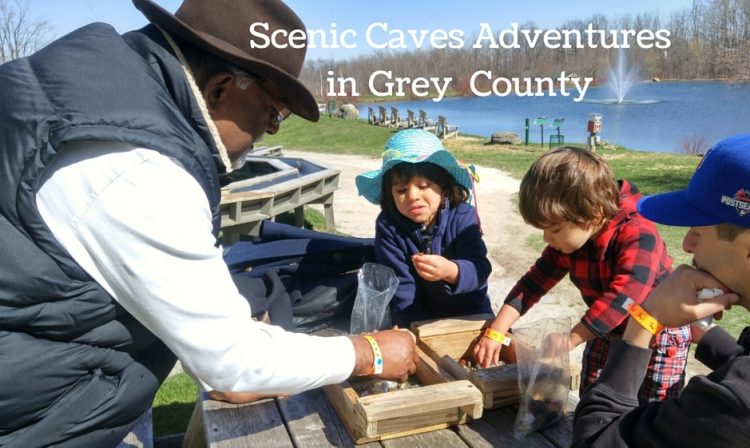 With a two year old and an eighty seven year old with us, we took things very slowly and started off at the playground. Please note that this is for kids under the age of 12 and adults should not be playing on the contraptions. I found my mom swinging and my dad attempting to school Little Monkey on rope walking!! Can you imagine? These grandparents received quite the lecture from me! LoL.
There's plenty of space to run around here and it's a great spot to tire little ones. When it came to the trails and the walk to the suspension bridge, we decided to keep my grandmother sitting at the top of the walkway and went out on our own. We were back within the hour and she didn't mind as she kept herself entertained. There is a tractor wagon that you can take from the main building right up to the suspension bridge and I'd highly recommend you do that if you have anyone who cannot walk down numerous steep steps and inclines. This 420' suspension footbridge is Southern Ontario's longest suspension footbridge and the views of the Georgian Bay on a clear day is said to be stunning. Despite the wind (which rocks the bridge) we all made it on, through and all the way back with no issues. My anxiety kicked in but I fought through and didn't freak out about something bad happening 25 meters above the valley! Much to Baby Boy's dismay I wouldn't allow him to jump on the bridge!
The kids also engaged in some old fashioned mining  (sifting rocks and sand through a water path) and our home is now filled with sparkly rocks…for those that know Little Monkey and Baby Boy's daily adventures, you know that rocks are precious to them and that they have quite a collection! We didn't get around to the mini golf area or zip-lining (of course-remember this?!!) but those are also on offer here and you'll see why an entire day can easily be spent here. Bet the sunsets are stunning from that suspension bridge!
The Scenic Caves offers fabulous backdrops for family photos and some of my most cherished pictures from this trip are from here. Whether it be the deep forests with tall trees or the crystal blue fish pond, be sure to snap away during your visit! The Scenic Caves operates all year round and even during the winter there's plenty of outdoor activities on offer but, I think summer is my best time to visit!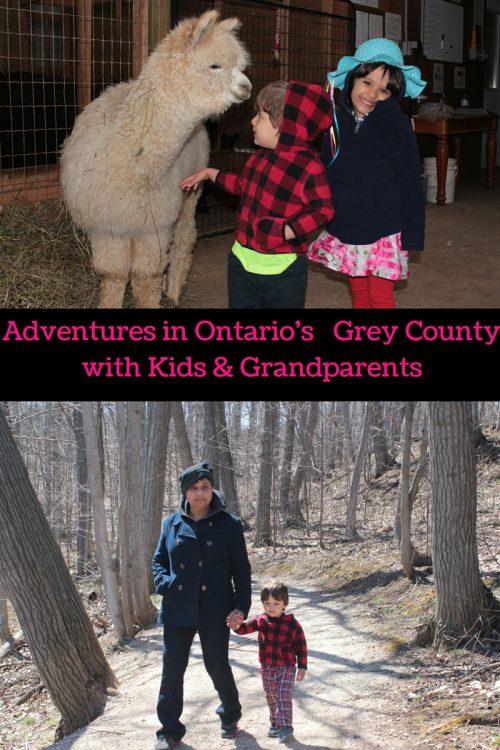 If you're looking for more ideas on what to do during a visit to Blue Mountain and the surrounding Georgian Bay area, be sure to check out Visit Grey for more tips and up to date happenings!