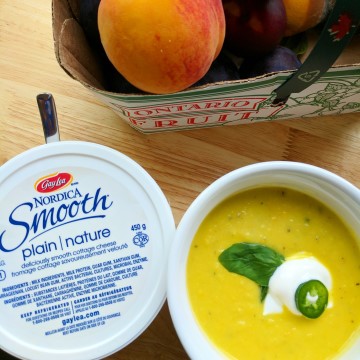 The kids are back in school and the autumn feels are in the air. As you know, we've been away this summer and are quite excited for all things autumn. From jumping in piles of leaves to layering up (best fashion season!), we're looking forward to it all. Living in Ontario means that there's plenty of activities such as pumpkin picking, running through corn mazes and of course, enjoying grandma's baking to look forward to this month and next. My parents live in Niagara on the Lake and they told us that the farms are gearing up for a fun fall season with plenty of wagon rides and face painting activities for the young ones.
Disclosure : I am part of the PTPA Brand Ambassador Program with Gay Lea and I receive compensation as part of my affiliation with this group. The opinions on this blog, as always, are TOTALLY ours!
Since we missed the summer fresh fruit bounty from the region, my parents brought over two huge baskets of peaches, plums and apricots to stock our empty fridge. The kids have been chowing down on the juicy goodness but we had so many that my mom recommended that I try making her peach soup.
"WHAT? Peach Soup?". Yup… apparently I heard right.
Peach Soup. Always up for a challenge I gave it a go. What I like about the soup is that it's very refreshing and lighter than the pumpkin and butternut squash soups I usually make in the fall. While you can definitely enjoy this as a cold soup, I still prefer to enjoy it whilst still warm and with a dollop of Nordica Smooth Plain Cottage Cheese. We've loved the smooth cottage cheese cups and have been using them as treats but with the launch of the plain version, I'm super pumped! It's a great way to add in some protein and creamy flavour to many of our dishes and it is nutritionally loaded with vitamins and calcium and is low in fat. The cottage cheese hating kids and hubs don't even know when I've snuck some in! If you're looking for a way to pack in some fruits and veggies into your diet, this tangy soup is a fun and easy way to do so. Why not bring the goodness from the farms to your table this autumn season by making soups?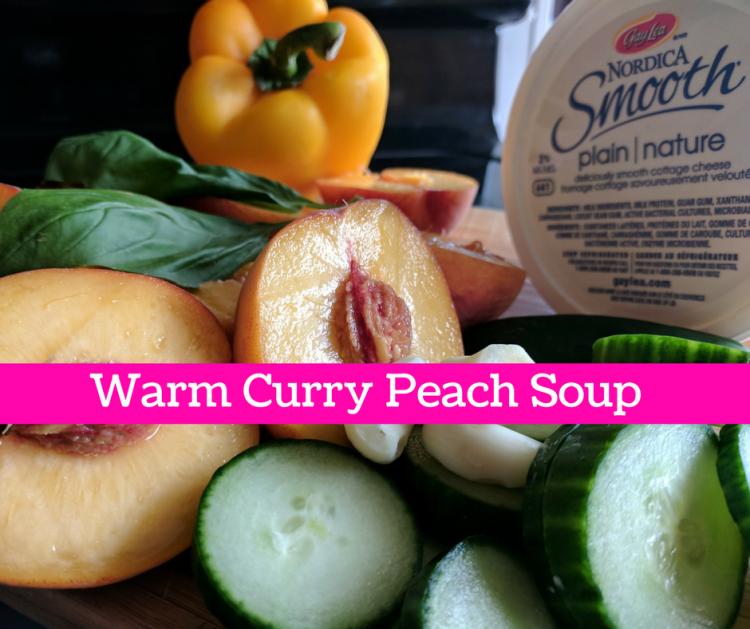 Warm Curry Peach Soup
This is an easy recipe, that's for sure. Blend everything up and then warm it on top of a stove before plating it into a bowl and garnishing with some Smooth Plain Cottage Cheese, a basil leaf and a few jalapeno slices.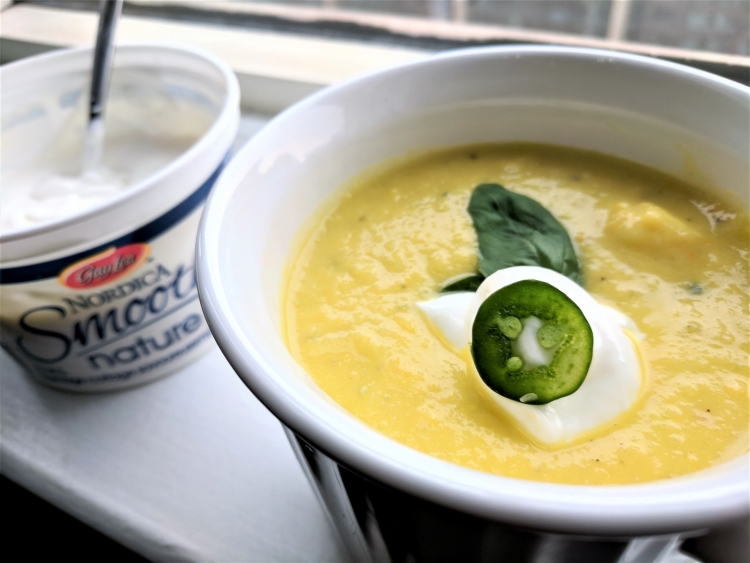 IF you're not a fan of pulpy soups, I recommend that you sieve the pulp out before warming the soup (and then use the pulp for baking!). You definitely want to ensure that your peaches, cucumbers and potatoes have no skin on them (especially if you aren't sieving the soup). You can also add in some flavoured broth if you'd like to thin out the soup a bit (but remember to avoid adding any salt if you are using broth and add the broth after you sieve but before warming). I personally do like thick soups and given our rather odd weather, this soup is perfect for those cold nights where the sun is still shinning!
It gives you a taste of summer with the feels of winter.