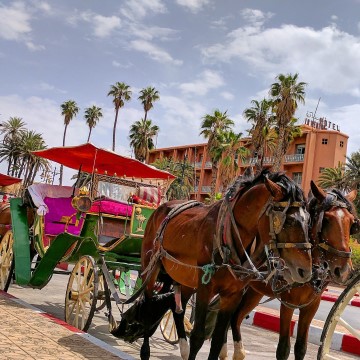 When we mention that we've visited Morocco with kids, the first thing everyone asks is "how was Marrakech". While we did spend two weeks in Marrakech, Fez will always be our favourite. However, we know that many visitors tend to only visit Marrakesh as their entry point to visit the desert. Mind you, you can definitely visit the desert from Fez as well! In Marrakech we got a taste of what it would be like to live in Morocco and we managed to stay in two different parts of the city thanks to the GuestToGuest homes we found.
We first stayed in the new city for a couple nights before we headed into the desert, and on our return, we spent a glorious week living in the Medina. We got a taste of both sides of Marrakech and while we didn't run around from attraction to attraction, we can tell you how to spend a weekend in Marrakech with kids! Of course, hanging around longer is always recommended as there's plenty to do (or in our case, to just relax and do NOTHING), but we know that most families only have 2 or 3 days to spare before or after a trek into the Sahara Desert with their kids.
When to Visit and Where to Stay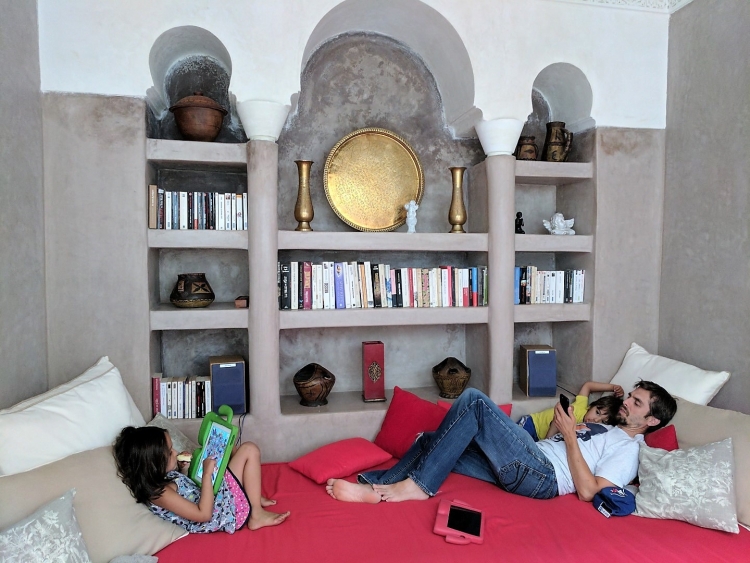 We visited during the month of May and left right before Ramadhan started. I highly recommend that you avoid visiting between June and September to avoid the intense heat. Even in May, we encountered some scorching days and were so glad that our homes had A.C. In terms of where to stay, my vote would be to stay in the Medina if you can. There are many options but only a few Riads will allow kids, which is why we were glad we found a home in the Medina that is actually B&B most of the time! Staying the Medina made it easy for us to explore the markets and take in the hustle and bustle. We were also a quick taxi ride away from the Carrefour supermarket (you'll need to go there for things like diapers, booze etc) and the new city. If you stay in the new city, there are hotels and apartments for rent (and most will have pools, unlike most places in the Medina). However, I found staying in the new section very "normal", and we were there to take in the charm of it all? So the Medina got my vote!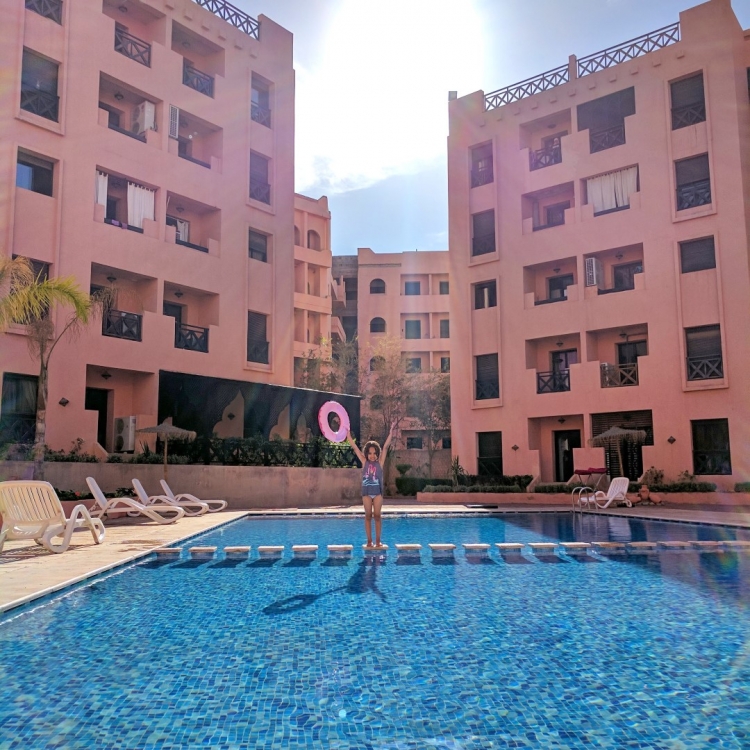 What to Do In Marrakech With Kids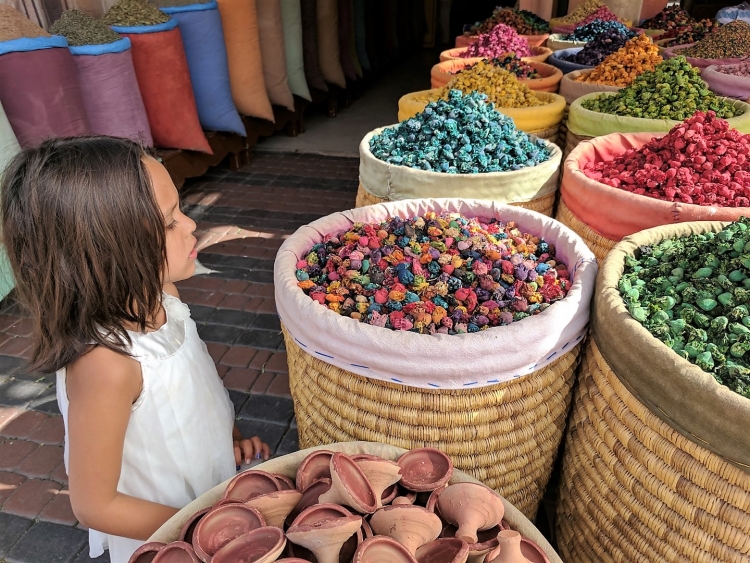 Medina : If this is your first visit to a Medina, I highly encourage you to find a guide to take you around for an hour or two. We had done this in Fez (yes we fell for a "scam" but loved it) and so by the time we arrived in Marrakech, we were completely at ease wandering around a medina. Inside, you will find scooters whizzing by every few seconds and you'll want to keep the kids VERY close by. We preferred taking the stroller when we could but because ours is a double stroller, it was too chaotic in the media. Most of the path was smooth with few stairs, unlike in Fes, and so the kids had no trouble walking on their own. Little Monkey and Baby Boy quickly learned to stay VERY close to us and only run towards what caught their eye if we gave them permission. I seriously am amazed we didn't see many accidents in the Medina during our visit!
The shops inside feature everything from shinny lamps and clay pots to jewelry to spices. For the most part we just roamed around and chatted with shop keepers, since we have no luggage room for purchases. While some merchants do speak English, Darija (Arabic), Berber and French are more widely spoken. Most vendors in the Medina will be ready to bargain with you, no matter which language you speak! I highly recommend exploring the various parts of the Medina (north, south, centre) as each has a different charm. If this is your first time in a Medina be sure to swing by a tannery, the tea shops and the spice counters for a bit of an educational visit. You don't have to buy anything if you don't want to, but they're happy to share their knowledge with you. Don't be shy and buy some fruits and veggies while you're in the Medina. I couldn't make myself buy the meat from there though!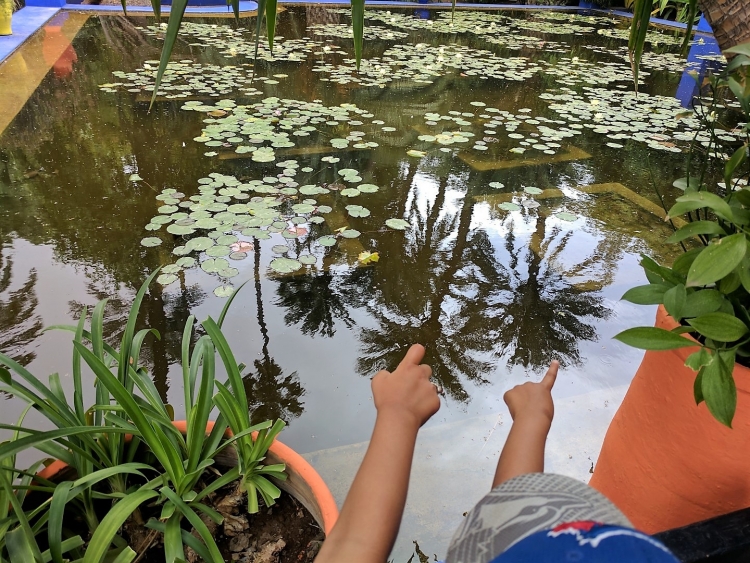 Jardin Majorelle : This respite will let you seek some shelter from the sun and yet be outdoors where the kids can roam around freely (though it is relatively busy so just running around freely may not be easy). The garden originally took French painter Jacques Majorelle 40 years to create and its beautiful. There are so many bright blues, lush greens and even lily pads to entertain the little ones. If you're a YSL fan, you may already know this but his ashes are scattered here. In 1980, Yves Saint Laurent and Pierre Bergé bought the Majorelle garden and not they not only saved it from becoming a hotel, they also lived in the villa and restored the garden to "… make the Majorelle garden the most beautiful garden – the one that Jacques Majorelle had envisaged . "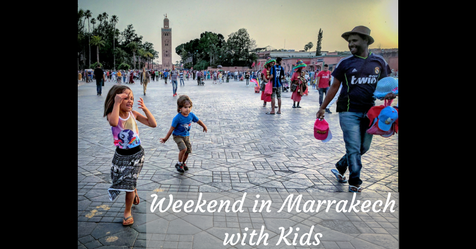 Jemaa el-Fna : Oh how I love this busy square! I know many are intimidated by the many sights and vendors buzzing in your ear, but my kids and I were able to roam around freely and only one or two vendors really approached us. The kids knew we weren't buying anything so they just looked at things and then walked away. We visited the busy square during various points of the day and sunset was my favourite. It was so fascinating to perch ourselves up at a terrace and watch as the lights came on and musicians started playing.
The afternoons are less chaotic and you can actually sit at the cafes in the main square and enjoy some ice cream or tea but for the evening, I recommend going into one of the restaurants with a terrace if you want to watch the bustling square from above. Definitely buy fresh juice from the vendors (my kids drank them often with no issues) and enjoy walking around and soaking in the atmosphere. We made the mistake of avoiding dinner from one of the carts and it will be my biggest regret as the food is really cheap and as long as the meat is cooked you're all good! We dined at Nomad restaurant in Marrakech and I totally did not enjoy my experience there. Unfortunate, but many did tell me that the restaurants in the main square aren't that great. If you want to visit a terrace, we visited Le grand balcon du Cafe Glacier in the main square and bought ourselves some pop as we watched Jemaa el-Fna come ALIVE at sundown.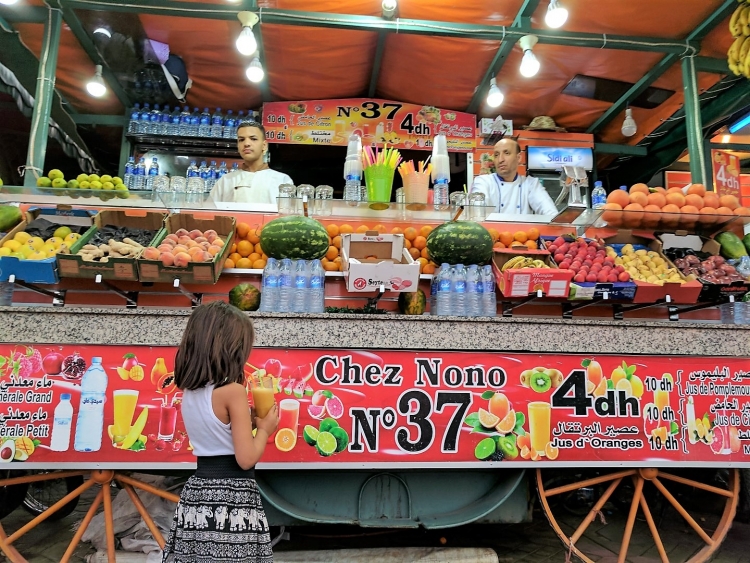 Hammam : Okay so I thought I'd visit one but in the end, despite our GuestToGuest home being just around the corner from the local spot, I couldn't do it. If you're into a luxury experience, there are many throughout the Medina that you can book yourself into and if you're looking for a true local experience, that can be found as well. We had a nice bathroom in our home and so the thought of bareing it all for a public dip just wasn't my thing. My friend has written about her Hammam experience if you'd like a read! While most of the fancy ones don't allow young kids, some locals informed me that the local ones do allow kids of all ages.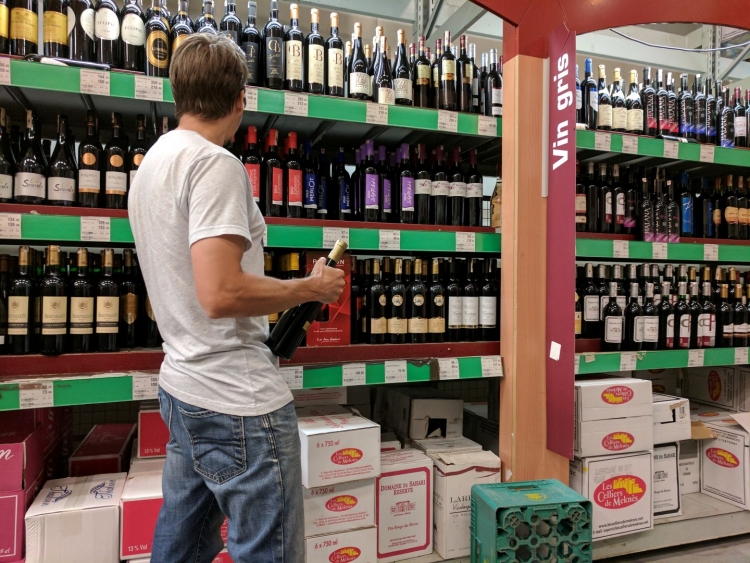 Guéliz : This is the new city/new town area of Marrakech, and if you're ever looking for some Asian cuisine or a change in scenery, this is where you'll want to head. On a hot day, a visit to the mall for some ice cream isn't a bad idea either! We visited the Carre Eden Mall for our groceries, meats, diapers and water when we wanted to shop somewhere "comfortable". There are cafes to relax at and you can easily experience the cosmopolitan side of Marrakech, which is quite the contrast to the views in the Medina. This new city area is also great if you're looking to shop without the bargaining and of course, for those looking to escape towards a nightclub or bar. While we didn't visit these spots, if you are looking for some cultural attractions that are outside of the Medina take a look at El Badi Palace, Ben Youssef Madrasa and Koutoubia Mosque.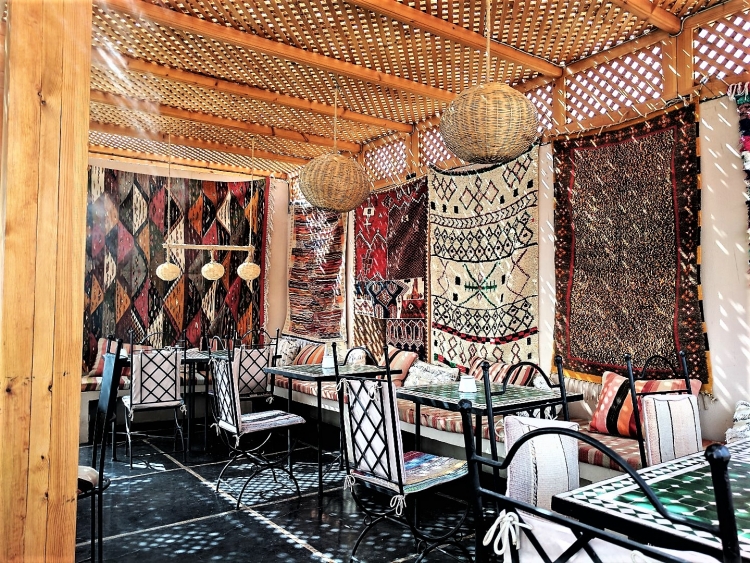 Eat : There are so many great places to eat and you'll usually find the meals to be well priced. Some spots even offer wine and beer, but it isn't cheap. There are some great restaurants outside of the Medina so be sure to venture out for a meal if you can. Some spots we enjoyed in the Medina were Cafe Clock (same as the one in Fes and they have some great family programs during the week) and Cafe Meristan, which has a terrace that sprays mist to keep you cool as you enjoy a tajine. If you have the chance do check out Amal, which is located outside of the Medina, it's is a great spot that's helping women in the community learn new skills and get jobs.
There are many great little bakeries throughout the Medina and we kept stopping by to try out their treats and snacks. We found the food to be safe as long as it was cooked or baked (though we avoided any spots that had flies sitting on the food). I wanted to take a food tour or a cooking class in Marrakech but didn't get around to it as we stayed in a home with a cook and she taught me a couple things. I also met up with a friend, an American living in Morocco for a number of years with her family, who runs a couple Marrakesh food tours and is a great resource! They have tours throughout Morocco now and come highly recommended!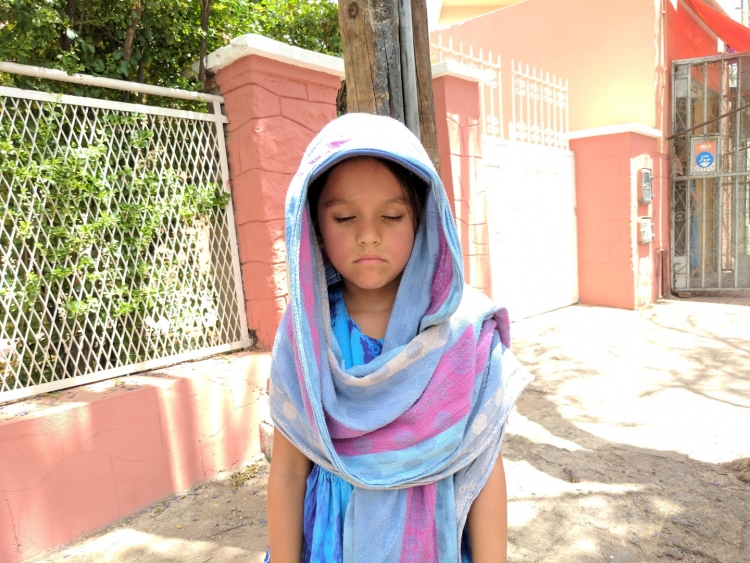 There are some general tips to keep in mind when travelling to Marrakech. Have wipes and hand sanitizer on you at all times and ensure the kids pee before venturing into the Medina! That said, bathrooms in the Medina restaurants were clean and everywhere had toilet paper. Definitely buy bottled water for your home/room. As always, I travelled with the kids' cups so we just kept refilling them with juice and water whenever the opportunity arose.
In terms of attire, I always dress conservatively but I occasionally spotted shorts and tank tops in Marrakech. While Little Monkey ran around in a tank and shorts, I would highly recommend sleeves and knee length attire for adults. The hubs did wear shorts a couple times but he too noticed that many men were wearing jeans and pants so he quickly shifted towards his jeans unless it was a day when we were out all day long (happened once!).
Living in the Medina meant that we were able to hop in and out as needed; though it would take about an hour to walk from from one end of the Medina to the other, so don't expect quick trips back to your resting pad! Taxis were relatively cheap if you want to venture out but do note that you will have to haggle with them quite a bit. Most will tell you that they only allow 3 people and are taking a risk by taking the 4th person (even if it's a child) and therefore charge a premium for families visiting Marrakesh with kids. We managed to travel to most places in a taxi for under 60 Dhs. The hubs wanted me to highlight that the Medina is an insanely busy place and that bikes whiz by at alarming speeds, do PLEASE ensure that your kids stay close by as you explore the Medina; No matter how mesmerized your senses are!
I fell in love with Morocco and highly recommend that families visit this beautiful country. While travelling here isn't easy, it isn't difficult either. This trip made me remember my youth, taught me to value the comforts we have taken for granted and gave me many recipes to make when I miss the country's amazing food! I learned to make this Moroccan Tajine from our house keeper in Marrakesh! Be sure to check out our other Moroccan adventures, tips and stories if you plan to visit Morocco with kids or without.