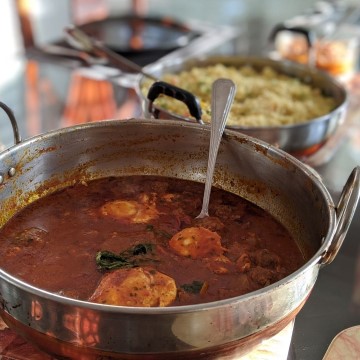 During our month long travels through Morocco we did our very best to eat everything we came across. We sampled a variety of tajines and though I regret never convincing Chris that a Tagine was worth trekking around in our suitcase for 4 months, I am glad that I had the chance to learn how to cook authentic tajines.  I left the country with a couple tajine recipes. We were doing Moroccan HomeExchanges and a couple of them came with a personal chef so I made it my mission to get in the kitchen with them. This Kefta Mkaoura dish I am going to share with you today is one I learned from a lovely lady called Mouna who looked after us in Marrakech. Over the last three years I've made this dish numerous times (even though I still haven't bought myself a tagine) and have taken a few short cuts without compromising taste. What I love about this meatball and egg, tomato dish is that we can easily adapt it using spices found in our cupboards (well at least I tend to have these spices on hand as we use them in South Asian dishes often).  It definitely reminded me of Shakshouka dishes but the addition of meatballs is pure perfection and easily whip-able for dinner, even after a full day at work. My kids love helping to roll the meatballs which helps keep them quiet and takes a chunk of time off my hands as well – win win y'all!
Cooking with Kids  | Moroccan Kefta Mkaoura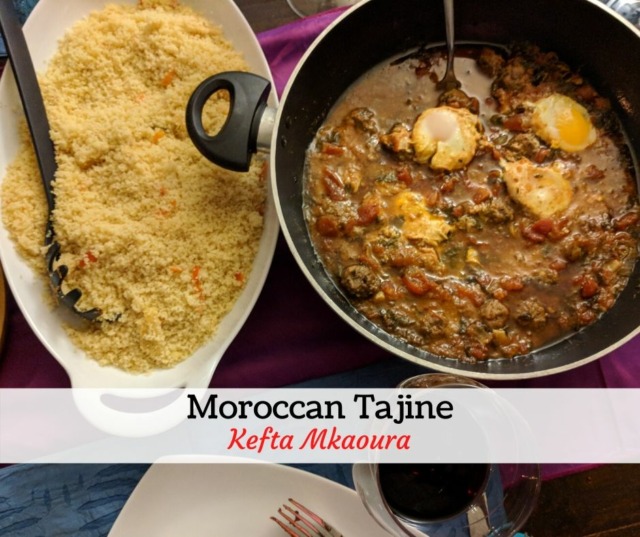 Meatball and Egg Tajine Ingredients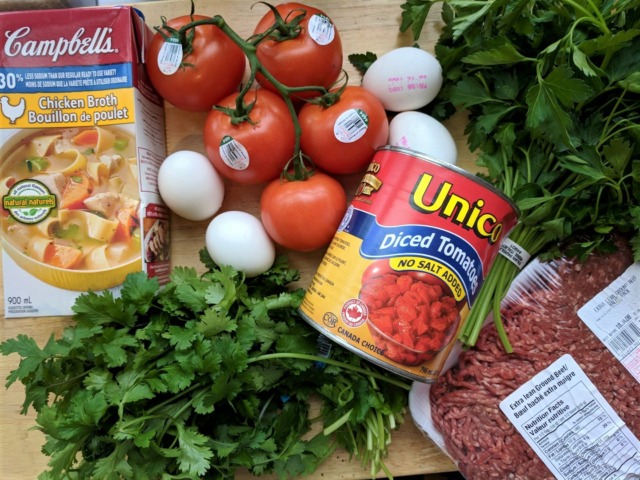 1

 

lb.

 

ground beef or lamb

 

(you can use other ground meats if you wish but this is what's traditionally used)

2 tablespoons of

salt

5 chopped medium sized tomatoes (you can use caned ones if you prefer.. or a mix of fresh and canned)

1/4

 

cup

 

olive oil 

1

large chopped onion

3

chopped

garlic cloves

1 tablespoon

paprika (or chili powder…add more if you like things spicy)

2 tablespoons

 

cumin seeds or powder 

1 tablespoon turmeric

1

 

tablespoon

 

black pepper

1 

bay leaf

1 teaspoon cinnamon powder (or a stick of cinnamon)
3 tablespoons of

finely chopped parsley (you can use dried if that's all you have)

2

 

tablespoons

chopped cilantro (or  a handful… never have too much!)

1 green bell pepper finely chopped
1 cup of water or broth if needed

4

 

eggs
Meatball and Egg Tajine Instructions 
1. Get the kids in the kitchen to help you with the meatballs. Mouna taught me to make small meatballs that were about an inch in diameter. Feel free to make them in any size you want but know that traditionally they're made on the smaller side. 1 pound of meat gives me about 20 meatballs. Mix the ground meat with a tablespoon of salt and form into mini meatballs. If you have time you can season the meatballs further with additional ingredients (see tips at the end this post). While the kids are making these I usually start the prep work for the tomato broth.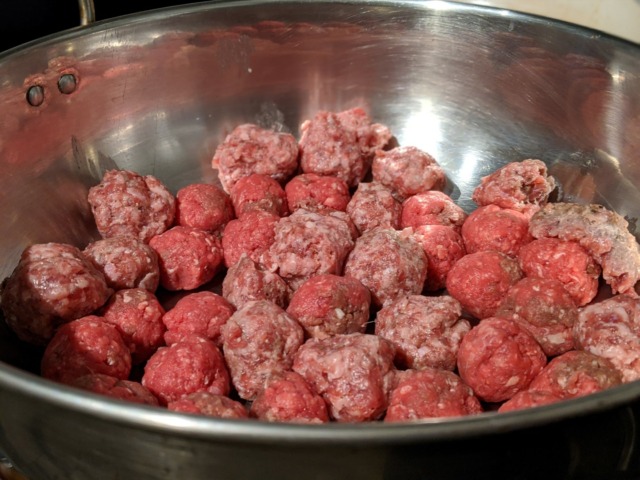 2. Heat a wok/tajine/wide based pan and add in the remaining salt (1.5 tablespoons), cumin, garlic, turmeric, pepper and paprika and cinnamon. Continue stirring and let these roast over low heat to get the flavours going (about 2 minutes). Once the aromas fill the air, add in the olive oil, garlic, bell peppers and onions so you can saute everything on medium heat.
3. When the onions are translucent add in the tomatoes, parsley, bay leaf and cilantro and let it all boil for about 20 minutes, ensuring that the pan's lid is on. Check in to ensure that things aren't burning at the bottom of the pan. You are basically looking for a thick pasta sauce consistency. Depending on the tomatoes, I usually add a cup of broth or water at the end of the boil. This is where preference steps in. Traditionally the tomato base is very thick and that's why you usually it with bread but if you plan to serve it with couscous, you may want some extra "sauce" to soak into the couscous.
4. Once the water/broth is added, toss in the meatballs and let it cook for another 15 minutes. You want to ensure that the meatballs are fully cooked but not over cooked as they can get tough. I usually cut the biggest one in half to confirm that it's cooked through. If you aren't planning to server dinner immediately, you can cook the meatballs for 10 minutes and let it complete cooking right before you serve it.
5. If you're not serving dinner immediately, turn off the stove and let the dish sit. Right before you are ready for dinner, turn the heat up, crack the eggs into the dish and cover the pan with a lid. Let it come to a boil for about 10 minutes so that the eggs cook. I prefer a soft creamy yolk but you cook it to your preference.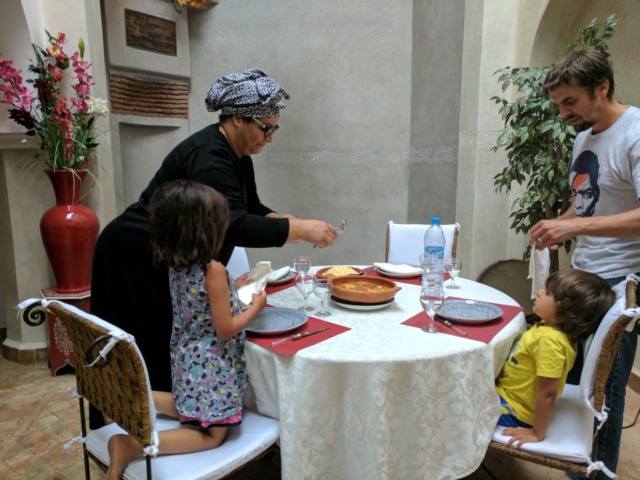 The Kefta Mkaoura is traditionally served with khboz (Arabic bread) but Mouna served it to us with a side of couscous and that's what I serve my Kefta Mkaoura with. Traditionally speaking couscous isn't served with tajines but it's an easy and filling pairing. You can have fun with the couscous and add a few veggies. My kids don't love couscous so they tend to just eat the meatballs and I add extra chili powder into the tomato base for Chris and I. This is a fairly easy dish to cook and one that impresses guests  (remember those days we used to entertain people pre-covid?). I just need to buy a tagine so I can take the presentation up a couple notches!
Additional Moroccan Meatball Tajine Tips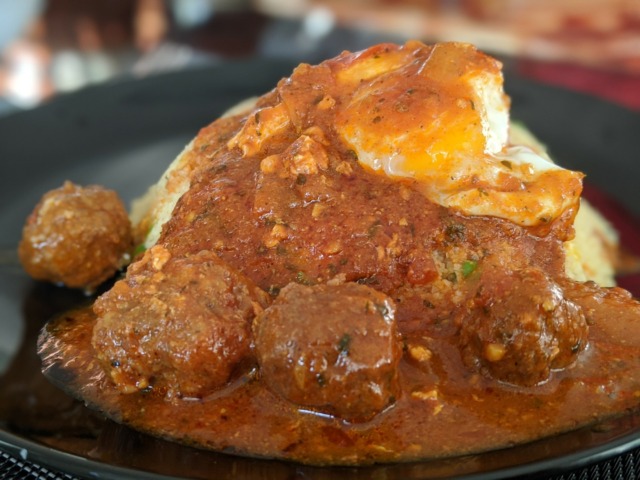 If you happen to have Ras el Hanout spice in your cupboard, you can easily use  3 tablespoons of that and forget about the cumin, turmeric and cinnamon.
You don't need a tagine to make this Moroccan recipe but the dish will taste so much better in one ;). A deep but wide dish will work just as well. A wok is what I use mostly.
You can omit the eggs and swap in some olives if you prefer
If time permits you can REALLY flavour your meatballs by seasoning it with additional parsley, cumin, cinnamon and chopped onion. I however don't notice a huge difference when I save some time and add more seasoning to the sauce.