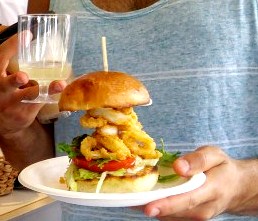 AH!!! The weekend vibes were ON!! While it seems like all we did was chill, eat and drink, it was a jam packed one. And to think I attempted to potty train in between all of this!! Don't worry, I'll share more about the potty training shenanigans later this week. For now let's chat about our weekend instead! It was a scorching one in downtown Toronto and despite spending Saturday brunching and hanging by the pool and ending it with a water balloon fight, Sunday was also spent outdoors.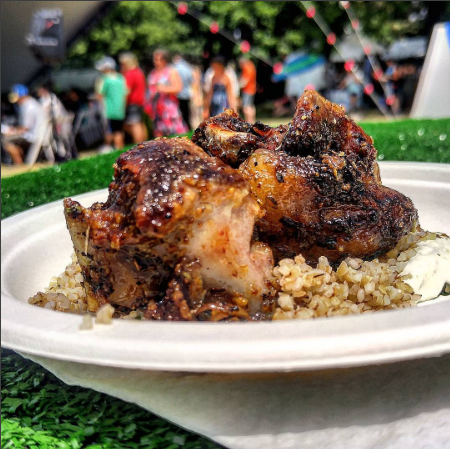 We started our Sunday by checking out Taste of Toronto and I'm thrilled to report back that this is definitely one of the better food festivals in Toronto. The chefs all had their A game on and while all were good, some were beyond exceptional. My faves included McEwan's Crispy Calamari Po-Boy with Ace Bakery charcoal bun, lemon caper aioli  (even though we missed out on the charcoal bun, the regular one was good too) paired with the Stoneleigh Sauvignon Blanc, Mamakas Taverna Lamb Kontosouvli featuring Spit Roasted Ontario Lamb, Bulgar Salad and Tzatziki. We also ate Fat Pasha's Falafel Hummus which came with my favourite, Tahini and pickled peppers! Little Sister Indonesian & Noorden Food Bar's Olive Oil Poached Tuna which came with red cabbage & carrot slaw and a quinoa sambol, was the hub's favourite. I loved that the kids were able to run around and roam freely and despite having our double stroller with us, not once did we feel inconvenienced. I highly recommend planning a visit next year if you didn't make it out for this one.
Disclosure : I am part of the Gay Lea Ambassador Campaign and I receive special perks as part of my affiliation with this group. The opinions on this blog, as always, are totally mine!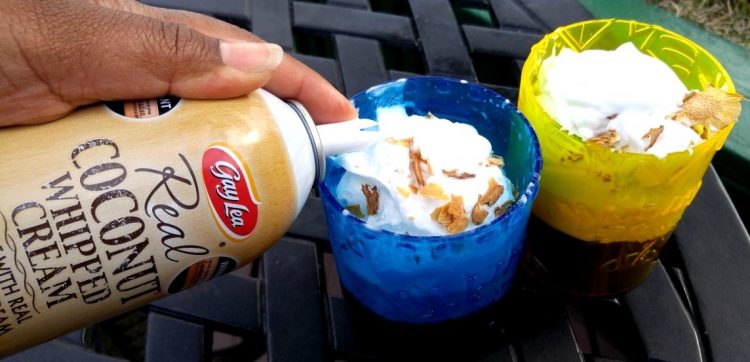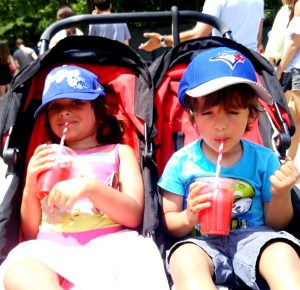 Given the heat we ensured that everyone was hydrated at the festival. Little Monkey and Baby Boy made it their mission to smile at each and every Metro Ontario sample girl they met and ended up snagging two watermelon lemonades each (yes they were free!!). The hubs and I enjoyed a couple beers and after three hours in the sun, I was ready to call it quits. I came home CRAVING some Sri Lankan Cold Coffee (memories of the one I had last month at the Galle Face are still STRONG). We were having some friends over for a BBQ (yes, after eating at least 5 dishes each!!) and so I whipped up an "adult" version of the cold coffee featuring Gay Lea's Real Coconut Whipped Cream. Oh yea.. we Lankans do love our coconut and I thought it was a perfect addition to a classic drink. You may remember that I'm a huge fan of drinks with whipped cream drinks and given the weather and that it's strawberry season, we're always stocked up on whipped cream. Of course, since we were hosting friends, I decided to experiment with some Malibu and Kahlua and this may just become my lazy Sunday afternoon drink, especially when I'm looking for that extra coffee boost! It's a creamy drink with a coconut flavour that's also refreshing for a hot summer's day.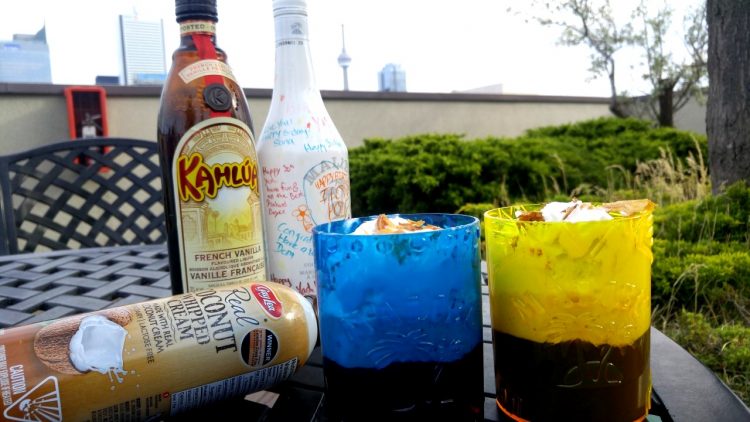 Recipe for one cup : Add 3 tablespoons of sweetened condensed milk into one cup of COLD STRONG black coffee ( I tossed whatever coffee the hubs made in the morning into the fridge and it was perfect by the time 5 o clock rolled). Add a shot of Kahlua ( I used the Vanilla flavour but regular flavour would work just as well) and a shot of Malibu. Stir and pile on the Gay Lea Coconut Whipped Cream. Decorate with toasted coconut flakes.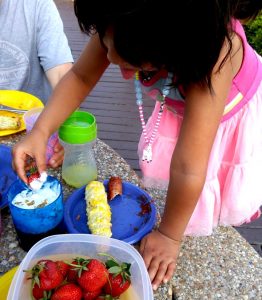 I must mention that while Gay Lea's Coconut Whipped Cream is lactose, dairy and gluten free it doesn't last too long at our place! I went through the entire can when I topped up the two LARGE drinks I made. As you can see, Little Monkey didn't have any left over for her strawberries so she just dipped into my drink. Ooops! Don't worry, there was a huge gap between the whipped cream and the boozy coffee!
How was your weekend?