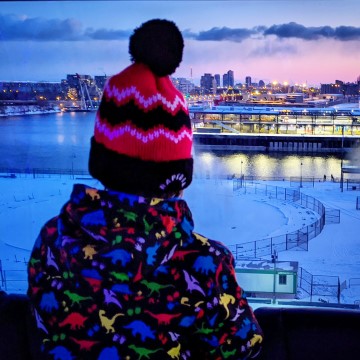 Montreal is a Canadian city that's always fun, no matter the season or occasion. We've explored Montreal with our kids quite a few times over the warmer months and this December we enjoyed a winter getaway that focused mainly on indoor activities and culinary delights. If you're looking for a road trip from Toronto this winter, we're going to share some things to do in Montreal for families who aren't looking for winter sports (though there's plenty of that too, of course). Our first December weekend was spent checking out some new (to us) Montreal attractions with our 6 and 8 year old children and though we did endure some whining, it was a memorable one that has us thinking about a return visit very soon! This is a trip you want to bring snow pants, jackets and mitts for, even if you won't be partaking in any winter activities, you're still in Canada in the wintertime!
Disclosure: We were guests of Tourism Montreal but, as always, opinions are TOTALLY, ours.
Getting to Montreal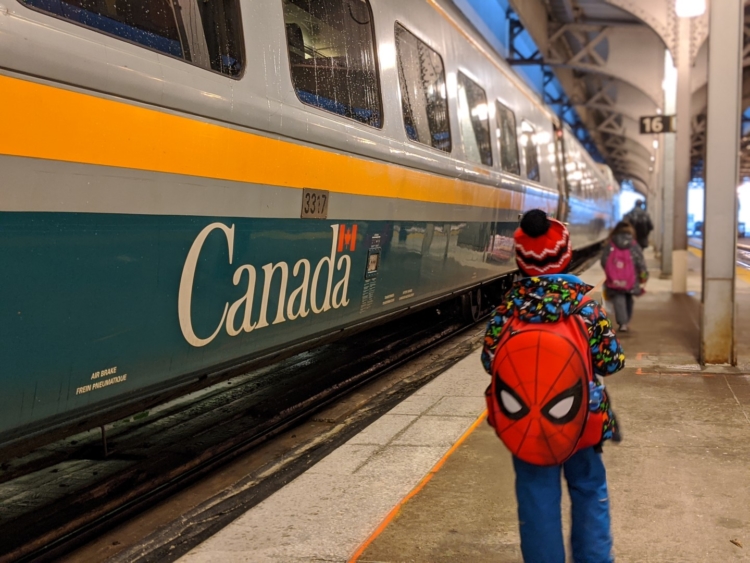 One of the things we love about Montreal is how accessible the city is. Montreal is an easy drive from Toronto (in fact my parents had driven to Montreal to meet up with some friends the same weekend we were in Montreal) but we mostly prefer to take the train from Toronto Montreal (and back). Via Rail makes it easy for families to relax and not worry about dealing with traffic or stopping to eat for pee breaks. At least once a year we take a Via Rail trip with our kids ( think we did about 3 trips last year actually) and Montreal seems to be one of the most popular routes for us. Our Business Class journey to and from Montreal was rather pleasant (even despite a slight delay on our way there).
I love that Via Rail ensures that they seat families together (whether we're in the economy or business, we've always been given the 4 person table). If you're in Business Class I recommend choosing your seats towards the ends of the carriage (and not in the middle – so avoid Seats 8-10) to ensure that you have your choice from the food menu. They often run out of most options by the time the two food carts get to the middle of the carriage! I also recommend calling ahead when travelling with kids so you can order a kids meal (mac and cheese with fruits and veggies). If you have a lactose/dairy free child, do not order the kids meal because the system tends to overwrite the request and gives you the kids meal. Instead request for the adult lactose/dairy free etc option for them. They also offer an activity bag for kids but this has been hit or miss when travelling in economy. You can definitely ask for it or if you're riding in Business, grab it from the lounge before boarding (I also grab coffee and juice from the lounge to tie us all over). For more tips on travelling Via Rail with baby, check out our previous write up!
The Montreal train station is conveniently located nearby many accommodation options or you can easily take a taxi or Uber to your destination if you don't want to hop on the subway that's also connected to the station. Using a combination of public transit and taxis/ubers is our preferred way to travel within Montreal even with kids in tow.
Winter travel tip : If your kids get hot easily, have them wear shorts under their snow pants and remove the snow pants and jackets when on board. It's what Baby Boy does!
Where to Stay in Montreal with Kids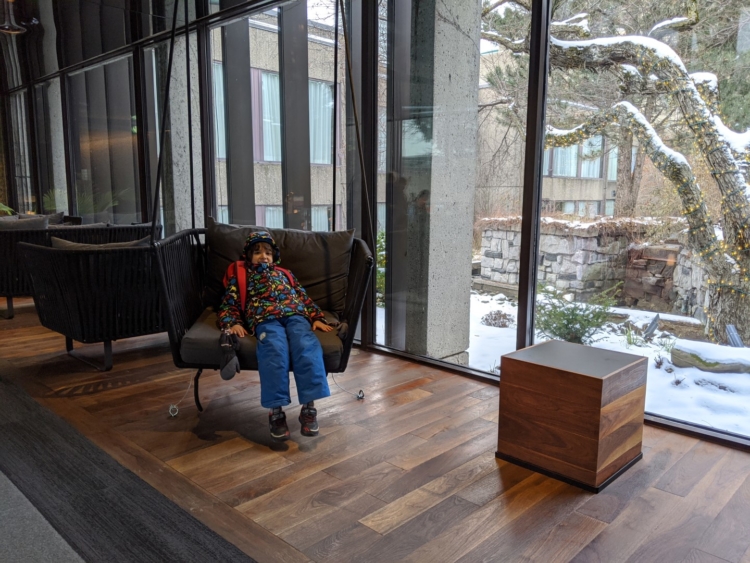 There are no shortage of hotels and apartment rentals in Montreal but I will mention one thing, expect a couple elevators or stairs to get to your rooms when staying at some of the older hotels. Our favourite hotel used to be the Delta on Presient Kennedy Avenue but sadly, it's no longer around. We didn't love the Hyatt on our previous visit and decided to experience Bonvavenure Montreal. When I was sharing our travels via Intastories, I had many message to tell me about their own experiences at the hotel many years ago, on school trips and family vacations. What I quickly realized is that the Bonaventure is more than 50 years old and has been an integral part of Montreal's skyline. The hotel is built on the roof of Place Bonaventure, 17 stories above ground and the lobby shows no signs of its age. With modern decor and beautiful terraces, the hotel itself is a lovely spot if you love hanging out in hotel lobbies like I do. Hotel guests can enjoy the company of ducks, even in winter, thanks to the two heated water fountains that keep them warm during the cold season.
My favourite feature is obviously the year-round heated outdoor swimming pool. The weekend we visited Montreal was insanely cold and yet, we went swimming late at night on both nights. They offer puddle jumpers for kids (but we had our swim ring with us too) and you can leave your shoes and bathrobe inside because you can swim outdoors via an indoor entryway. You do have to get out in the cold to take a couple of steps towards the hot tub and the sauna (if you wish to do those) but I found the pool quite warm on the first day. It was a bit colder on the second night as the temperatures had also dropped significantly that day.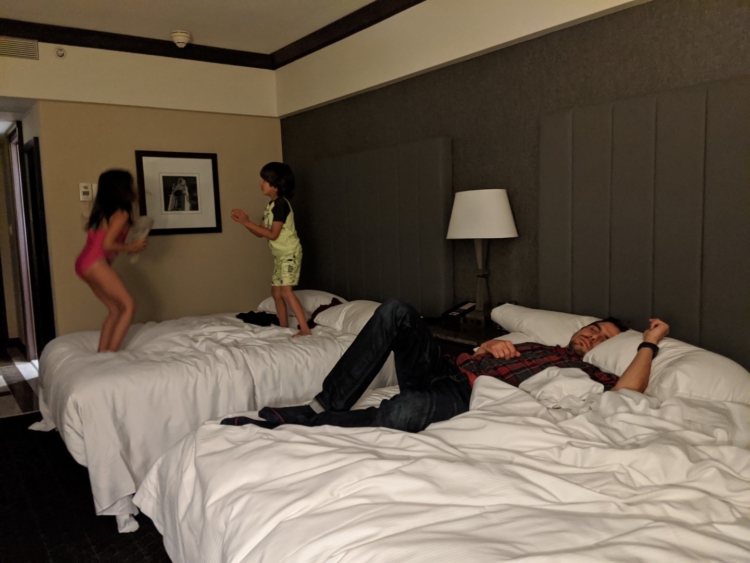 Most of the rooms are slowly being upgraded but the basic double bed room we stayed in was comfortable and had a fridge. We didn't spend much time in the room on this trip and the pool was the highlight for us. I can see why families keep returning to the Bonventure Montreal because that late night swim is the perfect way to cap off a busy winter day exploring downtown Montreal with kids. Baby Boy and Little Monkey would definitely add the Bonaventure Montreal pool as one of the top things to do in Montreal during the winter!
Indoor Activities in Montreal with Kids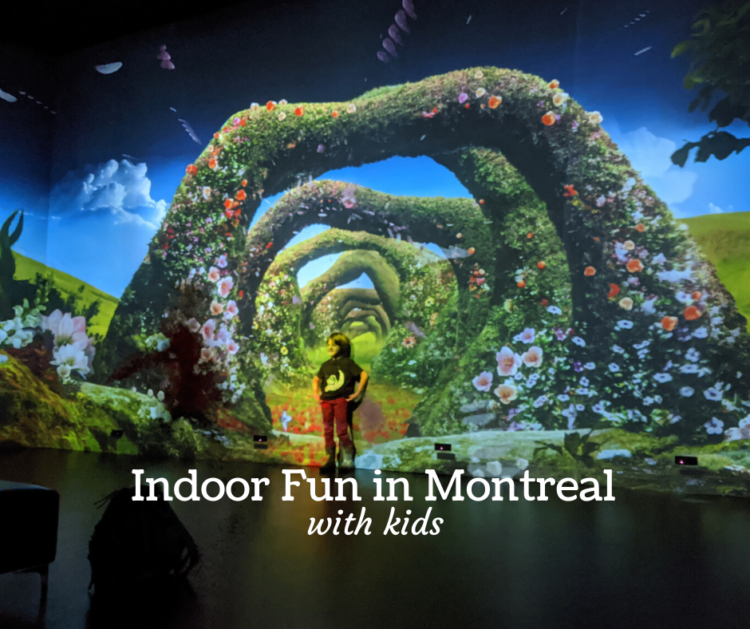 The weekend of our visit was a cold, COLD, oh so cold one and we discovered a good mix of indoor and outdoor activities to keep us all entertained. Having visited Montreal on numerous occasions, we didn't think we'd discover new attractions but we totally did! Below is a list of indoor Montreal attractions that our young family has enjoyed over the last eight years. I will quickly mention that there are many more art galleries and museums but our young kids don't usually have the patience for us to explore more than one on each visit. So this section is all about the kid-focused attractions.
Grévin Museum : I can't believe we hadn't visited this "wax museum", located on the 5th floor of the Montreal Eaton Center, before! We spent two hours here and only left because they were closing for the day. While I will be the first to admit that there were quite a few personalities I wasn't familiar with, the museum is a fun place for those of all ages. Upon arrival we first walked into a large room and the doors closed behind us. This part was a bit scary for the kids, especially since we were the only ones entering the museum at that time. What unfolded was a beautiful multimedia light show and while I did have to calm the kids and tell them to sit down and enjoy what was unfolding in front of them (it was truly magical), they did get into the spirit of things and started running around and trying to interact with the narrative journey through the seasons, from winter's dim light to a lingering summer sunset. The main doors to the museum opened after that and we all had fun learning about historical, political and famous people. While you cannot touch the wax figures, the space is quite interactive and the kids can run around trying on outfits or being part of the scene. You can pay $10 to have your (or your kids') hands dipped in wax and have a souvenir to take home. Given that you're in the Eaton Center mall, it's easy enough to find a spot to have a bite or get your shopping on. Don't forget that Time Out Market is open now!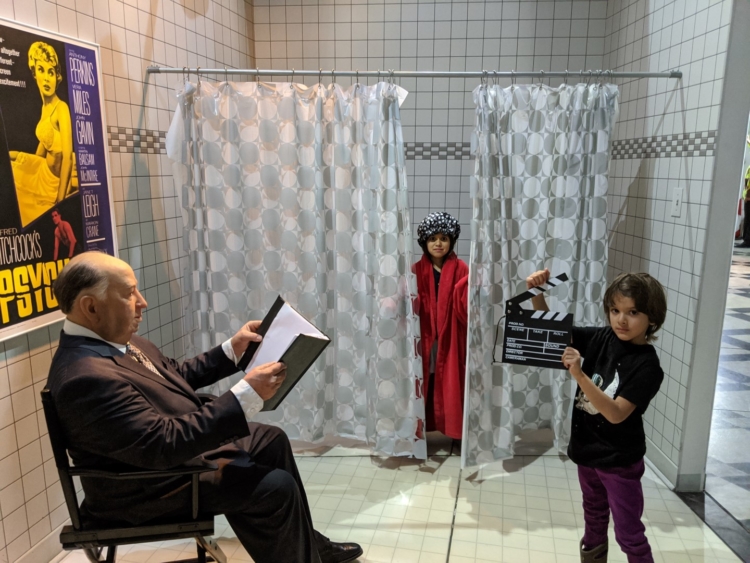 Barbie Expo : If you were a kid in the 80s or 90s, you'll definitely want to visit the largest permanent exhibition of Barbie dolls in the world! This expo is free to enter and is indoors at the Les Cours Mont Royal mall. It features over 1000 Barbies, including Hollywood stars, unique one-of-a-kind Barbie dolls and glamorous outfits created by famous fashion designers. Even Baby Boy and Chris were curious about the dolls which were house in display boxes. It was truly fascinating to see Barbie in so many different outfits and I of course loved seeing Barbie in various ethnic outfits and skin tones. Plan to spend half an hour to an hour here and since you're in another mall, there are cute cafes and other artwork to see indoors (during my visit, a teddy bear Christmas tree caught my attention).
Montreal Observation Wheel ( La Grande Roue) : I love visiting the Old Port during all seasons, but since it's quite cold in the winter, ducking into the warm climate-controlled gondola is my favourite way to take in the views. This is Canada's largest observation wheel and a sunset visit is highly recommended (especially since it happens so early in the winter). The rotations last about 20 minutes and the kids enjoyed spotting the skaters below at the ice rink (definitely a great outdoor activity if you're looking for one – skating under the stars and you can rent skates, helmets and skating aids!) and watching the glow as the sun set over Montreal. During our visit Santa was around for pictures too! With many cute shops and restaurants in the Old Port area, you can swing by for a drink, a bite or even some dessert.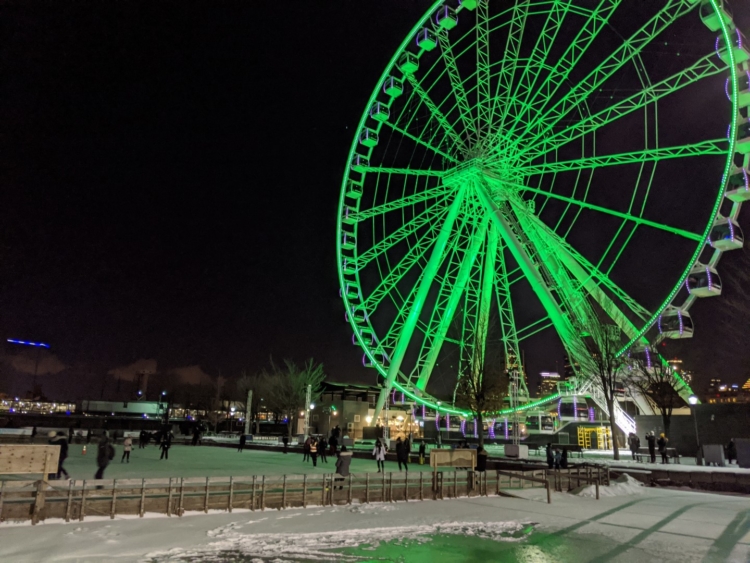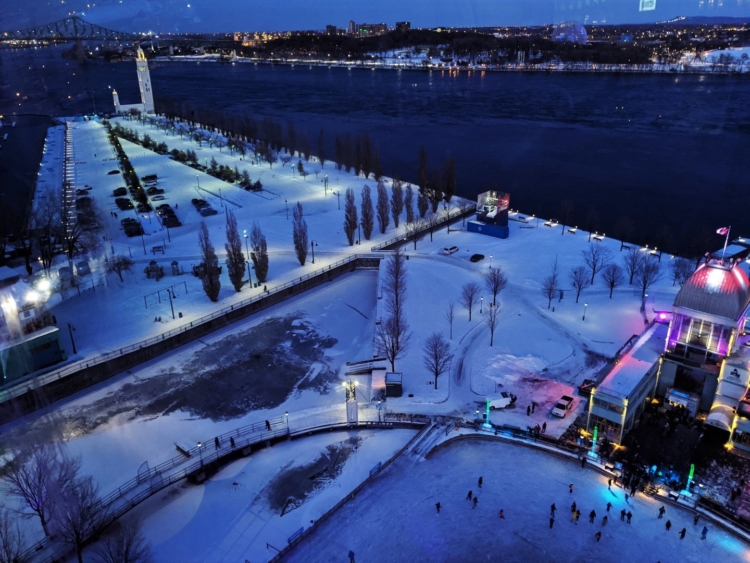 Montreal Science Centre : We are huge fans of Science Centres because our kids can spend an entire day in them. The one in Montreal is no different. There are play areas for toddlers and many interactive displays, rooms and exhibits for kids of all ages. There's also great IMAX shows and travelling exhibitions throughout the year, making the Montreal Science Centre fun go visit numerous times a year. Since it's in the Old Port area, this is a good one to combine with La Grande Roue.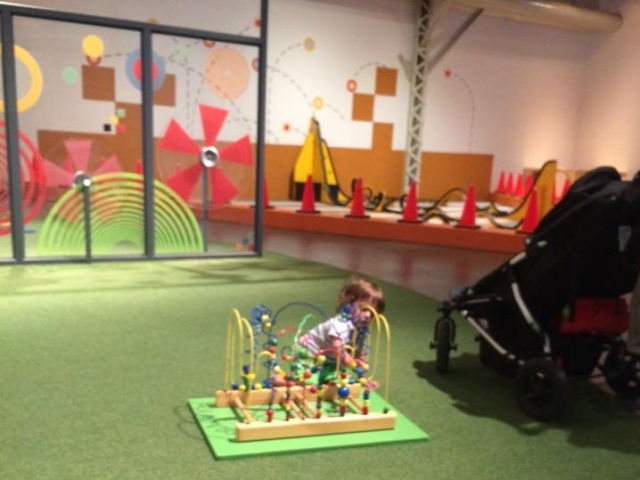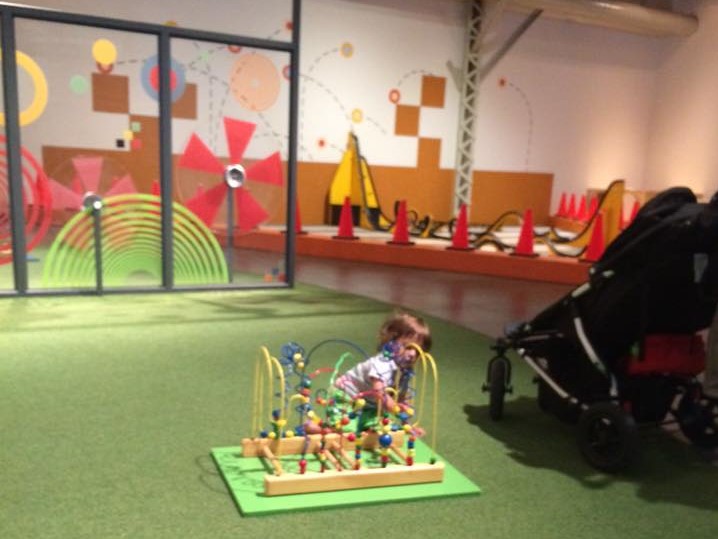 Redpath Museum : Located at McGill University, this museum of natural history is a popular choice for families visiting Montreal. A visit is warranted if your kids love dinosaurs, mummies or whales. You can use the skeletons and fossils for a couple easy science and history lessons on the go! Every weekend the museum also hosts a variety of science and archaeology workshops and tours for kids and families. Please note that this is a pay what you can attraction and a suggested donation of $20 per family or $10 per adult is advised.
Canadian Railway Museum : This one is a bit outside of the downtown core but I know many of our readers have train lovers in their family so I want to mention it. This is home to the largest railway collection in Canada and visitors can climb aboard some of the vehicles on display in the Grand Gallery of the Angus Pavilion, as well as ride a tramway or a mini-railroad. During the winter the outdoor areas is not accessible but there are plenty of other interactive areas. What I like about this museum is that they have created specific areas for those under 10 years of age.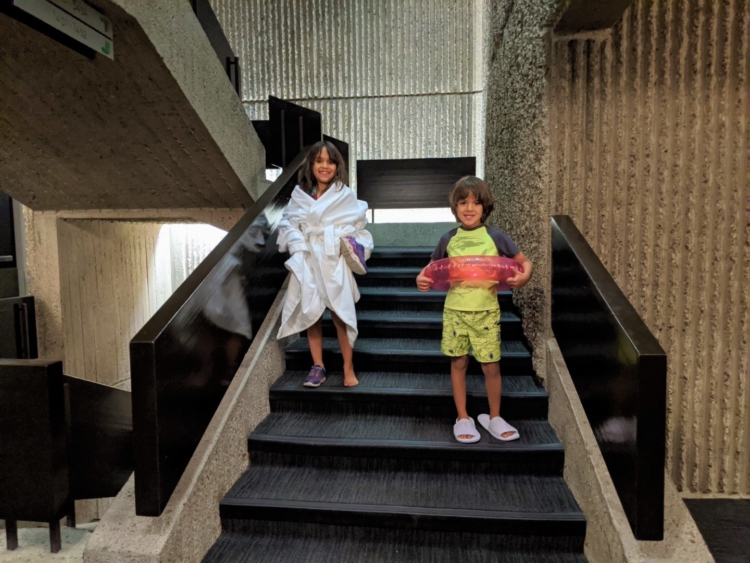 Dining with Kids in Montreal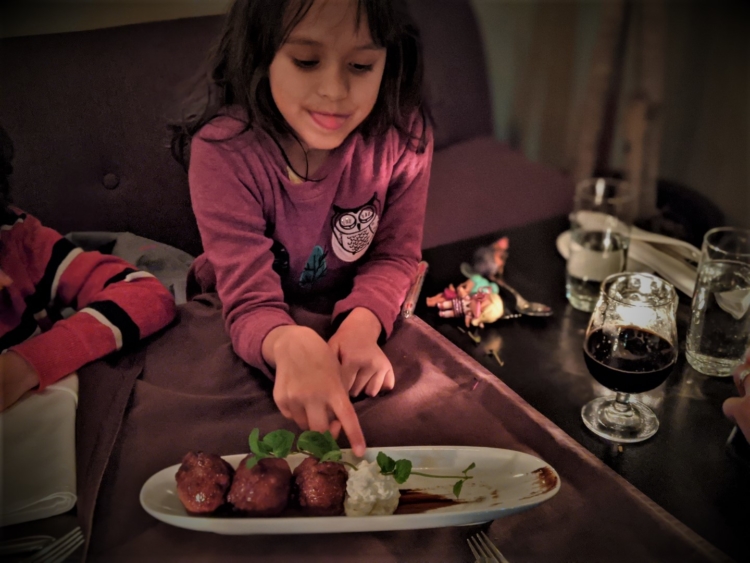 One of my favourite activities in Montreal is eating! No lie! We've discovered some delicious restaurants on each visit and this time was no exception. I also managed to drag the whiny kids on a food tour on this trip!
Les Enfants Terribles : With a name that suits my kids so perfectly, I knew we had to eventually dine here one day. We dined at the Place Ville Marie location and arrived just after sunset so we saw the city twinkle at night with the the 360 degree view from the restaurant. The restaurant was fully booked during our evening visit, so a reservation is highly recommended if you plan to dine here. The menu features Quebec cuisine with a good mix of classics and trendy dishes. They are kid friendly and have a very reasonably priced kids menu (with options like pogos, mac'n'meat, burgers and fish & chips between $6 to $9). This is a spot I'd come to watch the sunset at, with a drink and charcuterie or dessert board in front of me. Most of the main courses were ok but my favourite was the Calamari and Grilled Octopus but the star of the show were their desserts. The Cannelés were as amazing as the ones I enjoyed in Bordeaux. Can someone order the Black Pudding and let me know if it's good? I think I'll try their brunch on a future visit!
Le Virunga : When I heard there was an African restaurant in downtown Montreal, I knew we had to dine there. Chef Maria and her daughter, Zoya, run this cute little spot and I highly recommend you trying it out on your next visit to Montreal. I knew going here that this would be a spot where we encourage our kids to try different dishes. The dishes were flavourful and slightly spicy (not Sri Lankan spicy though). We definitely had to do a lot of cajoling but it was worth watching 6 year old Baby Boy ask for more braised goat from my Ogooue dish and chow down on the mofo sakay waffle. The kids also liked the Kariba which had mutton balls and we were able to swap out the goat cheese for Baby Boy. Definitely a spot I'd return to because not only were their dishes unique, flavourful and delicious, but their drinks were too!
Montreal Food tour : On our last visit we enjoyed a fabulous walking tour with Spade and Palacio but a food tour was high on my list of things to do in Montreal. Unfortunately for us, it was the coldest afternoon when we met up with Local Montreal Food Tours for their Mile-End food tour. Our guide, Francoise, led us (and about 10 other adults) to 6 different food stops and shared with us the history of the neighbourhood. Now, the kids were whiny but they got to try various dishes at each spot and I had also brought some candy along to appease them. There's discounted pricing for kids under 14 years of age and the tour took about 3 hours. Definitely bundle up for this tour as a lot of the history was shared while we were outdoors (some of the spots we visited were very small and we couldn't stay there too long). Luckily Francoise had a few hand and foot warmer to share with the kids (more for their entertainment than anything else!).
Au Pied de Cochon : Years later, this is still my favourite spot in the city! On our visit four years ago, they had a high chair for Baby Boy and we stayed late into the night, which was a treat in Montreal where they kick kids out of bars at 9 p.m. If there's one spot you MUST visit, this foie gras heaven is the one for meat lovers such as us. Seafood lovers would be just as pleased as they have an ever revolving daily seafood menu. I'm hoping to get to their sugar shack this year!
Dieu du Ciel : We love this Quebec brewery and have taken the kids there when they were infants but on our last visit a couple years ago, we were informed that kids were no longer allowed there. We thought we'd try our luck during this recent visit and what do you know? Kids are allowed back!!! If you're looking for a nibble and pint of delicious beers(they even had a sour during this Montreal visit), you must swing by here during the day time.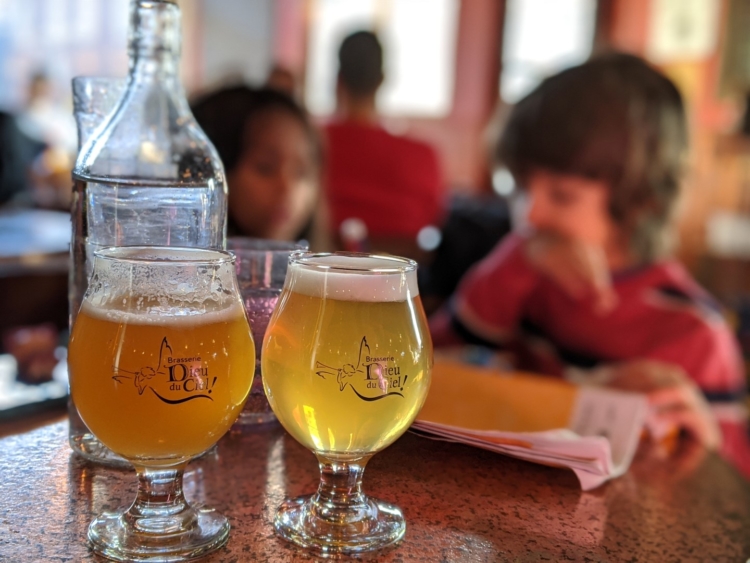 I always recommended Montreal for spring and summer visits so that families could enjoy the many festivals there. However, now that the kids are a bit older, we braved Montreal in the winter and discovered that it's just as fun even when the temperatures drop. The city still has that cool European vibe and the locals are enjoying life to the max. None of that changed with the seasons. If you're looking for a quick weekend getaway this winter, take a look at all these fun things to do in Montreal in the wintertime.
There's plenty of things to do in Laval with kids!! It's a great day trip for those visiting Montreal with young kids!