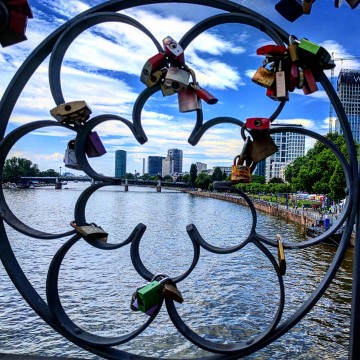 While visiting Germany was on our agenda, we didn't plan to visit Frankfurt with our kids. It just happened. Remember how we explored Limburg because our GuestToGuest  home exchange was located in Hofheim? The house was also a 15 minute bus ride from downtown Frankfurt. On two occasions we made it to the downtown area and today we're sharing how you can spend a day in Frankfurt with kids. I think it's safe to say that Frankfurt is mostly visited for business reasons and during our weekday visit we spotted quite a few well dressed business travellers exploring the city. We visited on the weekend as well and should mention that quite a few spots are closed on Sundays but the museums were open (most Museums are closed on Monday). Even during our weekend visit it was quite apparent that Frankfurt has a very diverse and multicultural population and it was easy for us to find a good mix of ethnic cuisines. If you find yourselves passing through Frankfurt with kids in tow we have some ideas on how you can be entertained as a family in the city that is home to one of the busiest airports in the world and some of the largest fairs in the world (world's largest book fair, motor fair and music fair).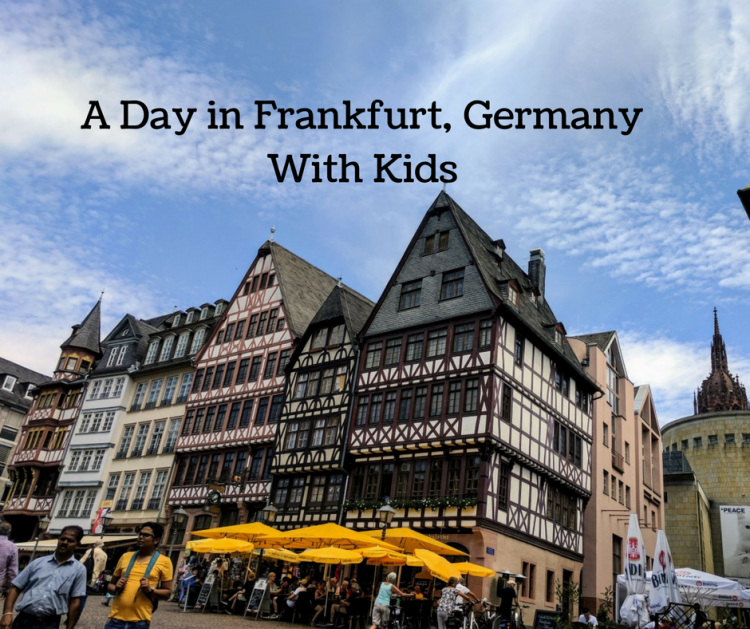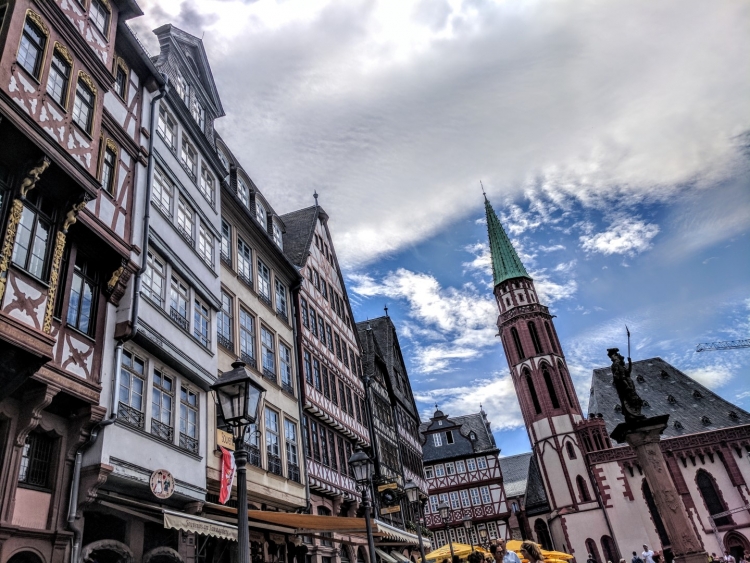 Starting our day strolling through Frankfurt's Old Town (Alstadt) was a great idea. We got to walk through the bustling city on a Saturday and the old town was a lovely contrast from the modern buildings by the water. I could just picture trade fairs and merchants exchanging goods back in the 12th century! The timber homes provided quite the backdrop for our pictures.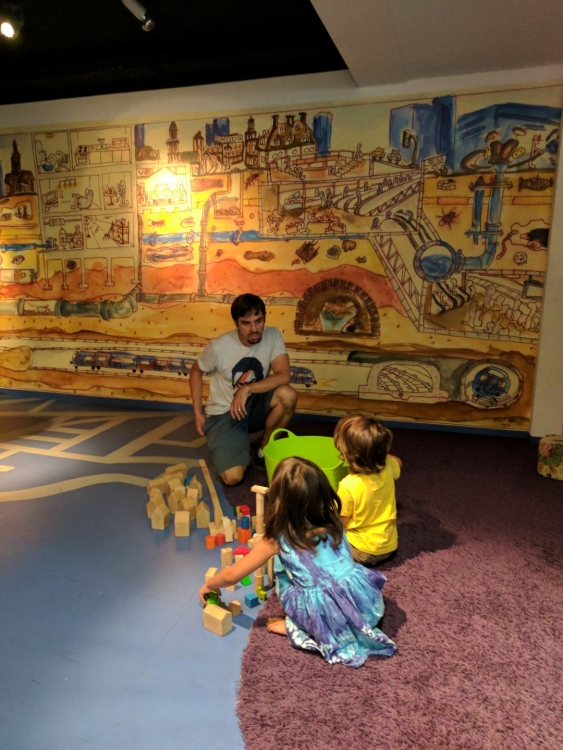 Next up we visited the Frankfurt Children's museum. We visited this space on two occasions but never actually paid to go inside. We were informed that the front play area was free to use and our kids were quite content swinging away and playing with the blocks there. We encountered some hot spells during our visit and this air conditioned space was a nice place to link up with another family who I met on Instagram a couple months before we started our travels. Check out her blog if you're looking for some day trips from Frankfurt! She has some great suggestions and knows ALL about German castles.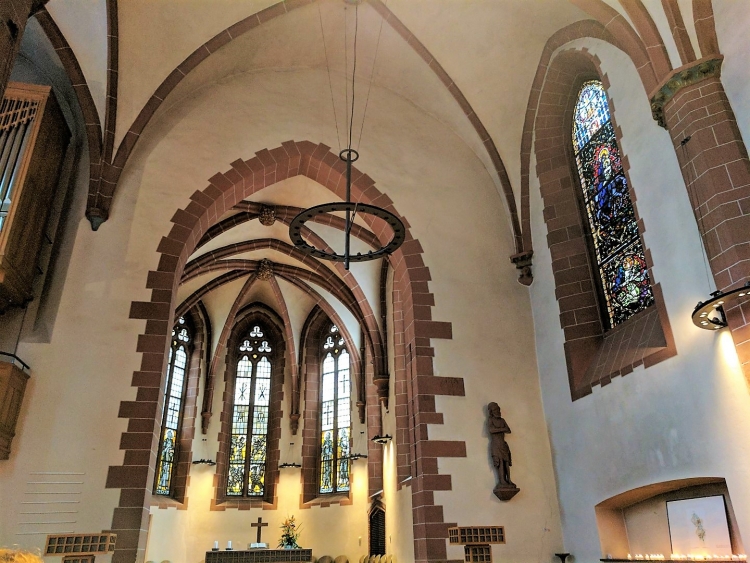 Before leaving the old town many like to swing by and take a peek at the Frankfurt Cathedral. I made it my mission to walk into every Church I spotted during our 148 day adventure but even I will have to admit that there wasn't anything memorable here but it's still something one simply HAS to do, right?
I found it interesting that the city of Frankfurt flags the Main River and as we walked through the old town and made our way past the modern financial hub, we ended up by the water. The weekend we visited the Iron Man races were taking place and there was much for the kids to do beyond just looking at the scenery.
I know we totally lucked out with these activities but our friends also informed us that there's always something or another happening in the city with entertainment for the kids. Little Monkey was very sad that she didn't meet the height requirement for the jumping contraptions but soon forgot about it as she sat in a tray and was pushed down a conveyor belt of sorts. It was hilarious to see the locals sitting there as the kids whizzed by in what looked like the mail bin in my office!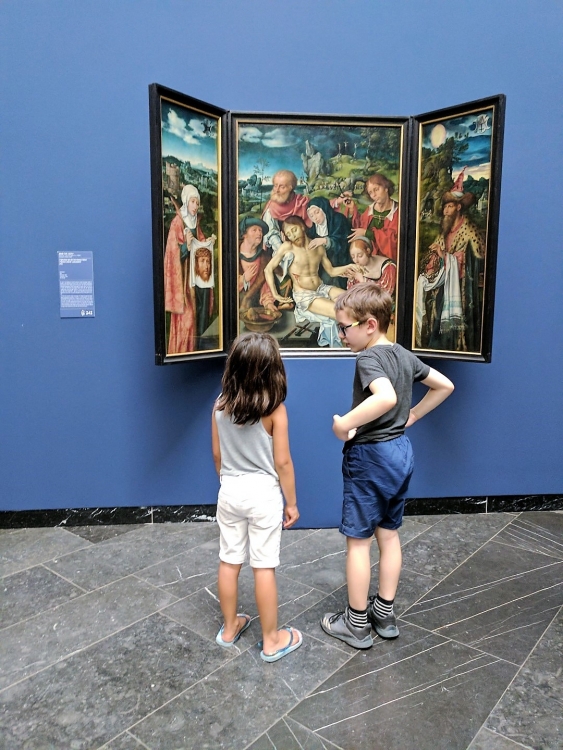 While most families tend to shy away from museums when travelling with young kids, we've done our best to bring our kids to the museum. We time our visits to earlier in the afternoon as much as possible and only visit once they have a full belly and much energy. In Frankfurt the only museum on our  to do list was the Städel Museum. We walked through seven hundred years of European art from the early fourteenth century to present day and the kids were happy to marvel at the colours and try to determine what was happening in each painting!
The Statues in Frakfurt were very interesting and it was hard to pick which ones to feature here but the above three will give you an idea of what to expect. We spotted kids "swimming" in the fountains and climbing up each and every stattue we saw. My kids were right in their comfort zone!
When it came to food we decided to just go with the flow and enjoyed a pretzel for a snack and then the kids had some ice cream while the parents enjoyed a few beers at a biergarten before ending our day with some Thai. We love East Asian cuisine and so we were very excited when we spotted a Thai spot that actually hit the spot! Needless to say, most of our meals were based on craft beer locations and things worked out for us!
If you're looking for more ideas on ways to spend a day in Frankfurt with kids, check out this list of suggestions!