Fall means farm visits and we enjoyed quite a few Ontario farm experiences during our recent Perth County road trip. By now you know that Akira is a huge fan of animals and since we live in a pet free condo (fish don't count okay?), we've been doing our best to take her to farms where she can learn about and play with animals. Ontario has some amazing farms that welcome families and Perth County has a self-guided Farm Gate route which we used to help us plan our overnight trip.
Disclosure : This post is in partnership with Perth County but, as always, opinions are TOTALLY ours!
Ontario Farm Experiences with Kids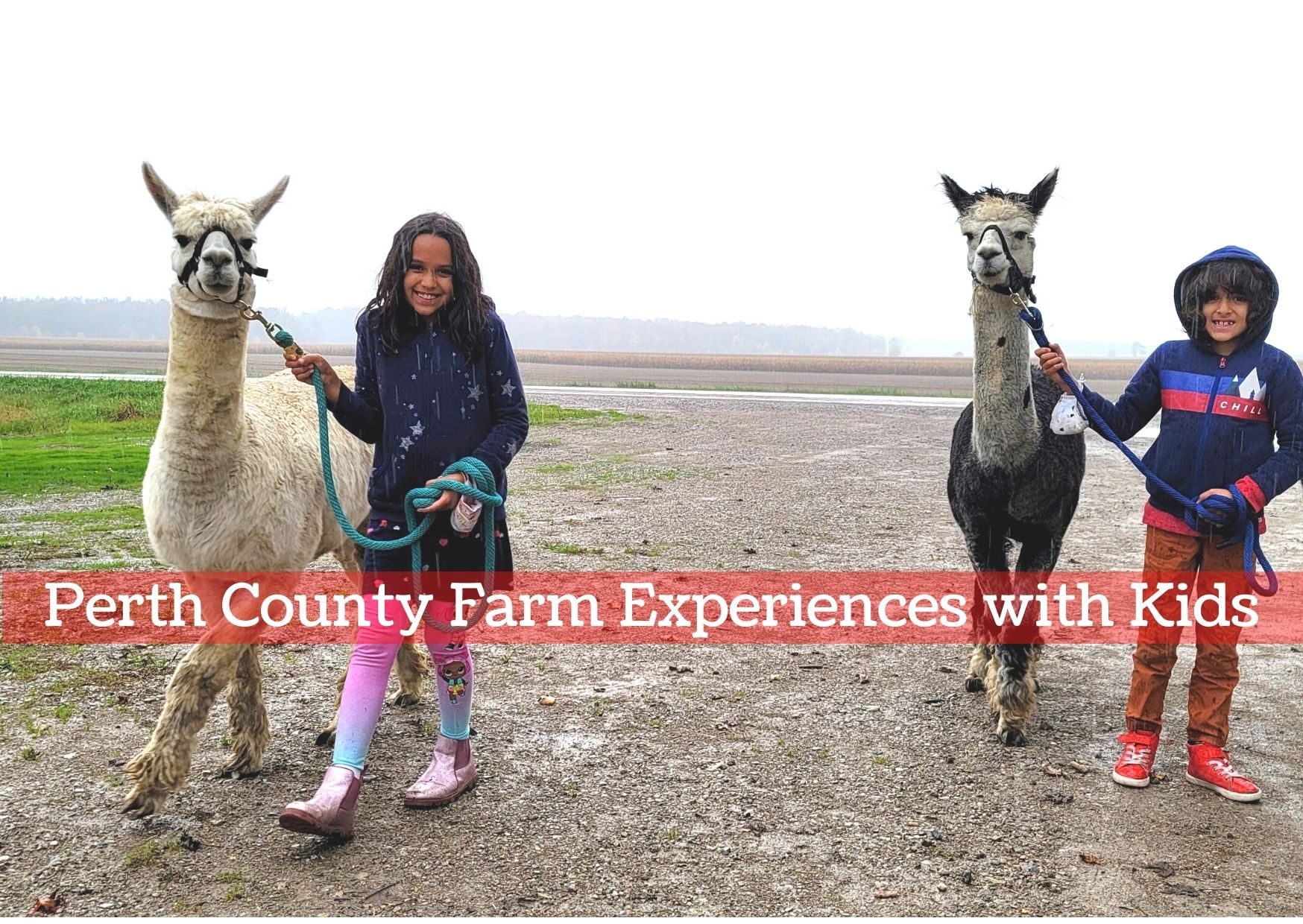 Akira and Apollo are at that stage where they love learning through experiences or sitting in front of screens and so Chris and I have tasked ourselves with the concept of widening their city views to include some rural experiences. This is one of the reasons we decided to explore the Farm Gate route in Perth County. If you're looking to learn from the source, Perth County's Discover More Flavour Farm Gate Map enables you to explore their local food and culture, whilst meeting the farmers. The area is home to a variety of farm gate stores, self-serve stands, farmer meet and greets and seasonal pick-your-own experiences. We were able to pick and choose what we wanted to do on this self-guided Ontario road trip through Perth County and I may have woven in some stops from their treats, trails and thrills route too!
Where is Perth County?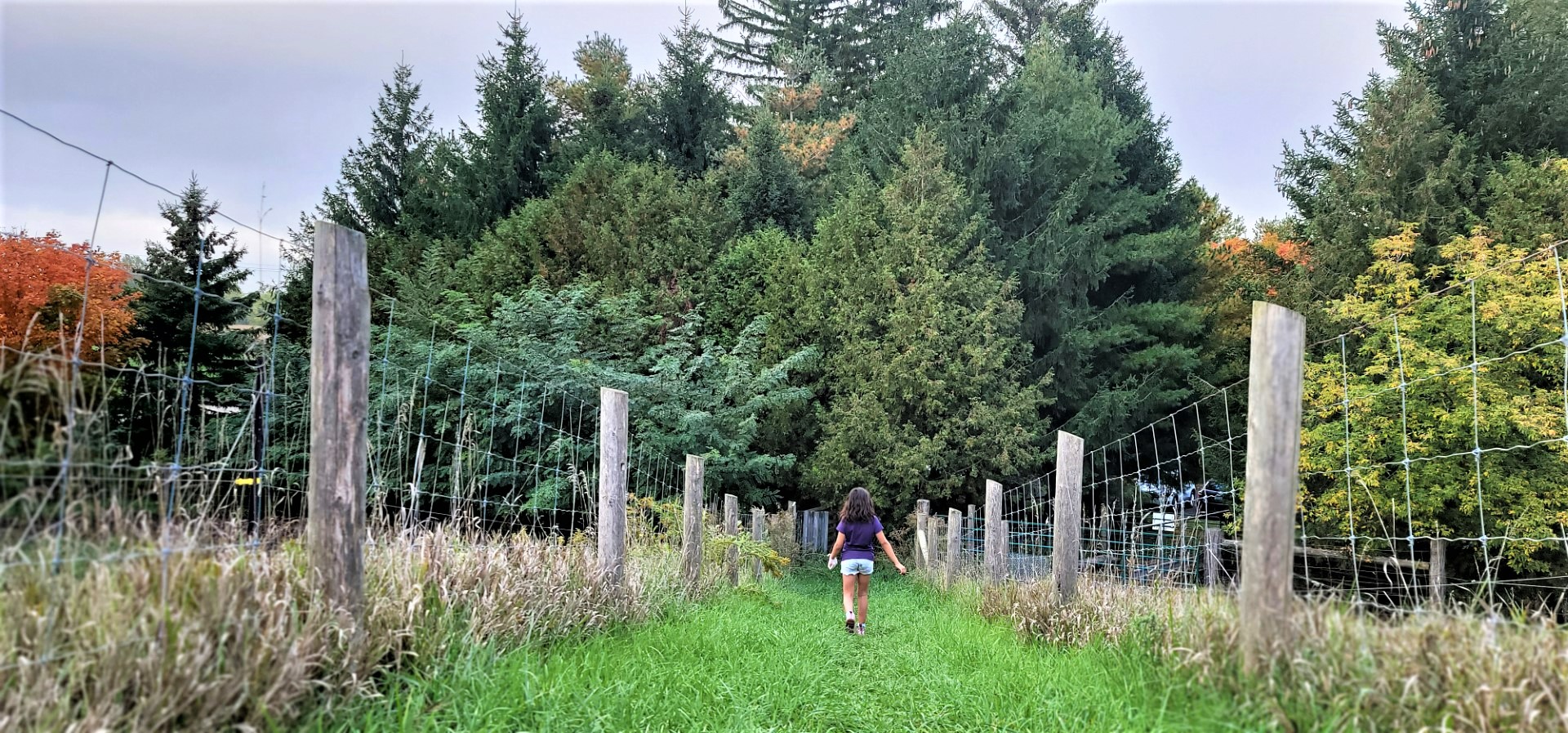 Located about a 2 hour drive from downtown Toronto, Perth County can be found in Southwestern Ontario. The county is divided into four municipalities : North Perth, Perth East, Perth South, and West Perth. Luckily for us, it's pretty easy to drive between them and we visited various businesses and restaurants throughout the county during our visit.
Farm Gate Experiences in Perth County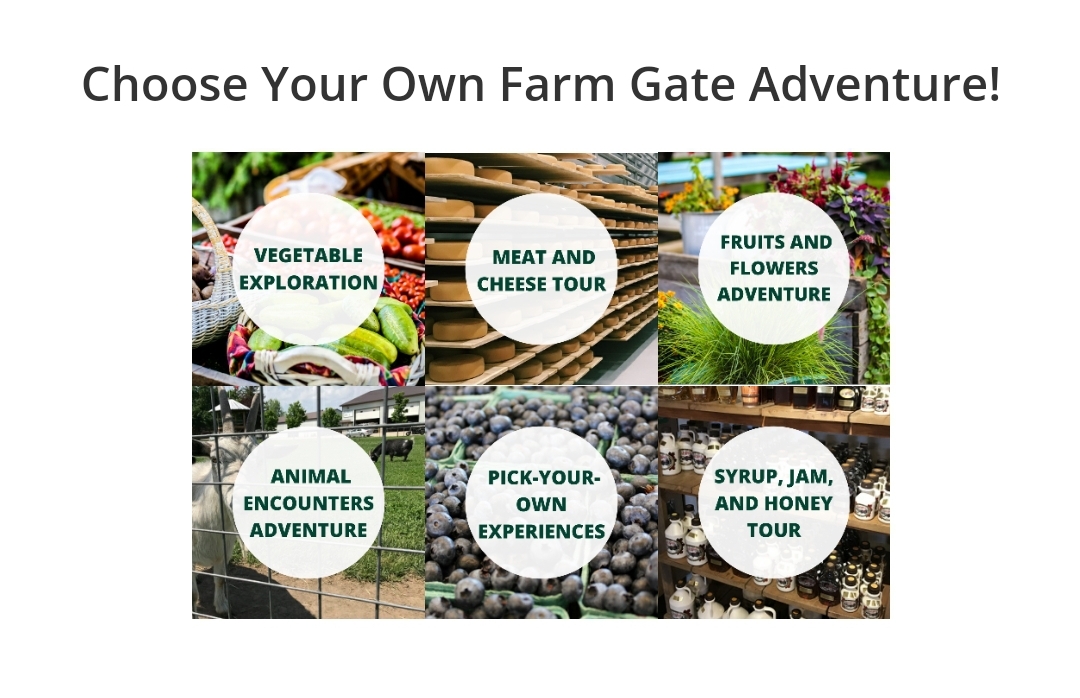 If you're looking for a day trip here's some ways you and your kids can enjoy the farm experiences and local cuisine in Perth County.
Enjoy Breakfast in Sebringville at Dave's Diner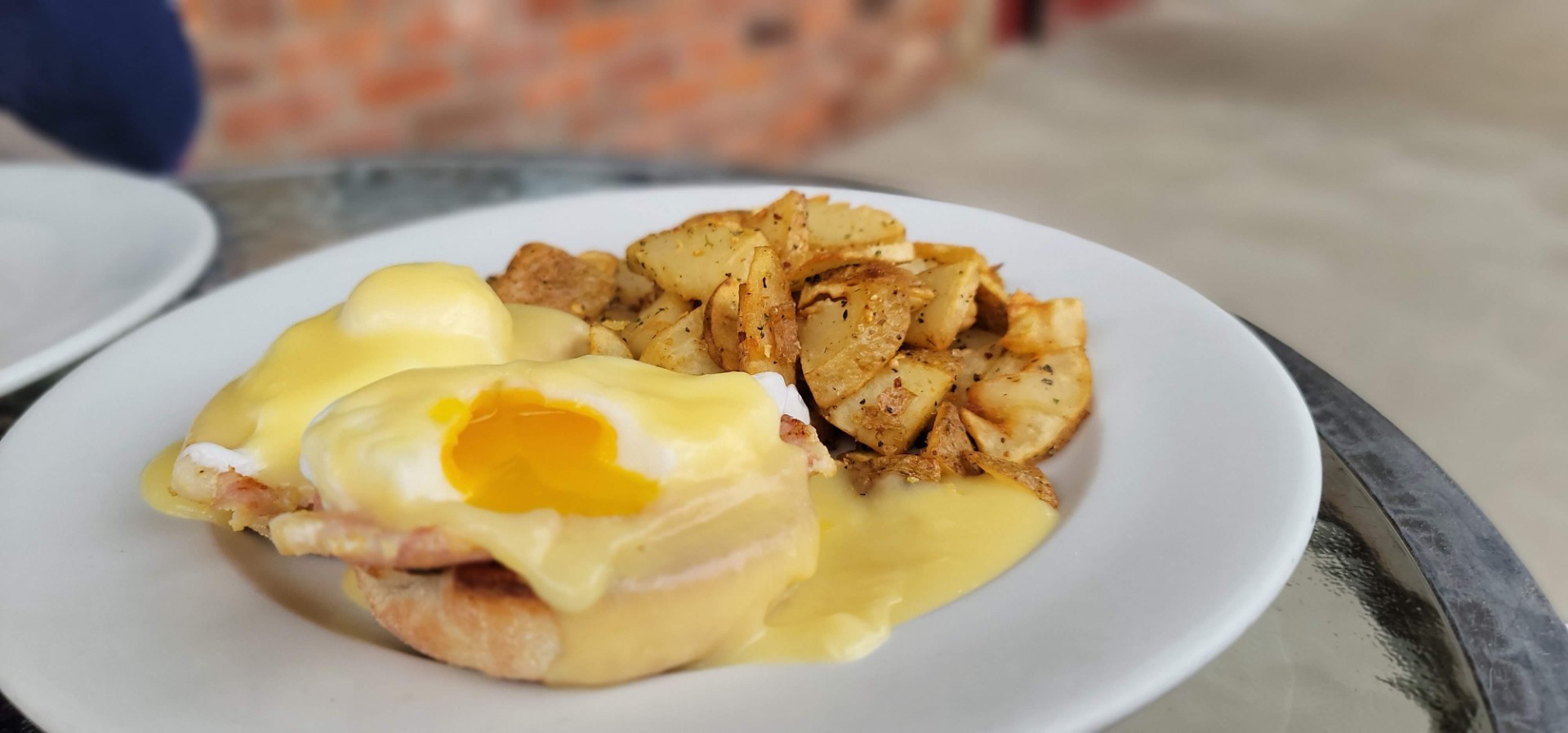 Start your morning with a home cooked meal at Dave's Diner. Dave himself was in the kitchen flipping our breakfast during our visit. Since it was foggy but warm morning, we opted to dine on their porch patio and the kids settled in nicely with the box of crayons and colouring sheets while we sipped on coffee and juice.
Everything is made in-house and from scratch here so if you're looking for a classic home-cooked meal, this is where you want to go. Dave's signature spice was fabulous on the home fries and Akira loved here Mickey pancakes! Our server Kim was not only attentive but also kind to kids and this leisurely start to our day set the tone for the wonderful day ahead. We even spotted some lovely fall foliage colours in the parking area!
Pick Your Own Flowers at Black Creek Flower Farm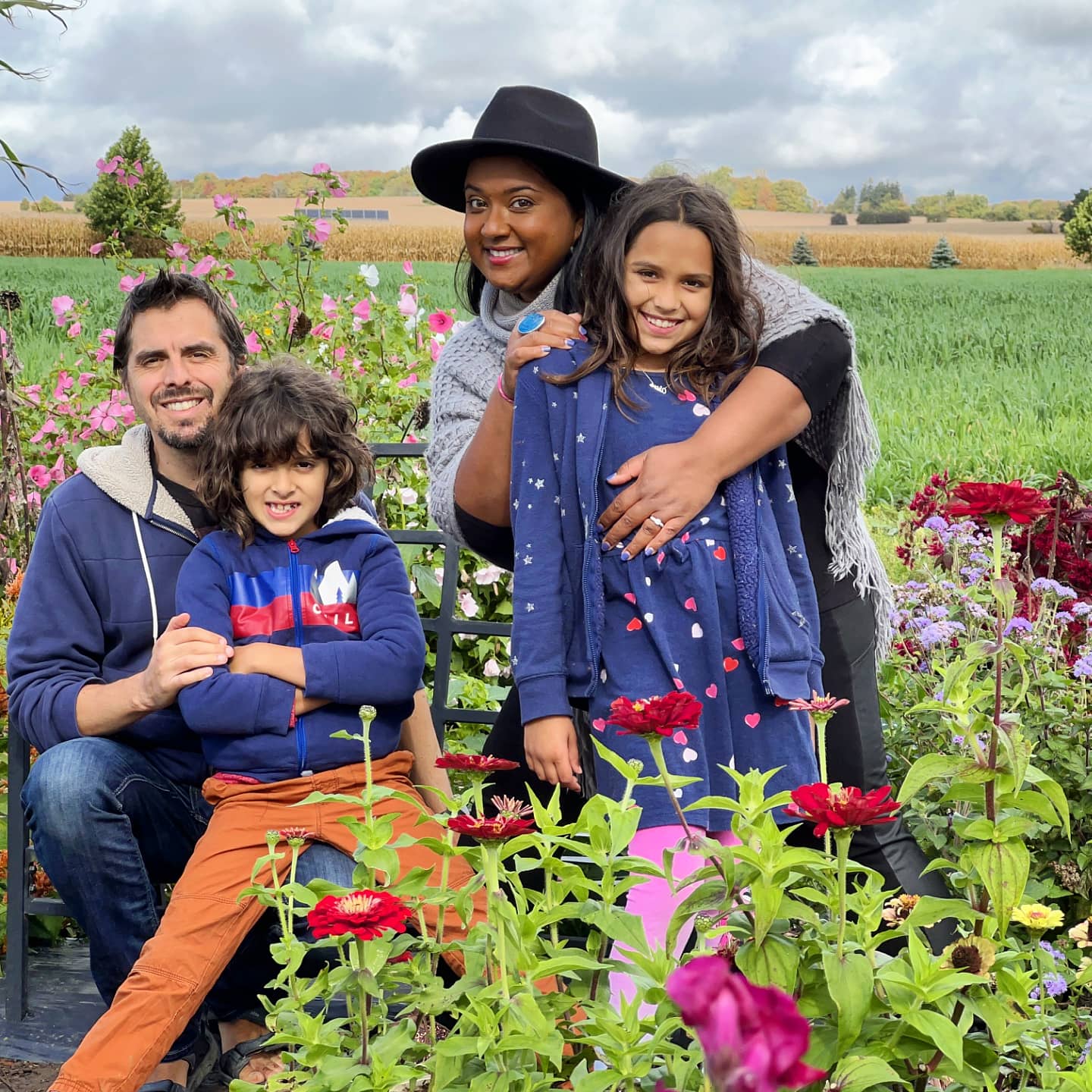 Just up the street from Dave's Diner is Black Creek Flower Farm. We visited in October when the shop was closed but there was a little stand with all the instructions for a U Pick experience. I loved that we were able to e-transfer the money (since you know we rarely have cash on us) and that there were plenty of sanitizer and clippers for us to use. For $12 we chose a small pail and filled it with flowers the kids chose.
Now, I will mention that this is a cute spot for some family pictures. I mean just look at the ones we took with the help of a tripod!! Definitely making it into the Christmas calendars!!
Swing by for a Pint at Shakespeare Brewing Company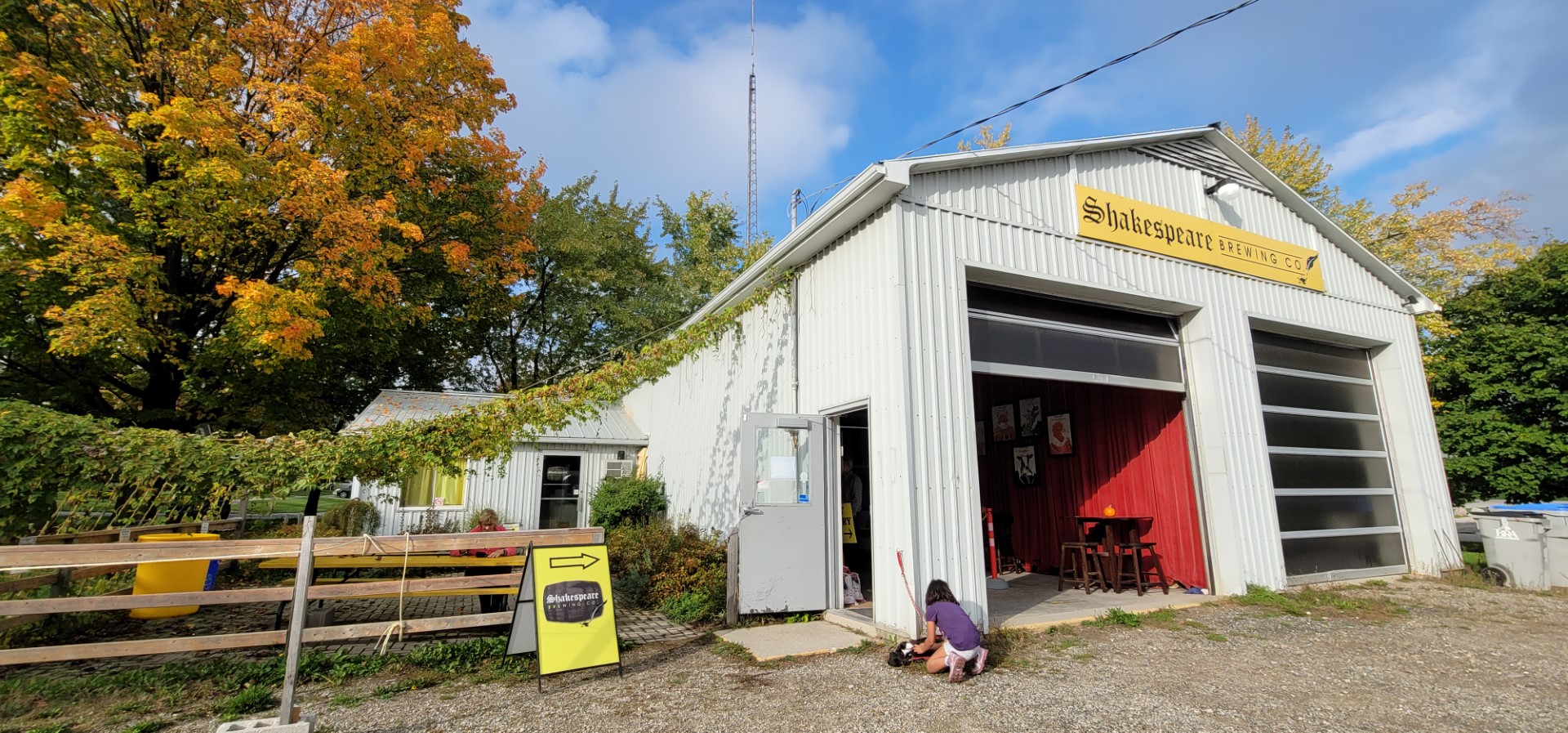 If that photo session tired you out or if you're a bit parched, a twenty minute drive away is Shakespeare Brewing Company. We ordered two flights to sample the various beers they had on offer and the kids sipped on juice boxes on the hop and vine covered patio. Such a cute setting!!! The owner had recently got a new puppy and Akira spent quite some time with the little guy and was able to calm herself down, which we all appreciated!
Ayden and Kaite, a husband-wife duo, have repurposed an old school bus garage into their brewery and it's a great spot where kids can enjoy the area next to the patio while the parent relax. The brewery takes pride in their artisanal approach which uses Ontario grown barley and 100% Ontario grown hops while supporting other small local businesses. They offer a few regular beers and also have some seasonal/special batch beers on offer throughout the year. They also love their alliterations with brew names like Disobedient Dog, Classy Cow, Bumbling Bear e.t.c
Fall Harvest Fun at McCully's Hill Farm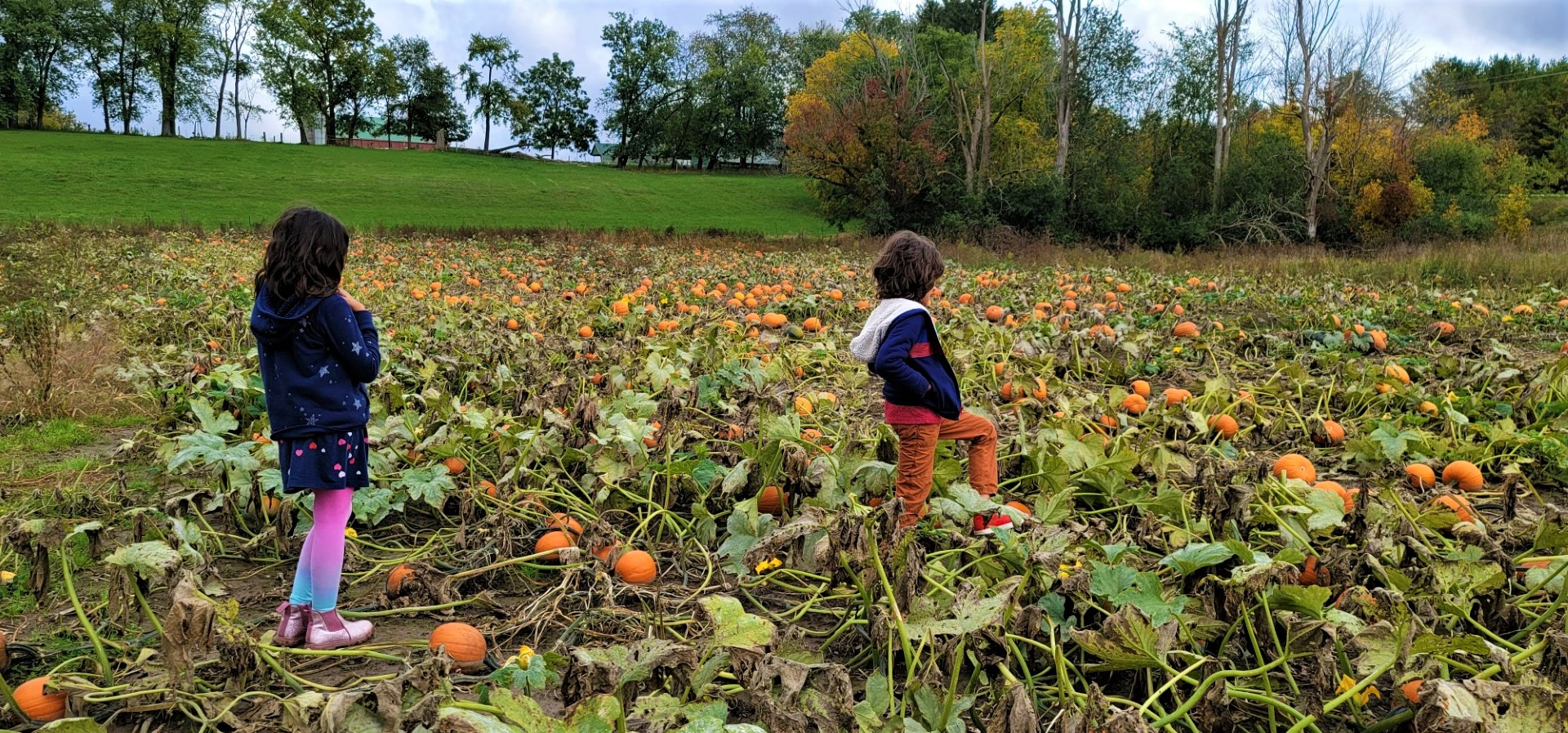 This spot (located a 25 minute drive from the brewery) is on the Perth County Farm Gate Map for a reason! Not only can you enjoy delicious homemade treats, beautiful scenery and adorable animals here, but you can chat with the farmers and learn local history and interesting farming facts as well. No matter the season, there are some fun things to do in Perth County.
Since we were visiting during the Fall festival we were able to purchase tickets that gave us access to the maze, pumpkin patch, wagon ride through the forest and access to the stables. For Akira the highlight was seeing the goats in the play pen, petting the horses and cuddling the bunnies.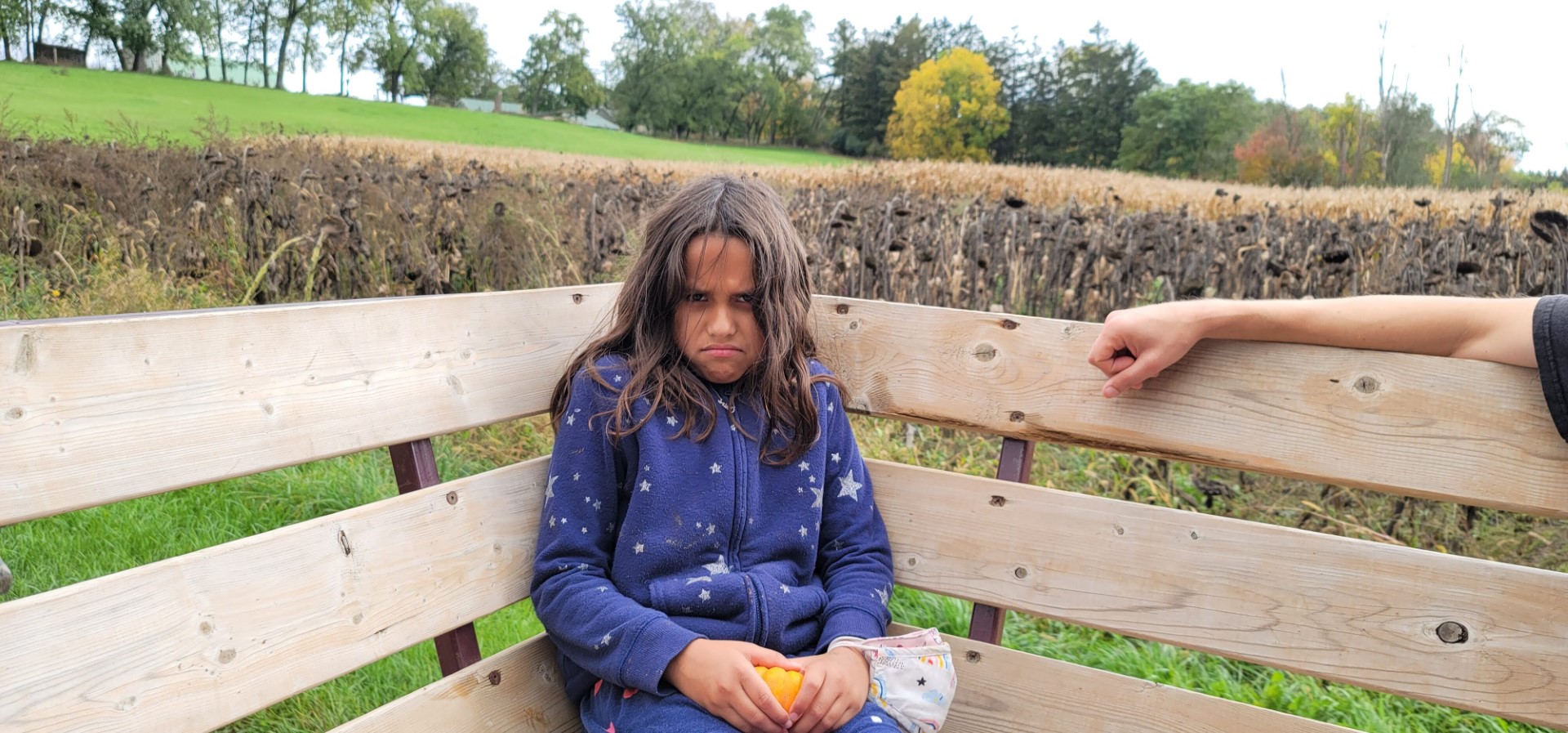 Although, she definitely got grumpy with something or another and was in a mood for the wagon ride. This sadly is the truth about family travel with young kids… you will have meltdowns but luckily they don't tarnish those happy travel memories.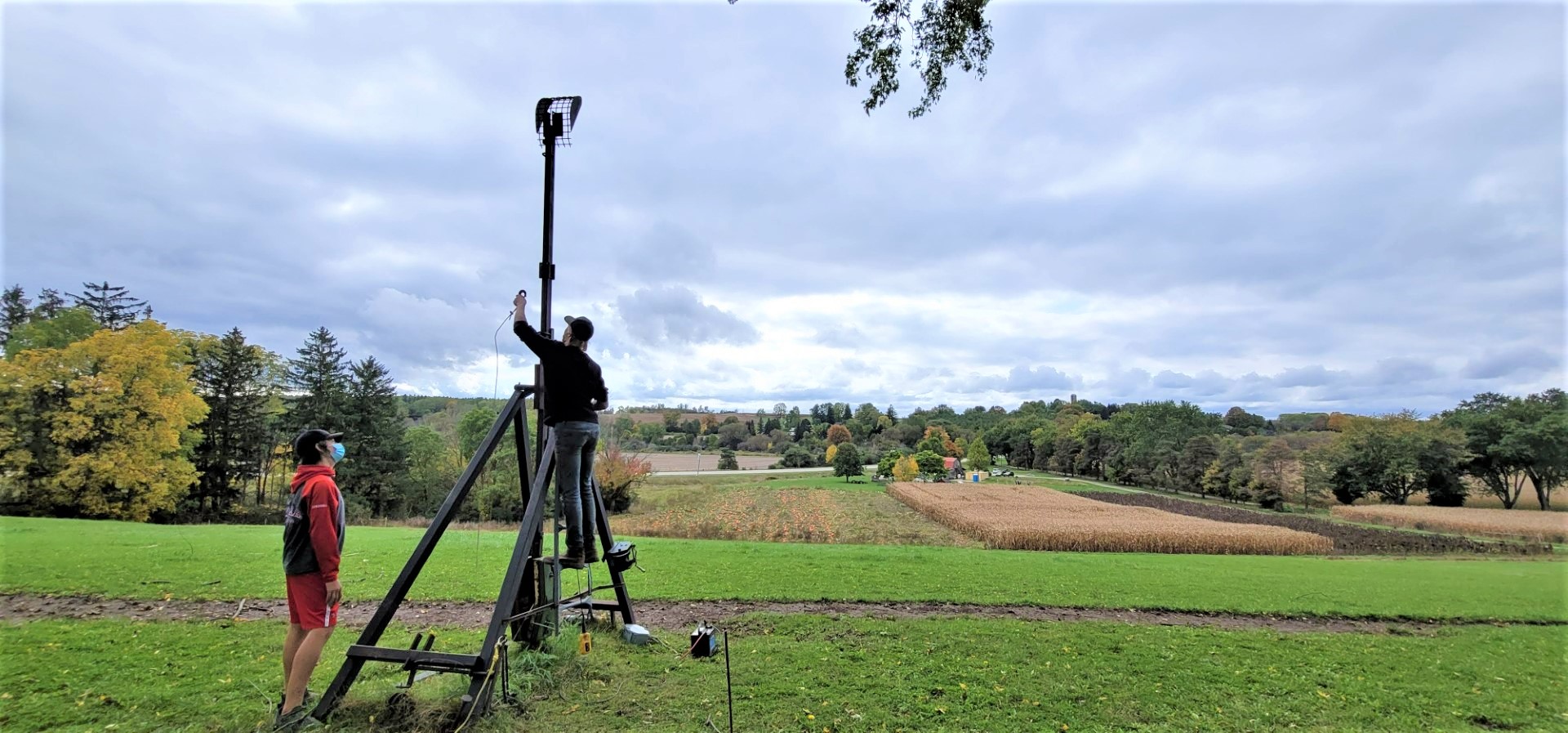 For Apollo the highlight was a surprise at the end of the wagon ride where they allowed the kids to tug on a catapult that propelled old watermelons onto a field. Oh how fun that was! Totally unexpected and yes, I know I preach about food waste and how we should avoid that. Which is why I asked the staff about that and we were told that these watermelons were well beyond their expiry having been on the farm beyond their time.
Be sure to swing by their store because McCully's Hill Farm has some fabulous bakery options. We purchased some butter tarts and also bought a bunch of jams as a gift for Chris' mom. During our visit we also observed some ladies making pie crusts and baking pumpkin pies! I also hear that Maple season is quite fun here!
Lunch at Sugar Maple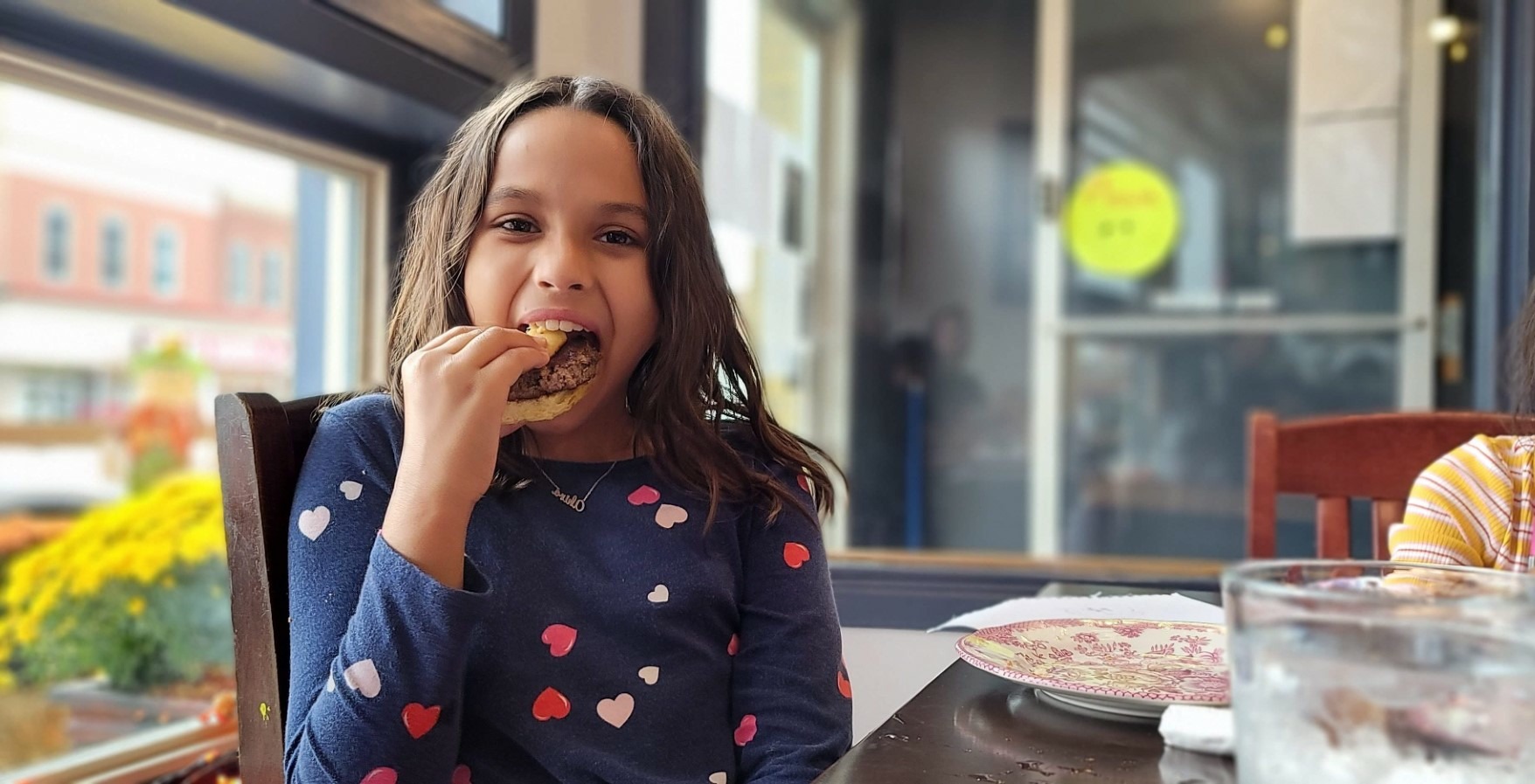 Surely by now it's time for lunch! Sugar Maple is open for breakfast, lunch and dinner and truth be told, the earlier you get here the better- if you have a sweet tooth! By the time we swung by for lunch most of their baked goods were sold out but I did manage to try a few. Definitely coming back here again the next time I'm in the area!
Everything is baked in house and once again, you can expect home cooking goodness here. Just the perfect way to hide from the rain that started during the afternoon of our visit. The sandwiches are really good and Chris was impressed with the size of the bread slices (they bake it right there!).
Kids enjoyed simple burgers while I devoured my fancy Big E burger which had huge chunk of brie, cranberry and bacon on a sourdough bun. This burger recipe was brought over from England by their cousin Erich and I can see why it made the menu!
Explore Mitchell Trails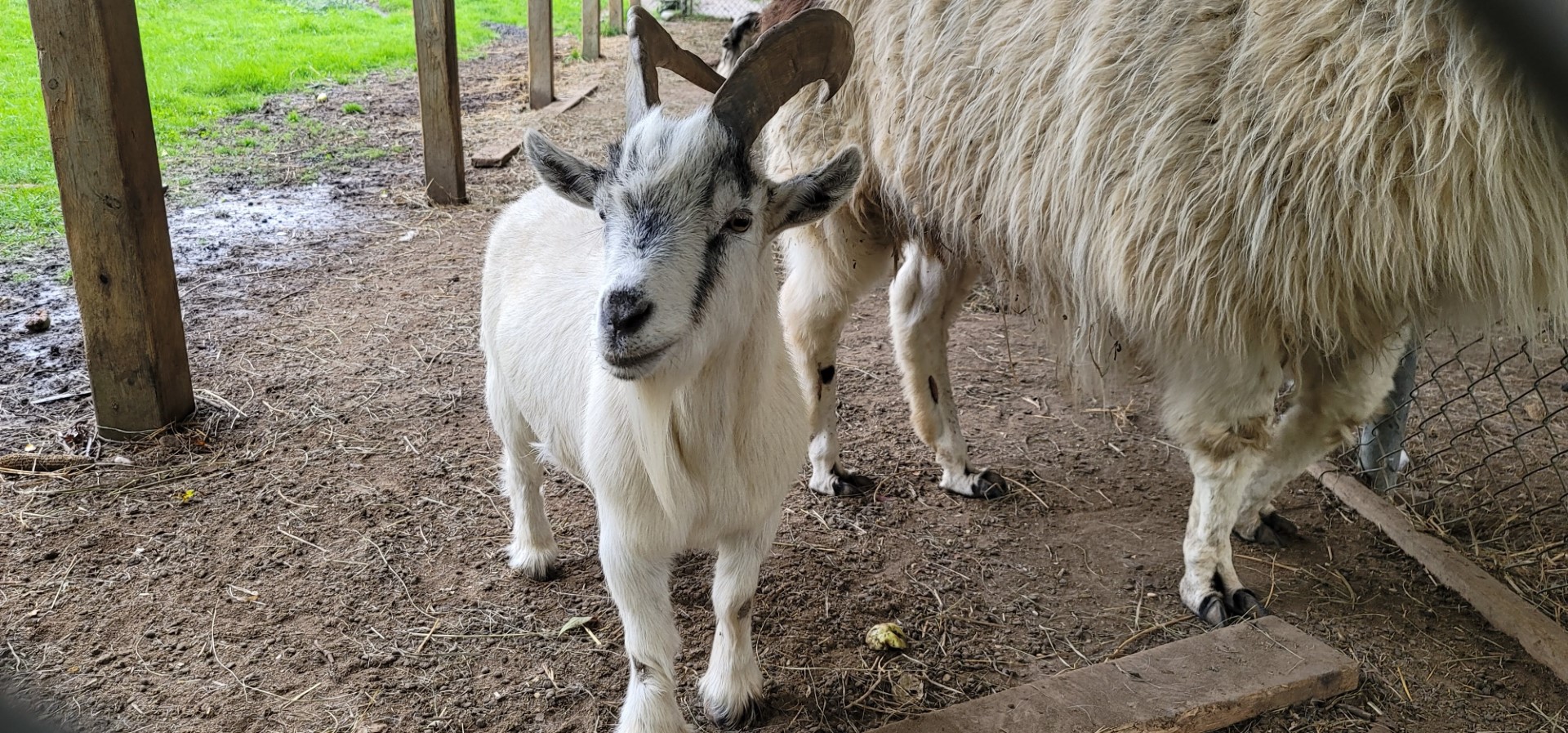 If you're stuffed and looking to take in a scenic walk, there are some trails nearby. The Mitchell area is quite picturesque too so if it's a nice day it's worth wandering down the street after your Maple Sugar lunch. We spotted some pretty fall colours during our visit and although we didn't have time to roam around the Thames Nature Trail and Wetlands or the West Perth Neighbourwoods Demonstration Forest, we did pop by the West Perth Animal farm. The kids saw some goats, llamas and chickens during our visit but I believe there are more animals around usually. Given that we visited during a rainy afternoon, I'm assuming that the farmer we saw as soon as we pulled into the parking area may have just finished cleaning up and moving the animals to a dryer section. There are 2 playgrounds and a covered picnic area with tables here but you'll want to make note of the pool and small splash pad if you're visiting during the warmer months!
Walk Alpacas at TLC Alpaca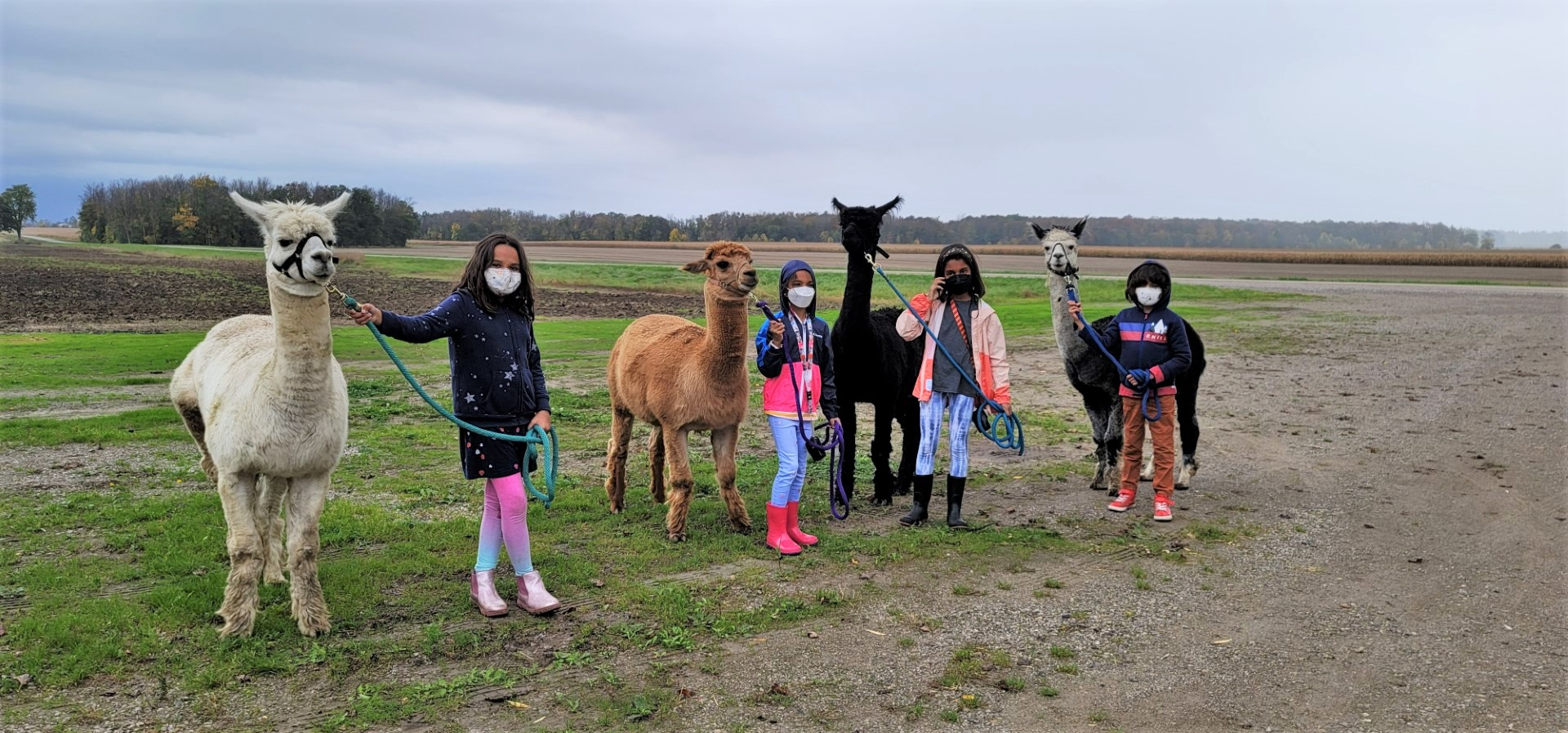 The highlight of the trip for Akira was definitely this Ontario Alpaca experience. Owners Fred and Faye were so welcoming and not only taught the kids and us adults about farm life, but they also welcomed us to their home. As you know by now, it was raining on and off and so we weren't even sure if we'd be able to visit. Luckily for us, we all made it happen! We even had some friends join us and had a lovely visit despite the rain.
The Alpaca walking tour costs $50 for a family of 4 and gives the chance to really get up close and personal with the animals. Please ensure you call ahead and book your slot. The kids and adults each are given an Alpaca to walk and then feed. Sadly for us, it started pouring heavily a few minutes into our walk so we went back to the barn. Fred and Faye were so flexible and modified the experience to suit the weather and our interests. We ended up playing with the animals in the barn and then visited Fred's workshop because we started chatting about wood working and how Chris' dad and our friend (on the tour with us) were both into the craft. Of course we ended the tour by visiting their home where Faye showed us the various items made from the Alpaca wool.
This was such a cute experience and reminded me of the Alpaca tour in Grey County many years ago!
Dinner at Anna Mae's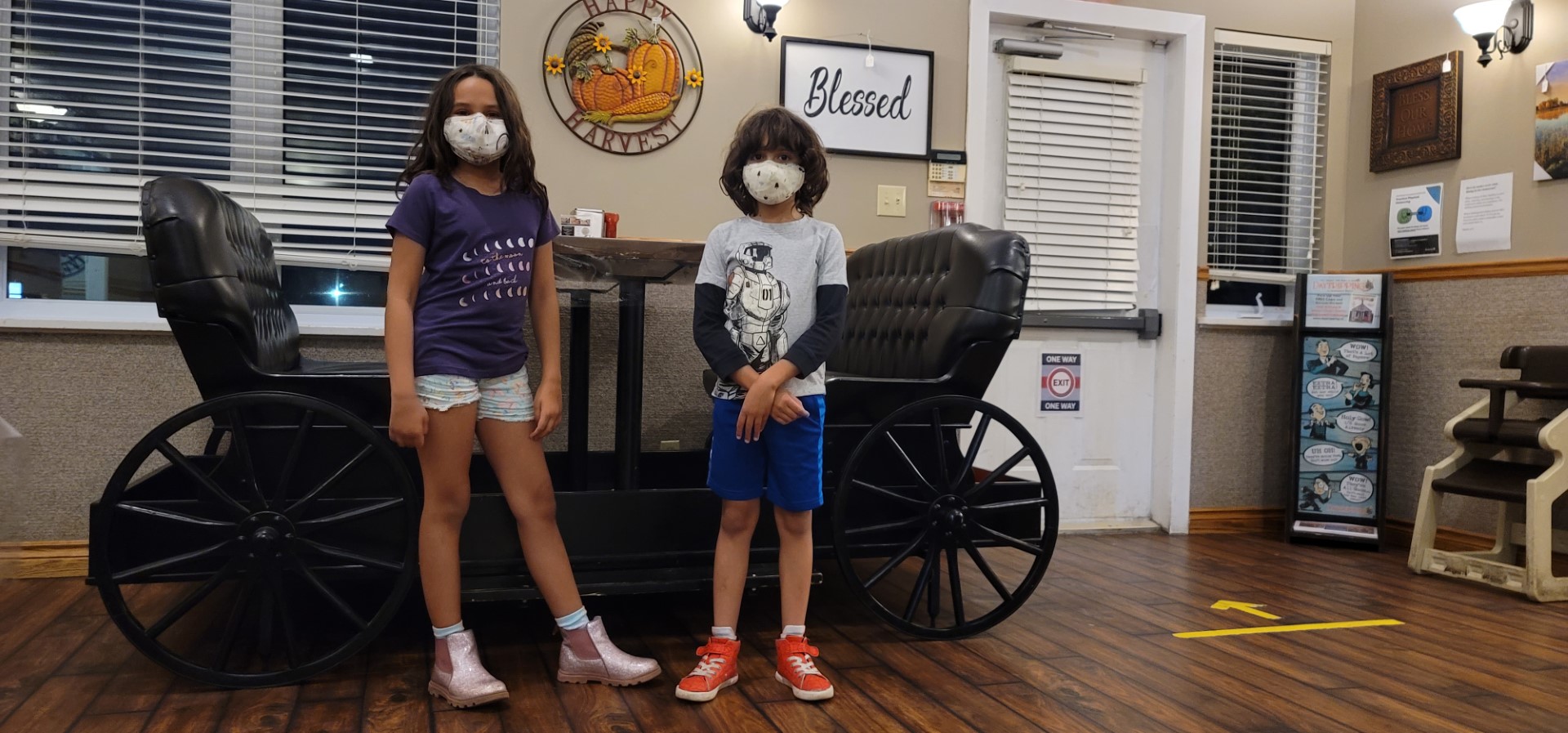 To end the day, a dinner at Anna Mae's is a great idea. Featured on "You Gotta Eat Here!", this popular Mennonite restaurant is most known for their Broasted chicken and pies. The restaurant was taking last orders at 7 p.m. so that's something to keep in mind if you're planning to have dinner here.
I will admit that their broasted chicken was really good and these home cooked meals were quite generous portion wise as well. If you're looking for places to eat in Perth County, I have no doubt that the locals will send you here. We spotted quite a few families grabbing take out during our visit! They have one table that's Buggy Booth and though we did not sit there, we did get a picture with it!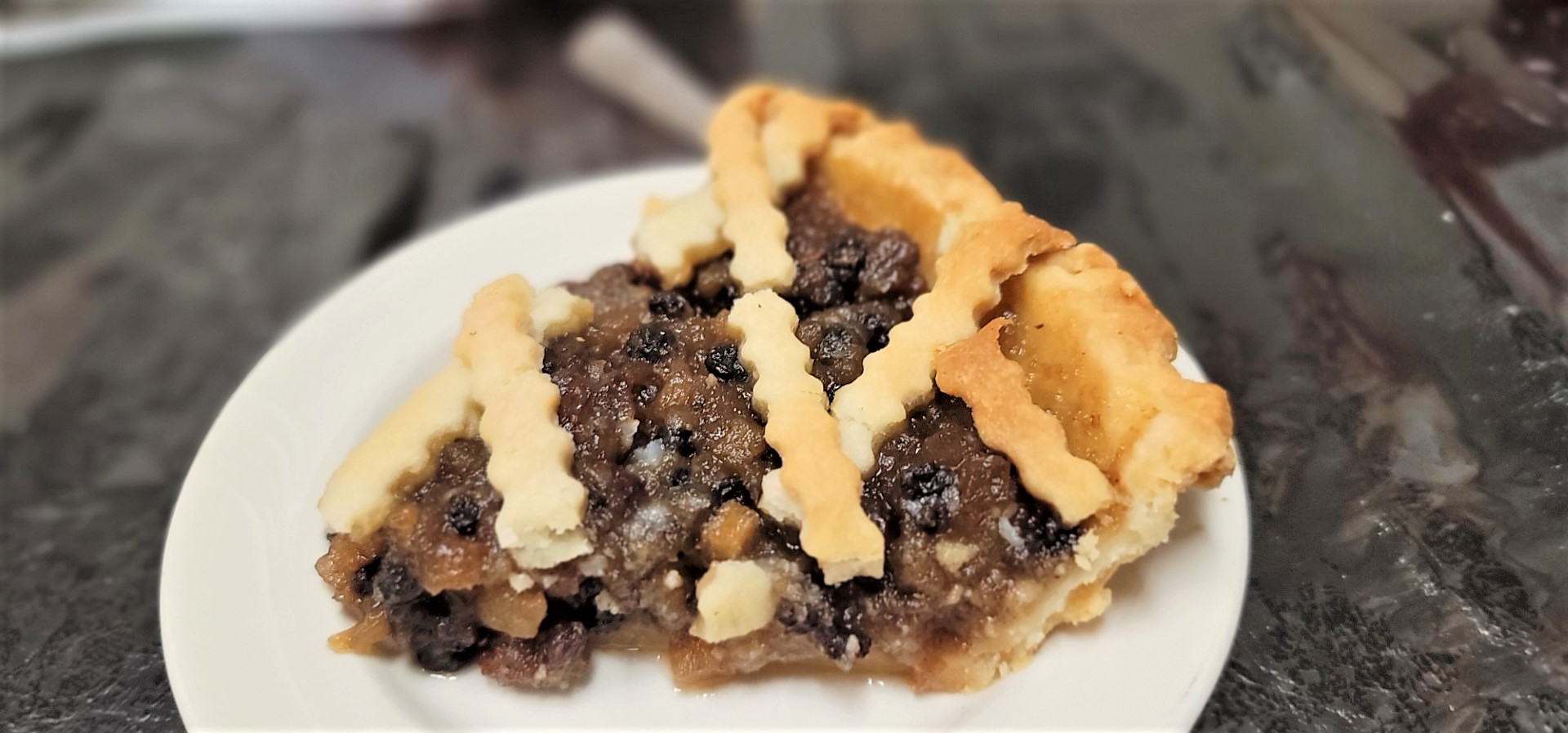 Be sure to ask about their pies and other baked goods, they do sell out quickly but they also bake over 18 types of pies daily so I'm sure you'll get a few slices to try! I was shocked to see mince meat pie and HAD to get it. It was REALLY good… reminded me of the Marks & Spencer ones from the U.K.
Other Things To do in Perth County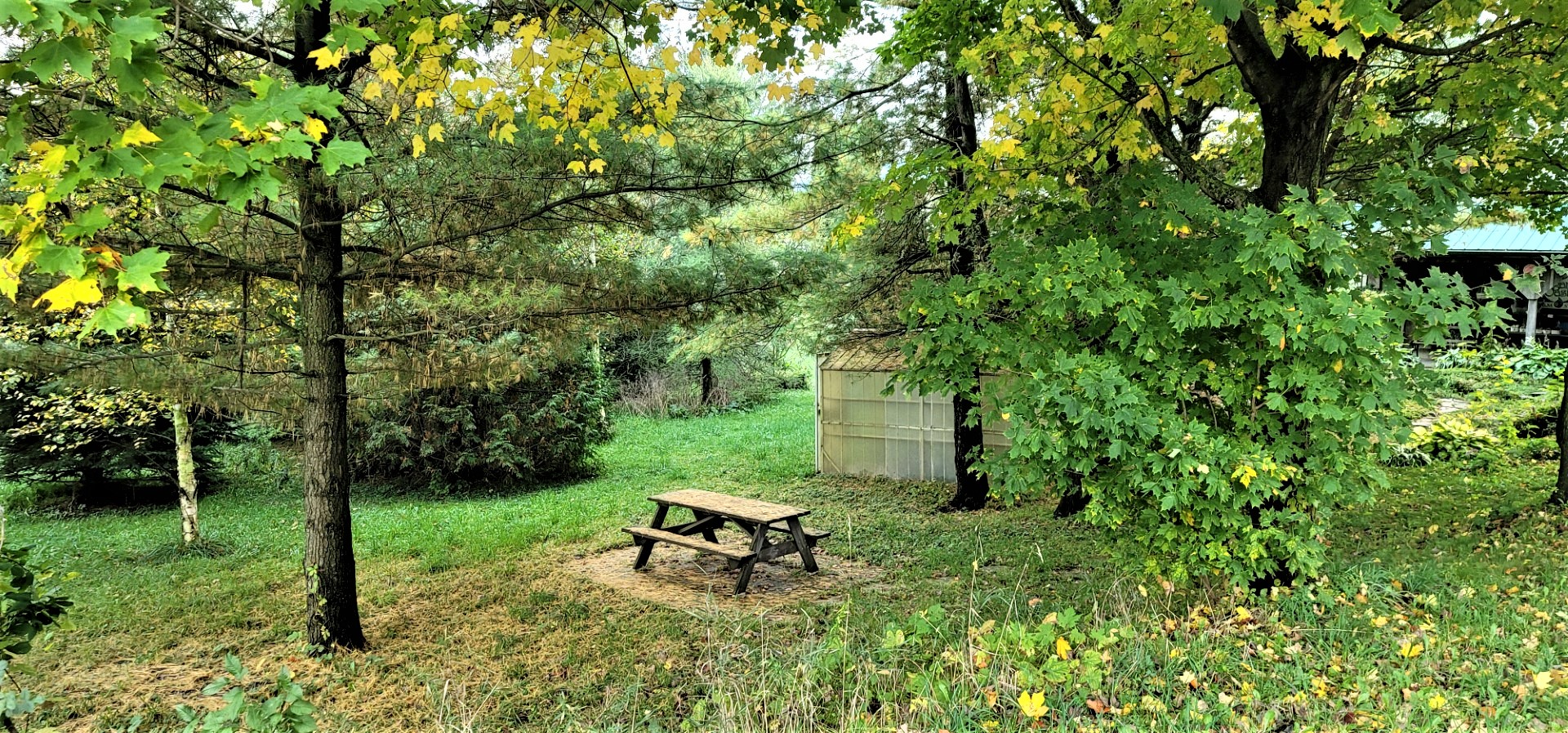 If you're looking to make a full weekend trip, there's plenty of things to do in Perth County. Here's a link to see the accommodations in the area. As you may recall I did say that I'd stay at the Forest Motel on a future visit but sadly they encountered a fire last year and are still rebuilding. I am hopeful that they'll re-open soon! To discover the many flavours on offer throughout the county, here's a list to get you planning! I bet a visit during Maple Season would be very fun here!