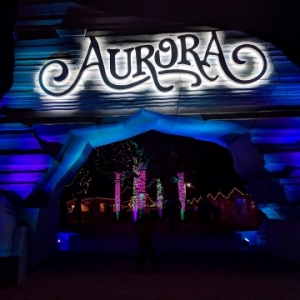 This year we have a magical looking event taking place at Ontario Place in Toronto and we were so excited for it to arrive! Last night we got a sneak peek of Aurora Winter Festival and I wanted to share a bit about our experience so that you know what to expect. This is the first year that Aurora Winter Festival is taking place in Toronto and it goes on until December 30th, 2018.
Disclosure : We were guests of Aurora Winter Festival but, as always, opinions are TOTALLY ours! 
If you listened to our podcast about family friendly holidays events in Toronto, you will recall that we said it would be hard for Aurora Festival to live up to the experienced portrayed on their website. Their website had me dreaming of the scene from Frozen where Elsa and Anna throw that magical party and while our visit was magical, it wasn't ALL perfection. That said, nothing in life is perfect, right?
What Can You Find at Aurora Winter Festival in Toronto?
Getting to Ontario Place has always been a struggle for us and while you could TTC from downtown Toronto, it would take you about an hour to get there via public transit. A $20-25 LYFT or Uber is the easier way to get there, especially with young kids (if you have travel friendly car seats and boosters). Once you're there, the space is massive and remember that Aurora Winter Festival is on the east side of Ontario Place, near the Budweiser Stage (ex Molson Amphitheater). According to their website this is apparently Canada's largest winter festival and you can explore a hidden village with a beautiful skating rink (it was so large that after 3.5 hours we didn't even get to the rink), a tube park (which is really a tube slide, as you will see below), massive light displays (which we loved!), a Christmas Market (cute vendors), amusement rides (which we don't recommend, as you will see below), food gardens (food trucks and cabins with good offerings), magical characters (the elves were in character the entire time!!), and plenty of other exciting activities. Their website's FAQ section is quite detailed and I'm sure you'll find all the answers to the basic questions.
Experience at Aurora Winter Festival in Toronto with Kids 
On arrival the kids were hungry as usual so we swung by one of the cute food cabins and purchased a giant Chocolate donut for them to share. After a day at school, they needed the sugar high to get us through our visit so I didn't mind at all. The Christmas Market featured various vendors (mostly small mom and pop shops) selling things like natural bath bombs, treats, socks, handicrafts etc. The Christmas tunes were cranked throughout the festival and we loved that.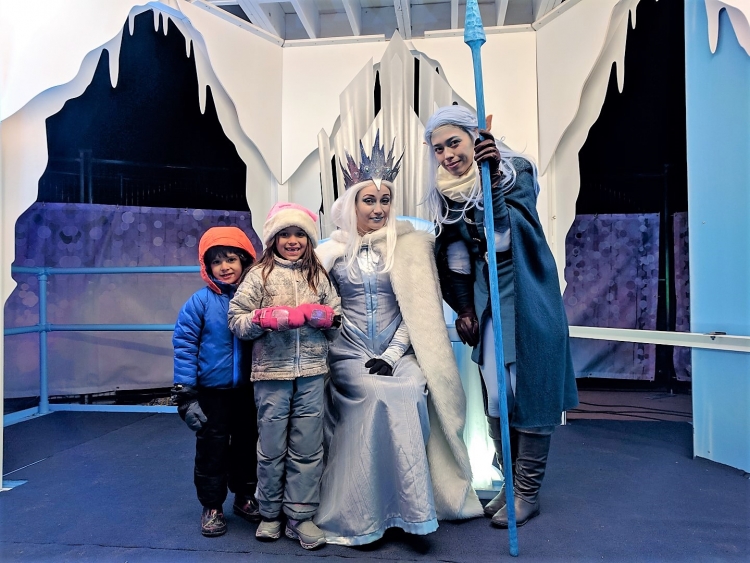 There is plenty to do at the festival but the highlight for us was walking through the Mystical Worlds where we saw giant Moose lit up, funky coloured trees and the Ice Queen. The kids obviously didn't recognize any of the elf characters but the Ice Queen and the Yeti were the most engaging of them all. We kept following Yeti because he was hilariously entertaining. There was a Santa but we never ended up at Santa's Village, though I heard he wasn't the friendliest and didn't really engage with kids who wanted to talk to him.
There were three main rides we saw – a small train, a very unstable looking Ferris wheel that gave me the Hibbee-Jeebies (though I bet the skyline shot from it would have been amazing) and an antique Carousel. The kids wanted to ride the Ferris Wheel and Carousel but since Chris hadn't arrived yet (and I needed a sane parent to talk me out of my irrational fear of the Ferris Wheel crashing), I promised to return later. That never happened because even Chris thought the Ferris Wheel was a bit dodgy looking and a couple kids we knew at the event told us that the seats were crashing into things as they rode it. That was all the confirmation we needed to NOT ride those. While I hope they get better rides next year, I wouldn't pay for the additional $3 tickets you need to ride them this year. 
I was most excited for the tube park because they showed pictures like this.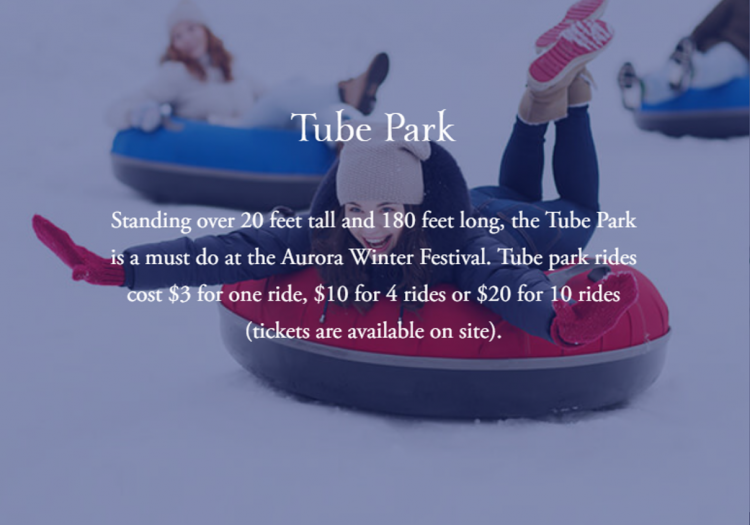 However, it was actually only a slide, similar to the map on the website. The kids loved riding it and since Chris wasn't there I had to lug the actual tubes up a long set of flights. They reminded me of old school airline staircases (which I tumbled down when I was a child) and if it were snowing, it would have not been safe to climb at all. No bags, purses or hanging gloves (on those clips we use for kids) are allowed on the the ride so you have to find a place to stash your stuff even though there are no real drop off areas (unlike at most theme parks). Kids have to be at least 4 years and 40 inches tall (though there was no official ruler to measure kids during our visit and they were eyeballing it) to ride as they do have to go on their own. 5 year old Baby Boy and 7 year old Little Monkey were thrilled to ride on their own and laughed heartily when I came speeding down banging my leg on the lane (ooops). They loved it so much that they wanted to keep going on it!
This is probably the only ride worth doing but don't expect it to look like the picture on their website. It lasts mere seconds and they do offer free tubing on select nights. I wouldn't stand in line for more than 15 minutes though! Also remember that this ride will not be operating during a snowfall.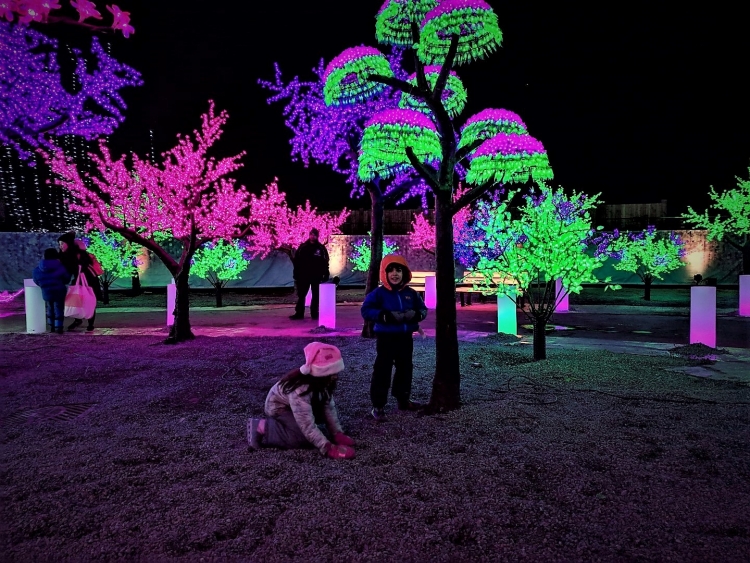 The magic for us was walking around the lit areas humming Christmas Carols and enjoying a couple beverages. They do have beer (Chris had a Muskoka Brewery Session Ale), boozy cider (was pretty delicious) and mulled wine (the one I had wasn't great at all) in addition to the hot chocolate and alcohol free cotton candy pop which was served in a lightbulb. The kids loved this $10 drink. Everything about this outdoor area was magical because it was taking us city folks on a pretty winter walk. Bet it would be lovely to walk through on a snowy day.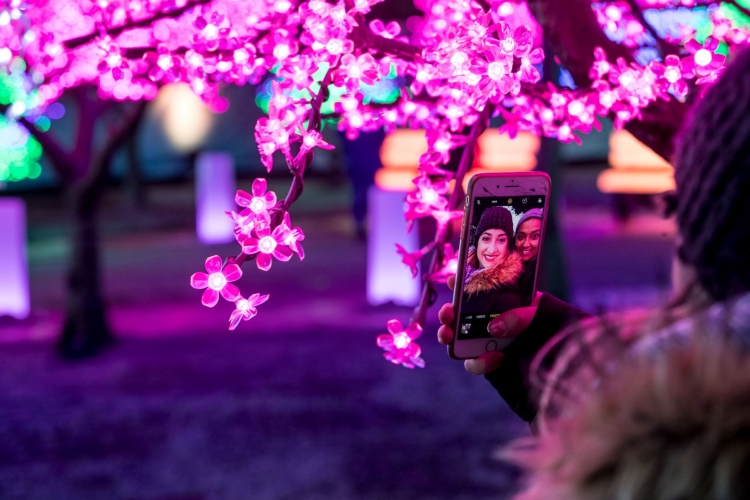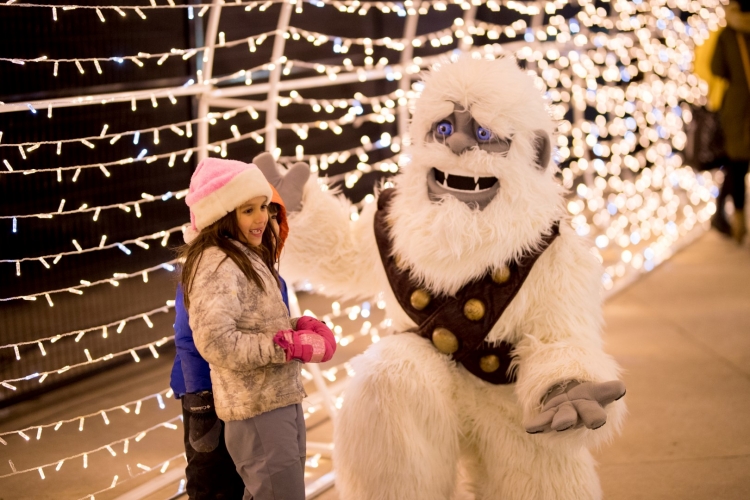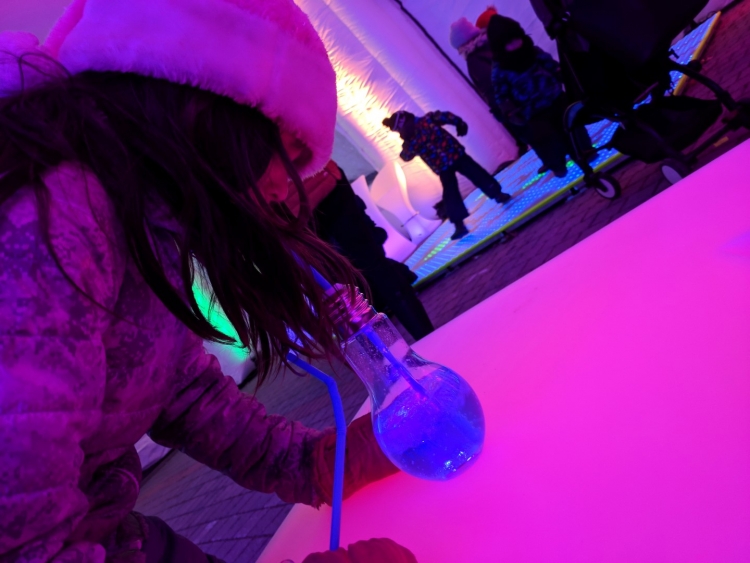 It's always cold by Ontario place so be sure to bundle up and if you need to warm up, there were tents that provided some shelter. We hung out at a DJ tent that had a light up dance floor and a couple seats for adults. Once we warmed up, we went to the Yeti's cave and watched him dance before venturing into a maze that saw us playing with those light up balls ( I have no idea what the official name is). You do have to circle back to exit the Mystical World but we found a small opening in the gates that were right by the washroom which we desperately needed, so we managed to squeeze out and went back towards the food truck to buy some sandwiches because we were starving by this point. A quick Philly Cheesesteak (wasn't as good as dining at the restaurant and wish we got Randy's Roti instead) and we were ready to head back home!
Tips for visiting Aurora Winter Festival with Kids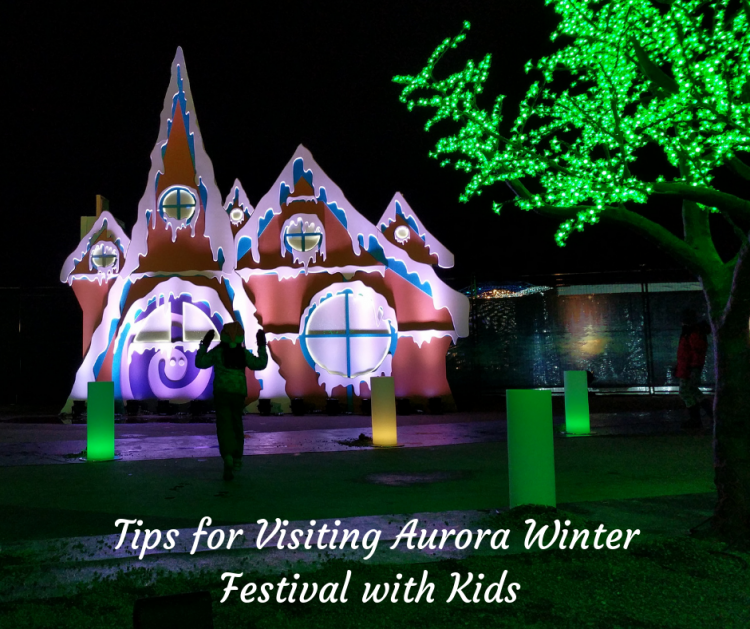 Download the app because there aren't clear signs pointing you towards the various areas and you don't want to miss certain sections like we did.
Don't visit for the rides as they do not look safe and I didn't feel comfortable taking my kids on  the Ferris Wheel at all. We didn't even ride the Carousel or the train because they looked very rickety and more appropriate for the toddler age group than the 5-8 year olds.
Bundle up. It's always cold at Ontario Place and be sure to wear layers, snow pants, hats, gloves and good boots. You're outdoors for the most part.
Tickets are going to offer timed entry (and is only open 4 -10 p.m.) but you can stay as long as you want. It's hard to say what the crowds will be like but given that it's mostly a journey where you walk around, I don't anticipate crowds being bad. Though I bet everyone will want to take pictures in the Mystical Worlds and it will be a busy area.
No outside food or drinks are allowed and they do check your bags. I think this will be a tough one with little kids as you always need snacks and water on hand. I did have a water bottle but they didn't check that side compartment.
Obviously our kids are stroller free now (yay) but you can easily navigate the area with a stroller.
When I shared videos of our experience on Instagram I was asked if we liked Aurora Winter Festival or the Happy Place and I struggled because these are two different experiences. The Happy Place will give you amazing photos but you're quickly walking through the exhibits. Aurora Winter Festival is an experience that transports you to the outdoors and no one's rushing you on.
At the end of the day, a family of 4 can easily spend 4 to 6 hours here if the kids are running around and exploring. I suppose it might be a romantic date night with all the lights, but personally I have other places I'd go for a magical date night. For me Aurora Winter Festival is all about the family visits. With a family pass, food and drink, you're looking at about $100-150 if you each have a drink and bite to eat (family pass for the entrance is $60). That is quite reasonable for a night out for a family in Toronto, at least from my experience.