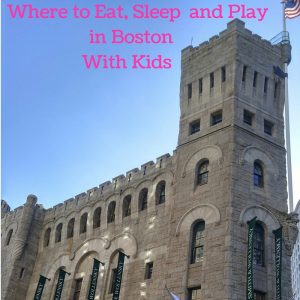 I called Boston  home for a year and living in Toronto, I visited frequently thanks to the quick Porter airline offerings between the two cities. Last month I was able to visit Beantown with the kids and was surprised by how kid friendly the entire city was. This historic city is one of the oldest and is perfect for older kids in need of a history lesson. While we aren't about history just yet, there were plenty for us to explore with young kids in tow. If you're looking for tips on where to eat, sleep and play in Boston during a two day visit, here's the scoop!
Wh
ere to Sleep
There's two places that won our hearts and if you live  in Toronto, you'll want to check out the Porter Escapes packages to find a good deal. Each spot offers something unique and both offer impeccable service. Also  note that both hotels are easy to get to from the airport, either through the free shuttle into the city or by the $5 city bus.

For those looking for suite offerings, the Langham Boston is fabulous as the rooms are very spacious and they are close by to the waterfront and the Children's Museum. For history buffs, this spot used to once be the Federal Reserve Bank!! Be sure to wander around the hotel and soak in the glitz and glamour woven into the historic space. Click here for a full review.
The Fairmont Copley Plaza was the kids' favourite, mainly because of the resident dog, Carly. Make the time to walk around the property and notice the architectural details and the manner in which they've done a great job at preserving it all. There so many artifacts scattered throughout the property that offer a great history lesson. Parents be sure to explore the Fairmont Gold program as the many perks (easy check-in, drinks and nibbles each day) will make your life easy and enable you to fuel the milk guzzling kids!
Where to Eat
There's no shortage for fabulous eats in Boston so my must eat list was very long and I wasn't able to put a dent in it. That said, we did discover some amazing places that we would return to if we're ever in the area.
Row 34 : For fresh seafood close by the waterfront area, be sure to swing by here. Reservations are hard to come by so be sure to make one in advance. Also…kids will get a kick out of the raw bar area! Click here for a full review.
Cafe Fleuri : If you're by the Langham Boston, be sure to try the breakfast where they serve dim sum along with some fab lobster and eggs! Also this spot is home to the famous Chocolate Bar (all you can eat!!!) and their Sunday City Brunch comes with rave reviews. They're also very kid friendly and have all the tools and toys required to keep little ones happy. Click here for a full review.
Myers + Chang : One of the best kids menus I've seen in ages can be found here and this spot does a fabulous spread of Asian inspired dishes and cocktails. Definitely make it a point to dine here on your next visit. Click here for a full review.
Oak Long Bar + Kitchen : Old world glamour can be found here and from the moment you step into this restaurant at the Fairmont Copley Place, you can feel the energy of the yesteryears. Order a drink and some nibbles and sit at the world's longest copper bar. Those two person high-tops with backrests are simply marvelous! Click here for a full review.
Salty Pig : Swine lovers rejoice because you can find every part of that delicious animal on the menu here! With a decent craft beer menu and friendly staff who don't mind you parking your double stroller, I'd recommend trying to get here during off hours but stay for the lunch or dinner menu. Click here for a full review.
Mike's Pastry : This North-end institution has been around for a good while and whenever I'm in the area, I make it a point to grab a Cannoli. It's what dreams are made of, just avoid the Sunday after Church rush!
Other spots on our list that we couldn't get to included : Lolita Cocina and Tequilla Bar, Bricco, Island Creek Oyster Bar, Butcher Shop and Neptune Oyster.
Where to Play
Boston is one classy and smart lady, that's for sure! There's plenty of offer from museums to playgrounds and during our three day visit, we did our best to explore as much as possible with little ones along. If you're around for a couple days, be sure to grab a Go Boston card as it'll make your life easy and give you access to some of Boston's best attractions. Some Porter Escapes packages come with a Smart Destination card, so be sure to grab that freebie if it's on offer. The subway system is also quite fabulous and each station has at least one accessible exit (great for strollers too) so be sure to download the app for the T that will help you navigate the city easily.

Children's Museum : Endless hours of fun can be found here and if you encounter a gloomy day during your visit, this will be your best bet. We could have spent the entire day here, learning, playing and exploring. Click here for a full review.
Boston Common : Some days you really just want to run around and let the kids play in the fresh air. The Boston Common isn't just for grabbing a fab family picture at (with ducklings!!) but it also offers plenty of picnic areas and a playground to keep little ones busy.
Fenway Park : Baseball fans will definitely not want to miss a tour of one of the most awesome baseball stadiums in North America. Take a picture of the legendary original seats and be sure to ask about the folk tales about the owners! Click here for a full review.
Walking : Boston is a walkable city and even though I rarely walked anywhere when I lived there, I did a lot of walking on this trip. There's plenty of spots to walk to but these are my faves : Newbury street, Freedom trail, Havard Square, MIT campus and Litte Italy.
Sam Adams Brewery :  This tour is one of our favourite brewery tours. It's a great opportunity to hear about the behind scene workings of a brewery that produces some funtabulous brews.
Mapparium : I totally regret not taking the kids here because I know they would have loved it. Any traveller and geography fan would be all over this. A 20 minute tour will show some old world maps and allow you to interact with them.
Skywalk Observatory : The Prudential centre isn't just for shopping, it also houses the Skywalk where you'll get some stunning views of the city. Tine your visit with sunset and you'll be glad you did!