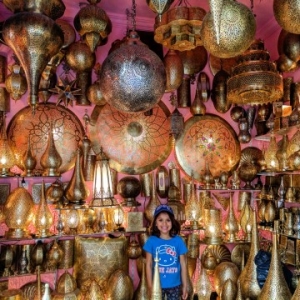 Fes was the first major Moroccan city we visited. Unsure of what to expect, we hopped a train in Tangiers for what turned out to be a 6 hour journey to Fes. Our family would be staying in a GuestToGuest home located just inside the walls of the Fes Medina, one of the largest car-free urban areas in the world. The visit would provide us with some great memories. Being a place very different from the lifestyle to which we are accustomed in Canada, we would each see the city and our encounters with new eyes. Chris was the worried one, concerned with the potentials hardships of exploring a Moroccan city with two small kids, while Yashy was ready to go with the flow and deal with problems as they arose. 
In this two part article, Chris and Yashy each relate how their experience in Fes, one of the most memorable cities they have visited together. Continue reading to see Fes through Yashy's eyes, or take a look at Chris' view. 
We were so eager to head to Fez after two weeks of slow town life. As you may recall we spent a week in the middle of nowhere near Mejas in Spain (close to bustling Marbella but not close enough) and then the week we arrived in Morocco we spent a week in Martil (but it was the off season and not even the supermarket was stocked). We took a 6 hour train ride into Fez from Tangier and was excited to explore the area and find a spot for dinner in Fez with the kids. Alas! We arrived late at night and couldn't even find a store to buy meat from and we were really grumpy. Especially me…where was that city life I was searching for?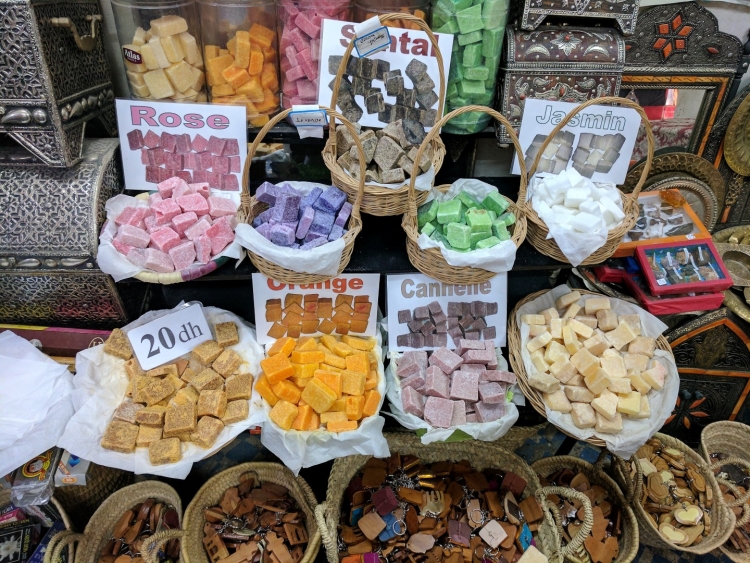 Well, don't you worry we found it! We had met someone on the train who had offered to help us since his sister worked in the Tourism office and so he had a driver waiting for us on arrival and the following day a guide would pick us up. Now…we totally trusted this guy but perhaps it was all just another scam. That's how we felt when the 20 dirham taxi ride cost us 100 dirhams and the free guide the next day requested 200 Dirhams. Mind you, after attempting to wander but getting discouraged the night before, we were glad to pay the 200 dirhams to explore the area. The guide was nice enough but he took us to a carpet shop where we spent far too long at. That said, we did sip on tea, visit the obligatory tannery and enjoy a bean soup I was hoping to try during my visit (he had it brought in from a small stand we had passed along the way), so we didn't really mind being "Scammed'. I mean 20 USD for 3 hours of being shown around, a quick lunch and an English speaking guy who was nice enough? Yea that was totally okay. We passed a few food stalls (kids bought a pancake/roti looking thing to eat) and learned a bit about the history of the Fez Medina which is a UNESCO World Heritage Site as it's one of the best conserved historic towns of the Arab-Muslim world. After the three hours we were definitely tired and secretly pleased that everything was closing up for the Friday prayers. It also wasn't overly crowded during our visit so that was another win.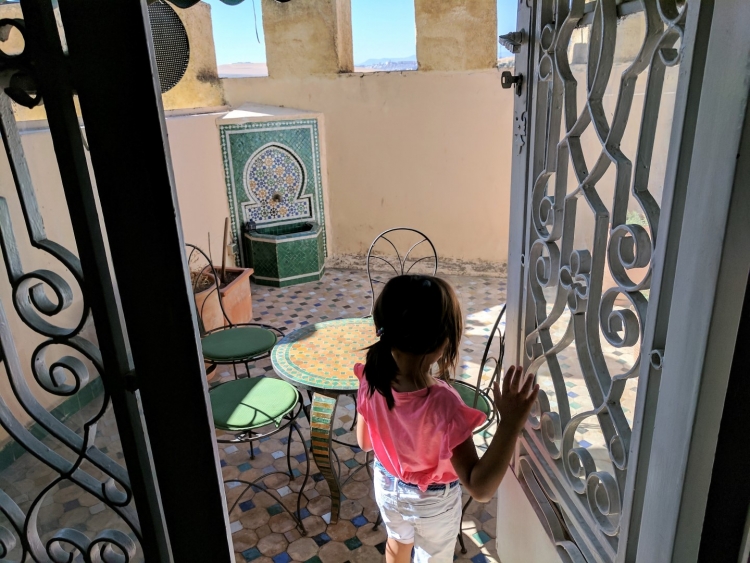 That evening we desperately wanted a "real" supermarket – buying vegetables from a small stand was fine by me but I like to buy my meats in nicely packaged and over priced packs. None of that fly covered meats airing in the Medina for me. (Sorry!) We found the Carrefour ( a chain I used to shop at growing up in Dubai) that was a 45 minute walk away from the Medina and an Alcohol Cave greeted us on arrival. We picked up two bottles of local wine which were on the cheaper end (about 40-60 Dirhams) and thought we'd try our luck. We were clearly spoiled in Spain and I now refuse to spend more than 2 or 3 Euros. Hey.. trying to save money one way or another! Having shopped for groceries we enjoyed a lovely evening at our GuestToGuest home in Fes which was perfectly located in Bab Ziat, close enough to the Medina but still away from the craziness. We enjoyed knowing that families lived in our building and there were kids crying late into the night so Baby Boy and little Monkey weren't shushed by me on an hourly basis past 9 p.m. We explored the Medina well after sunset and noticed that it's very safe; we saw kids playing late into the night, teenage girls walking around with their friends and toddlers hanging out with their older siblings. Even the unlit passages we had to pass through didn't make me feel unsafe in this foreign land.
I really enjoyed Fez because we ventured out on our own one day. We just decided to walk through the alley ways and see what greeted us. We found some friendly folks and I learned about Argan oil (and bought a small bottle for my mom for 60 Dirhams), the kids found a library where we sat with some local kids (though neither party attempted to talk or play together as I had hoped) and found some great restaurants like Café Clock and Riad Rcif. We even discovered an educational centre where the kids played in the "fountain" before we were informed that it was for ablutions. Opps! The day we ventured out on own was the reason I am enamoured by Fez. The kids walked nearly 10,000 steps and neither of them complained. Which was a shocker as we definitely did not bring the stroller into the Medina. The memories of living and bargaining through life in Karachi rushed back as did memories of roaming the souks in Dubai. For me Fez is a spot to explore with kids. There's history to learn and new people to meet. People who love kids and don't mind unruly ones. Much to Baby Boy's dismay people on the streets loved touching the kids' heads or dropping a kiss on it – had him yelling and tantrum throwing. The wind-ey alleyways may be car free but there's occasionally a motorbike speeding or a donkey cart trying to squeeze by a way too small alleyway. So keep the kids close by. One quick note on taxis in Fes – most small red ones only take 3 people so for a family of four it's hard. The taxi ride from the Medina into the new city was only 20 Dirhams for the entire car so taking two is cheap enough but we lucked out by waiting a few extra minutes until a bigger taxi or a compassionate red taxi came by for us!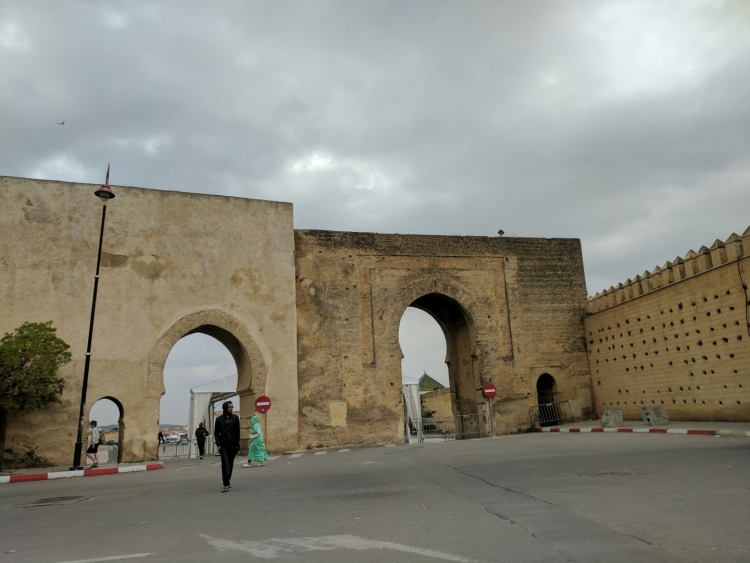 Sure you always feel like you're being scammed but that's part of the charm isn't it? My advice is to come with an open mind and be ready for a different way of life. Things are cheap so keep things in perspective when you get dinged three times the price for a cab ride – it's still under 10USD no matter what! Sip on mint teas you receive, chat up the street vendors and sample the snacks you see along the way (stay away from uncooked dishes though). Be open and explore this gem of a labyrinth and let your senses awaken.