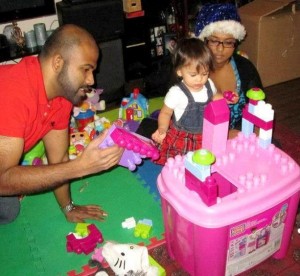 For her second Christmas, my brother decided that Little Monkey was old enough for her very first LEGO set and since then we've had LEGOs come through our door in every shape and form. We've been through phases where she'll play with them for hours and then forget about them for months at a time. At the present moment, both Baby Boy and Little Monkey seem to be LEGO obsessed and the hubs and I are often roped into helping them create their visions.
Disclosure : We are part of the the Netflix Streamteam but as always, opinions are totally mine! 
Growing  up I remember playing with the "original" LEGO sets and today they come in some pretty awesome sets and I'm not against the pink and girly LEGO sets either. I welcome all colours, shapes and sizes into our lives! The reason my brother gifted that first LEGO set was to start grooming in her some engineering skills as his hope is that she dabbles in the finer engineering arts. I'm not sure how well she's progressing on that front but she does like seeing things come to life in front of her and you may recall that LEGO is what she bought with her first paycheck! Baby Boy on the other hand definitely seems to love building "GIAAAAAANT towers" and then crashing them all a minute later.
Over March break Little Monkey will be spending her time at a half day camp at the Chelsea Hotel during the first part of the week and then she'll be heading to Niagara on the Lake with Baby Boy for some grandparent time. However, she's going to be at home a lot more than we're used to and I've been trying my best to ensure that we have plenty of entertainment lined up for her.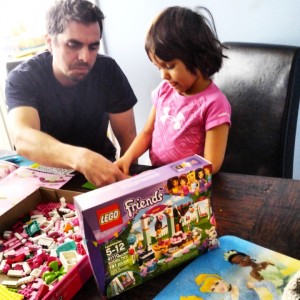 Just in time for March Break the her cousins gifted her with a Hello Kitty LEGO set and the lovely folks at Netflix also gifted her with a new LEGO Friends set. Boy was I glad to get some new activity kits at home for her to flex those creative muscles of hers! Of course there's going to be a fair share of TV watching as well and I'm okay with that. She's a fan of playing with toys she sees on her YouTube channels and Netflix shows so it works out well that there's some LEGO themed Netflix Originals : LEGO Bionicle and LEGO Friends. Having taken a peek at some of the LEGO Friends episodes, I'm glad to see girl power represented in a modern way without being too over the top. There's a great mix of getting out of your comfort zone, trying new things and not being afraid of ruffling a few feathers -all thingsLittle Monkey needs in her life! However let's not forget that  it is an animated series based on the LEGO toy line so rest assured, these will be making our birthday toy list and I'll eventually end up stepping on the tiny pieces that are sure to replace our carpet! LEGO friends will definitely be one that she loves and I'm sure Baby Boy will obligingly sit next to her on the couch and enjoy their own binge-worthy shows.

The hubs and I are huge fans of Netflix Originals (all time classics include Orange is the New Black, House of Cards and Unbreakable Kimmy Schmidt) and I'm glad to see that the kid focused versions are also being continued. The hubs and I have finished watching Master of None two months ago and just started watching Love. Little Monkey and I have finished watching Fuller House (of course!!) and have our fingers crossed for more!!  The LEGO movie is now on Netflix too (and the hubs and I watched it in the theater when it came out) but I think Little Monkey is still too young for that one.
I recently discovered the Netflix portal that suggests movies for the 2 to 4 year olds and that's where I've been getting most of our show ideas for the kids. What are yours watching these days?