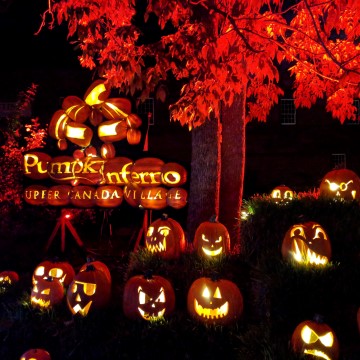 If you're looking for unusual things to do in Ottawa during October, Pumpkinferno should be on your radar. The moment I heard about the light festival in Ottawa, I knew we had to check it out. This really was the main reason I wanted to visit Ottawa during the Thanksgiving weekend and I'm thrilled to let you know that Pumpkinferno with the kids did not disappoint! Get ready to hear all about our magical evening at Upper Canada Village where we walked through quite the pumpkin art exhibition. First up, here's a video to show you a glimpse of what we saw.
Disclosure : We were guests of Ottawa Tourism but, as always, opinions are TOTALLY ours!
What is Pumpkinferno?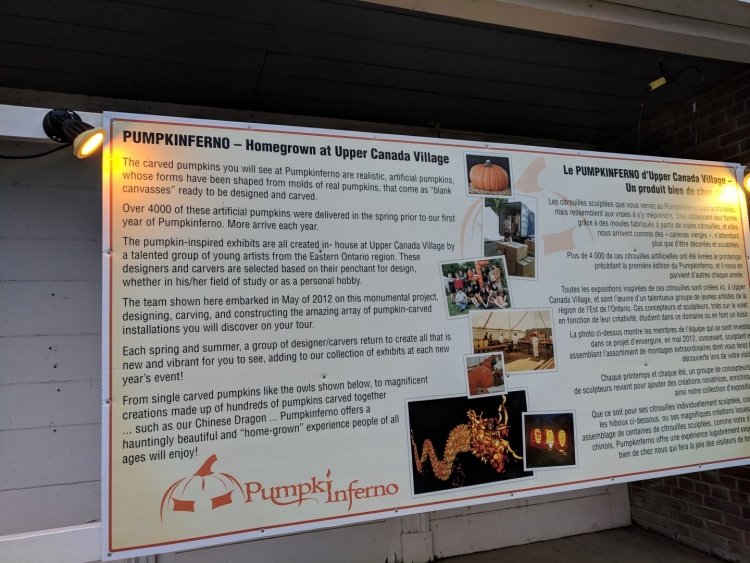 Located an hour's drive from downtown Ottawa, Pumpkinferno kicked off in 2012 and each year this outdoor light festival (and art show!) grows bigger as they keep adding new displays of pumpkin art. Obviously the pumpkins aren't "real" but made with long lasting materials that can withstand the Ottawa weather. Every Thursday to Sunday on select weeks in September and October, Upper Canada Village is transformed and welcomes ticket holders to walk through the 19th Century village as they marvel at the pumpkin displays. This year Pumpkinferno goes on until October 28, 2018 and is family friendly event that's greats for young and old!
Things to Do at Pumpkinferno with Kids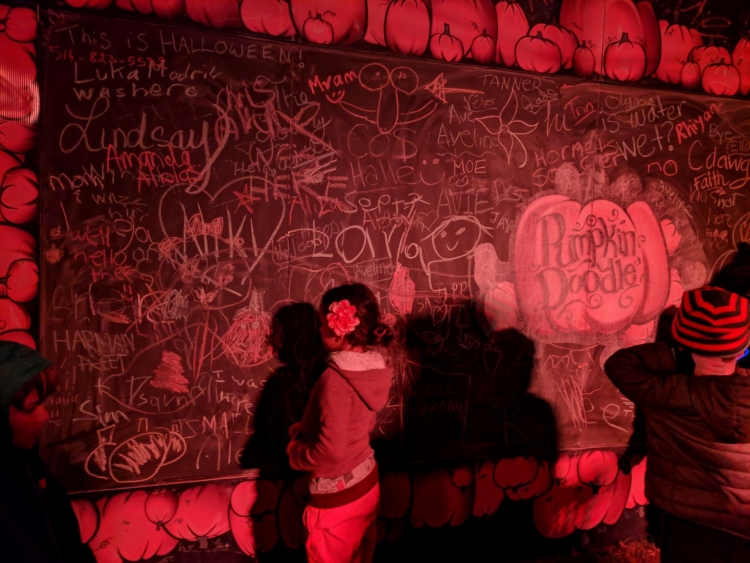 Think of Pumpkinferno as a 1 km outdoor walk. In addition to seeing nearly 7000 hand carved pumpkins, you can have dinner and drinks onsite and there is an activity section just past the midway point. During our recent visit, the kids were able to play cornhole, draw on chalkboards, measure their height in pumpkins, participate in a puppet show and take pictures with pumpkin "paintings". It was a busy section but the line ups weren't bad at all during our visit. Baby Boy and Little Monkey were getting a bit tired as we had spent 45 minutes walking around and they wanted a break, which is why the activity stations were perfect for them! Once you've rested (and perhaps grabbed a drink from the bar in the activity section), you can continue the walk before ending your walking tour by the gift shop.
Tips for Visiting Pumpkinferno with Kids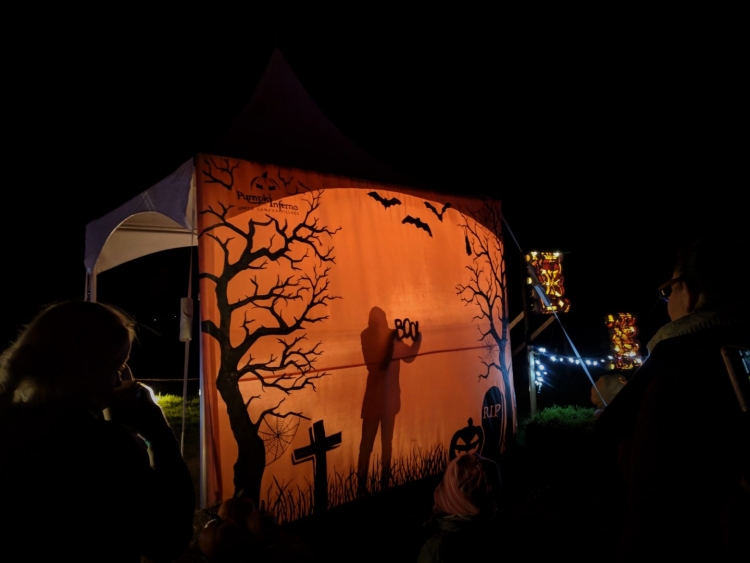 Friends who had visited Pumpkinferno with kids had great tips to share with us and we discovered some during our visit as well. For an enjoyable evening, we have some tips to help you plan your visit to Upper Canada Village's Pumpkinferno in Ottawa.
Get there early!

Gates open just before sunset and not only will you avoid even bigger line ups later at night, but you will get to see the village (and the pumpkins) during the daytime before it transforms into the lightshow. I was amazed by how different certain displays looked between the daytime versus the night. It was a good way for me to talk to the kids about art and how light can impact the way we see things (always sneaking in a science lesson!).

Buy your tickets online

as some nights do sell out. Kids under 5 years of age do not need tickets and there are discounts available for kids aged 5 to 12.

Consider visiting the restaurants on site

because it will enable you to gain early access into Upper Canada Village. We visited Harvest Barn but wasn't overly impressed by the offerings so next time I think we'll try Willard's Hotel for a proper dinner. Even if you're not looking to have dinner, I recommend making a reservation at Harvest Barn so you can buy yourself a rum and cider, some hot chocolate and perhaps some treats to keep the kids happy during the 1 km walk. If you do have a restaurant reservation and arrive early, don't let the crowds at the entrance scare you. Just walk closer to the entrance and find a staff member who will be calling out the reservations and will provide you with the direction you need.

Bundle up

 as temperatures do drop at night in Ottawa. During our Thanksgiving visit I had the kids wear snow pants and a rain jacket as we were expecting some rain. Luckily it was the perfect weather!

Bring glow in the dark or light up items

 so you can easily spot your kids if they happen to get separated from you. It is quite busy and easy for a child to wander away. We didn't lose the kids but we were prepared in case it did happen (and that's what parenting is about isn't it? Always Be Prepared!).

Baby Friendly!

 If you're visiting Ottawa with a baby, Pumpkinferno is totally doable. We spotted a couple strollers but because of the crowds, I am not sure how close those parents got to the popular exhibits. Baby wearing at events like this is always my preference.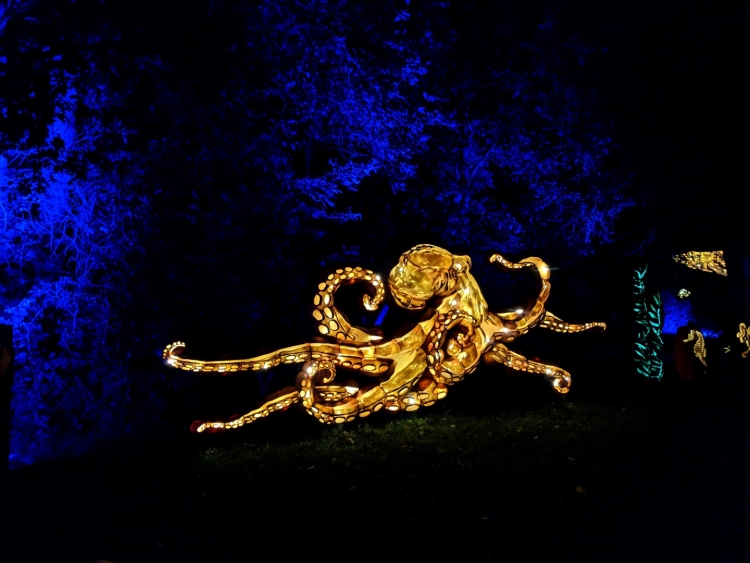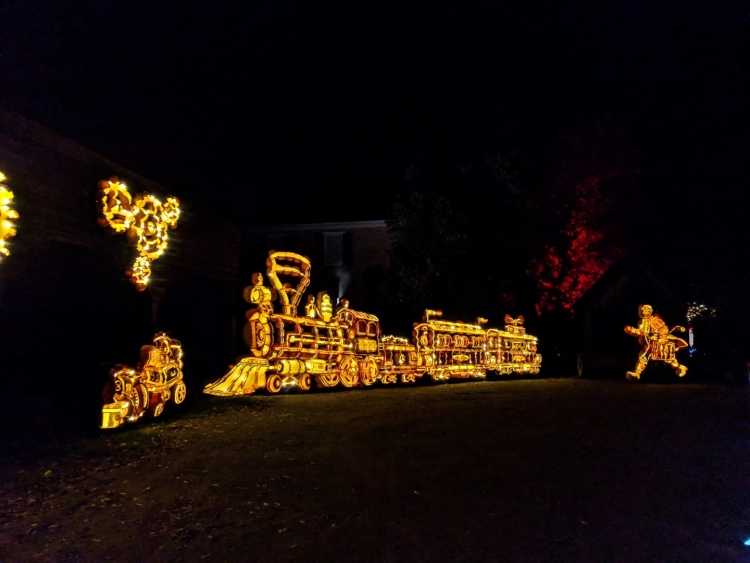 Even if you can't get to Pumpkinferno this year, ensure you plan ahead for next year. Oh and in December there's Eastern Ontario's biggest light festival called Alight at Night that also sounds pretty awesome!