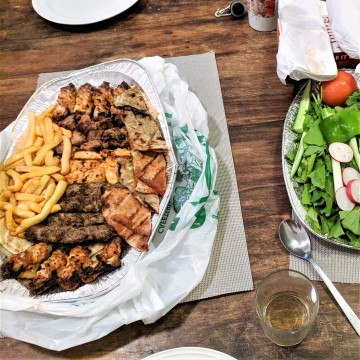 If you're wondering where to eat in Dubai, you're not a alone. Dubai is a city filled with the best of everything and given the multicultural make up of its residents, you'll find a fabulous mix of cuisines in Dubai. I fully credit my childhood in Dubai for my adventurous pallet and the reason I took my kids out to restaurants as infants is because I grew up in Dubai where kids are welcomed everywhere (okay not the nightclubs!) and no one bats an eye when you take kids to fancy restaurants or dodgy hole in the walls. Much has changed in Dubai and the food scene is one of the best in the world. I hadn't visited Dubai in 9 years but still have family and close friends who live there so we were guided towards some fabulous eats during our visit last mont. My only mission was to discover the best Shawarma in Dubai and I think I found the perfect one for my taste! Don't worry, there's more to eat in Dubai beyond Shawarmas and I thought I'd share some of the food highlights from our trip and my previous encounters. I am going to focus mostly on cheap eats and mid ranged restaurants as I didn't have the time nor money to explore all the high end restaurants during our two week visit. You will also notice that most of the restaurants are located in Old Dubai's Karama and Bur Dubai areas which is where I grew up and also spent most of my time at during this visit.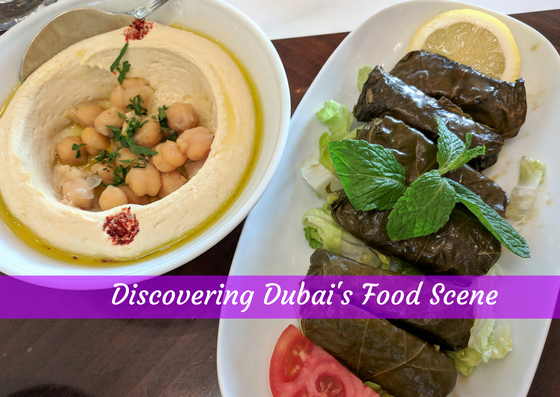 Where to Find the Best Shawarma in Dubai

I might as well start with shawarmas because these were my obsession during our recent trip. I have such fond memories of the ones I had growing up and no matter where I go, none of them live up to the old school Dubai versions. Here's what I learned about Shawarmas during my March 2018 visit; the newer versions are wrapped in a roti like bread the restaurant owners called "Arabic bread" and you can ask for it to be spicy. However, if you like the old school ones be sure to request for it to be in "khubooz" and they will wrap it in the pita one. Most people guided me towards Eat & Drink and with locations throughout the city, I understand why they did so. I was also advised that the location on Casablanca street still serves them stuffed with fries and in khubooz just like the good old days. For me, after trying 6 spots (including Al Kahf near the gold souk), my favourite was my childhood spot that was still open – Picnic Home. They too have a couple locations and the one I go to is in Bur Dubai near the Al Fahidi metro station. If you're on a budget, Shawarmas are an easy way to dine on a budget as most are in the 8-12 Dirham range. Pairing your shawarma with a fresh fruit cocktail is ALWAYS a good idea.
Where to Eat Sri Lankan food in Dubai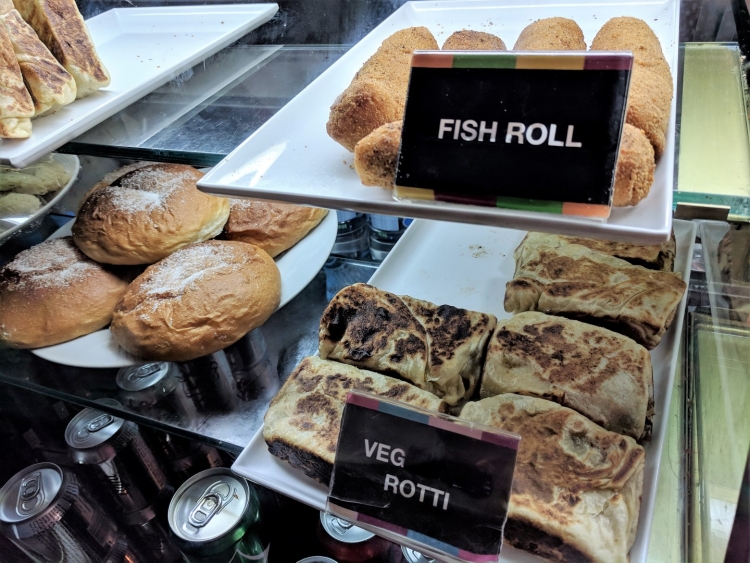 Alright, since I'm originally from Sri Lanka I felt like I had to mention this one. Sadly most of the spots have closed down it seems but Karama still has Chef Lanka and you can sit down and enjoy a buffet experience or buy some short eats to munch while you roam around the neighbourhood. They offer a good mix of string hoppers, kothu roti, lumprice (only on Fridays), rice and curries of all sorts.
Where to Eat Indian Food in Dubai
Indian food is amazing in Dubai because you can find numerous restaurants throughout the city and if you're looking for a specific region's cuisine, that can be found too. From Chaiwallas coming directly to your car (just honk!) to elegant sit downs in a hotel, you'll find it all. If you're a seafood lover you have to hit up De Fish where you can pick your fish, the type of curry and spice levels. Khazana is a popular  Indian restaurant in Dubai and apparently frequented by the Bollywood stars as well. So, if you're looking for some North Indian dishes, this spot near the Al Nasr Leisureland is a good bet. Vegetarians will want to hit up Aryaas Restaurant for South Indian fare and I hear good things about their filter coffee as well.
Where to Eat Pakistani Food in Dubai
Having spent quite a few years in Karachi I am a bit biased but I would opt for Pakistani food over Indian given a choice. Karachi Darbar has been a staple and still is a thriving hole in the wall joint. Many argue that Ravi Restaurant is Indian and not Pakistani but they have Haleem and Nehari on the menu so I consider them to be a Pakistani joint. They have a couple restaurants throughout the city but the one near the Bur Juman shopping mall has been a consistent recommendation over the years. If you're after an all you can eat experience, Lal Qila is where you want to go.
Where to Discover Friday Brunch in Dubai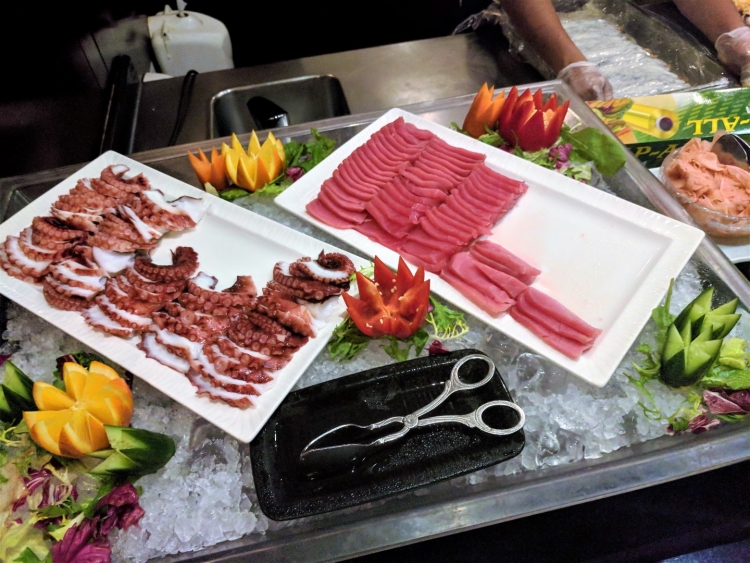 Friday brunch is a tradition that has continued over the years and I was thrilled to see it thriving. Similar to the  North American Sunday Brunch concept, Friday Brunch in Dubai is a big deal and can be a grand affair. Nearly every hotel in the U.A.E offers a Friday brunch so you'll find plenty of options. Just wear your stretchy pants because these buffets are filled with all sorts of amazingness. We visited the one at the Radisson Blu and was amazed by not only the array of food but by the dedicated play area for kids and the all you can drink options. Definitely don't leave Dubai without experiencing a Friday Brunch session.
Where to Eat the Best Arabic Food in Dubai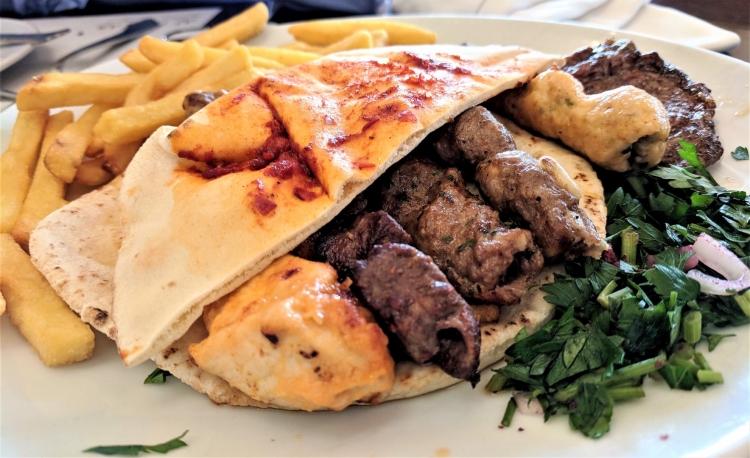 Okay I will admit that I am going to group a bunch of Lebanese and Emirati cuisines here and I hope you won't mind me doing so. If you're at the Dubai Mall, Al Hallab is the place to dine. Not only is the Lebanese fare amazing, they have the best hummus and the decor is gorgeous. If you're after a good Manakeesh, swing by the Al Reef Bakery and pick some up. Damyati is a good hole in the wall to get some flavourful kebabs and rice. Emirati food is hard to find at restaurants but if you're near the Centre Point Mall Al Fanar is an experience to be enjoyed. The themed restaurant is filled with props that make it the perfect backdrop for your photos but if you visit in the evening, you'll also have a view of the light show! I was recommended to try Al Hadheerah for great Lebanese and Emirati dishes but sadly I wasn't able to get there on this trip (let me know if you try it!). Maraheb is where you want to go if you're after Yemini food and be sure to try the mandi or madhbi.
Dinner Dhow Cruise in Dubai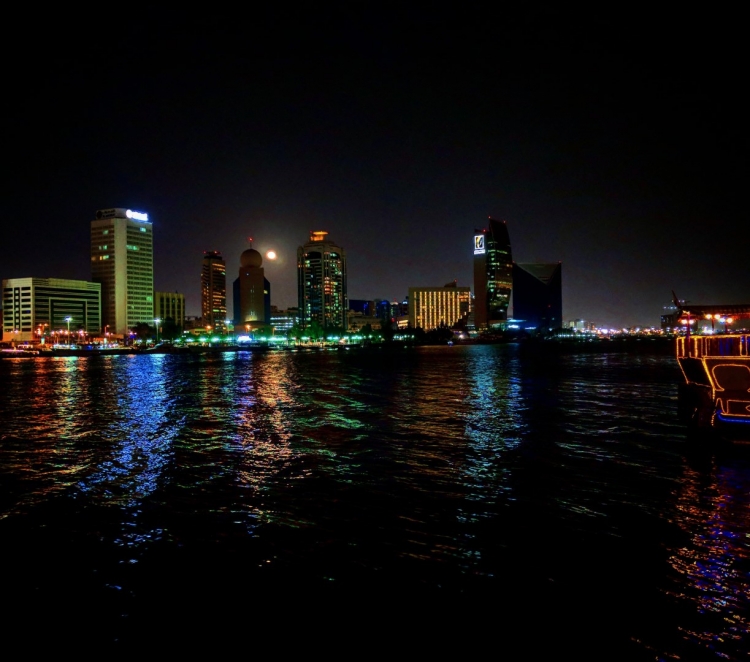 Dinner on a Dhow is a very touristy thing to do and I had the chance to experience that thanks to my aunt who organized a family dinner onboard a boat prior to my cousin's wedding. From what I've gathered, the food is fairly mediocre on most of these cruises (as it was on the one we were at) but it's an experience to be enjoyed. You're really there to take in the view of the creek and see the sunset. We took one from the Al Seef boardwalk (which is a great place to roam around and filled with many restaurants) but was informed that the Intercontinental Hotel's Dhow offers a better selection of food. Some of these cruises (probably the smaller ones who aren't offering alcohol on board) will turn a blind eye if you bring your own booze in a discrete bottle and top your juices and pop up!
Food Delivery and Supermarkets in Dubai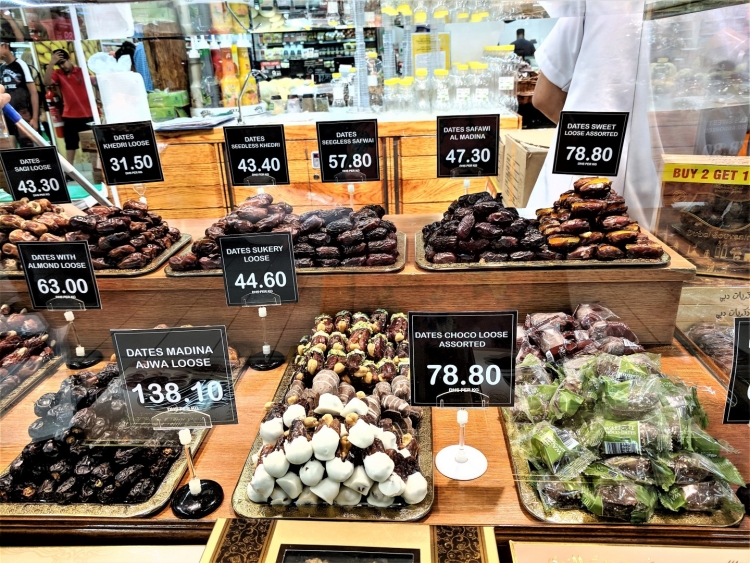 Some days you just want to sit in your hotel room or apartment and have the food come to you. Dubai definitely has quite a few options but friends told me that the Talabat app will be your best friend on those nights. You should also walk into a supermarket and pick up some lassi, date shakes, Safari chips, Cheez balls, Pofaki, Tang and fresh dates to keep on hand for when it's snack time. You will find small shops at street corners and bigger supermarkets like Carrefour, Spinneys and Choitrams in various neighbourhoods.
Fast Food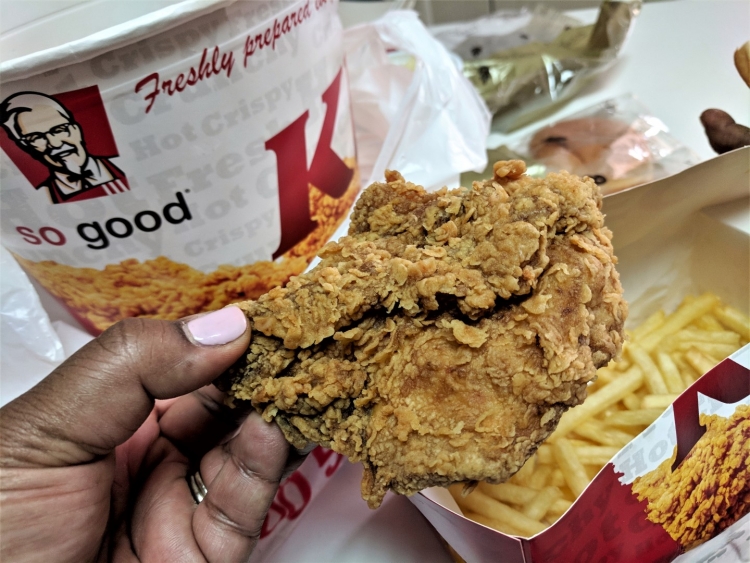 If there is a fast food chain you're dying to try, Dubai is the mecca for that. From Shake Shack to Tim Hortons and everything in between, you'l find it. Do me a favour and order some crispy spicy chicken from KFC because Dubai's KFC is like no other! If quick service is your jam, you'll definitely find them at every mall and shopping complex you visit.  If you're after food trucks there are quite a few parked at Last Exit and if you're heading towards Abu Dhabi or Dubai Parks, worth a stop into.
Booze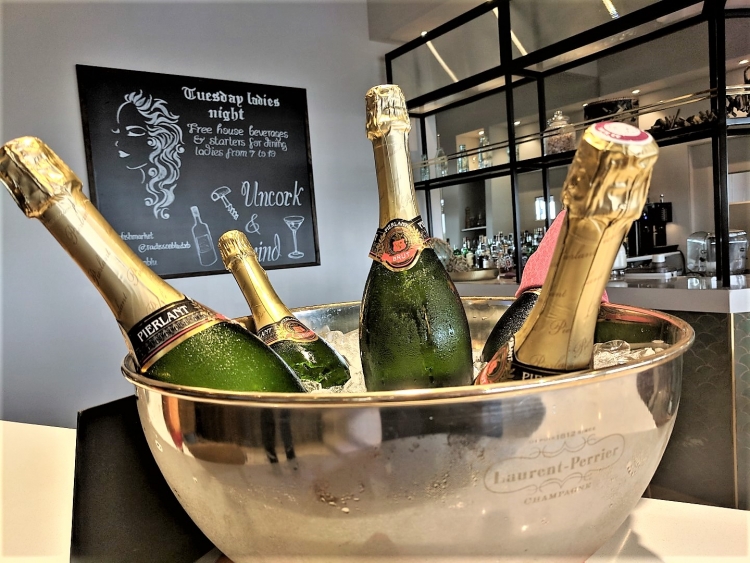 It would behoove me to talk about drinking alcohol in Dubai and so I shall. Buying your booze on arrival at the Dubai Duty Free is your best and cheapest option. Hard spirits are well priced and often on deal but we found wine to be quite expensive. Luckily I had packed a few bottles of wine in my suitcase as we're allowed to bring 4 litres of alcohol into Dubai! You will find alcoholic beverages available for purchase at most hotel restaurants and lobby bars but be ready to pay upwards of 50 Dirhams for a bottle of boring beer. Tourists and non-Muslim residents are allowed to consume alcohol in licensed establishments but remember that you cannot drink in public and being drunk in public is frowned upon severely (and punishable too). Purchasing alcohol from stores is not an option for tourists but residents can obtain a licence to do so. There are some Emirates  where there are pop up shops to purchase beverages from but you'll have to do your own research on that!
If you plan to dine out a lot check out the Entertainer as I was told by my friends that the coupons and offers in there are great and that you can save a fair bit by using them.There's so much more I should probably write about but this list is long as it is! If you find any good Hakkah Chinese places do let me know as the ones I visited in my youth are no longer there. I should also mention that the La Mer board walk had some great options and next time I hope to dine my way through that space! Dubai is home to an insane number of restaurants offering cuisines from all over the world (Peruvian, Mexican, Iranian…the list goes on) and if you're looking for something in particular comment below and I may be able to find a suggestion through my network in Dubai!