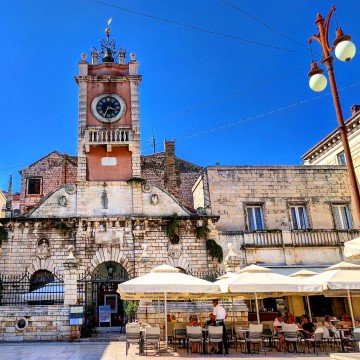 If you're looking for a small and relaxing city in Croatia to explore with young kids, Zadar should be on your list because there's plenty of things to do in Zadar with kids in tow and still have a relaxing vacation. Located on Croatia's Dalmatian coast, Zadar is known for its stunning sunsets and Roman and Venetian ruins. As you may recall, last August we were exploring Croatia with kids in tow, we had started in Zagreb and then took a Flixbus to the beautiful town of Skradin before getting on a bus to Zadar! We spent two days in Zadar and then took a ferry from Zadar to Pula! Our  three days in Zadar were filled with history lessons, pretty sunsets and plenty of sunshine. What amazed me most about Zadar was how well preserved the old town is and yet how accessible everything was. I mean, here's another place we accidentally did a diaper change at one day only to realize the flat slab at the corner of the street was a REAL RUIN! Whoops!
Disclosure : We received access to a tour guide and a complimentary meal during our visit to Zadar but, as always, opinions are TOTALLY ours! 
Where to Stay in Zadar with Kids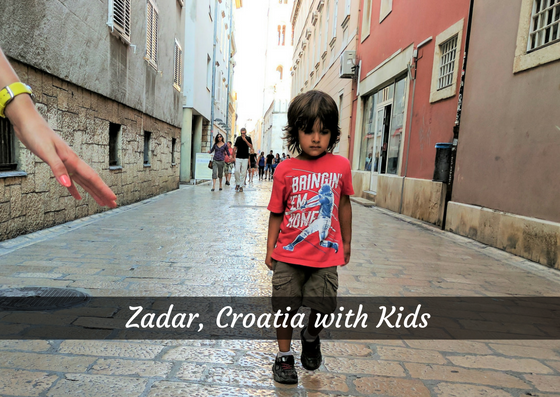 Ideally you want to stay close to the old town but if you're booking a last minute trip you might end up a 15 minute drive from the old town and that's okay! You know why? It's because Uber is EXTREMELY cheap in Croatia. The 1 hour bus  drive from Skradin ended at a terminal near a McDonalds and with many drivers trying to entice us to get into their taxis. We opted for an Uber which cost us $7 (Canadian) for a 20 minute drive to our Zadar apartment rental. It was under $10 for the one way trips we took each day to get into the old town where all the action was and so, we ended up staying at the Bozena Apartment where two elderly people treated us kindly and ensured that our 2 bedroom apartment had everything we needed for our 3 night stay. We didn't have much near us but we were a 10 minute walk from the Falkensteiner Club Funimation hotel which looked pretty awesome and seems to have some all inclusive packages. If you're looking for some beach vibes, I would take a look at their family friendly options. We paid $3 one day to use their beach and the kids had a great time though they wanted to go down the water slide and obviously we didn't have access to that!
What to See and Do in Zadar with Kids
I didn't know much about Croatia until we arrived in Zagreb and as we explore more of the country, I came to realize how different each of the cities and towns were from each other. I don't think I've seen such a stark difference anywhere else I've been. The entire country is so rich in history and has been through a recent war (in my lifetime) and there are so many stories to be heard. Zadar was unique because there was a bridge that connected the new city to the old town and one could walk over the bridge to explore what was beyond the Venetian gates and city walls. However, there's more beyond the Peninsula so be sure to explore a bit. Below are some of the highlights that still make me happy when I think about our sweltering August visit.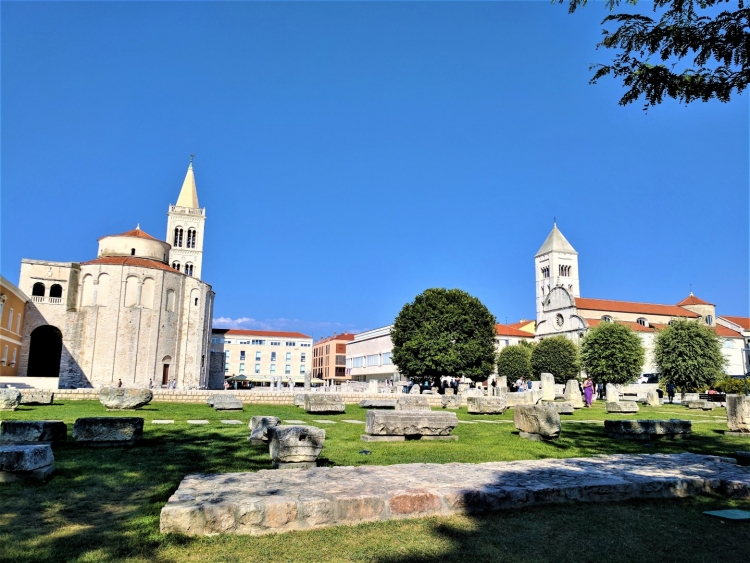 Old Town : The narrow pedestrian only streets are worth wandering through and be sure to chat up the local store owners! We samples local liqueurs and tried out delicacies thanks to these chats. We were also lucky that the Tourist office gave us access to a local guide who shared her wealth of knowledge and so I know a LOT about the architecture and history of the old town. Our guide ([email protected]) is an official tour guide for the city and can be hired. She was patient with the kids and during our two hour walk (we didn't have the stroller with us though the old town is relatively stroller friendly) we learned a lot! If our kids were older, this would have been a great history lesson for them. As you explore the old town keep an eye out for the gardens, the shaming pillar, the old post office and of course the grand Cathedral and Church. Some things you see date back towards antiquity and it's rather mind boggling to think that the locals have preserved things so well despite being "used" daily. Just ensure you don't allow the kids to walk into every candy store they see!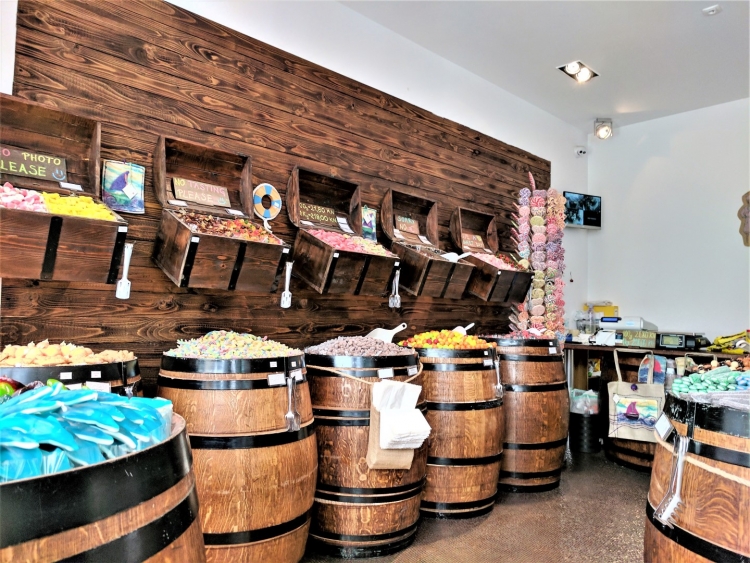 Waterfront : I highly encourage you to explore the waterfront throughout the day. In the morning we swung by and found a playground (towards the Roman Forum and Bell Tower) but then that same promenade was bustling with food stalls in the evening. Fresh fish being fried up and treats galore!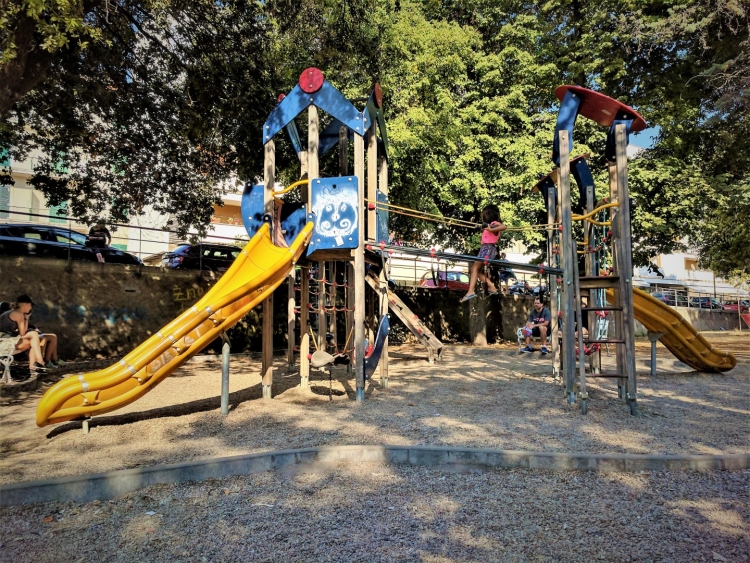 Sea Organ : While the sea organ is part of the waterfront, it's also an attraction of its own. The kids were mesmerized by the sounds coming from the steps and while I really should have given them a proper science lesson, I was too busy being soothed by the tunes made as the waves crashed into pipes underneath the marble steps.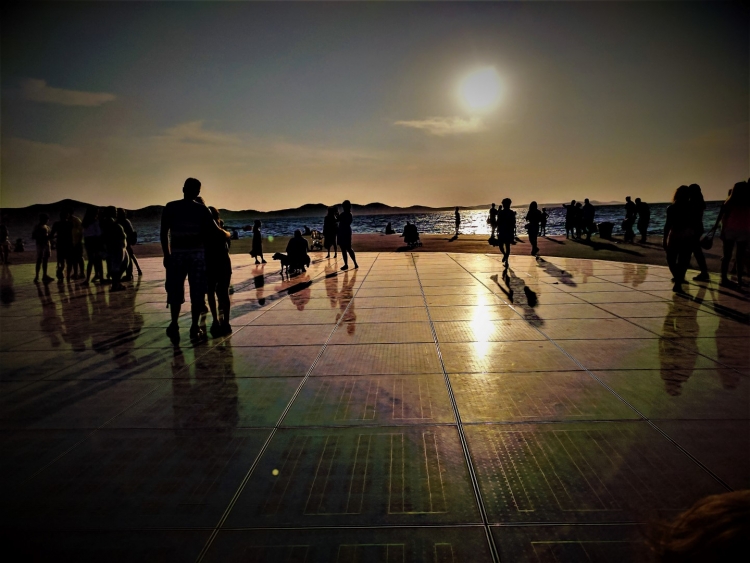 Greeting to the Sun : When we were trying to figure out where to explore in Europe a friend of mine shared a video of this magical place where during the day time the sun's rays are captured and then at night it's used to put on a light show! This is really how I heard of Zadar, a month before we arrived here! During the daytime it doesn't look like much (especially as the Sea Organ is nearby and had more action) but in the evening, this is a disco party waiting to happen! Kids jumping on the colour changing glass plates and parents trying to get a video of it all! A bit chaotic but the perfect place to be at sunset!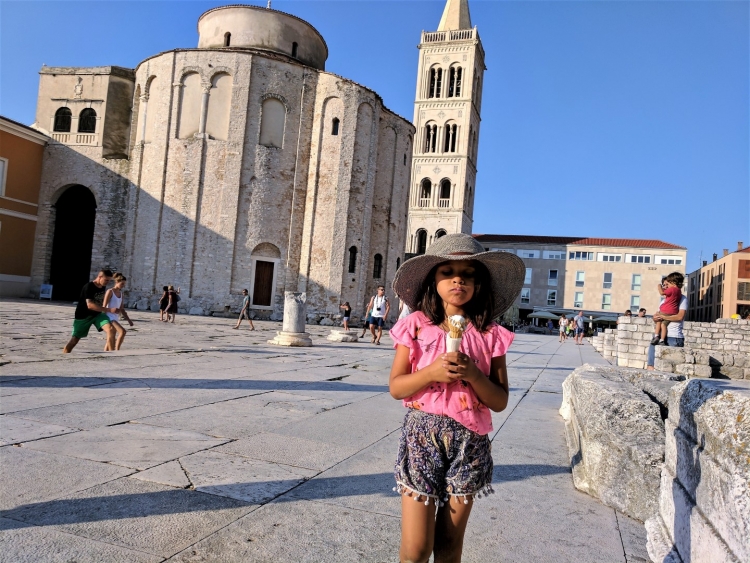 St. Donatus Church : If you're an audiophile you'll want to venture into this church to listen to the acoustics. We wish we had a chance to take in a live performance because Chris was totally held a rapture here. The kids of course just climbed on things and kicked "some rubble" around!
Museums : There were museums and towers we could have explored further but we didn't end up doing so. The kids really wanted to check out an insect exhibit that was going on last August but we simply did not have time as they were also distracted by the ice cream and pizza shops along the way! The silver and gold exhibition inside the St. Mary's Church is what I hoped to explore but will have to save it for a future visit. Oh and remember the museum of illusions we thoroughly enjoyed in Zagreb? There's one in Zadar too!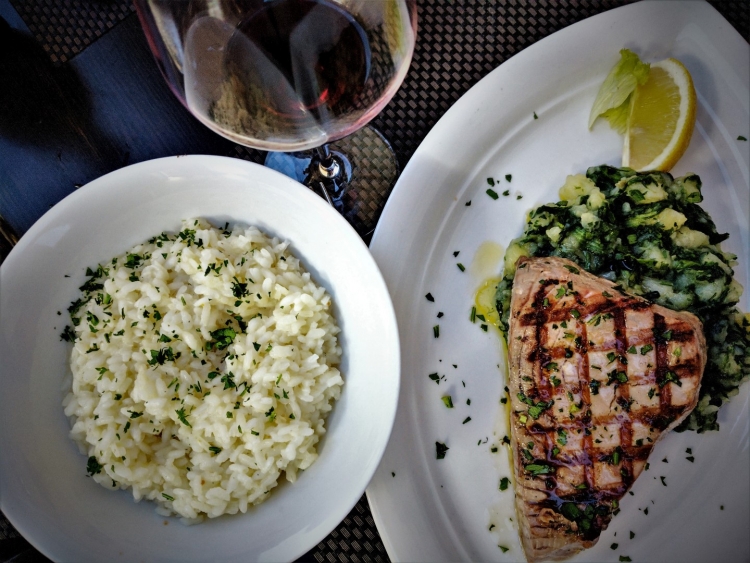 Cuisine : The best thing to do in Zadar is to check yourself into a Konoba and ensure to sample some local delicacies as you sip on Maraska liqueur. Be sure to eat the lamb, fresh pasta and monfish dishes if you have the chance. We only dined at one restaurant but it was a great experience. We sat outdoors and watched people stroll by as we enjoyed a lovely meal at 2Ribera (2 Fishermen). According to the tourism board there's a thriving wine region in the area too!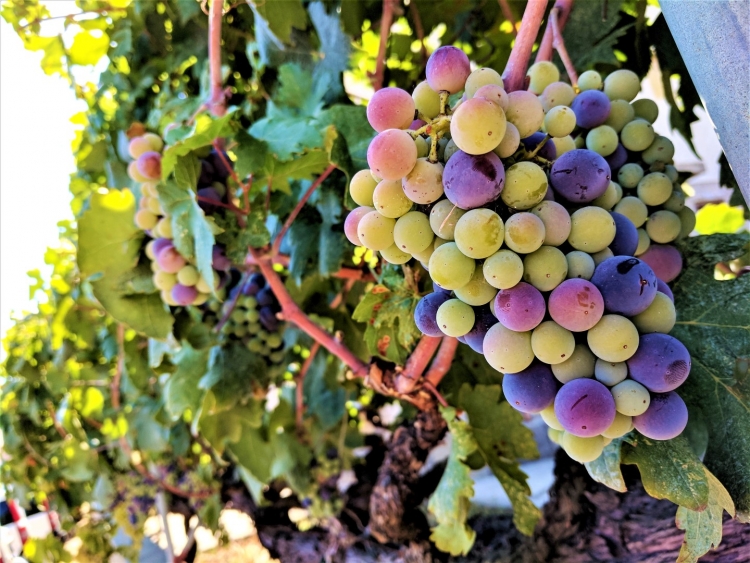 Nightlife : Zadar is a university town and there's an alleyway filled with bars that come alive at night. Since we had kids we weren't too sure if we should venture that way but one night we ended up at The Garden Lounge and it was such a lovely experience. An outdoor bar area and plenty of kids seated with their families even at 11 p.m. Chris found some good beer here and we enjoyed a drink before heading home.
Beach life : Many visit Croatia for the beaches and the beaches in Zadar are great for families. We wish we had time to get a boat to Pag but instead we settled on the beach near our rental apartment and paid $3 to access the private beach which was welcoming with a shallow entry.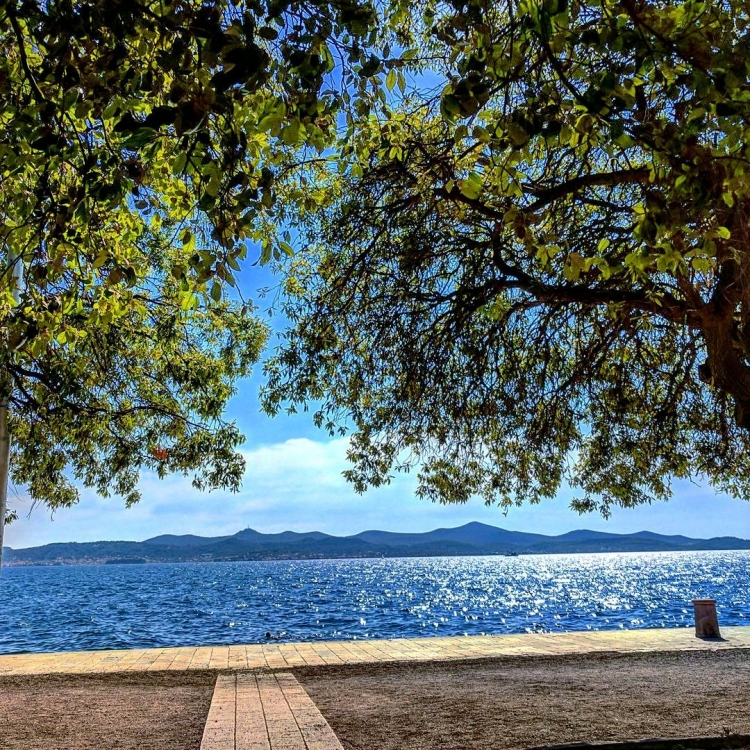 We were only around for two night but if you're around for longer, it's well worth adventuring beyond Old Town and seeing the other islands nearby. Next time I definitely want to take a boat and have someone sail us around on a few day trips. During the summer things can be busy in Zadar but it wasn't overly crowded during our August visit. I believe the students were on holiday too so that may have helped!
Listen to our Podcast on Croatia