Note: This is the eleventh entry in a series of posts looking at the Kid Friendliness, Entertainment Value, and Life Lessons for Kids from the Disney Princess movies. Previous posts covered "Snow White and the Seven Dwarfs", "Cinderella", "Sleeping Beauty", "The Little Mermaid", "Beauty and the Beast","Aladdin", "Pocahontas", "Mulan", "The Princess and the Frog" and "Tangled"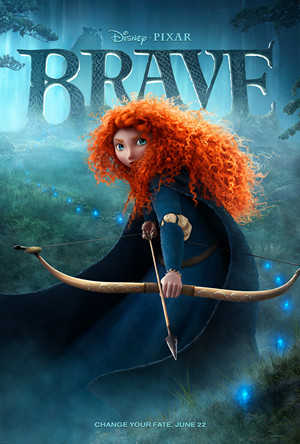 Mention of the Disney Pixar film "Brave" has been limited in our household. After the first time we watched the film, over two viewings, I noticed that the story was not resonating with The Little Monkey, perhaps because Princess Merida, the film's heroine, doesn't seem to take much interest in being a princess. She refuses to follow a family tradition that dictates that she marry the winner of a competition between the sons of her father's allies, causing a rift with her mother that eventually puts her whole family in danger, and she takes far more interest in her bow and arrow than she does in her princess duties. Merida has more in common with a Hollywood action hero than with a Disney Princess, and the Little Monkey has taken notice. When I noticed one day that the Merida doll in her beloved MagiClip princess figurine set was missing and that she wasn't too concerned about replacing it, I knew that "Brave" would rarely be played on the TV at our place, for now.
"Brave" is actually a Pixar film, released by The Walt Disney Corporation in 2012 after Disney bought Pixar in 2006. The film is less original than Pixar's more popular films, which include "Toy Story", "Finding Nemo", "Up", and, most recently, "Inside Out", and less magical than most of the Disney Princess films. "Brave" has more in common with Dreamworks "How to Train Your Dragon", in that Merida spends most of the film bonding with a character that is essentially non-human.
Entertainment Value
I don't mean to imply that "Brave" is a bad film. Setting a Disney Princess movie in Scotland is an intriguing idea, allowing the film to make use of the colorful kilts and lively Scottish traditional music, though I think the film struggles with its setting. The music in the film features bagpipes, Celtic harps, and the bodhrán, but often reverts to a traditional orchestral soundtrack during many of the action scenes. Scottish Actors Kelly Macdonald and Billy Connolly voice Merida and her father, respectively, while Emma Thompson voices Merida's mom, Queen Elinor and so the authentic (ie thick) accents might make it a little difficult for younger non-Scottish kids to understand. For kids that like action movies, "Brave" is a good one and may appeal to boys as much as it does to girls. Though the film lacks a traditional sidekick that many Disney Princesses befriend, Merida's three small brothers do provide some comic relief.

Kid Friendliness
The film has a PG rating, which is rare for Disney films that are usually rated G. Several intense scenes are the reason for this rating and the most frightening element involves the transformation of Queen Elinor into a massive bear. This transition is Merida's fault and she spends much of the film trying to rectify the situation while trying to prevent her father from killing her mother. King Fergus had his leg bitten off by a bear in his younger days and is determined to kill any of the ferocious creatures that he encounters.
The film implies that Queen Elinor is losing her identity and could become a threat to Merida if that happens, though this is subtly alluded to and unlikely to be understood by small kids.
For much of the second half of the film, Queen Elinor and Merida are being chased by both King Fergus and his men and Mor'du, the demon bear responsible for King Fergus' lost leg. In other Disney Princess films, the tone is much lighter, with more humor, before and after the frightening scenes. "Brave" is a more serious adventure.
Life Lessons for Kids
The conflict in the film stems from a lack of communication between Merida and her mother. Merida, not wanting to marry one of the three suitors who have come to compete for her, finds herself unable to to discuss the matter with her mother and chooses instead to embarrass her family in front of the clans. Merida has good reasons for wanting to break the tradition, but bottles them up, and only expresses them out loud to her horse, Angus. Queen Elinor is also shown expressing her point of view, but to her husband and not to Merida, and so a rift forms between mother and daughter that leads Merida to take drastic measures. When Queen Elinor is transformed into a bear, the two must communicate non-verbally, leading them to make more of an effort to understand each other, eventually resolving their conflict.
Talking to children about what they're feeling can be hard, especially when trying to pull an explanation out of them as to why they are behaving a certain way. When discussing "Brave" with a child, it can be valuable to point out that Merida's mom eventually understands Merida's point of view after they have discussed their feelings, and that the trouble started when they choose not share their views with each other.
Merida is certainly different from the traditional Disney Princesses and when it came time for her to be made an official member of the Disney Princess line, the studio intended to make her thinner, with less frizzy hair, in the depiction of her in the product line. Fortunately, the girl-empowerment website, A Mighty Girl, gathered 262,196 signatures in protest of the move, including that of the film's director, Brenda Chapman, and were successful in their efforts. Disney removed the redesigned image from their website, and the original Merida stands strong.
Next week, Frozen, I'm sure you're heard of it.